Zurich Classic
Fitzpatrick brothers surge, Tiger's caddie makes an appearance and Im invited into Bulldog Nation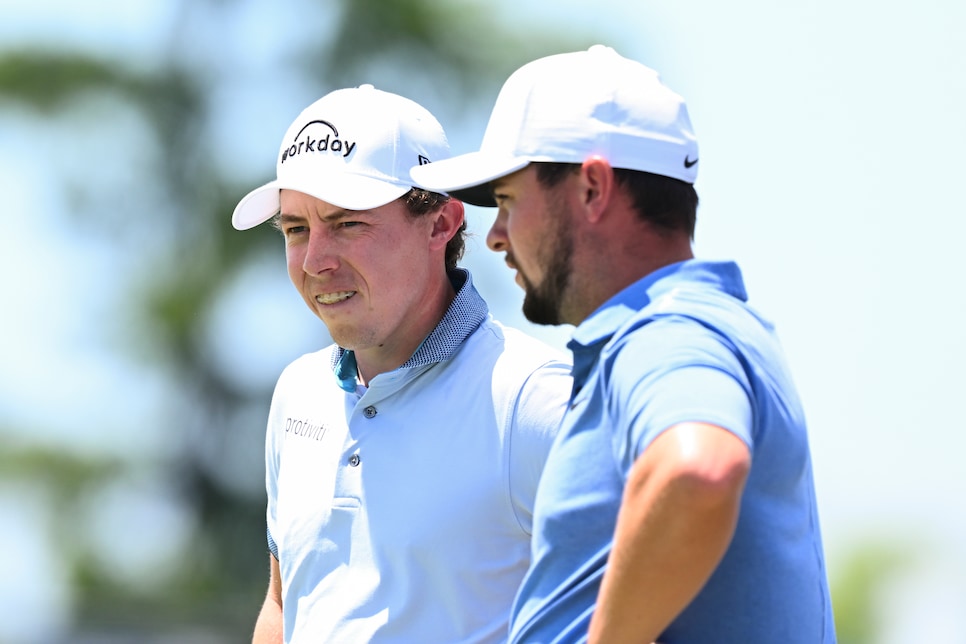 Sungjae Im's got that dog in him. Even if he doesn't quite know what that means yet.
Im, who's paired with Keith Mitchell at the team-centric Zurich Classic, chipped in for par on the duo's final hole Thursday to turn in a 10-under 62, good enough for the early lead at TPC Louisiana.
"Sungjae's golf game worked fantastic out there," Mitchell said. "Unfortunately, he only made one bogey today, and I bogeyed the same hole. Other than that, we had a great time. He hit a bunch of laser beams and smiled, and I just tried to help when I could."
The South Korean star led the team with six birdies on the morning, although the converted par chip at the par-3 ninth was especially clutch after both he and Mitchell found the water. For his part Mitchell played steady throughout the round, highlighted by an eagle at the par-5 seventh.
"The team atmosphere, when you play well, it's double as much fun and as exciting," Mitchell said. "When you play poorly, it's like worse because not only are you upset with yourself, but you feel like you let somebody else done. So I just think the emotions are pretty much double this week because you're carrying both people's highs and lows together out there."
Luckily for Mitchell and Im, there were more highs than lows Thursday. And for those that stay off social media (and consider yourselves lucky), the "got that dog in him" phrase is often a nod to athletes who are mentally tough and perform in high-pressure situations. This sentiment already applied to Im, who has proved himself as the PGA Tour's iron man over the past five years while becoming a top 20 player in the world. However, the phrase is also popular among fans of the Georgia Bulldogs.
Which, according to Mitchell, now includes Im.
"Sungjae taught me team captain in Korean because he's my team captain," Mitchell explained. "What else did we learn today? I taught him about Georgia football. Aren't you a Georgia fan now?
"Georgia fan, Bulldogs," Im replied.
That said, when asked if we should expect to see Im in the stands in red and black this fall, Im responded, "Busy." The man might be a part of Bulldawg Nation, but he still has his priorities straight.
Three other takeaways from Day 1 of the Zurich Classic of New Orleans.
The Fitzpatrick brothers did not ham-and-egg it, thank you very much
Matt Fitzpatrick is fresh off a playoff win at the RBC Heritage but he is not running on fumes. Fitzpatrick is paired with brother Alex and together they posted a 10-under 62 to join Im and Mitchell in the early lead.
Alex, a decorated amateur at Wake Forest, is currently working his way through golf's developmental tours. Given this reality compared to Matt's, it's easy to think the reigning U.S. Open champ carried his brother on Day 1. That was far from the case, as Alex contributed five birdies to the cause.
"I don't think he's giving himself enough credit for the front nine," Matt said. "I didn't play very well, so it was nice for him to make a few putts and give us a few birdies while I was scrambling around somewhere. And then yeah, I played nicely on the back nine and I managed to roll in some birdies, which was great, and we kept it together towards the end and finished with a nice score."
But, whatever you do, don't call it a "ham-and-egg" performance.
"I hate that phrase," Matt explained. "Ham and egg is so American, and we're from England."
"We dovetailed," Alex said.
"Yeah, we did great. We did great," Matt said. "I played really solid on the front nine, he played great on the back nine, and he bailed me out a few times, which was obviously very beneficial, and yeah, it was a great day"
Matt's horizon is very much secured, but a big week would mean the world for Alex's immediate future. Though both realize what's on the line, the brothers seem to be enjoying the moment. "I guess I've been professional about a year, and it couldn't be further away from anything else," Alex said. "I had so much fun out there. It was extra special spending time with him and being on the course, but playing together and working together is a lot of fun, and yeah, it helps a little bit when you have a good score."
Big start for Rai, Lipsky
Coming off the Masters and the RBC Heritage (which featured a loaded field thanks to its designated-event status), it's understandable if some fans consider this week an "off" week of sorts on the golf calendar. But to many players it still means a heck of a lot. Look no further than Aaron Rai and David Lipsky as proof of concept.
Both Rai and Lipsky are former DP World Tour players, and though "journeymen" may be too harsh of a description, they are also far from established entities, at least in this part of the world. A good showing at the Zurich can go a long way into changing that dynamic, as the duo combined for an opening-round 62.
"I'll be honest, it was all Aaron," Lipsky said. "The guy played great today. I think he had like seven birdies and an eagle. I had a lot of birdie looks, too. Mine didn't fall and his did, and that's what this team format is all about is supporting each other and taking pressure off each other."
Friday's alternate-shot format could be a different animal, as both players tend to be weaker putters (Lipsky is 201st in SG/putting, Rai is 152nd). Nevertheless, Lipsky is looking forward to the challenge and views it as a chance to pay Rai back.
"I really like it. It's fun. It's hard," Lipsky said. "You don't want to let your partner down, so you're always grinding and trying, and there's never any give-up out there because, like I said, you really don't want to let your guy down, especially after he made seven birdies and an eagle. I feel bad."
Golf fans likely won't see Tiger Woods again this season. Tiger's caddie, however, will still be around.
Woods' loop, Joe LaCava, is in attendance this week at TPC Louisiana, on the bag for Steve Stricker. While Woods' absence could mean LaCava working for other folks this summer, LaCava's only in New Orleans because his kid couldn't make it.
"I asked his son first," Stricker admitted. "I've had his son on my bag already this year. Delightful kid, Joe Jr. But he was working on the Korn Ferry Tour, I think for Brandon Hagy the next couple weeks and he couldn't make it."
Turns out LaCava is good friends with Zach Johnson, who is playing with Stricker this week, making it an easy answer for the elder LaCava. Although, according to Stricker, LaCava was "pretty upset" when he found out his son was asked first.
"He's such a great guy, fun to be with, easy to be with," Stricker said, setting the record straight. "Obviously is very good at what he does. We've been having fun with him so far."