RBC Heritage
With a little bit of late brilliance, Matt Fitzpatrick pulls off a lifelong dream by winning at Harbour Town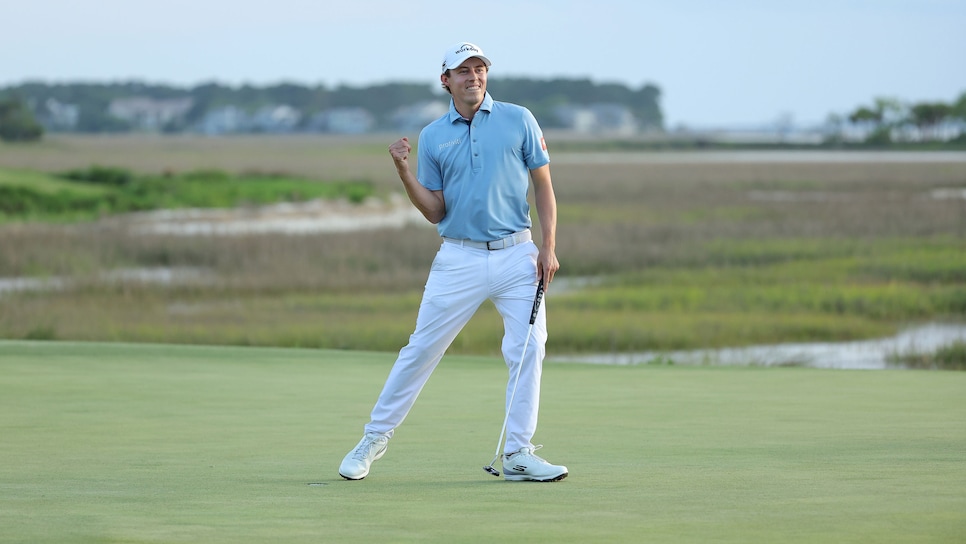 HILTON HEAD ISLAND — Matt Fitzpatrick's caddie, Billy Foster, summed up what it felt like when his boss pulled out a playoff victory over Jordan Spieth at the RBC Heritage with one brilliant, very English line.
"At six o'clock on a Sunday afternoon, everyone's tanked up to the hill, chanting 'U-S-A.' It was like a Ryder Cup out there," Foster said on Harbour Town Golf Links' famed 18th hole.
Indeed, a tournament that began with questions—chief among them being why were the world's best players required to play a $20 million designated event the week after the Masters—ended feeling an awful lot like one of the most raucous events in golf. That was only helped by thousands of well-lubricated fans, enormous hospitality tents and an entourage of police and security.
"There was a real atmosphere out there," Foster said, having caddied for Ryder Cup stalwarts like Seve Ballesteros, Darren Clarke and Lee Westwood.
One that hit its crescendo on the third extra hole, when Fitzpatrick, the reigning U.S. Open champion, stuffed a stunning approach shot to 12 inches on the 18th hole. The tap-in birdie earned the 28-year-old Englishman his second PGA Tour title, as the chants changed from, "U-S-A!" to "Fitz! Fitz! Fitz!"
"It was right down [the flag] from the moment it left the club face," Fitzpatrick said. "I knew it was good because my mom and my girlfriend were jumping up and down with their arms in the air [behind the green]."
To get there, Spieth, the tournament's defending champion, and Fitzpatrick had to play to a draw at 17 under par through 72 holes. The pair then split the first two playoff holes with pars before Fitzpatrick closed thing out in spectacular fashion..
"When you're the underdog, it's a little bit sweeter when you do win; there's no doubt about that," Fitzpatrick said. "Obviously, the U-S-A and the Spieth chants were loud, but I definitely had support out here, too, because of my connection here."
That connection, between Fitzpatrick, his parents, Sue and Russell, and brother Alex, and Harbour Town, was forged more than 22 years ago when the family took the first of several trans-Atlantic vacations from Sheffield, England to the South Carolina resort island. Fitzpatrick immediately fell in love with Pete Dye's narrow, corridor-laden Harbour Town course.
"I think we found out about this place in a magazine," Russell Fitzpatrick said Sunday night.
Before Matt's victory Sunday, Russell said his greatest memory at Harbour Town was at the RBC Heritage in 2014. Fitzpatrick made the cut as an amateur, playing on a sponsor's invitation as the reigning U.S. Amateur champion, and finished T-23. "He made 18 pars that day," Russell said.
Fittingly Fitzpatrick's dad (Russell) and mom (Susan), who took the family on vacations to Hilton Head in their youth, were there to enjoy Matt's Harbour Town victory.
Kevin C. Cox
Now 28 and a major champion, Fitzpatrick fared a little better Sunday. While he let his 54-hole lead slip away early in the round, making bogey at No. 7 to fall behind Spieth, he hung in there and made two late birdies that tied him with Spieth. First, at the par-5 15th, and the next a laser-like approach to five feet at the par-4 16th, which he converted to take a share of the lead. His 68 was good enough to force a playoff with Spieth (66).
"I just felt as long as I could hang on, be within two shots going into the back nine, I was easily in with a shout,' Fitzpatrick said. "I know I can play the back nine well. It's a hard golf course."
What was hard about the back nine for Spieth was reading his putts. He missed a par attempt on the 14th hole that gave Fitzpatrick renewed life and narrowly missed birdie efforts on the first and second playoff holes that were for the victory.
"It just wasn't meant to be," Spieth said. "Matt just snuck in and played some tremendous golf when it had been me and Patrick [Cantlay, leading] for a little while."
Fitzpatrick became the second Englishman to win at Harbour Town, after the legendary Nick Faldo in 1984. But perhaps more importantly, he earns his first tour win since claiming the U.S. Open at The Country Club at Brookline last June.
"He needed it," Foster said of the Heritage win, which takes Fitzpatrick to World No. 8 and moves him from 81st in the FedEx Cup rankings to 22nd. "Any win on the PGA Tour is a massive shot in the arm for your confidence and he had been lacking that this year before the Masters [where Fitzpatrick tied for 10th at Augusta last week]. He's back in the top 10 in the world. It's onwards and upwards rest of the year."
But the rest of the year can wait. For Fitzpatrick and his family will celebrate a victory at a course that has meant so much to them. Fitzpatrick has used a headcover from Harbour Town's pro shop, emblazoned with its famed 18th hole lighthouse logo, since that debut in 2014.
"Winning this tournament, because of the history that me and my family have here, means the world to me," Fitzpatrick said.
As Fitzpatrick waited for the trophy presentation to begin, wearing the winner's plaid jacket, Foster was asked by a photographer to hold Fitzpatrick's driver, and the lighthouse headcover, up toward the real lighthouse towering over the 18th hole.
"I think I can retire now," Fitzpatrick joked.