The Grind
Xander Schauffele's gold medal flight, Stefan Schauffele's secret beer runs and a Ryder Cup duet
Welcome to another edition of The Grind, where we've never been so relieved to see someone win a golf tournament than Xander Schauffele in Tokyo. After declaring Xander my new favorite player in April, I was worried I had mushed his career. After all, he dumped that ball in the water on 16 at the Masters days later, and the last time I named a new favorite player while Tiger Woods was out for an extensive period was in 2008 when I settled on Anthony Kim and Andres Romero. And yeah, that didn't work out too well for those guys. But Schauffele is now a major Olympic champ!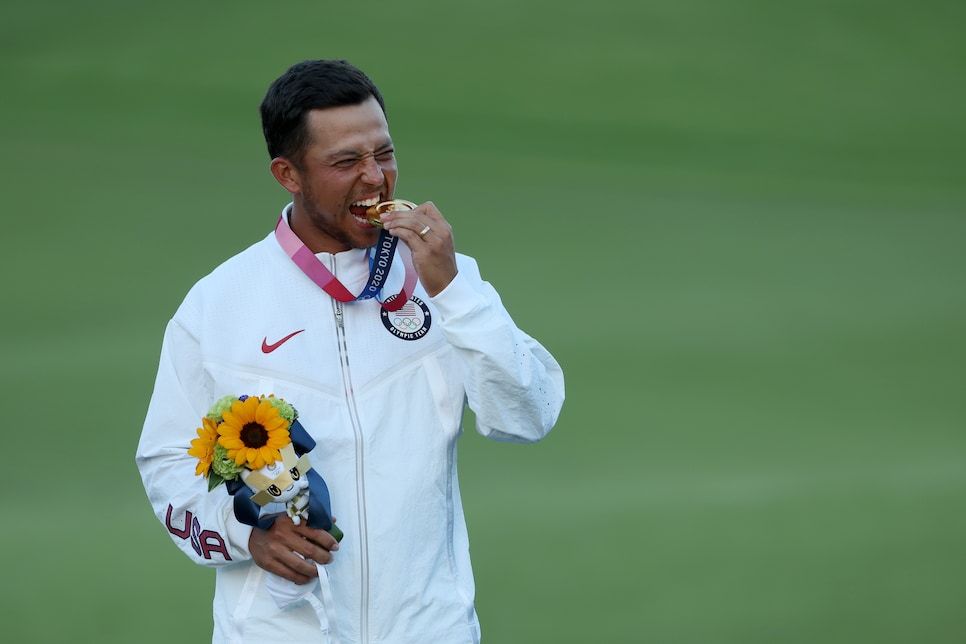 PHEW! OK, here's what else we're talking about—and even singing about (scroll down)—this week.
Xander Schauffele: An up-and-down from 100 yards for the gold medal? Talk about clutch. No, it's not a major, but it's a big-time win, and more importantly, he avoided more scar tissue from another close call. It also capped quite the fairytale ending. OK, so Hideki Matsuyama would have been the best Hollywood script, but Schauffele has strong ties to Japan through his mother's side of his family. And winning in front of his dad/swing coach, a guy who had his own Olympic dreams dashed as a decathlete in Germany because of a car accident four decades ago? It doesn't get much better than that.
Also, props to Stefan, who was apparently sneaking beer onto the grounds all week (nice catch by Golf.com's Sean Zak) through Xander's travel golf bag because alcohol sales were only permitted until 8 p.m. local time each night. What a legend. He probably needed one watching his son hit wayward drives down the stretch, but in the end, they were celebratory beverages.
Good stuff, Stefan. And good playing, Xander. Love seeing my favorite player—and tour-pro father—come through.
Rory Sabbatini: Whether you agree with a South African native/South Florida resident being able to establish dual citizenship in his 40s and then represent that second country in the Olympics is debatable. What isn't is the fact Sabbatini, the oldest man in the field at 45, balled out with that final-round 61 to win the silver medal. Go crazy, Slovakia! Go crazy!
C.T. Pan: A playoff for third place?! What a concept! But that's how the Olympic men's golf competition plays out and it was a spectacular playoff at that with seven men owning a combined seven major titles battling it out. In the end, C.T. Pan emerged the "winner" to claim the bronze medal: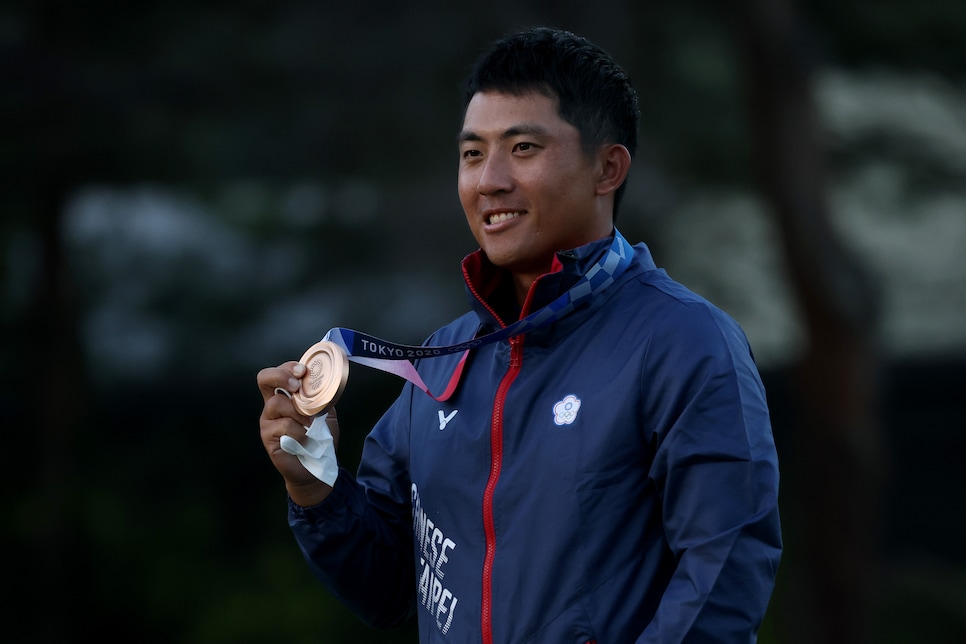 Go crazy, Chinese Taipei! Go crazy! Actually, they probably are—especially considering Schauffele is half-Taiwanese. What a week for Chinese Taipei.
Annika Sorenstam: And what a week for Annika Sorenstam. After a dozen years away from competition, Sorenstam played in a few events this year, but her debut in the U.S. Senior Women's Open was a stunning reminder of just how dominant she used to be. Sorenstam won by eight shots at Brooklawn Country Club, her first victory anywhere (unless you're counting the pickleball courts) in nearly 13 years.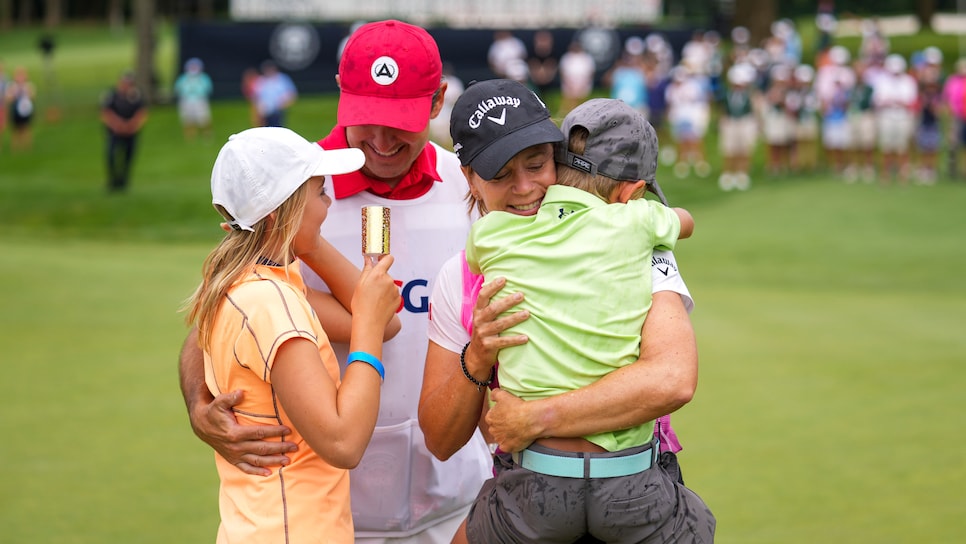 What a performance. And what a tough break for the rest of the 50-and-older crowd in women's golf. The GOAT is back.
Caddies getting medals: Not to discount what these men and women do, but where is this coming from? Did J.J. Jakovac just get a claret jug when Collin Morikawa won the Open Championship? Did Shota Hayafuji get a green jacket after Matsuyama won the Masters? Thankfully, even veteran caddies pushed back on this notion, including two whose (former) bosses won medals in 2016!
Oh, and Sabbatini and Pan had their wives on the bag so this debate is moot in those households.
"Hatless Rory": Sure, he's had his moments at Ryder Cups through the years and a T-3 at the Olympics was solid, but all four of his major wins—including those first two when he won by a combined 16 shots—came while McIlroy was wearing a hat. Plus, this haircut …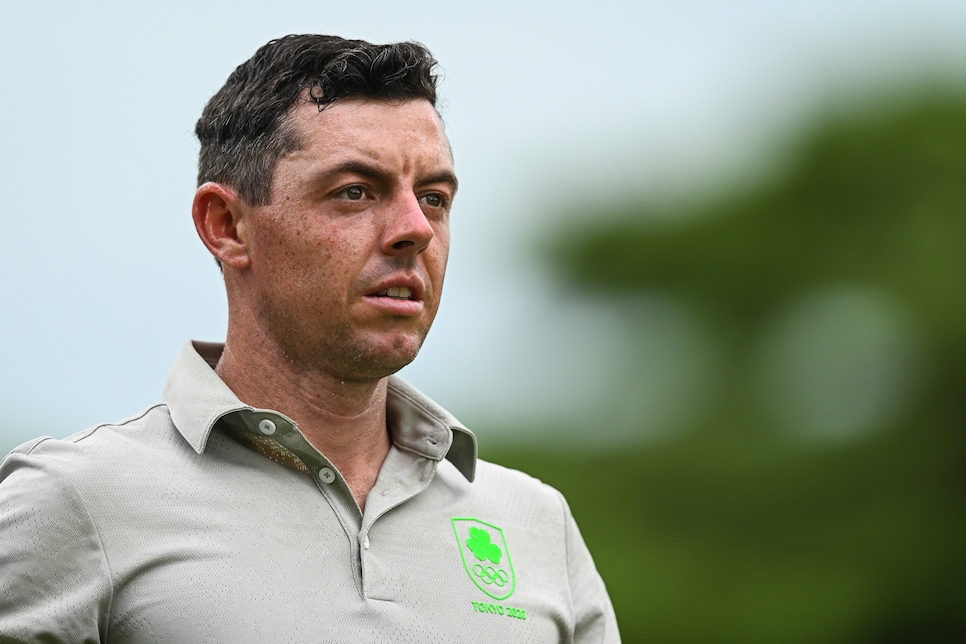 That looks like a dad cut if I've ever seen one. And yes, I've seen one. Of course, there's a reason for him not wearing a hat at team events. "I have a pea head," McIlroy said. "The hats are way too big for me. I need them custom made." Rory has never been more relatable.
Hotel power outages: In particular in Japan during the summer. Even more so when you're competing in the Olympics the next day. But Xander Schauffele was able to overcome his room turning into a sweat lodge for five hours on the eve of the tournament, and we may need Mark Broadie to crunch some numbers for a strokes gained/air-conditioning stat. In the meantime, between the closer commute to the golf course and avoiding those cardboard beds, Xander clearly made the right choice staying in a hotel instead of the Olympic Village.
It's another busy week with the WGC-FedEx St. Jude Invitational and the Barracuda Championship, AKA that other golf tournament that gets played at Lake Tahoe. Plus, the Olympic women's competition begins on Wednesday in Tokyo.
Random tournament fact: Under the new PGA Tour schedule unveiled Tuesday morning, this Memphis event will no longer be a WGC starting next year. However, it will now be the first event of the FedEx Cup Playoffs. We're not sure if we should call that a promotion or a reassignment, but TPC Southwind will continue to host an important PGA Tour stop. Thus, assuring plenty more "Walking in Memphis" headlines.
RANDOM PROP BETS OF THE WEEK
—Rory Sabbatini knows all the words to the Slovakian national anthem: 1 MILLION-to-1 odds
—Xander Schauffele will win this week in Memphis: 12-to-1 odds (Actual odds, co-favorite)
—Xander Schauffele wouldn't survive his hotel A/C going out in Memphis: LOCK
Here's John Peters mid-air on Merion's 18th hole after holing his approach shot to win the 2021 Pennsylvania Amateur:
Talk about someone born with the clutch gene—and some serious hops!
VIRAL VIDEO OF THE WEEK (UPLIFTING DIVISION)
Here's Xander Schauffele wearing his gold medal on his flight home:
The gold medal does edge a green jacket in one regard: it goes with anything.
VIRAL VIDEO OF THE WEEK (HEARTBREAKING DIVISION)
This is NOT the way you want to see a Monday qualifier end:
THIS WEEK IN GOLF PARODY SONGS NO ONE ASKED FOR
It was a lot of fun collaborating with the super-talented Jeehae Lee on this ode to U.S. Ryder Cup captain Steve Stricker and the struggle he faces in filling out his team without a certain 15-time major champ available:
Thanks for watching/listening, I hope you enjoyed it. And I hope to actually meet Jeehae someday!
THIS WEEK IN BROOKS VS. BRYSON
Again, pretty quiet from these guys. But Bryson's former caddie, Tim Tucker, had himself a week!
Now that's a caddie you could argue deserves a medal. Just saying.
"Yeah, I can't really say what we said to each other. That's just … just from a standpoint of swearing. But it really was a nice embrace, and I did think of him as soon as I made the putt, I knew he was going to be there crying. Luckily he had shades on, but it was really cool. This whole experience has been really, really special and to have him here is even better." —Xander Schauffele on his father, Stefan, who offered this gem of his emotions. "When my son stands on the podium, give me a towel. That's going to be a 'give-me-a-towel' moment." Awww. A towel and then a beer, of course.
THIS WEEK IN PHIL BEING PHIL
Hey, what's the point of winning a gold medal if you can't flaunt it a little?
C.T. Pan actually earned five times as much for his bronze medal as Xander did for his gold due to his country's generous medal payment structure. So anyone looking for a path to the Olympics through dual citizenship should look into Chinese Taipei. … Jhared Hack, a 31-year-old former Korn Ferry Tour pro, shot a 57(!) at Las Vegas Golf Club. There are too many good pro golfers to keep track of. … Davis Hartwell, a 13-year-old kid from Oregon, shot a 58(!) at Running Y Ranch Resort. There are too many good junior golfers to keep track of. … And finally, congrats to co-worker Stephen Hennessey and his wife Katie on the birth of their first child:
Steve, you're going to be a great dad. You're just never going to be a great golfer now.
RANDOM QUESTIONS TO PONDER
What would my handicap be without kids?
Why couldn't anyone make Rory a custom-fit hat for the Olympics?
Is Xander ever going to take that gold medal off?