Olympics
How Rory Sabbatini, born in South Africa and living in South Florida, medaled at the Olympics … for Slovakia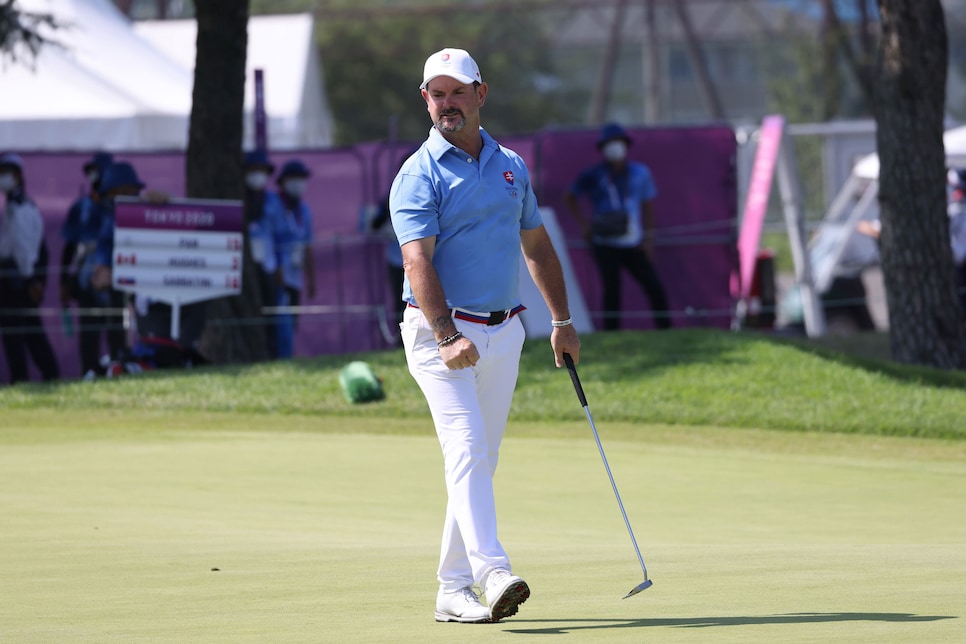 Wiht a closing 61, Rory Sabbatini raced up the leader board to claim a silver medal on Sunday at Kasumigaseki Country Club.
Chris Trotman
He claims this was never the plan—that his decision to take up Slovakian citizenship was motivated by benevolence, not a shortcut to winning an Olympic medal. Which, after a brilliant Sunday at Kasumigaseki Country Club, he has done. Silver, to be exact. Rory Sabbatini's 10-under 61 saw him finish one shot behind Xander Schauffele, who got up-and-down from 98 yards on the 18th hole to win the gold for the United States.
"It sounds quite amazing," Sabbatini said of will a medal. "It doesn't sound like it belongs to me. But crazy game this sport we play. So somehow found that golden egg today and I managed to get something achieved, which I didn't think was possible after yesterday."
For Sabbatini, the medal is the culmination of a peculiar journey that started back in 2018. Born and raised in South Africa, the PGA Tour veteran now lives in South Florida and is a U.S. citizen, as well as holding a U.K. passport. So where does Slovakia come into the picture? Sabbbatini got married to a Slovakian woman named Martina Stofanikova. Her cousin, Rastislav Antala, then the vice president of the Slovak Golf Association—he has since been promoted to president—floated the idea to his cousin-in-law.
"To support her, to support our stepson, getting my Slovak citizenship is important to them as well as her getting her U.S. citizenship," Sabbatini said in January 2019, shortly after he received his Slovakian citizenship. "The added benefit was her cousin is the director of golf development in Slovakia, and we thought this was an opportunity to bring more kids into the game of golf because they really haven't had exposure on a national stage to follow golf."
"This decision was never made to play in the Olympics. This decision was made to support my wife and stepson and to open the door for golf development in Slovakia," he said. "I didn't even know I would be eligible."
Indeed, under Olympic rules, an athlete with dual citizenship can pick which country he represents.
Still, the move was widely seen as a strategic one—Sabbatini, a six-time PGA Tour winner and the oldest player in the Olympic field at 45, would have a much tougher time qualifying for the South African Olympic team. But Slovakia? The nation has just 9,000 golfers and 26 courses. After Sabbatini, who is ranked No. 204, the highest ranked Slovakian is Petr Vasalek at No. 848. He'd waltz onto the team, which is exactly what happened. It quickly became an easy punchline on Golf Twitter; Brendan Porath, a Golf Digest editor and host of the Shotgun Start podcast, gave him the nickname "the Boy from Bratislava."
The nickname stuck, but the Slovakia storyline didn't get much play through the first three rounds in Tokyo. Sabbatini simply wasn't a factor. He began Sunday seven shots behind the lead and five shots out of the medal contention. He then produced the best round in the (rather short) history of Olympic golf, a 61 with an eagle and 10 birdies—including on the final two holes—to post 17-under 267 and take the clubhouse lead hours before the leaders would finish.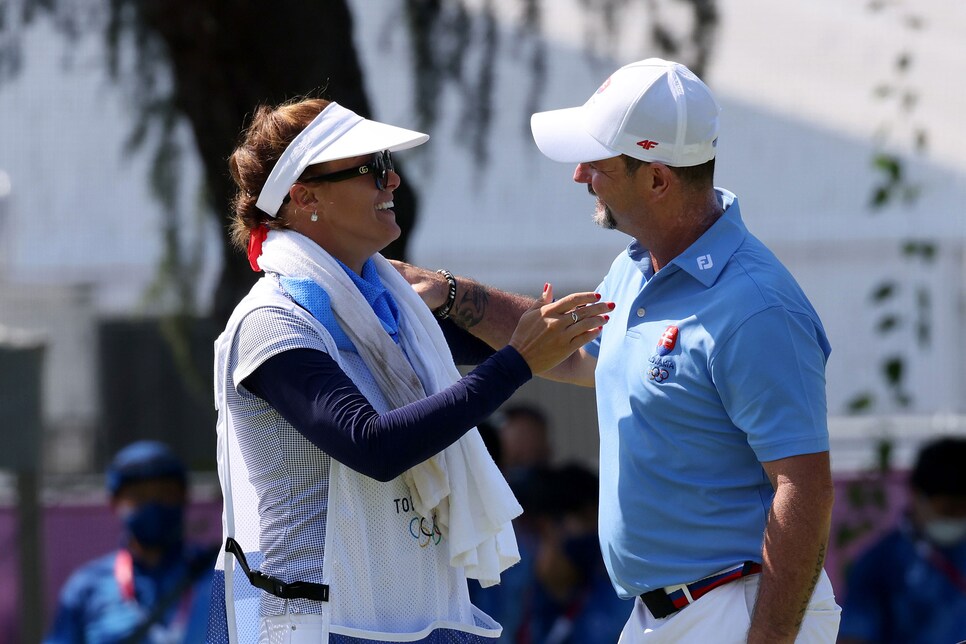 Rory Sabbatini celebrates his closing 61 with his wife/caddie Martina.
Chris Trotman
"You know, it's just, it's funny, because I was out there today and I kept just trying to remind myself, OK, don't think ahead, don't think ahead, just enjoy the moment that you're in because you don't know what it's going to end, just enjoy every hole as it comes," Sabbatini said. "It just seemed like every time I kind of had a hiccup out there I was like, oh, maybe this is the end of the run, but OK. And then all of a sudden, I kicked back into gear. So it was a lot of fun and it was just one of those rare days that you have on the golf course."
The round finished with a fitting image: with the ball still a few feet from the hole, Sabbatini began aggressively fist-pumping. After it fell, Martina, his tie to his adopted nation and his caddie this week in Japan, jumped in joy.