Olympics
Justin Thomas calls Olympics 'the coolest thing I've ever been a part of'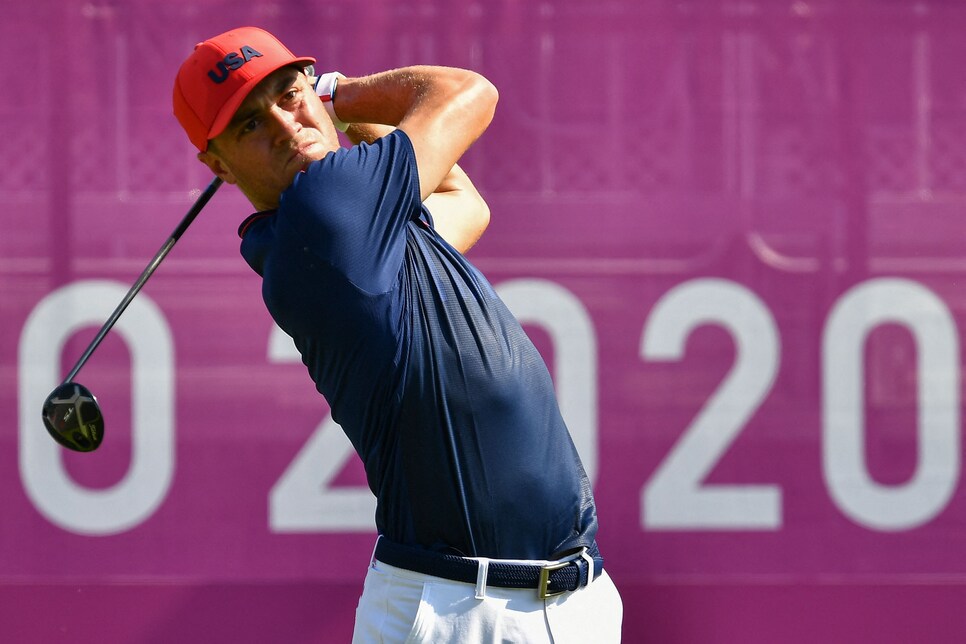 Justin Thomas watches his drive from the first tee in the fourth round of the Olympics.
KAZUHIRO NOGI
A number of golf's superstars have viewed these Olympics as something of an obligation. With no fans and onerous COVID-19 restrictions in place, plenty opted to skip the trip to Tokyo altogether. Only six of the top 20 players in the World Ranking teed it up at Kasumigaseki Country Club. And the ones who did play didn't sound too excited to be doing so.
And then something funny happened: They went, they tested, they played, and they had a helluva time.
"Being a part of something that's completely different and bigger than me and even our sport in general, that's a pretty cool thing," Rory McIlroy said Friday. "So I didn't know if this was going to be my only Olympics that I play or whatever and I'm already looking forward to Paris [Olympic host in 2024]."
On Sunday, despite not medaling, Justin Thomas gave a similarly glowing review of his experience.
"It's just, it's so different," Thomas said after a six-under 65 to wrap up his week. "It was cooler than I thought it was. I'm more proud of being here than I thought I would be.
"I thought I would be proud, but the first day or two I immediately found out that this is like the coolest thing I've ever been a part of. The Ryder Cup is cool, the Presidents Cup's cool, but this is just so different. I grew up watching the Ryder Cup, the Presidents Cup, the majors, and never grew up watching this, so no one was ever able to relay or say how it felt being an Olympian, especially a golfer. And so it was really—I was never hitting putts as an 8-, 10-year-old on the putting green to win the Olympics and win a gold medal. So I think when you don't have the ability to dream something, when you get here it's, it can sometimes just take you by surprise and this definitely exceeded that."
Collin Morikawa concurred.
"One of the best experiences of your life," the Open Championship winner said after a 63 on Sunday catapulted him into medal contention. "I'm walking away whether I get a medal or not, I'm an Olympian and that's what I said from the beginning of the week. But I think what today brought out of me was more than just playing for myself I was playing for our country and I was able to fight and dig deep."
Here's to hoping these wholehearted endorsements of Olympic Golf—and an eventual return to normalcy—result in a more star-studded field in Paris 2024.