Olympics
C.T. Pan emerges as a happy, but surprised, winner of a seven-man playoff for the bronze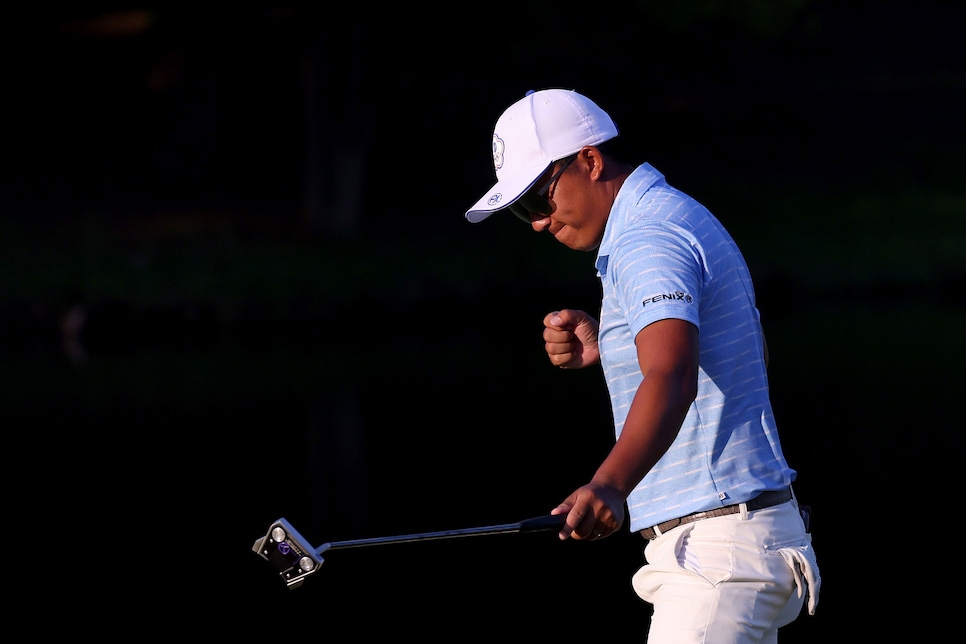 C.T. Pan of Chinese Taipei celebrates the par putt that earned him a bronze medal on the fourth playoff hole.
Chris Trotman
In golf, a seven-man playoff to determine a third-place finisher is something that tends to occur in USGA qualifiers. And, thankfully for Chinese Taipei's C.T. Pan, the Olympic Games.
When Hideki Matsuyama, in the last threesome of the final round at Kasumigaseki Country Club, missed a 12-foot birdie putt on the 18th hole, he joined an impressively large group to all finish 72 holes at 15-under 269. You can't split a bronze medal seven ways, so they all ventured back out to the 18th hole to see who would join Xander Schauffele and Rory Sabbatini on the medal podium.
Suffice it to say, the sevensome had some impressive participants. In addition to Matsuyama, there were two other major champions in Collin Morikawa and Rory McIlroy. European Ryder Cup stalwart Paul Casey was in the mix, as was PGA Tour winner Sebastian Munoz and newly minted PGA Tour member Mito Pereira.
And then there was Pan, ranked 208th in the world who had missed three straight cuts on the PGA Tour coming into the Olympic then shot a first-round 74 that beat just two players on the day. Suffice it to say, the former All-American at the University of Washington seemed an unlikely candidate to win a medal.
"I texted one of my good friends [after the first round] and I was like, 'The struggle is real.'" Pan said. "So, it's quite a turnaround for this week winning the bronze medal that I couldn't even think about it, didn't even think about it after Thursday's round."
However, Pan began to grind, posting a pair of 66s to get within seven of the lead in the final round, then shooting a bogey-free 63 to jump into a tie for third.
Pan was one of five to par the 18th in the first playoff hole, bogeys from Matsuyama and Casey knocking them out of the chase. The remaining five all then parred the second playoff hole.
On the third playoff hole, the par-4 11th, Pan and Morikawa hit their approach shots to gimmie range, and when McIlroy, Munoz and Pereira couldn't convert their birdie attempts, there were just two left.
Back to No. 18 for a fourth playoff hole, Pan missed the fairway left and hit his second left of the green, but caught a break when Morikawa's approach shot came up short of the green, plugging in the bunker. He impressively blasted out his third shot on the green, but couldn't convert a long par try. And when Pan chipped his third to eight feet, then rolled in his putt, the 29-year-old former winner at the RBC Heritage had his medal.
"Yeah, I mean I've never been in a playoff with that many people, seven people for one spot, which is pretty crazy," Pan said. "And if you look at the field in the playoff we got Rory McIlroy, Collin, we got I don't know two, three top-10 guys in the world. And we got me, 200 ranked, shooting plus 3 on Day 1, didn't know what to do on Thursday."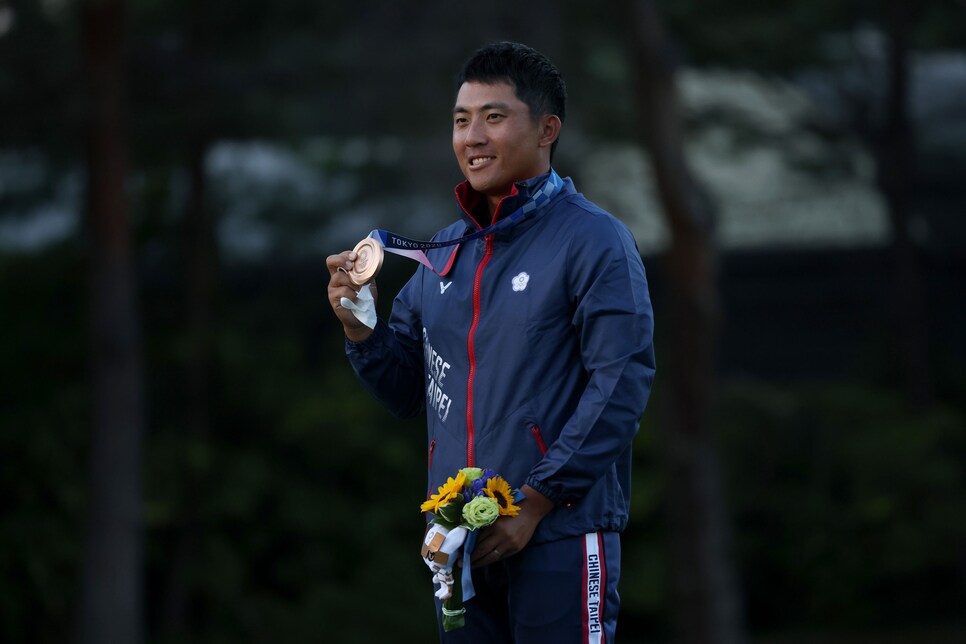 C.T. Pan holds his bronze medal at the awards ceremony.
Chris Trotman
Why, then, did he think he was the one to emerge with the bronze?
"I mean I just told myself, just keep my head down, hit one shot at a time and then I just remind myself just to keep joking with my wife," Pan said. "She's great, she's a great caddie, but she definitely keeps the mood very light for me and it helps me to focus more. So I want to thank her for that."