U.S. Senior Women's Open
Annika Sorenstam is a USGA champion again after learning to mix golf and family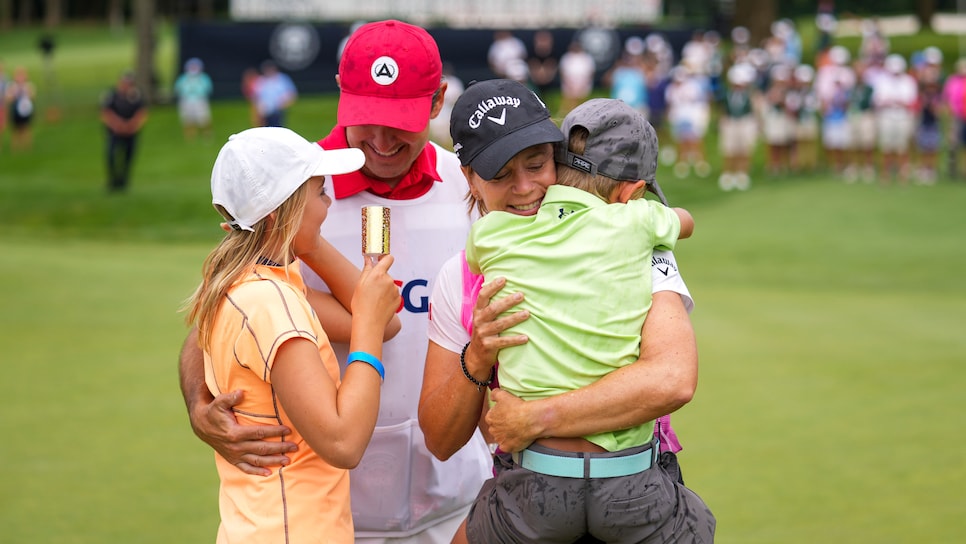 FAIRFIELD, Conn. — You look at the score, and the margin of victory, and you say to yourself, "How?" Yes, we're talking about a golfer who won 72 LPGA titles and 10 major championships, a World Golf Hall of Famer who can go by her first name alone, who was a dominant force in her heyday. But that heyday ended almost 13 years ago.
Before Sunday at Brooklawn Country Club, Annika Sorenstam's last professional victory came Nov. 2, 2008, at the Suzhou Taihu Ladies Open on the Ladies European Tour. The Swede was just 38 years old. She's 50 now, a mother of two who decided starting a family and running a foundation were more important than re-writing the rest of the LPGA record book when she stepped away from competitive golf.
Apparently, though, old habits do die hard. Making her debut in the U.S. Senior Women's Open, Sorenstam went wire-to-wire in a runaway victory in the third overall edition of the championship, a performance that had everybody shaking their heads, including Sorenstam.
"It's really hard to describe," said the now four-time USGA champion, adding to her three U.S. Open titles, after tearfully speaking to the crowd surrounding the 18th green. "Everything felt so good, and then obviously you have to go out there and finish it up. And today I really felt like I played very, very well. To come in here on Sunday knowing what I had to do and I did it, obviously I'm very happy."
The final tally: 67-69-72-68—276, 12 under par, eight shots lower than runner-up Liselotte Neumann.
The journey back to the winner's circle began last October when Sorenstam celebrated her 50th birthday. That's when she sat with her husband Mike McGee, 12-year-old daughter Ava and 11-year-old son Will and asked a simple question: What would you think about mama playing again? "If they said, no, this wasn't happening," Annika noted.
But they said yes, Will, in particular, enamored with getting the chance to follow his mother walking inside the ropes. In recent years, he'd caught the golf bug, and the two of them would practice out near their Orlando home at Lake Nona, something that increased in regularity as the Senior Women's Open date got closer. "I've always seen these highlights of her doing really good," Will said as he watched during the final round. "But now I wanted to see that in person."
Sorenstam joked before the championship that she could get on the bike again "but you don't just enter the Tour de France." So she knocked off the competitive rust a bit in 2021, playing in four organized events. Still, how much does one start on the LPGA Tour in January (T-60 finish), one more on the LET in July (MC) and a pair of hit-and-giggles with a bunch of retired jocks really prepare you?
"I never thought I could win it, if I am honest, because I thought she would be solid enough to carry it through, and obviously she did," said Laura Davies, who finished solo third, nine back after shooting a closing 71.
Neumann trailed by just two shots at the start of the final round and cut into the deficit when she made an eagle on the par-5 first hole. But Sorenstam made birdie to keep the lead and, in hindsight, Neumann's 3 might have been the worst thing anyone could have done, the jab from her mentor and friend ensuring that Sorenstam wouldn't let her mind wander.
From there, Sorenstam continued to methodically work her way around the course, never putting herself in anything resembling a tricky spot. Back-to-back birdies on the par-5 seventh and eighth holes, along with stumbles from Neumann—who had only played once herself in the last 18 months (Southern California Open) due to the pandemic—let Sorenstam stretch the lead to no closer than five shots and walk the back nine stress-free.
"I couldn't give her a fight," Neumann said. "I felt like it was over after seven or eight."
The crazy thing: It wasn't like Brooklawn played easy. Only five players broke par for 72 holes. And yet Sorenstam seemed oblivious to the fact that A.W. Tillinghast's meandering fairways and undulating greens brewed bogeys and doubles by the barrel.
Annika Sorenstam's swing was reminiscient of her days as the dominant player in women's golf.
Darren Carroll
For the week, Sorenstam made 18 birdies, leading that category but only by two over Neumann, Davies and Michele Redman. She made just six bogeys, however, keeping her misses to a minimum.
And then there was the usual Annika accuracy. She hit 60.71 percent of her fairways (ranking T-26) and 86.11 percent of her greens in regulation (first). And while shorter than she was two decades ago (aren't we all), she was second in driving distance (238.1 yards) behind Davies' 258.6.
Even when the outcome was no longer in doubt, Sorenstam was still grinding. When she burned the edge of the cup with birdies tries on the 11th and 12th holes, she winced in disappointment, as if she really expected every putt to drop.
Sure, Sorenstam was playing to win, but she was also playing more relaxed. Having Mike on the bag provided a calming influence. And with Ava and Will along for the walk—Annika giving Will a big hug during a wait on the 12th tee—there was a different vibe.
"There's no doubt I'm in a different time in my life," Sorenstam said. "I'm very happy with my family, and that's what means the most. I have a distance now from golf. Every shot doesn't mean as much as it used to, even though I care, but I know by the end of the day I've got them, I've got the support and I'm living my life. I'm not going to let shots bother me as much."
"I'm glad she decided to come out to play," Neumann said. "She motivated us all."
There lies the rub: There was no need for Sorenstam to play again. Her legacy was just fine. Her last shot in a USGA championship was a holed-out eagle from 199 yards. It was a mic drop moment.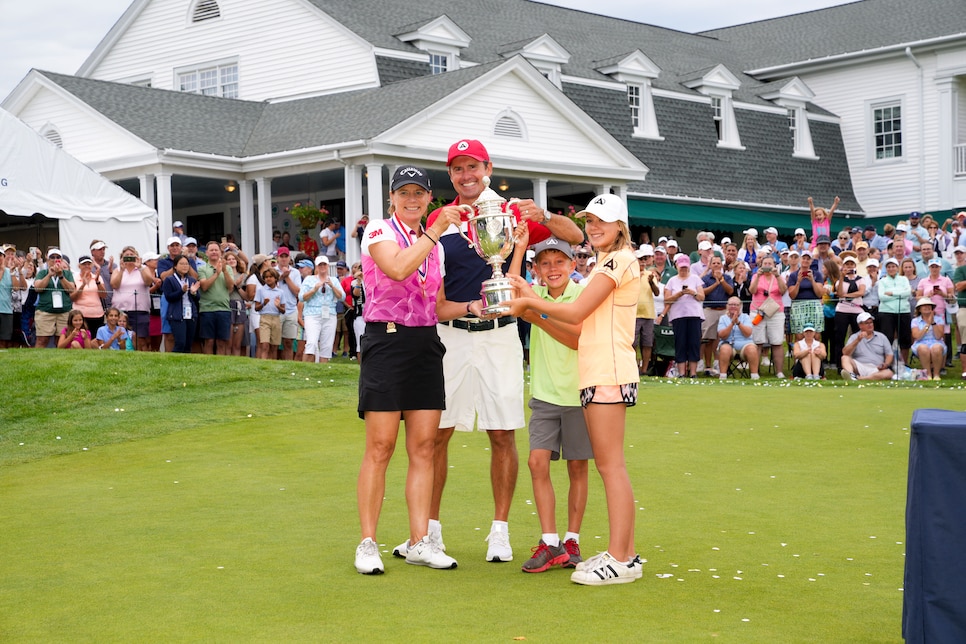 Annika shares the U.S. Senior Women's Open trophy with her family: husband/caddie Mike McGee, son Will, and daughter Ava.
Darren Carroll
Now the future might have more championships ahead. Her Brooklawn win earns her an exemption into next year's U.S. Women's Open, which is being held at Pine Needles in Southern Pines, N.C. It's a place Sorenstam knows a little something about, having won the second of her three U.S. Opens there in 1996 (by six shots!)
Sorenstam, who on Monday heads to Tokyo to watch the Olympic women's tournament in her job as president of the International Golf Federation, played it coy when asked if she'd be in North Carolina next June. "You know, I'm not really sure," she said. "Obviously I just want to enjoy this moment. Again, it's been lots of months to prepare, lots of tournaments to play in to get ready for this. I'm still at a time in my life where my family comes first, and obviously my partners and some of the projects I have. I love to work on different things. To play in these big events just takes a lot of effort, so I want to continue to focus on my foundation, and we'll see."
If the family says yes again, Sorenstam no doubt will be fully committed. That's just the way she is in everything she does.
And if they say no? "You know what, it's not that important to me anymore," Sorenstam said. "I've done that, and if they can't be part of it and it's not something we agree on, then certainly [I] won't be playing."
When the last question was asked and answered, Sorenstam met once more with Mike, Ava and Will, another embrace. "Don't forget your trophy," Will said. "Oh, I wouldn't forget it," Annika replied.
With that, Sorenstam had already put her mama hat back on. And it felt quite comfortable.