The Grind
Wyndham Clark's secret weapon(s), Rickie Fowler's unofficial record and Paul Azinger's all-time announcing fail
Welcome to another edition of The Grind, where we have mixed feelings about West Coast majors. On one hand, watching prime time golf with no distractions from the kids is fantastic. On the other, with work it keeps me up well past my bedtime—and those kids still wake up bright and early. Man, I'm old. As I told my wife at the beginning of the week, I'm "on-call" until midnight every night. Her response: "No offense, but you're not a doctor." Fair enough, but I am a (golf) warrior. So while I'm still recovering from a hectic week, I'm ready to run through it all because that's what warriors do. Let's get cooking.
Wyndham Clark: In a Sunday final four that featured a four-time major champ, the World No. 1, and arguably the most popular player on the PGA Tour, it was this 80-to-1 long-hitting longshot who came out on top.
After earning $2.6 million in six previous years, the emerging 29-year-old has made $7.6 million the past six WEEKS while making his Wikipedia page look a whole lot better with major title No. 1: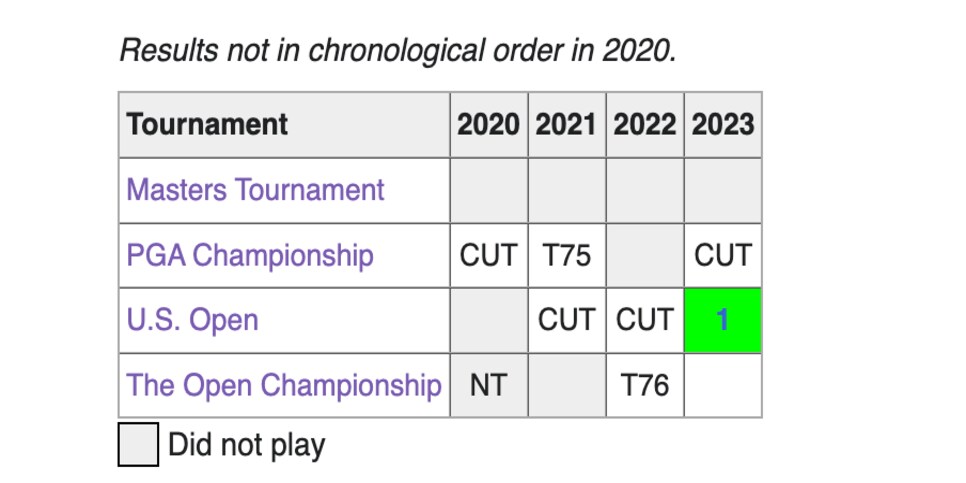 Pretty wild. And so was the scene on 18. Forget about Linsanity, pro golf may have WYNsanity now! OK, so the fans just like rushing the final hole. And most probably just wanted to be closer to Rickie Fowler.
It goes without saying that his mom, who lost a lengthy battle to breast cancer while Wyndham was in college, would be incredibly proud of how he played and handled himself all week. I loved his winning reaction in which all the emotion poured out of:
And loved that all-time club twirl late on Saturday:
That got me so juiced up I could barely sleep. Anyway, the finish was so dramatic and beautiful that it was almost like a Hollywood ending. Oh. Right. It was Hollywood.
Wyndham Clark's secret weapon(s): Let's start with Julie Elion, a sports psychologist—a la Rene Russo in Tin Cup—who has won more majors than Brooks Koepka. I wrote a story on her after she helped Jimmy Walker win the 2016 PGA Championship. Elion and Clark started working together in November, and the results don't lie.
I got to work with a sports psychologist (Shout-out Dr. Brant at The Golf Performance Center!) for the first time last year and it really helped as I won my annual major, the HGGA Championship. Working on the mental side of the game makes a huge difference! And with my big trip coming up next week, this is a good reminder that it might be time to give him another call. … Oh, and he also had whoever this guy is pumping him up:
That's a strong support system right there.
Rickie Fowler: It wasn't the final result he hoped for, but what a fantastic week for Resurgent Rickie. One of golf's biggest stars, it was great seeing him back on one of the biggest stages, shooting a U.S. Open-record 62 on Thursday and holding a share of the 54-hole lead while setting a new championship record for birdies made. I also loved how he handled this heckler at LACC was amazing:
And how he handles the nice fans by always signing autographs is even more amazing. He must hold the record (post-Arnold Palmer) for career autographs signed at golf tournaments. And he remained all class while chopping it up with Wyndham on Sunday after what had to be a brutal result for him. But it was his first major championship close call as a dad. And on Father's Day, he certainly had plenty of PERSPECTIVE:
Good for you, Rickie. But be careful with those late bedtimes. You give them an inch and they'll take a mile.
"Capacity Limitations": First of all, Los Angeles Country Club looked spectacular. And while the scoring was a bit silly on Thursday (Rickie Fowler held that single-round record by himself for exactly 21 minutes before Xander Schauffele matched it!), the course showed enough teeth over the weekend to be a deserving U.S. Open venue. That being said, it was disappointing that more fans weren't on hand due to the USGA implementing capacity limitations and LACC's members gobbling up tickets just to keep the riff-raff out. Defending champ Matt Fitzpatrick went as far as to call the atmosphere "very poor."
Not exactly an open U.S. Open. And not the best way to "GROW THE GAME." Let's hope the crowds are back to normal next year at Pinehurst.
Rory on Sundays: This isn't just at majors now, but every week. You can make a case that Rory should have won the Memorial, the Canadian Open and the U.S. Open, and instead he didn't win any. Heck, if he had just played LACC's three par 5s in two under, he would have won the tournament. Instead, he played them in even par thanks to that bizarre bogey on 14 and lost by one.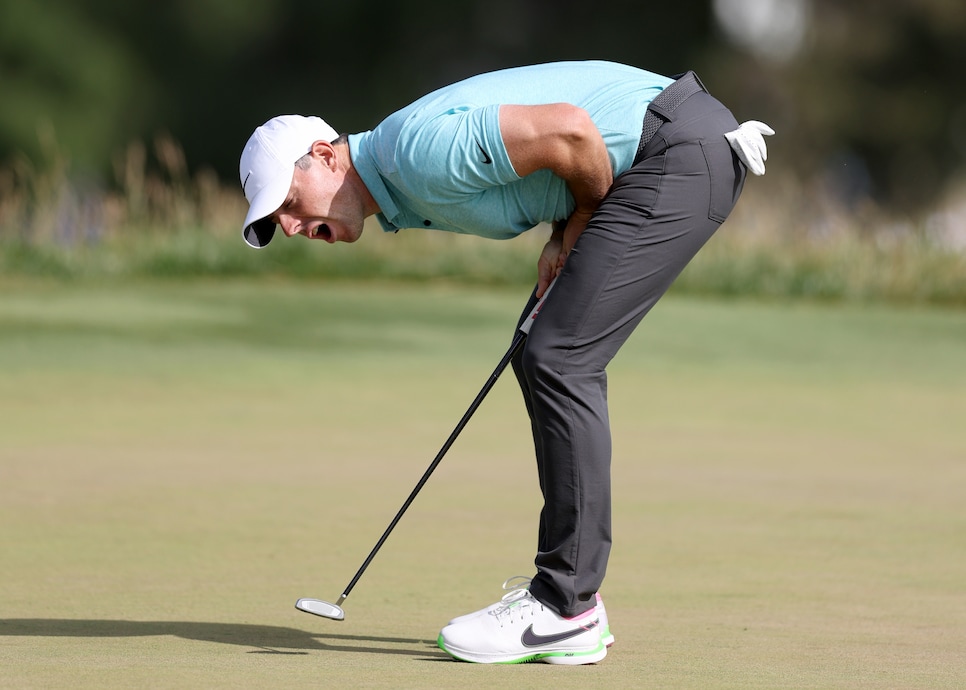 In a Sunday performance that was eerily similar to what we saw in the final round of the Open Championship at St. Andrews last year, McIlroy hit nearly every green, but didn't give himself enough good birdie chances, instead burning edges on long putts all day. As Brooks Koepka realized at the Masters this year, that conservative approach doesn't work, and he rectified that with his Sunday strategy at the PGA Championship in capturing a fifth career major. If McIlroy is to match—or better—that number, he's going to have to go that route. Instead, he added more yellow to his Wiki page: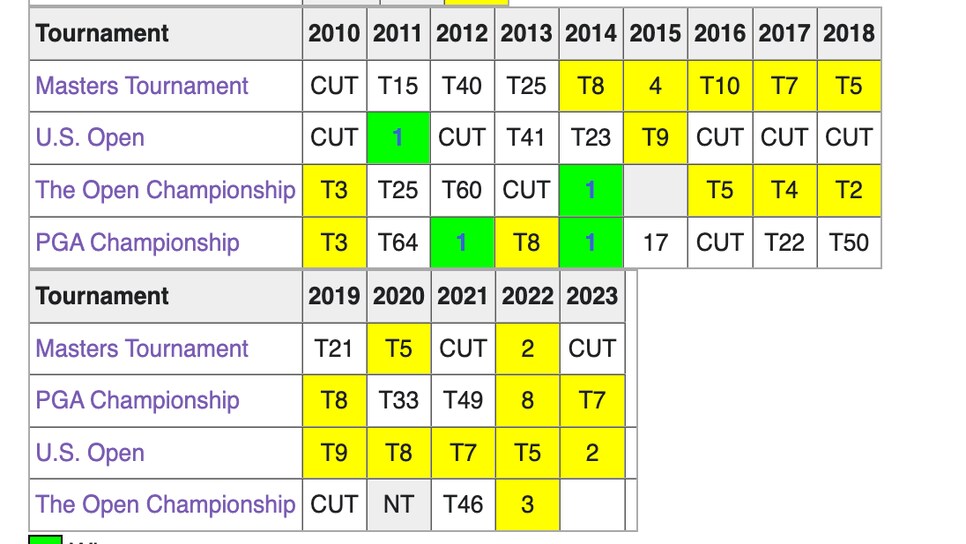 Forget the green jacket, Rory hasn't added any green on there in nearly NINE years. Crazy.
Getting robbed: Look, a U.S. Open is hard enough. And then you have to deal with the liner of the cup being off because of how someone pulled out the flagstick in the group ahead?!
That's just brutal. Thank goodness the same thing didn't happen to Wyndham Clark with his winning tap-in. And at least it didn't cost Gordon Sargent any money due to his amateur status.
Paul Azinger: When you're an announcer and you're trending on Twitter, that's usually not a good sign. Such was the case for NBC's top analyst, who was not at the top of his game all week, but particularly on a brutal Sunday call involving Wyndham Clark's chip on the ninth hole. Azinger assured everyone Clark had no chance of getting the ball close by playing it off a slope, then he said Clark had missed that slope, and then he doubled down on the getting it close part AS THE BALL CONTINUED TO ROLL CLOSE, setting up a huge par save. Just a wild—and wildly inaccurate—sequence:
Miss you, Johnny Miller. Miss you every day. Well, at least every June.
The PGA Tour heads to Connecticut for the Travelers Championship, AKA that other tournament with an umbrella logo. In recent years, this event's stature has grown and now it's bigger than ever as one of the PGA Tour's designated events. It's also a fun one for the guys after getting beat up at a U.S. Open because of the low scoring. TPC River Highlands was the site of Jim Furyk's 58 in 2016 and Patrick Cantlay's 60 as an amateur in 2011. Also, the KPMG Women's PGA Championship is at … Baltusrol! So another great week of golf viewing if you didn't use up all your TV privileges for the rest of the summer on Father's Day.
Random tournament fact: Ken Duke won his lone PGA Tour title here a decade ago. Which is pretty crazy considering the dude/Duke authored arguably the greatest round in PGA Tour history at the 2016 Players Championship. Surprised he didn't win another.
RANDOM PROP BETS OF THE WEEK
—Someone will shoot another 58 at TPC River Highlands: 100-to-1 odds
—Someone will shoot a 58 at Baltusrol: 100 MILLION-to-1 odds
—Wyndham Clark won't be 80-to-1 to win next year's U.S. Open: LOCK
CLUB PRO GUY TWEET OF THE WEEK
Keegan Bradley missed the cut, but still played golf on Sunday. Sort of. The five-time PGA Tour winner shared a few photos of him playing mini-golf with his kids, but this one of him lining up a putt by using AimPoint got us: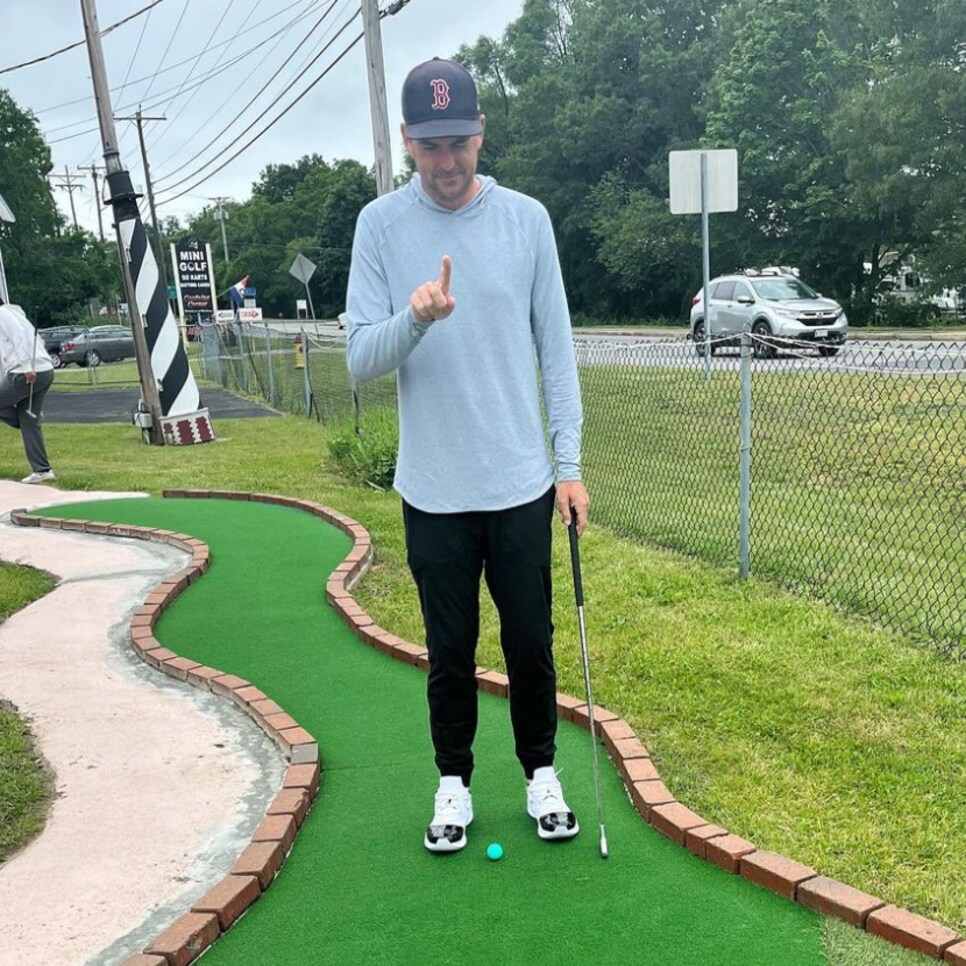 Good for him sticking to his routine. Bad for the groups playing behind.
VIRAL VIDEO(S) OF THE WEEK
First, Cameron Young hit a golf ball into a spot you wouldn't believe in a million years:
And then there was Adam Hadwin throwing a golf club into a spot you don't want to find and then having to take a walk of shame to retrieve it:
Not that we're complaining. This Canadian—and his wife Jessica—are great for content. The guy goes viral every week these days!
VIRAL VIDEO OF THE WEEK (NON-U.S. OPEN DIVISION)
Just up the road at Riviera, Charlie Woods briefly stole the show on the eve of the U.S. Open:
THIS WEEK IN PUBLIC DISPLAYS OF AFFECTION
Dustin Johnson didn't win, but being able to show up places with your father-in-law when your father-in-law is Wayne Gretzky is pretty badass:
Happy Father's Day, guys.
THIS WEEK IN PUBLIC DISPLAYS OF
AFFECTION

ACTING
Si Woo Kim pretending to get hit by an errant Keith Mitchell shot was classic:
Get this guy an audition while he's still in Hollywood.
THIS WEEK IN CELEBRITY GOLFERS
How about 7-foot NBA star Karl-Anthony Towns swinging a golf club while playing with Willy Wilcox?!
Very impressive—although not the best result on that shot. Anyway, golf now has Big Cat and Big KAT.
"I would go through 100 Sundays like this to get my hands on another major championship." —Rory McIlroy. At this rate of close calls, he might actually do it. What a cruel form of torture.
Dustin Johnson passed Jack Nicklaus and tied Tiger Woods for the most career rounds of 65 or better in a major when he shot his 10th on Thursday. Unfortunately for DJ, he still trails those guys in major trophies by 16 and 13, respectively. … Congrats to Leona Maguire for winning the Meijer LPGA Classic by going six under over her final six holes. Yeah, that kind of scoring wasn't happening down the stretch at LACC. … But it was possible on the front as Tom Kim showed on Saturday with that 29 when Thomas the Train hopped on the birdie train. Congrats to the 20-year-old on his first of many top-10s in a major. … And finally, how about this beautiful shirt I got from my family on Father's Day?
RANDOM QUESTIONS TO PONDER
How many majors will Rory and Wyndham win?
How many autographs has Rickie Fowler signed?