LPGA
This time, Leona Maguire does not finish second, finally wins the Meijer LPGA Classic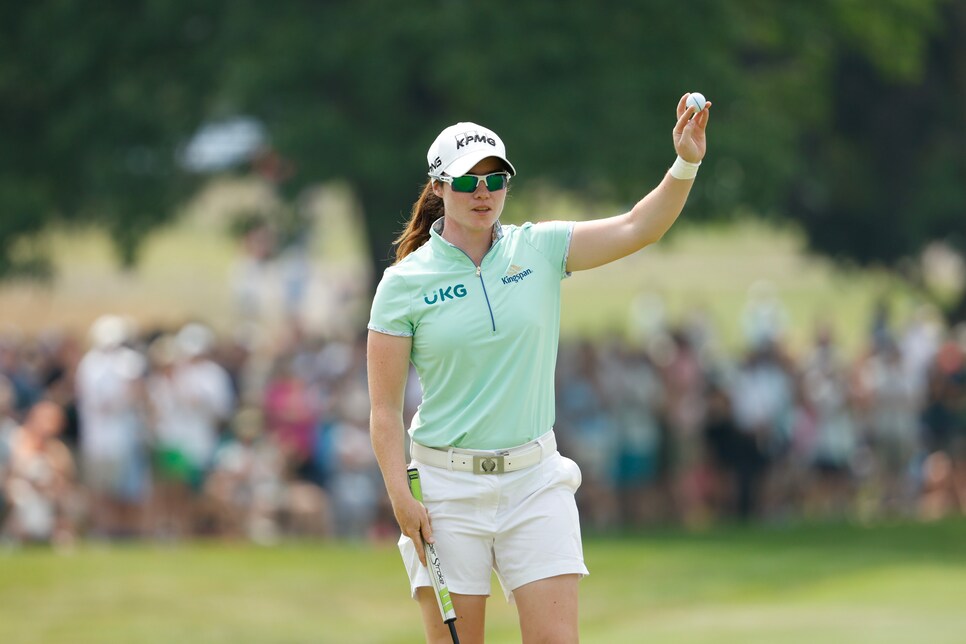 Leona Maguire has lost to two people over the last three Meijer LPGA Classics. Nelly Korda in 2021 and Jennifer Kupcho in 2022 in a playoff. Fitting, then, that Maguire, 28, broke through to win her second LPGA Tour title at the tournament Sunday at Blythefield Country Club with a bogey-free c64 punctuating her two-stroke victory at 21 under par.
"This one is I think that little bit sweeter after coming so close two years in a row," Maguire said. "I know a lot of people this week were saying you're due one, this course owes you something, all the rest. But I suppose that's not golf. Golf usually doesn't work like that. But nice that it all worked out well for me this week."
The Irishwoman took over on the back nine in Belmont, Mich., asserting herself with a dominant six under over the final six holes. She believed it would take 20 under to win, and only looked at a leaderboard for the first time on the 18th green, where she was surprised to see she led by two.
The commanding run recalled for Maguire the most important nine she had this season, at the Chevron Championship. Her back-nine four under in the second round enabled her to make the cut by a stroke. She went on to tie for 23rd place.
"It was [a] very different situation but same mentality and same execution," Maguire said. "When we walked off that day on Friday, Dermot [Byrne, her caddie] said, 'you don't realize how important this round has just been,' and I think today was a really good example of that."
Maguire returned to Ireland for a two-week break in early May to recharge and fine-tune her game with her coach back at home. Maguire has finished in the top 10 in all three starts since returning to the tour, including this win at the Meijer Classic.
Maguire's groupmate Ariya Jutanugarn, 27, ended up her closest challenger. The Thai star shot an opening-round 73, then climbed into contention with her final three rounds of 66-64-66 to finish at 19 under par. Jutanugarn is still trying to put together a consistent 72-hole performance, with her recent results mirroring her up-and-down week at Meijer. Over Jutanugarn's last six starts, excluding Team Thailand's win at the Hanwha LifePlus International Crown, Jutanugarn has missed three cuts and posted three top-15 finishes, highlighted by her runner-up this week.
"I'm really happy about my game last three days because honestly after my first round I'm thinking about I'm going to miss the cut and thinking about oh, I should leave here earlier to KPMG," Jutanugarn said. "So now I finish top five. I mean, can't ask for better."
Amy Yang and Xiyu Lin in the final group had their chances to catch Maguire despite both finishing three back at 18 under par. The 33-year-old South Korean's aspirations were dashed once she hit the same tree on back-to-back shots on the par-4 16th, resulting in the only double bogey the hole gave up Sunday. Yang ended up posting a three-under 69 Sunday. The four-time winner remains searching for her first state-side LPGA victory.
Lin, 27, nearly became the third player from China to win on the LPGA after her friend Ruoning Yin broke through at the DIO Implant LA Open in early April. She recovered from a COVID-19 infection last week, which forced her to skip the Shoprite LPGA Classic. Instead of feeling down at her sixth top-three finish over two seasons without winning, Lin tipped her cap to Maguire's strong performance following a Sunday 68.
"My body is not 100 percent healthy yet," Lin said. "I definitely feel super tired at the end of the day, but I still hung in there really well. Leona just played too good."
Maguire now heads into the KPMG Women's PGA Championship with momentum. She slyly grinned at her winner's press conference when a media member pointed out that all previous Meijer winners had won a major championship. Now, Maguire's looking at back-to-back chances to win her first major, with the next two tournaments on the tour's schedule being the KPMG and the U.S. Women's Open.
"The goal was to be coming into good form heading into Baltusrol and Pebble, so we've peaked a week early, which is nice, so we can continue that run of form."