On the road
Kay Cockerill's RV odyssey
How a Golf Channel commentator became a road warrior, traveling from tournament to tournament, with her husband and their dog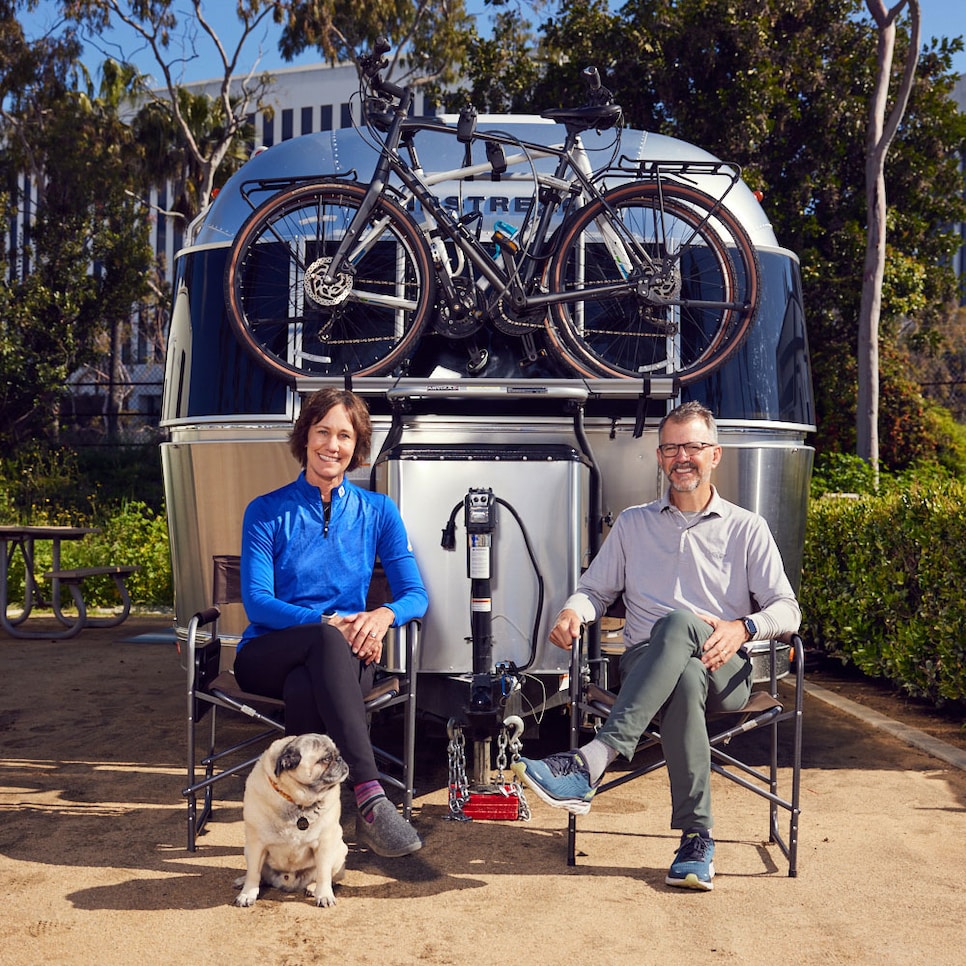 SAN FRANCISCO — The apple didn't fall far from the airstream for Danny Dann, the husband of Golf Channel commentator Kay Cockerill. When his parents retired, they explored the country in an RV for nine years, following Lewis and Clark's expedition as part of the 200th-anniversary celebration of the landmark exploration of the United States. In April 2022, Dann and Cockerill embarked on their own cross-country adventure, breaking away from their decade-long home in San Francisco and traveling in an airstream with their pug Darby following the courses in which Cockerill commentates.
That journey is still going on today, as San Francisco marks both a return of sorts and another "new" stop while Cockerill is working in front of the camera, part of the broadcast crew announcing this week's Hanwha LifePath International Crown.
"People talk about doing these things, but who actually does it?" Cockerill posited.
While following his parents' footsteps remained in Dann's DNA, the process to start the trek began in 2020. Dann and Cockerill went to a Pleasanton RV show and sorted through more than 200 possible models before settling on their 28-foot glistening silver airstream. Like Goldilocks sorting through porridge, it wasn't too big or too small and fit everything they needed—from working space to storage—just right. In their attention to detail, Dann scoured more than 30 dealerships up and down the Pacific Coast, from California to Oregon, to find the hybrid truck he wanted, which could serve as a backup battery for their airstream in the event they couldn't plug in at an RV camp.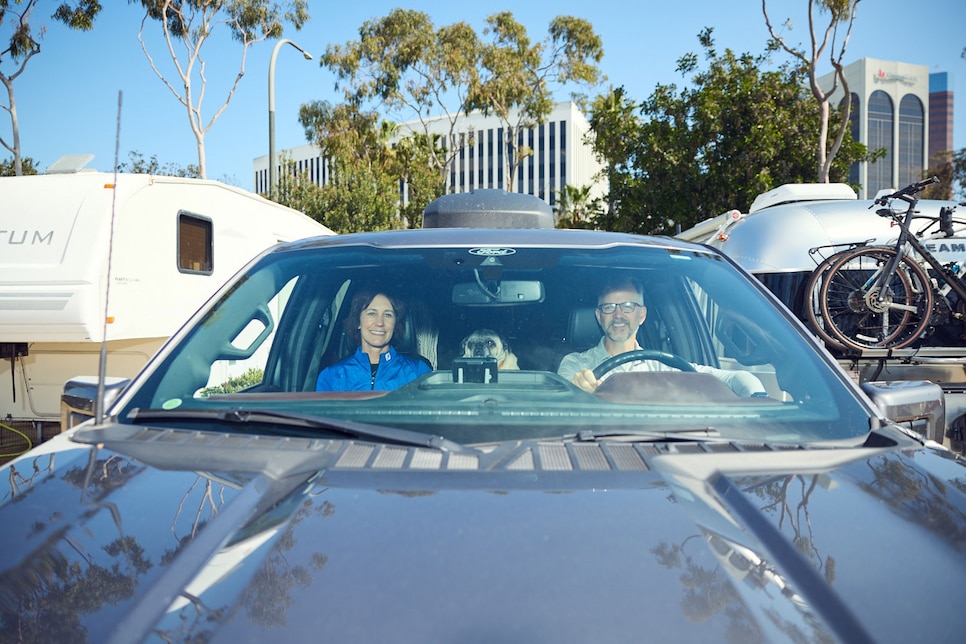 When getting from place to place, Dann and Cockerill haul their RV with a hybrid truck.
Ryan Young
When Dann retired from a 27-year career in the San Francisco Giants' marketing department, it felt like the right time to hit the road. Both were in their 50s and could physically take on any hike they saw. In the process, Cockerill, a two-time U.S. Women's Amateur champion, assumed this new adventure would include retiring from her 27-year Golf Channel commentating career, which followed a 10-year career on the LPGA Tour.
"I said, 'Well, I guess I'll leave the Golf Channel,' and he looked at me and said, 'You don't need to stop working.' And so I think his wheels had been cranking a little bit ahead of mine on this," Cockerill said.
Even with all the pre-planning, the opening salvo of their trip turned complicated. Three months before their targeted takeoff in January 2022, Cockerill tore her Achilles playing pickleball. On top of beginning their nationwide exploration, Cockerill needed to rehab to be prepared to call the U.S. Open and U.S. Women's Open in June. Their first planned stop in Southern California initially was Sequoia National Park. Instead, after embarking on April 18, 2022, they went to San Diego and small towns for walks on the beach, building up to short hikes.
It was one of many tests Dann faced as the unofficial "VP of Logistics" for the trip. He maps out their journey at least two months in advance based on Cockerill's commentating assignments and the places they want to visit. He has maintained their travel blog, darbyexpress.com, honoring their pug Darby. Instead of parking in random Walmarts, he scours to find experiences for them at night, such as Harvest Hosts, where they have a farm-to-table meal and a local wine. Dann's coordinated dog-sitting for Darby if they're out of the airstream for more than six hours. When work takes Cockerill to international tournaments, such as the AIG Women's Open, he maps out where they will be in U.S. at that time and how they can store their airstream and truck. He had to book five months out if they wanted to see a more popular park, such as visiting Zion National Park last October.
"I think it's kind of gone to plan," Dann said. "I mean, I'm a planner. So we haven't really like boondocked and said all of a sudden, 'Hey, let's switch our plans completely and go off here.' She still has a schedule that we need to kind of follow a bit, and we don't want to get too far behind."
That doesn't mean the couple doesn't venture off course from time to time if something catches their eye or an opportunity arises. They'll pull over for lunch during a drive in a town they've never heard of, and one of them will Google the town's origin and history and read it to the other. If they see an off-beaten trail on a hike, they'll follow it wherever it may lead. If Cockerill needs to fly to back-to-back events, Dann drives on his own or with a friend, like when Cockerill flew from Las Vegas from the LPGA Tour's Bank of Hope LPGA Match Play to Southern Pines, N.C., to get to the U.S. Women's Open last June. He drove 2,100 miles over eight days to get to Michigan, stopping at Coors Field in Denver for a baseball game.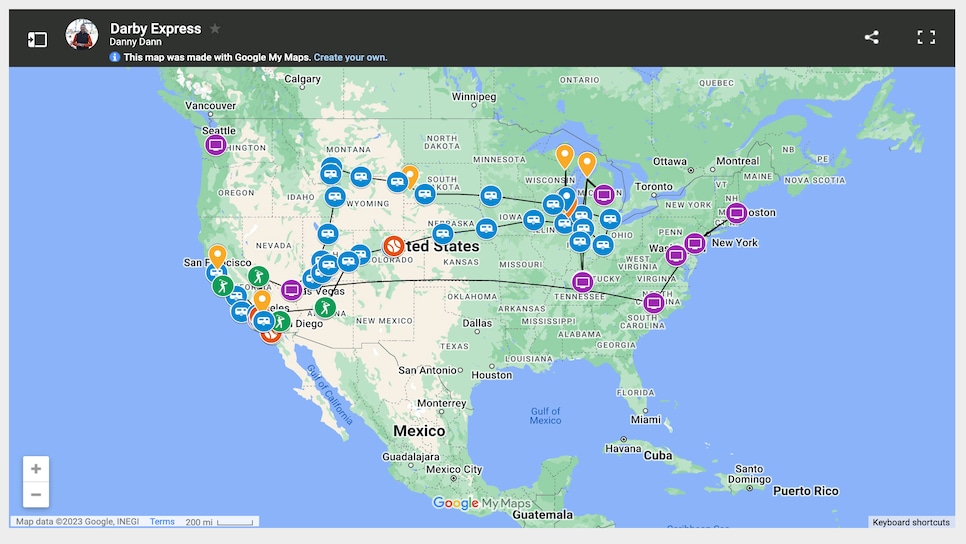 Danny blogs about their adventures on darbyexpress.com, including tracking exactly where they've traveled.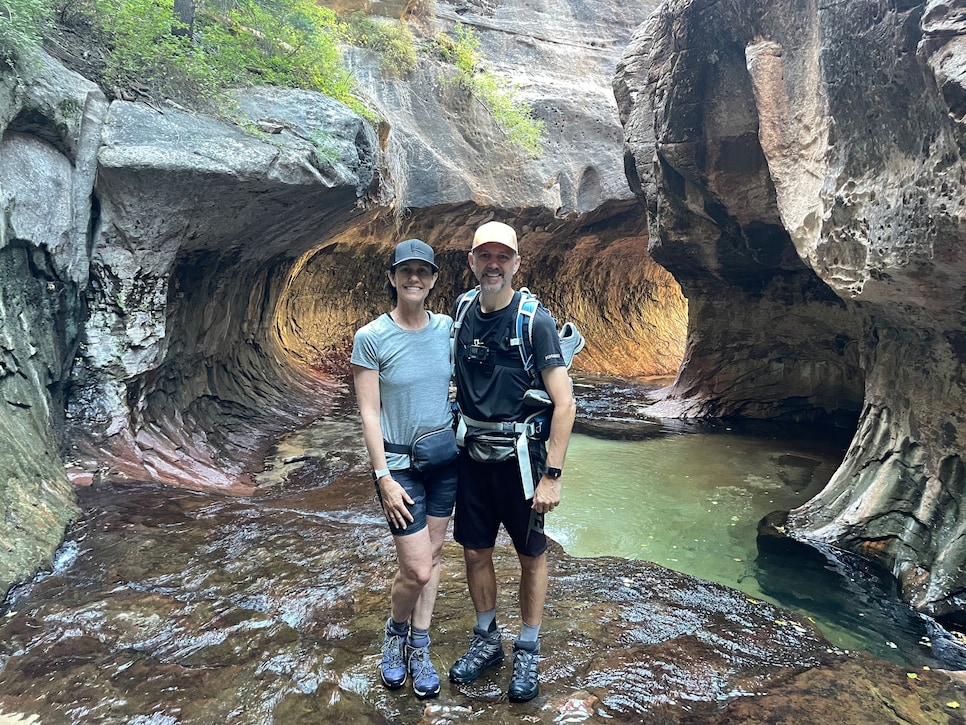 Kay and Danny at the Subway outside of Zion National Park. (Photo courtesy of Kay Cockerill)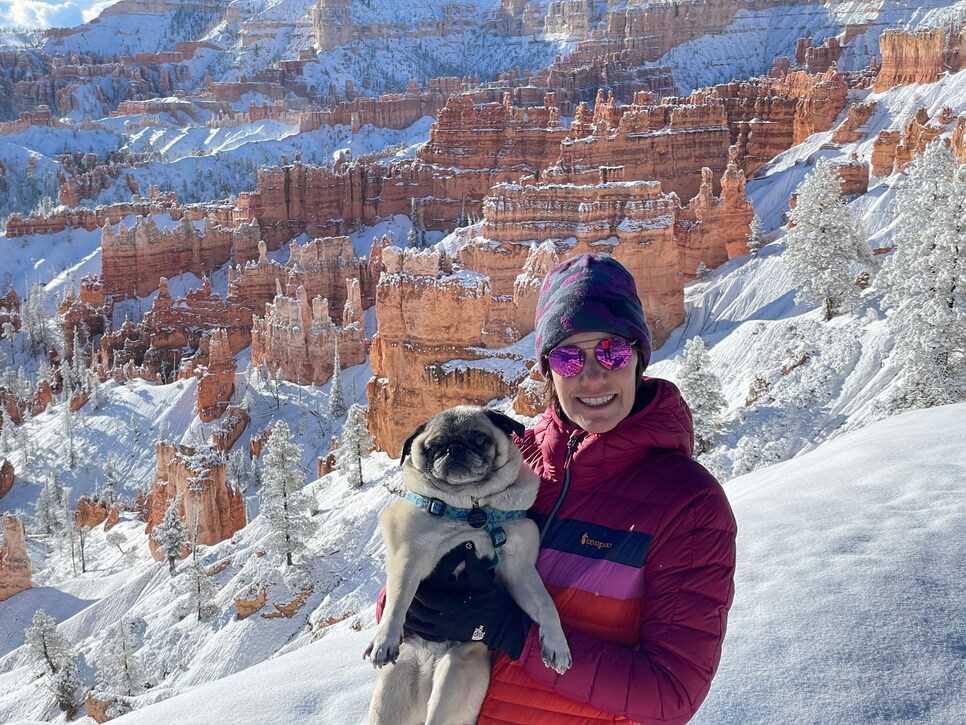 Kay and Darby at Bryce Canyon. (Photo courtesy of Kay Cockerill)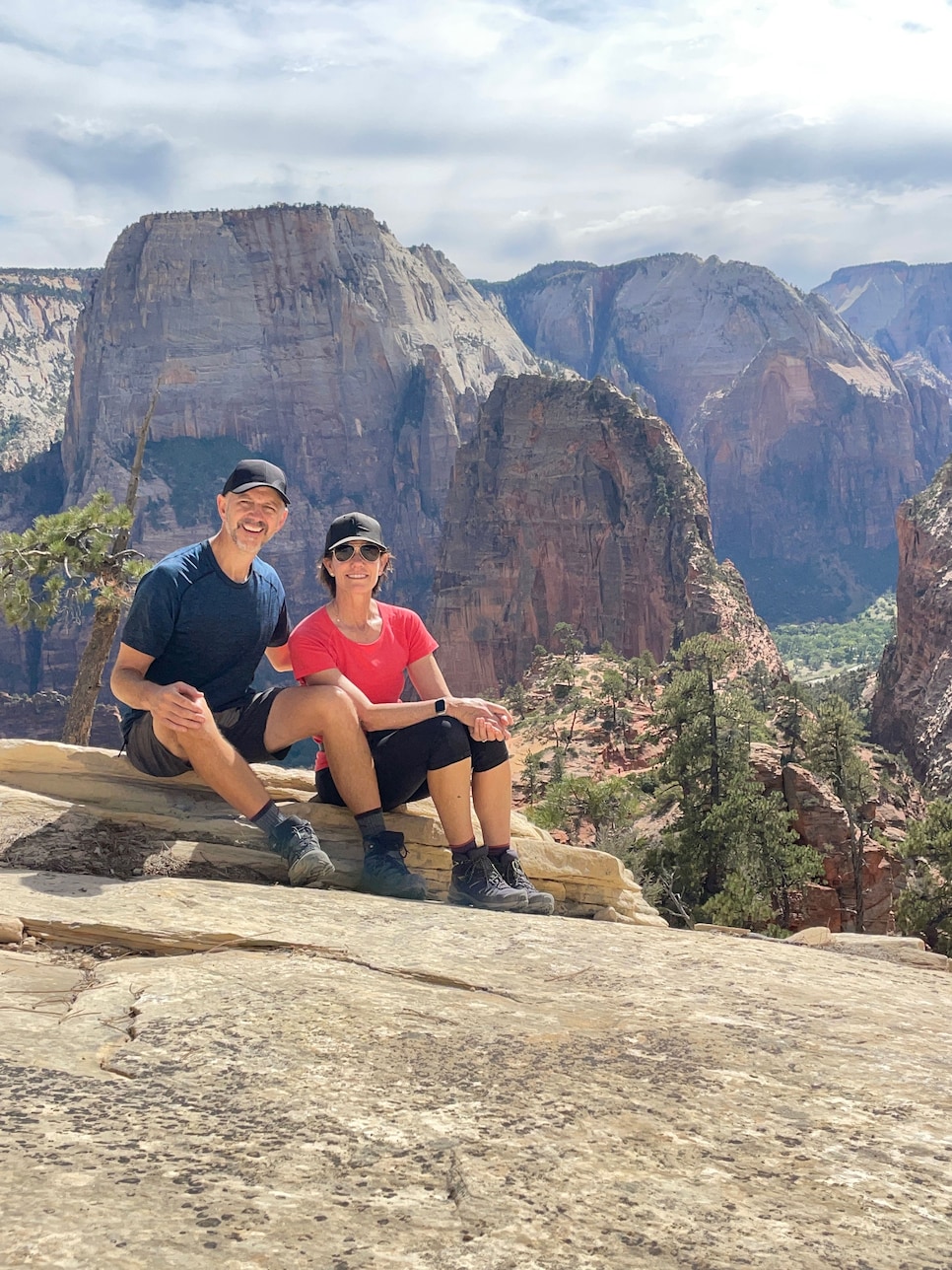 Danny and Kay visit Zion, the West Trail to Scouts Landing. (Photo courtesy of Kay Cockerill)
The following month, Dann got to experience something he hadn't done in nearly 30 years. On a Saturday before the beginning of last year's Dow Great Lakes Bay Invitational, he got a text from Gerina Pillar asking for him to caddie for her that week. It was the first time Dann looped on the LPGA since he caddied for Cockerill in the 1990s.
"It's like riding a bike," Dann said of caddieing.
They've also soaked in some of America's most picturesque scenery. The airstream trekked through 17 states last year. Cockerill's favorite stretch of the trip came last September when they stopped at Mount Rushmore in South Dakota, Devils Tower in Wyoming, and Bozeman, Montana's state capital. They've collected magnets to put on their airstream's fridge, the only memorabilia they can realistically store.
"You read about these places, you see them, and then when you actually go there and see them with your own eyes is incredible," Cockerill said.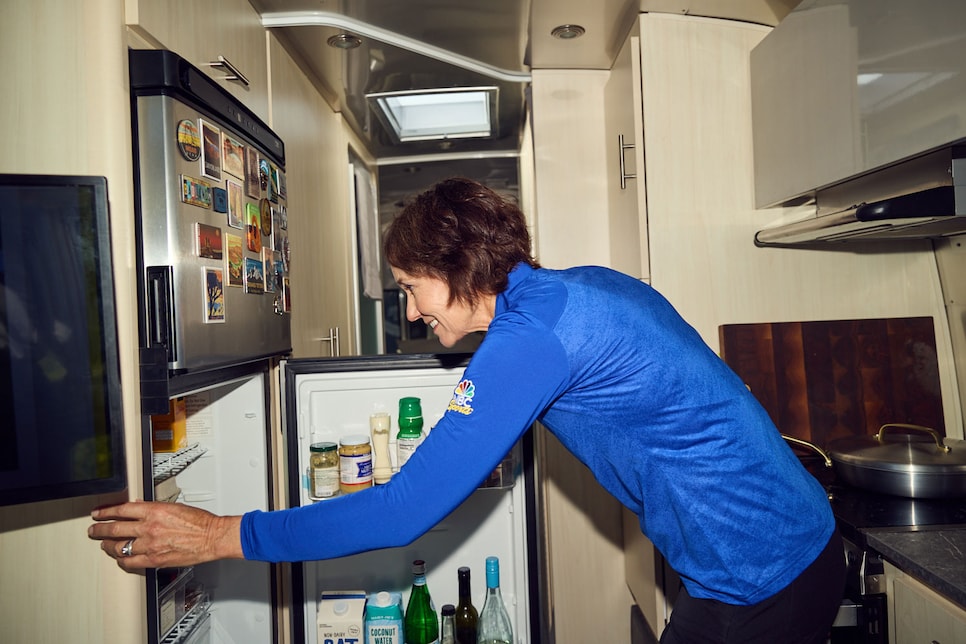 Kay Cockerill shows off the amenities inside the airstream, including the fridge.
Ryan Young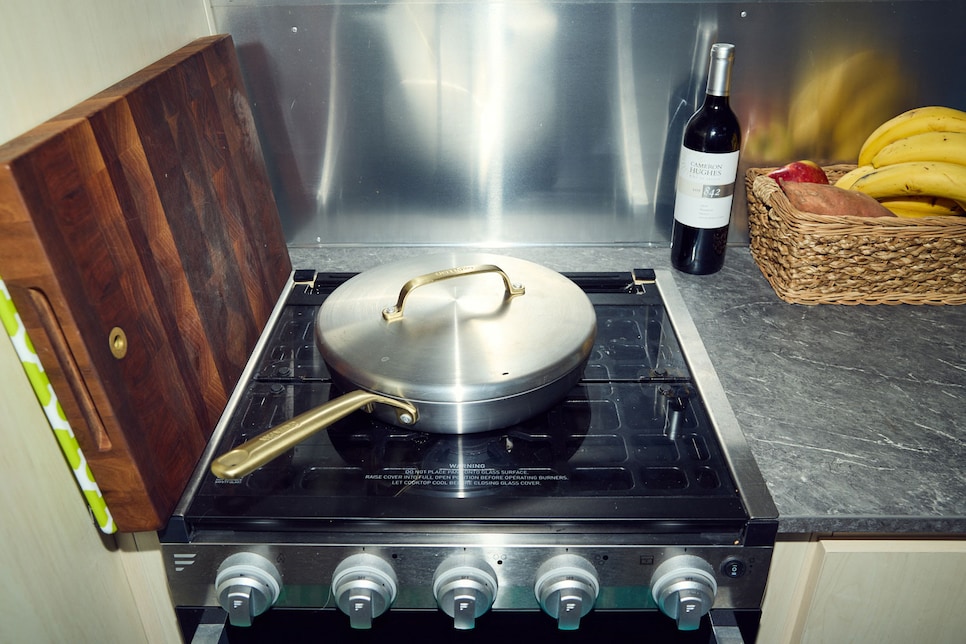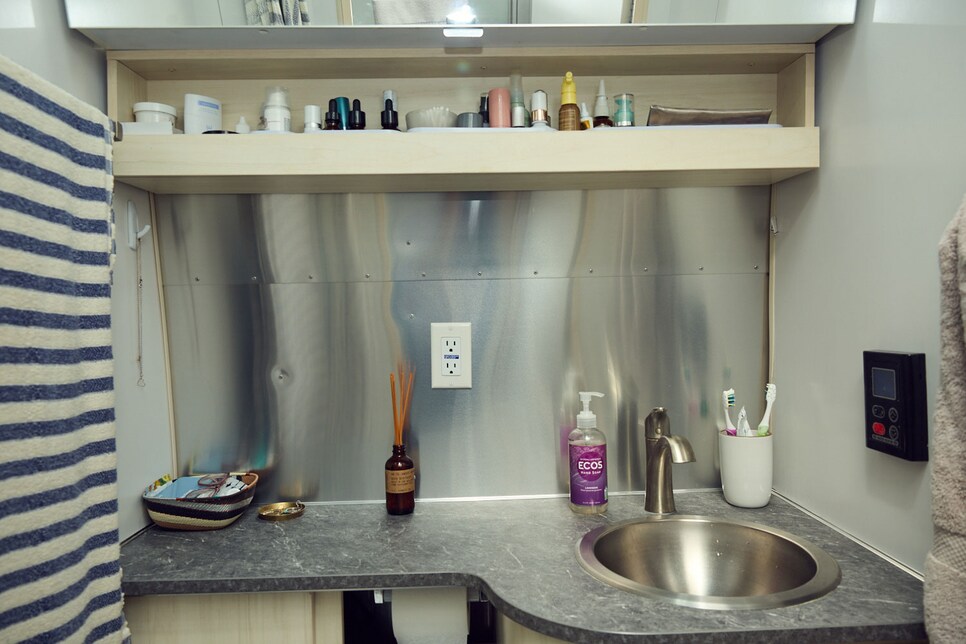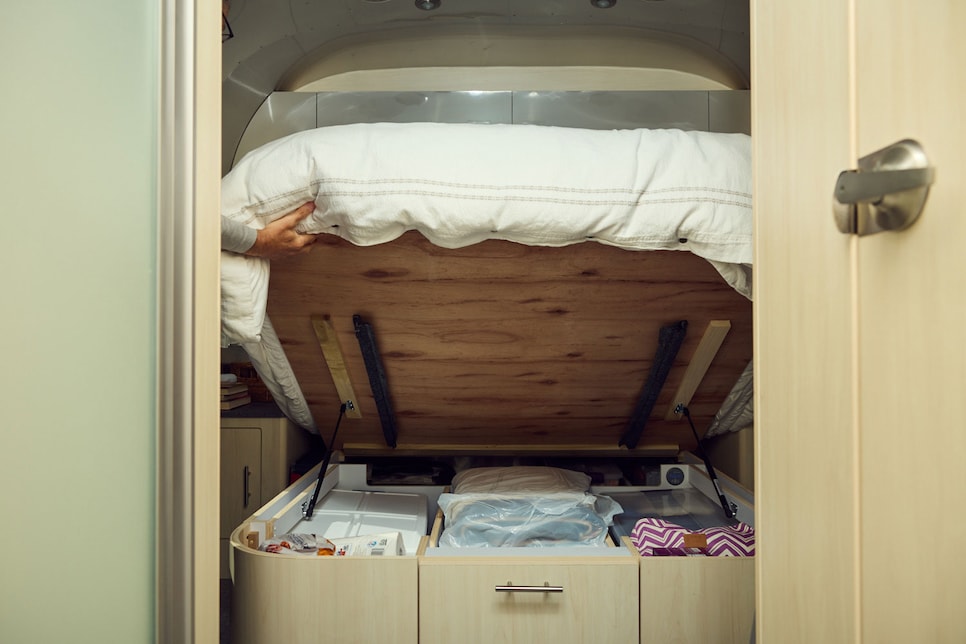 Storage space under the bed.
Ryan Young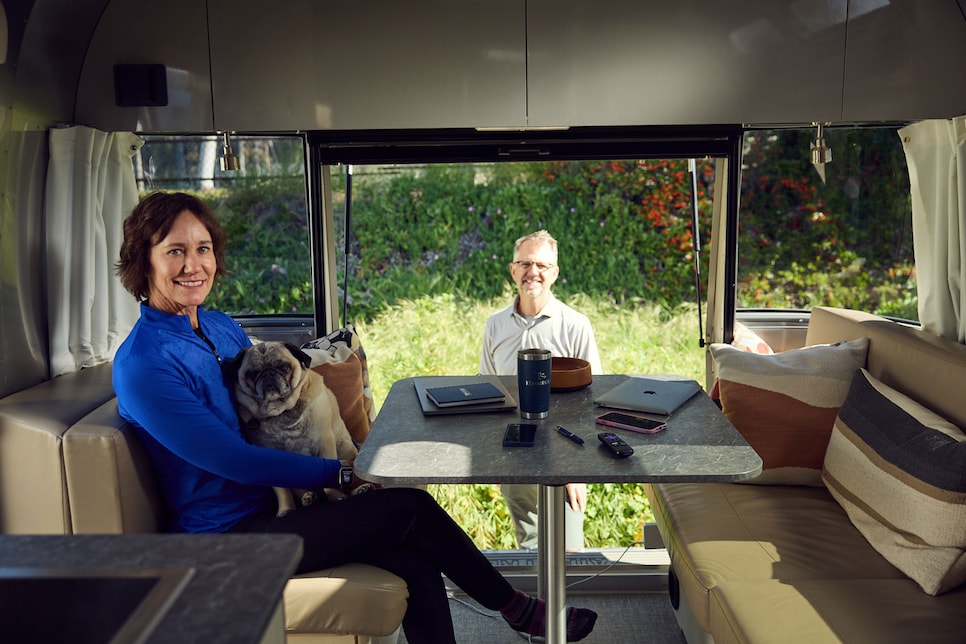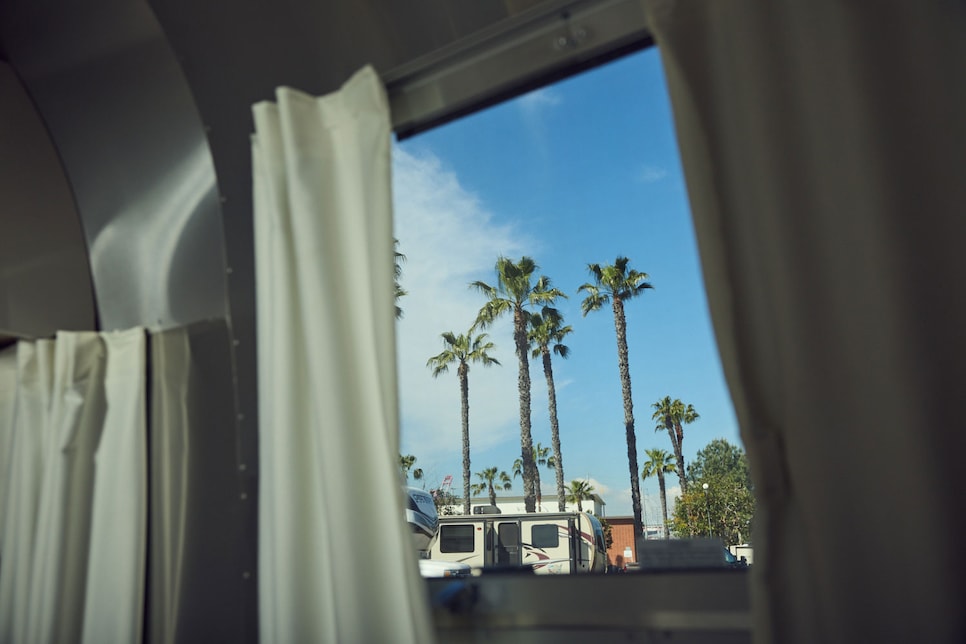 The view of palm trees from outside the RV when Cockerill and Dann were recently in Los Angeles for an LPGA event.
Ryan Young
When unforeseen circumstances emerge, such as the heavy rains in Southern California earlier this year, Dann and Cockerill rely on a phrase that's become a little more common during the journey: "Let's pivot." Instead of trying to navigate the city, a massive challenge on its own with a 28-foot trailer hitched to the back of a pickup truck, they drove out to Phoenix two days earlier ahead of the LPGA Drive On Championship at Superstition Mountain that Cockerill commentated. They hosted fellow Golf Channel commentators Grant Boone and Tom Abbott for dinner, grilling beside the airstream near the course while giving a tour.
Boone, who first saw the airstream last November in Flagstaff, Ariz., felt the resemblance to their old residence.
"I walked in, and it was so Kay and Danny (and Darby)," Boone emailed. "They had figured out how to make it work and make it them. It felt just like I was visiting their home in San Francisco."
Abbott enjoyed the airstream but felt it'd be challenging to do alongside his commentating job. "I like my creature comfort too much," Abbott said. "I like my hotel room. I like my shower with a bit of space. I like somebody making my bed in the hotel. The maid service I like. I like all the creature comforts of traveling."
Those comforts also include the necessary internet to prepare for commentating week in and week out on tour. Cockerill and Dann invested in a Starlink unit, allowing access for high-speed internet in virtually any part of the country. In addition, with a pull-out TV in the airstream, she can watch golf to further prepare.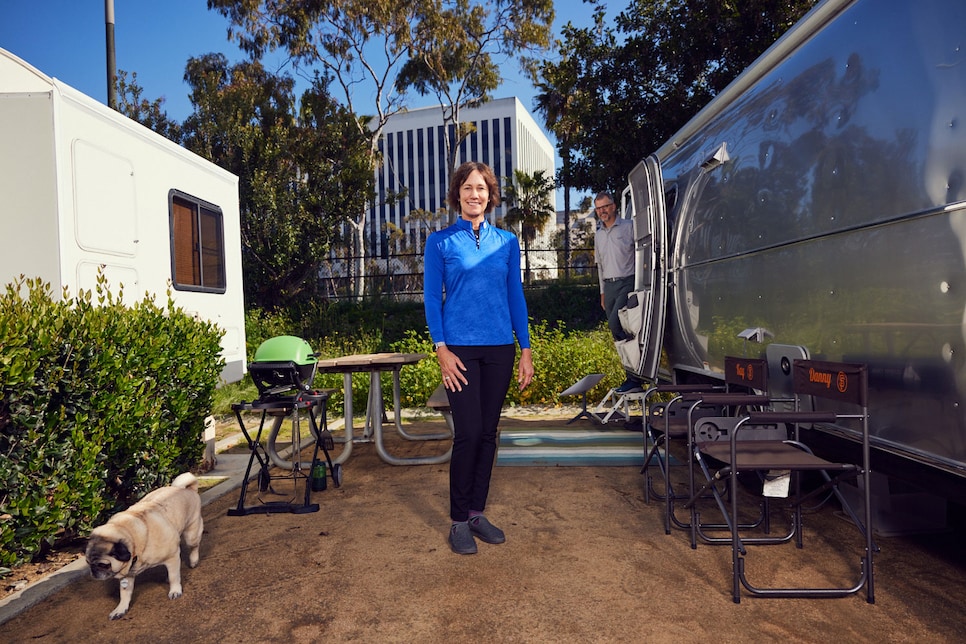 Cockerill originally thought the RV adventure would mean retiring from TV work, but she and Dann (and their pug, Darby) have made it work.
Ryan Young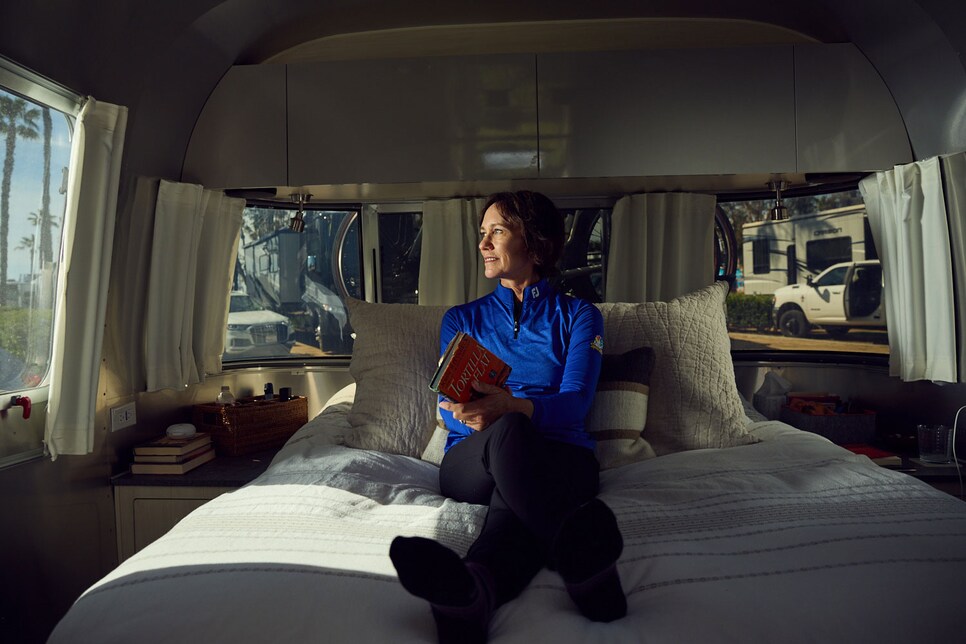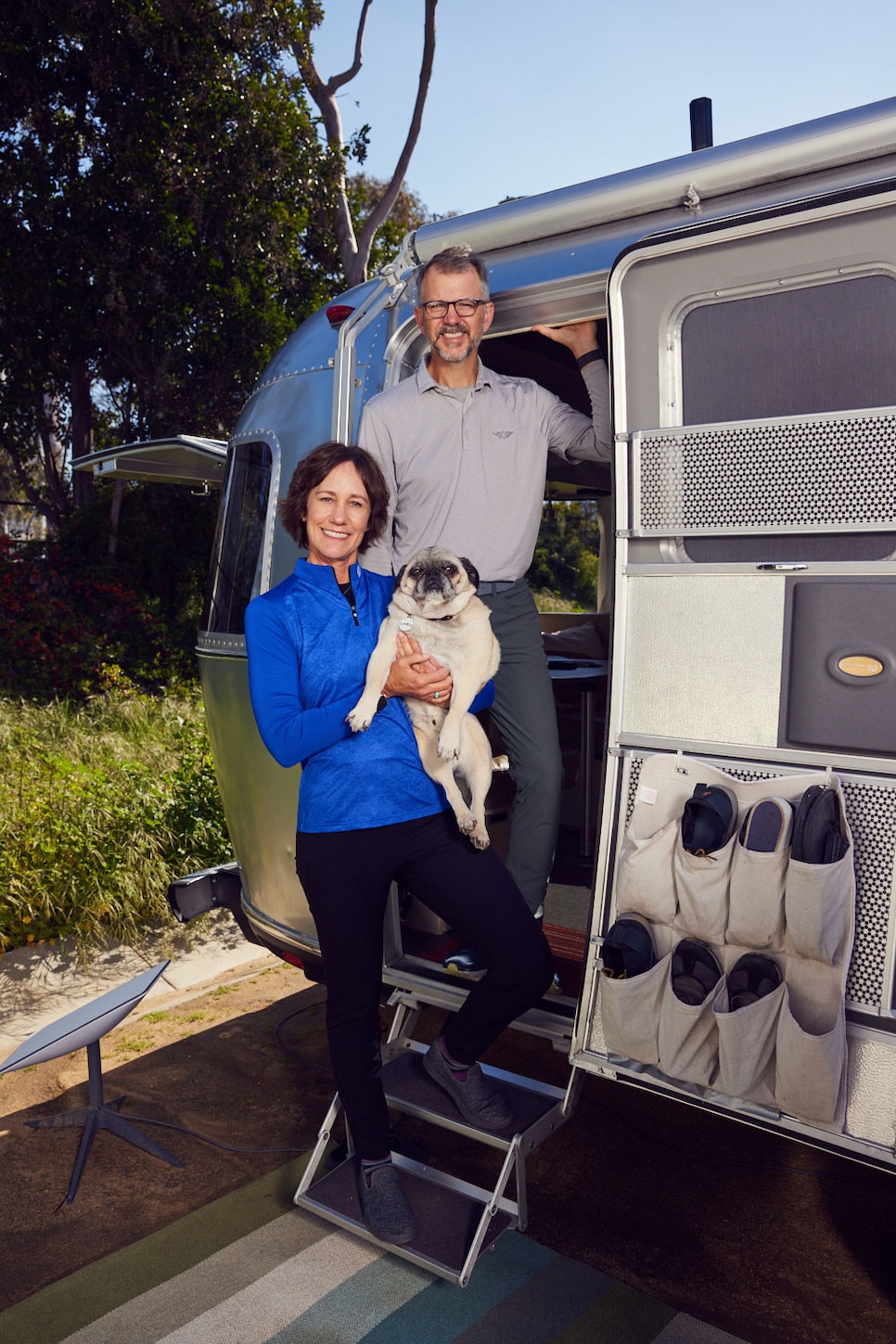 The former player/caddie tandem spends more time together during this journey than they have in ages. Cockerill's Golf Channel job took her away from San Francisco for 15 to 18 weeks a year while Dann worked diligently for the Giants. Every day, they learn something new about the truck, the airstream, each other and their relationship.
"We've definitely become a lot closer with our relationship as well as our quarters that we live in," Dann said.
As of now, November is the tentative end of the adventure. Following Cockerill's return to the States after the Solheim Cup in Spain, October will serve as the crescendo of exploring the west coast before reacclimating to their San Francisco abode. They both shared that the long journey has taken its toll.
Yet they've already got eyes on future trips. They plan to store the airstream and truck, with thoughts of venturing out to Maine and New Hampshire down the road. Their philosophy on how they approached the roads in front of them might get them back in the airstream sooner than they think.
"We love to go on a hike, and we'll see a sign that says the trail ends here," Dann said. "And that's when we pass that sign and keep going because there's always something more beautiful beyond the end of the trail."