Sony Open
'Someone wants me to honk, I'll honk': Jordan Spieth sounds pretty excited about the new RV he bought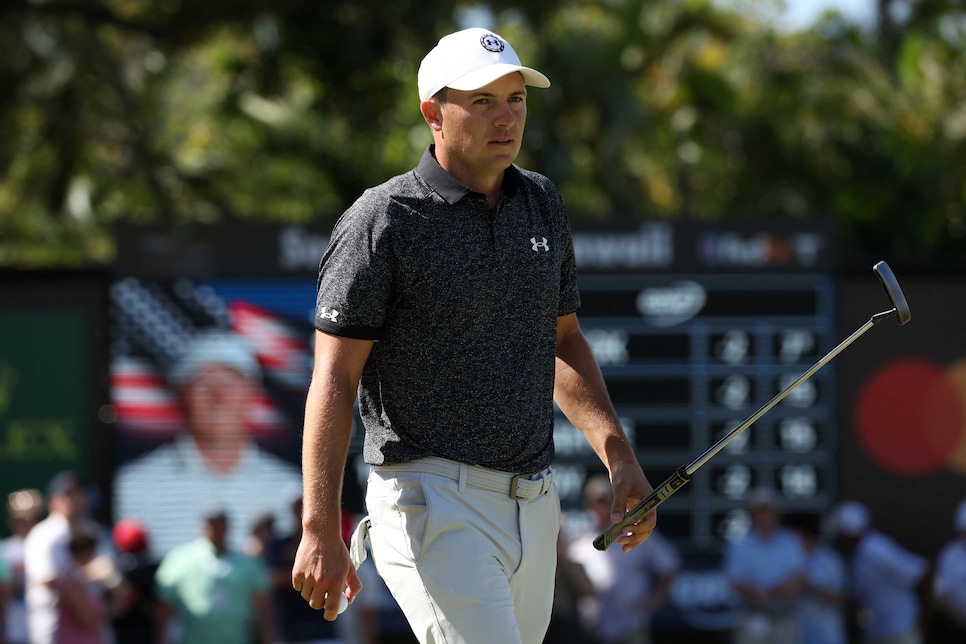 HONOLULU — Jordan Spieth's last three tournaments all have been on islands. Bahamas. Maui. Oahu. After opening with a six-under 64 Thursday at the Sony Open in Hawaii with an all-around solid effort at Waialae Country Club, Spieth was quizzed at length on his newest piece of equipment—which has absolutely no bearing on his fortunes in the aforementioned stretch.
Yep, the Spieth clan has joined the legion of PGA Tour players—Davis Love III, Bubba Watson and Jason Day among them—who are making the rounds in a motor home. The three-time major winner broke it out at the CJ Cup at South Carolina, where he finished T-52. Not a great debut, but who knows how the convenience factor will elevate his play in the future. Not that golf was even much of a consideration when he executed the acquisition.
"Just glamping, you know. Slumming it. Should be a lot of fun," Spieth said after a round that featured seven birdies, one bogey and was, frankly, the subplot to the topic of what rubber is hitting the road when the tour returns to the continental U.S. "The reason was kind of to have a home on the road. Got the same mattress I have at home, and we'll leave a lot of [son] Sammy's stuff on the bus, therefore won't to have pack a whole lot and can ride on it a lot in between events given the way the West Coast swing [falls] … and especially the Florida swing."
According to Spieth, his wife, Annie, has "wanted one for a while" getting to the real crux of the decision, which he called, "not a minor purchase." He wouldn't say how not minor it was, nor share its dimensions. "I didn't really want one prior to Sammy, [but] it was just a matter of if the perfect one came at the right time, and it did this last fall."
There are maybe a dozen tour players who travel with their families in an RV, but, Spieth noted, "four of them went to LIV [including Watson] and sold theirs because … it's hard to go Saudi to Chicago in a two-week stretch in an RV.
"Annie is trying to recruit a lot of our friends out here to do it," the good-natured Texan added, "so we'll see in the next few years if that works or not."
In case you were wondering—because we were—Spieth hasn't yet driven the thing. He hired a driver, one who has worked for other tour RV owners. But he's warming up to the idea. "I plan on driving it on an open road stretch at some point when it's not pulling out of Phoenix and not into L.A., but maybe switch and do like an hour just because it would be fun," he said. "I'm a dad now. Someone wants me to honk, I'll honk."
Amid a discussion that would make Randy Quaid's Cousin Eddie character envious, Spieth barely had a chance to toot his own horn about a round that included hitting 15 of 18 greens in regulation and a strokes gained/putting performance that ranked fifth in the early wave at 3.319. Though he hit only seven of Waialae's predominantly dogleg fairways, he was happy in the driving (golf division) aspect of his game, too.
In a roundabout way he explained that the quick start, which put him tied atop the leaderboard with Chris Kirk, was a confidence builder compared to other early season rounds in which the score might have been acceptable but the method in which he achieved it was a bit suspect.
"What I will say is I'm confident relative to other time periods I've been off to similar starts, which is a really good place to be," said the 12-time tour winner, who is coming off a T-13 last week at the Sentry Tournament of Champions at Kapalua Resort despite a cracked driver on the eve of the event and some mental blunders that were still bugging him. "I believe I can shoot five or six under each day out here. Not to say that that means it'll happen, but there are other times I would be sitting there going, how do I hold this sh** together, to be honest. Seriously.
"I feel like I left a couple out there, but I also really had fun today."
And then he retired to his hotel room. Slumming it.