The 2022 season served as a renaissance for LPGA Tour veteran In Gee Chun. In June, the 28-year-old earned her third career major title at the KPMG Women's PGA Championship, her first victory in four years.
By year's end, Chun fulfilled another milestone of sorts: creating 10 paintings to help raise money for the In Gee Chun Lancaster Country Club Educational Foundation, which provides scholarships for children growing up in the Pennsylvania community where she won her first major, the U.S. Women's Open, in 2015.
For Chun, it was rewarding yet a bit stressful, too. "I couldn't go to sleep," she said of the last few nights she worked on her paintings before they were displayed during an art show in South Korea in December "I had a coffee every hour."
Chun's interest in painting has an unusual yet inspiring origin. Following a difficult season on the course in 2021, Chun returned home to South Korea and opened up about the fact she had been battling depression while playing on tour. While getting away from the game during the offseason, she attended an art exhibition by Sun Mi Park and became captivated by her work, spending as much as an hour in front of one of Park's pieces.
Afterward, she asked if she could meet Park and spend time in her studio. An hour of conversation turned into eight hours of Chun putting brush to paper the next day. Chun continued working with Park, learning the depths of how her color selections correlated with her emotions.
"She [Park] used nine different intelligences with the nine different color to express [mood]," Chun said, "So I tried to use nine different colors, but at the time my mood was a little down. So I picked all the like dark color."
Chun says she hadn't done anything like this in her youth, with her only painting "experience" being occasionally jazzing up her Nike shoes as a distraction while on the road. Yet she honed an innate talent with a brush under Park's tutelage and turned it into a healthy stress reliever. The four-time LPGA Tour winner then approached Park last May to ask if she'd be open to an exhibition together.
It led to them collaborating on Chun's paintings for her foundation. Among Chun's works are several renditions of the classic Disney character Dumbo, which the golfer has a personal connection with; her golf instructor, Won Park, tagged Chun with that nickname thanks to her excellent hearing.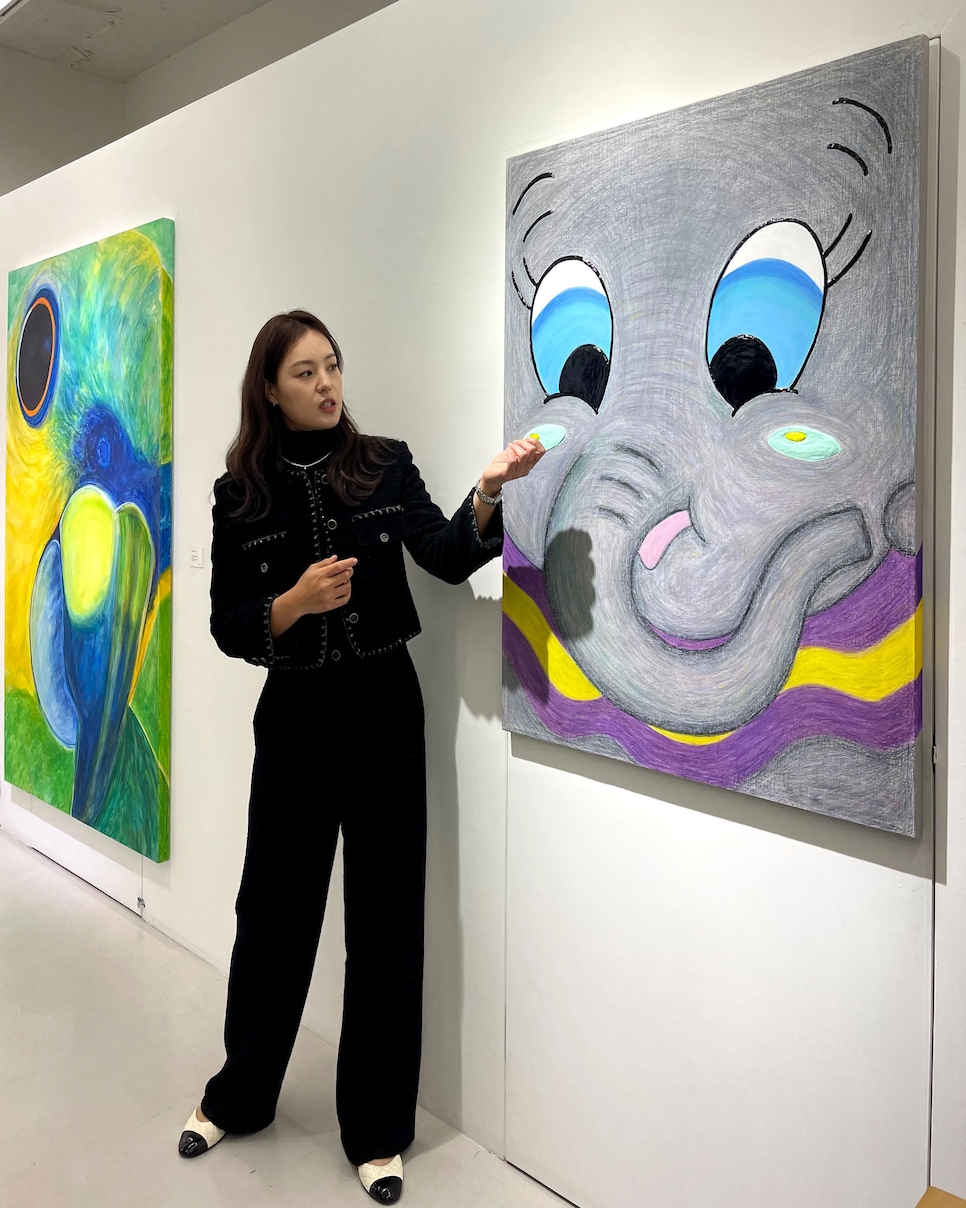 In Gee Chun shows off one of her paintings during an art exhibition last December in South Korea.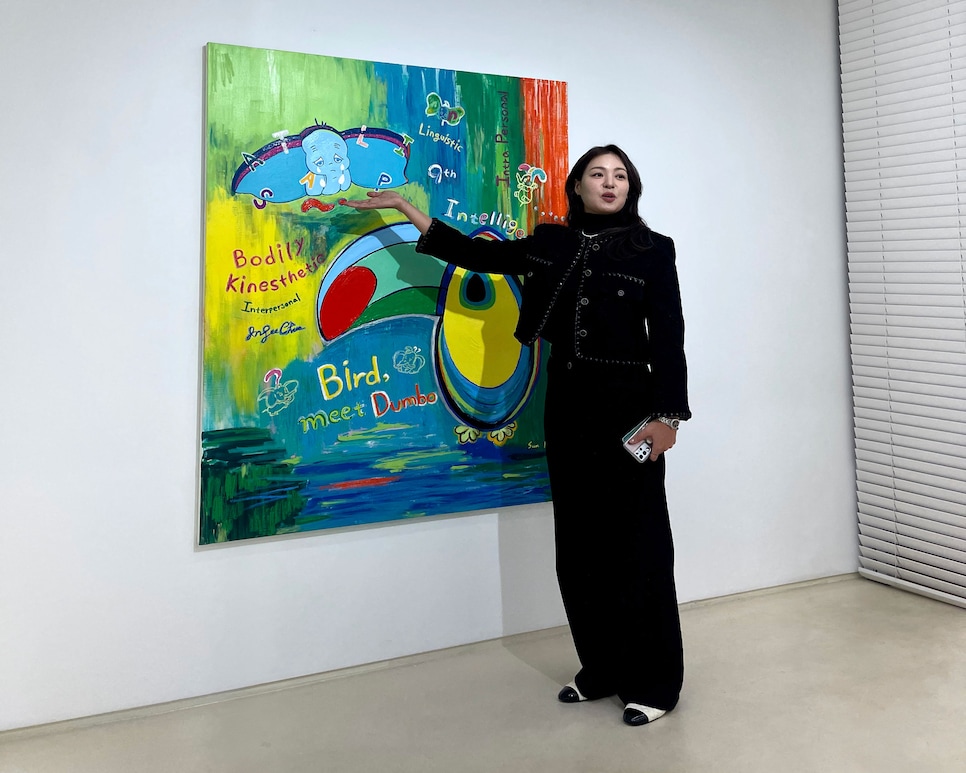 In Gee Chun's collection of paintings were all connected to the Disney-character Dumbo, a nickname that Chun's swing coach gave to her as a teenager.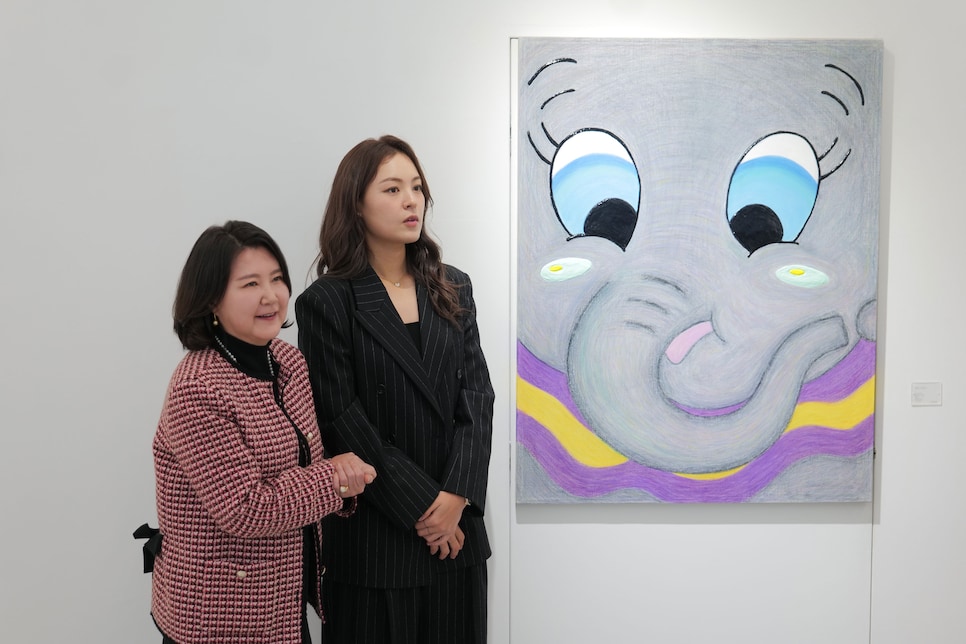 Chun's passion for painting was inspired by South Korean artist Sun Mi Park.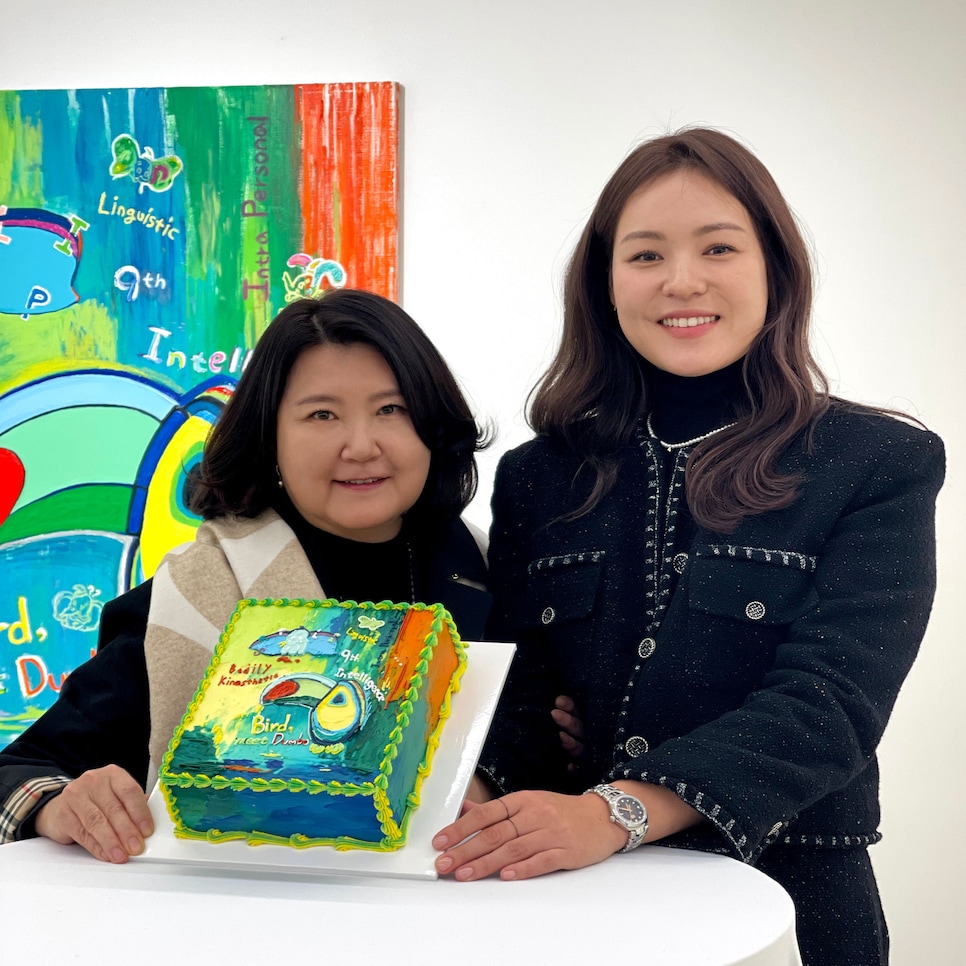 Park and Chun remain close friends.
The charitable aspect of creating the paintings is something that fits Chun's personality. Just last week at the Chevron Championship, Chun made a hole-in-one during Saturday's third round at Carlton Woods outside of Houston that came with a $1 million donation to nine charities.
"When I buy something, expensive things, it makes me happy only two or three days, but if I help someone or if I donate money to charity, then one year later or 10 years later or 20 years later, people will keep [benefitting]. I think it's more meaningful."
Equally satisfying, Chun's new passion for painting have her an important way to express herself away from the course.
"When I talk with her [Park], I can see more of the world without the golf," Chun said, "It's always a good time with her, so it's more like healing time for me."