Travel
How can tour pros stay healthy with all their miles of travel? An expert offers his advice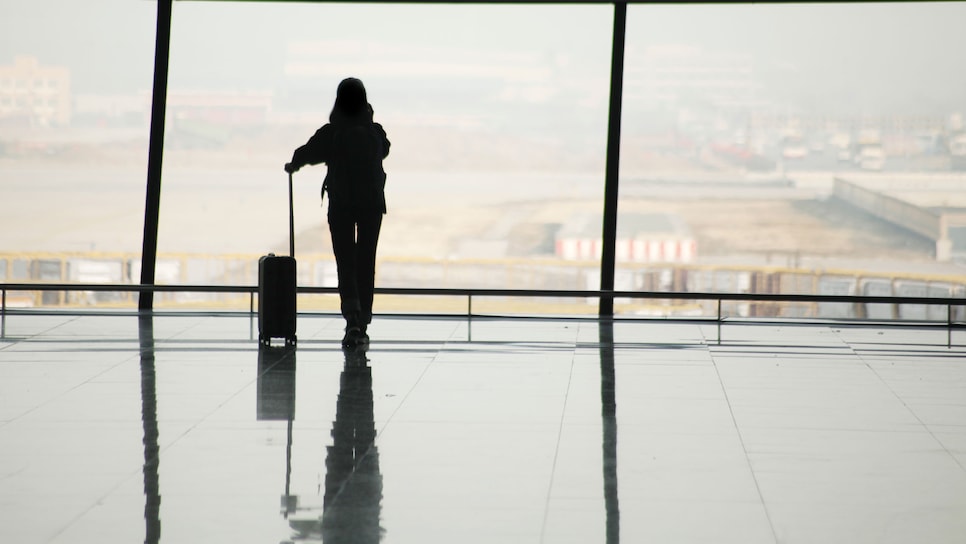 The 2023 LPGA Tour's globetrotting season continues this week at the inaugural Mizuho Americas Open at Liberty National in Jersey City, N.J. The trip from Las Vegas and last week's Bank of Hope LPGA Match Play accounts for 2,227 miles of a schedule with nearly 84,000 miles between all 34 events this year. That's more than three trips around the world. And it comes after players traveled just the week before from New Jersey (Cognizant Founders Cup) to Las Vegas.
The 2023 season is record-breaking year of lengthy travel—there are a total of 18 times where there are 2,000 miles between tour stops, up from 13 in 2022. Among the changes was the move of the Chevron Championship from Palm Springs, Calif., to just outside of Houston impacted the flow of the schedule. In 2022, the JTBC Classic in Carlsbad, Calif., preceded the Chevron. This year, the LPGA was in Hawaii the week before the first major of the year at the Lotte Championship.
Then there's the KPMG Women's PGA Championship, at Baltusrol in New Jersey) and U.S. Women's Open (at Pebble Beach in California), which are back-to-back events (albeit with a week off in between) on the tour's calendar in 2023 being played on opposite coasts.
And yet it's only getting longer. In March, the LPGA unveiled the Maybank Championship in Malaysia would be held in Oct. 26-29 to replace the Taiwan Swinging Skirts event, adds two more 2,000-plus-mile flights (one coming from South Korea and one going to Japan).
The perils of travel are numerous and often frustrating.
"When I first came on tour, we had a few events … kind of little swings where you could drive a couple events," says LPGA Tour veteran Stacy Lewis. "[Now] we're on commercial flights, we're losing our luggage. We're, you know, like all the stresses of it. I mean, travel is harder than ever I think as far as just delayed flights, lost baggage. It's just a common thing that we deal with."
LPGA Commissioner Mollie Marcoux Samaan felt some of the same hardships of tour travel in her first full season at the helm. "I think my experience is similar to the players' experience," Marcoux Samaan said at the 2022 CME Group Tour Championship. "I've been to 28 events this year in addition to traveling to other industry events and to being in the women's sports community. So being on an airplane 32 weeks out of the year is hard."
Needless to say, how players manage the dizzying schedule impacts their ability to compete and, over time, how long they can continue playing on the LPGA.
"I think to me, if you continue this trend for two, three years, you'll see a repercussion," said Dr. Ara Suppiah, who has worked with multiple LPGA players on building their own personal schedules to address the best way to handle the physical and mental issues that come with all that travel. "You'll see injuries. You'll see sickness. You'll see withdrawals. You'll see all of those go up. Can't put a number on it, but scheduling is very, very important."
With the extensive miles LPGA players log to compete on tour, Suppiah walked through the challenges of managing a taxing travel season.
Addressing the problem of travel fatigue begins with understanding what contributes to it. It starts before boarding the plane with how close players cut getting to the airport before their flights, checking a bag in and getting through security before taking off. Plane delays add frustration and anxiety. Airport food options are limited and generally unhealthy relative to a player's typical diet.
The stresses continue adding up once the flight starts. Merely sitting in a stationary position in a cramped seat takes a toll. Electromagnetic radiation from the plane accumulates in a player's body. There's limited water served, leading to dehydration. Taking medication or drinking alcohol to get to sleep impacts circadian rhythms, along with the germs in the air from such a close group of people being together for so long.
"They've done studies on this where they've looked at the saliva of people after a flight, and the immune system is activated," Suppiah said. "Because it's been exposed to a whole variety of things that it normally doesn't, even in a short three-hour flight."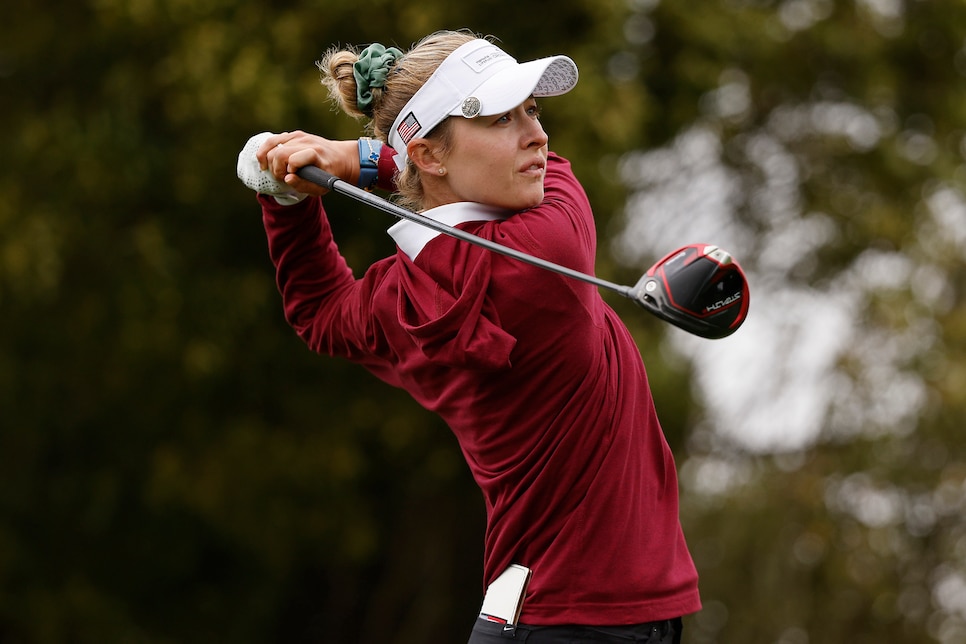 Nelly Korda played four straight weeks from late April to early May, but is sitting out this week's event in New Jersey citing back issues.
Mike Mulholland
After landing, the battle with jetlag begins. Suppiah explained that for every three hours someone is flying, it takes an hour for the body to recover. But that's just the short-term effects of the flight itself: for every two time zones someone travels, it takes a day to fully adjust to the new time. So when someone flies from Orlando to southeast Asia for one of the two LPGA swings across the Pacific Ocean, 12 time zones away, it can take six days to adapt to the new time.
"Most of them are teeing it up, and they're probably 30, 40 percent recovered," Suppiah said.
Inflammation is the body's response to extensive travel fatigue. As a result, players can't train as strenuously while recovering from being inflamed. Further, accumulated travel can change hormone balances in the body, potentially impacting an athlete's menstrual cycle over year after year of consistent travel.
"Now that body's inflamed, it's tired, the nervous system is not fully recovered, and you put competitiveness there, you put training in there, that's when it all adds up," Suppiah said. "And it wouldn't be surprising when the athlete comes in, and the immune system is also affected, and they get sick. And you'll come up, and they'll be prone to colds, they'll be prone to allergies, they'll be prone to getting flu as well as getting injured."
These all lead to allostatic overload, which Suppiah has studied for more than 15 years. The Centers for Disease Control defines allostatic overload as "the state where chronic stress has led to biochemical dysregulation in the body."
When Suppiah works with athletes, he creates a "survival guide" to help them manage their allostatic load. It begins with a simple starting point: arrive at the airport with plenty of time to minimize stress. Another step to get your circadian rhythm, the body's 24-hour cycles, in sync with the local time zone as efficiently as possible is to schedule your flights so you land during the day so they can see the sun when they arrive.
When players eat in the day preceding travel, they should time their meals with when they would be eating in the destination's time zone. Avoiding stimulants, such as coffee, tea, or soda, allows one to fall asleep more restfully. Timing sleep to when they'd be sleeping in the destination also helps. He recommends Benadryl, magnesium or melatonin, though the last one is the hardest to use.
"Two or three days before you fly, you need to start taking melatonin to help your body adapt, which is very difficult for these athletes because they're already competing in another place," Suppiah said.
'If they don't schedule their schedule carefully … that's when the risk of injury goes up. That's when the risk of burnout goes up. A lot of them are paid a lot of money to go, but is it worth it if you're gonna get mono and get sick?'
—Dr. Ara Suppiah
It's easier to sleep in a higher-class seat, but that's one of the most challenging conversations Suppiah has with some of his clients. For players who aren't among the top money-earners on the course (or off), Suppiah tries to convince them to spend the money on a more expensive ticket to get better rest, explaining that it's an investment in themselves. But it's a difficult one for many to make.
Once a player's plane lands, the most important thing to do is get grounded. No, that's not just the plane landing—literally ground the electromagnetic charge out of their system. The body accumulates it on the plane, and Suppiah recommends his athletes walk barefoot on natural terrains, such as soil, grass or sand, to get rid of it. Then, they should get into a recovery-level workout, such as a very slow run on a treadmill or yoga stretches, for about 45 minutes to assist the body.
"The worst thing you can do is get off a plane, jump in a car, get to the hotel, check into your hotel room, and stay in bed," Suppiah said.
Those steps only help mitigate the stressors of travel. Over an entire year, with multiple back-and-forth trips across time zones, it's possible that even a full offseason focused on recuperating won't get a player fully recovered heading into the following season. That, Suppiah notes, is how players could pay career-shortening consequences.
"If they don't schedule the schedule carefully, like the tournament carefully, that's when the risk of injury goes up," Suppiah said. "That's when the risk of burnout goes up. A lot of them are paid a lot of money to go, but is it worth it if you're gonna get mono and get sick?"
Nelly Korda, who is missing this week's event at Liberty National due to back pain, is a poignant example of the price players can pay. She finished her 2022 season at the CME Group Tour Championship at the end of November, played in the PNC Championship in December, then started her 2023 LPGA campaign at the Hilton Grand Vacations Tournament of Champions on Jan. 18. The 24-year-old explained how she planned to approach the season at her year-opening press conference.
"There is a lot of thought that went into this year's schedule," Korda said. "That's why I kind of sat down and my team and I decided that it was really important to focus on my body, being able to be fresh. Every year I run into a situation where I'm kind of burnt out, and I'm really hoping that I've learned from that. Last year I did it as well."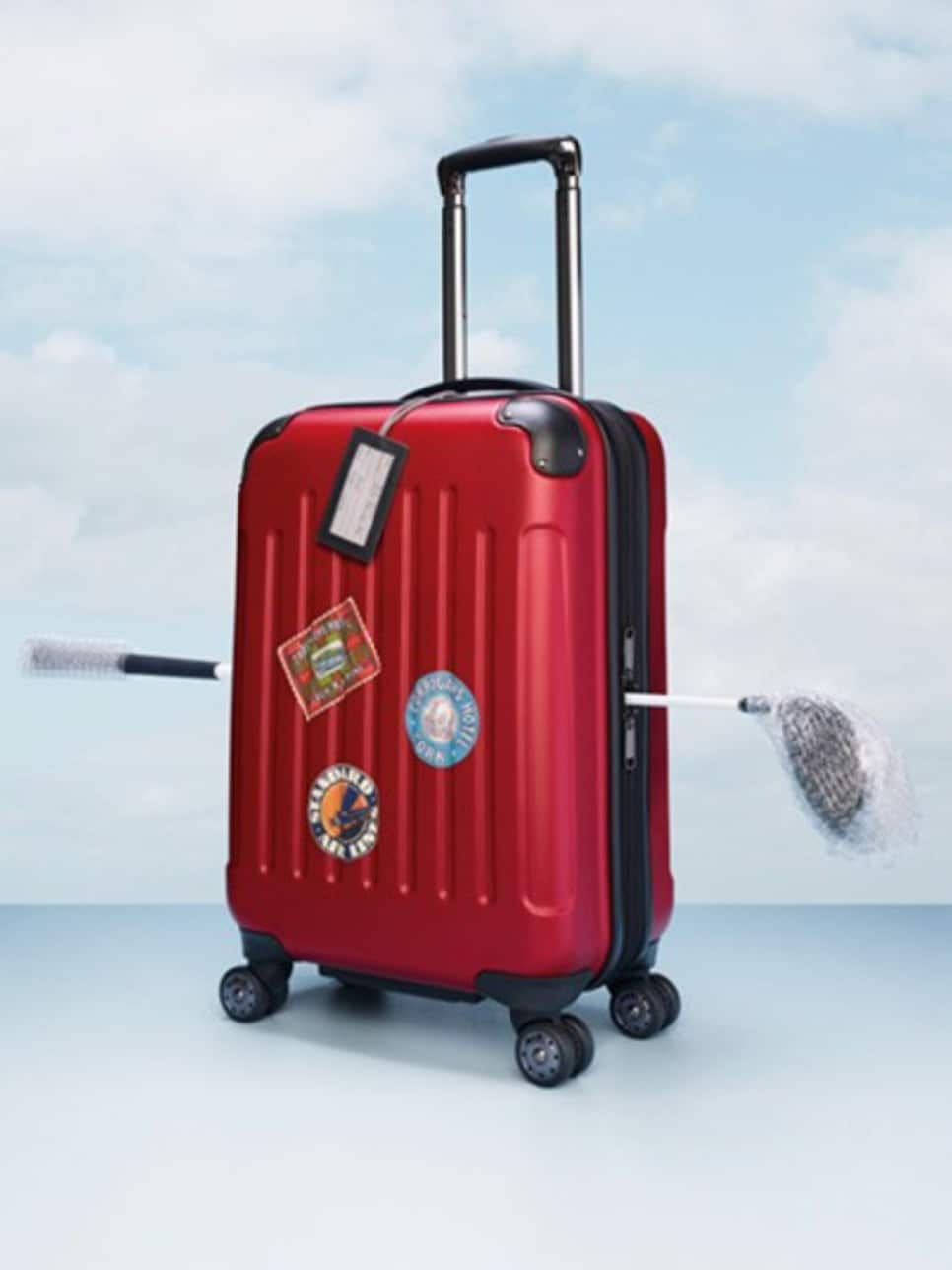 Korda played four events in a row, from the Chevron Championship in April to the Cognizant Founders Cup in May. At the Chevron, she joked about being asked how tired she might be at the end of the stretch. The run of events had Korda travel from Texas to Los Angeles for the JM Eagle LA Championship, to the UL International Crown in San Francisco, then to New Jersey. Despite finishing in the top 10 in six of her first seven starts, Korda missed her first cut of the year in New Jersey.
While no one could end up asking Korda how tired she was, her announcement that she would skip answered for her.
That's just the work-related trips tour members take. After all, players have trips away from the course too. For example, Danielle Kang, who likes traveling to see her friends during off weeks, flew back and forth to Hawaii before the Bank of Hope LPGA Match Play in Las Vegas.
The six-time winner punctuated how important travel recovery is to have an opportunity to compete on tour.
"Just go to sleep and stretch and do what you're supposed to do and, yeah, good to go," Kang said. "Drink a lot of water. All the basic things that our moms and dads tell us all our lives, just do it. It doesn't take much to self-care, and if you're lazy about the little things, you're not going to get big things done."