Payday in Michigan
Here's the prize money payout for each golfer at the 2023 Meijer LPGA Classic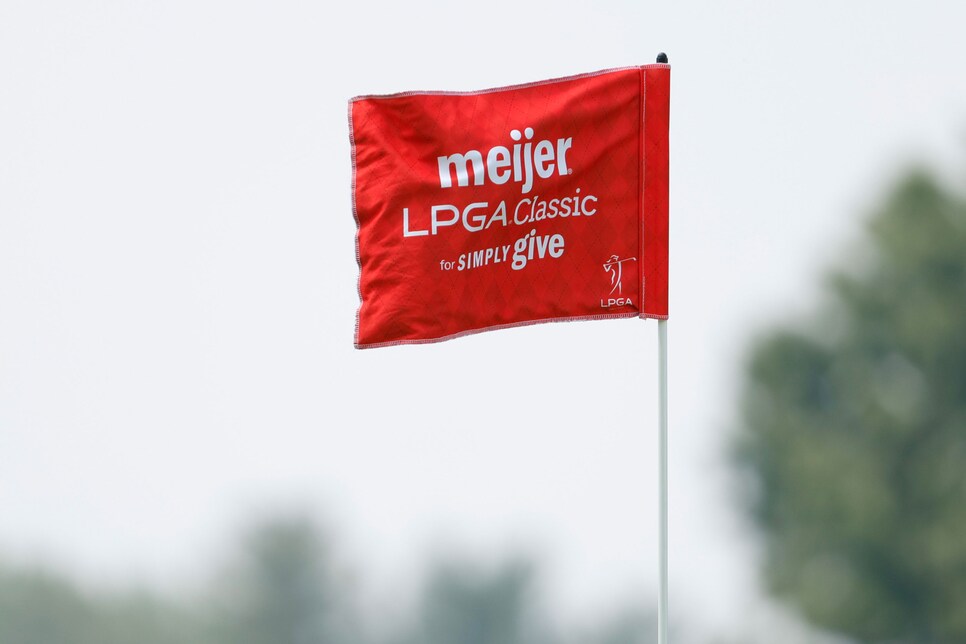 There are rallies, and there's what Leona Maguire pulled off to claim victory on Sunday at the Meijer LPGA Classic. With four birdies and an eagle on the final six holes at Blythefield Country Club in Belmont, Mich., the 28-year-old from Ireland posted a bogey-free 64 to pass Ariya Jutanugarn, shoot a 21-under 269 and win by two shots.
Suffice it to say, Maguire is a big fan of this event. In her two previous starts she finished second in 2021 and T-2 in 2022.
With the victory, the second of her career, Maguire claimed a first-place prize money payout of $375,000 from an overall purse of $2.5 million. Here's the prize money payout for each golfer who made the cut in Michigan.
Win: Leona Maguire, -21, $375,000
2: Ariya Jutanugarn, -19, $230,318
T-3: Xiyu Janet Lin, -18, $148,164
T-3: Amy Yang, -18, $148,164
5: Hyo Joo Kim, -16, $104,031
T-6: Jasmine Suwannapura, -15, $78,181
T-6: Jennifer Kupcho, -15, $78,181
T-8: Hye-Jin Choi, -14, $52,204
T-8: Ally Ewing, -14, $52,204
T-8: Pauline Roussin, -14, $52,204
T-8: Aditi Ashok, -14, $52,204
T-8: Carlota Ciganda, -14, $52,204
T-13: Stephanie Meadow, -13, $37,829
T-13: Minjee Lee, -13, $37,829
T-13: Ashleigh Buhai, -13, $37,829
T-13: Ayaka Furue, -13, $37,829
T-17: Mi Hyang Lee, -12, $31,357
T-17: Minami Katsu, -12, $31,357
T-17: Manon De Roey, -12, $31,357
T-20: Grace Kim, -11, $25,108
T-20: Narin An, -11, $25,108
T-20: Hae Ran Ryu, -11, $25,108
T-20: Mel Reid, -11, $25,108
T-20: Ruixin Liu, -11, $25,108
T-20: Cheyenne Knight, -11, $25,108
T-20: Morgane Metraux, -11, $25,108
T-20: Emily Kristine Pedersen, -11, $25,108
T-20: Lindsey Weaver-Wright, -11, $25,108
T-29: Arpichaya Yubol, -10, $19,797
T-29: Mina Harigae, -10, $19,797
T-29: Alison Lee, -10, $19,797
T-32: Ines Laklalech, -9, $15,270
T-32: Jodi Ewart Shadoff, -9, $15,270
T-32: Nasa Hataoka, -9, $15,270
T-32: Azahara Munoz, -9, $15,270
T-32: Madelene Sagstrom, -9, $15,270
T-32: Sarah Schmelzel, -9, $15,270
T-32: Anna Nordqvist, -9, $15,270
T-32: Jeongeun Lee6, -9, $15,270
T-32: Allisen Corpuz, -9, $15,270
T-32: Eun-Hee Ji, -9, $15,270
T-42: Brooke M. Henderson, -8, $11,853
T-42: Frida Kinhult, -8, $11,853
T-44: Esther Henseleit, -7, $10,151
T-44: Moriya Jutanugarn, -7, $10,151
T-44: Pernilla Lindberg, -7, $10,151
T-44: Charlotte Thomas, -7, $10,151
T-44: Xiaowen Yin, -7, $10,151
T-44: Wei-Ling Hsu, -7, $10,151
T-50: Hannah Green, -6, $8,448
T-50: Yan Liu, -6, $8,448
T-50: So Yeon Ryu, -6, $8,448
T-50: Jennifer Chang, -6, $8,448
T-54: Maja Stark, -5, $7,566
T-54: Megan Khang, -5, $7,566
T-54: Soo Bin Joo, -5, $7,566
T-57: Allison Emrey, -4, $6,683
T-57: Polly Mack, -4, $6,683
T-57: Lindy Duncan, -4, $6,683
T-57: Chella Choi, -4, $6,683
T-61: Laura Wearn, -3, $6,053
T-61: Yuna Nishimura, -3, $6,053
T-61: Marissa Steen, -3, $6,053
T-64: Haeji Kang, -2, $5,737
T-64: Ellinor Sudow, -2, $5,737
T-66: Louise Ridderstrom, -1, $5,359
T-66: Maddie Szeryk, -1, $5,359
T-66: Celine Borge, -1, $5,359
T-66: Stephanie Kyriacou, -1, $5,359
T-70: Christina Kim, +1, $5,013
T-70: Bailey Tardy, +1, $5,013
T-72: Ilhee Lee, +2, $4,885
T-72: Sung Hyun Park, +2, $4,885
74: Jeongeun Lee5, +3, $4,791