True Believers
U.S. Open 2023: Wyndham Clark's road to a major title began 3 years ago with an intervention from his team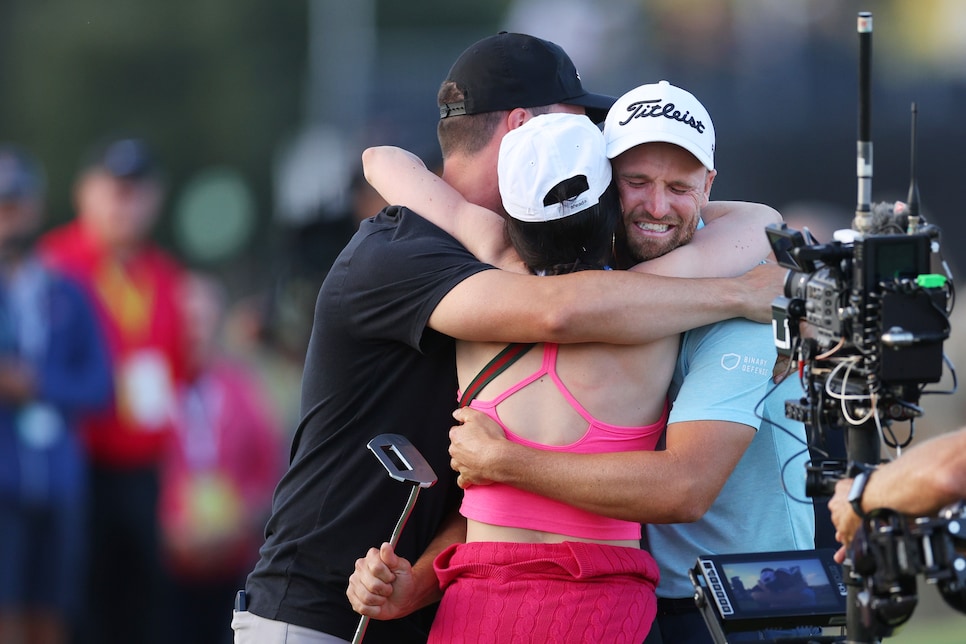 LOS ANGELES — Wyndham Clark's caddie, John Ellis, points to a career-defining intervention three years ago that laid the foundation for his U.S. Open victory Sunday at Los Angeles Country Club. It was the first round at the 2020 Rocket Mortgage Classic in Detroit, and Clark had made three bogeys in four holes. He fell to two over par—hardly a need to panic—but decided to walk off the course from the 13th hole and withdraw.
He was angry. Not about the day's score, but angry at golf generally and, really, at life. Clark had lost his mother, Lise, who introduced him to golf, to breast cancer in 2013. It led to bouts of depression and frustration that followed him to college. Without the support of the mother who drove him to tournaments, he would lose his composure in qualifiers at Oklahoma. When he transferred to Oregon, he was still angry. Even more so when he turned pro in 2017 and started playing for a living.
Clark's former coach, Boyd Summerhays, and Ellis, gave Clark a hard talking to after that Rocket Mortgage. The ultimatum was, change your attitude or quit golf.
"It made all the world of difference," Ellis, who was one of Clark's golf coaches at Oregon, said on the 18th green at LACC. "He needed to believe in what he was doing."
Added Clark: "I owe a lot to [Ellis]. I feel like John was meant to be my caddie. It's so much more than just a business relationship; we're really close friends."
The intervention set Clark on a path of self-discovery and self-help, through books like "The Obstacle is the Way" by Ryan Holiday and "The Energy Bus" by Jon Gordon. In January, Clark also enlisted the help of mental coach, Julie Elion. The work paid off when Clark fulfilled his potential as a PGA Tour winner at the Wells Fargo Championship last month, against an elite field given its designated status.
Standing behind LACC's finishing hole, Elion did not want undue attention when asked by reporters for a comment on why they had a strong partnership. Elion said only that she "holds a mirror" up to Clark to remind him to believe in his talent.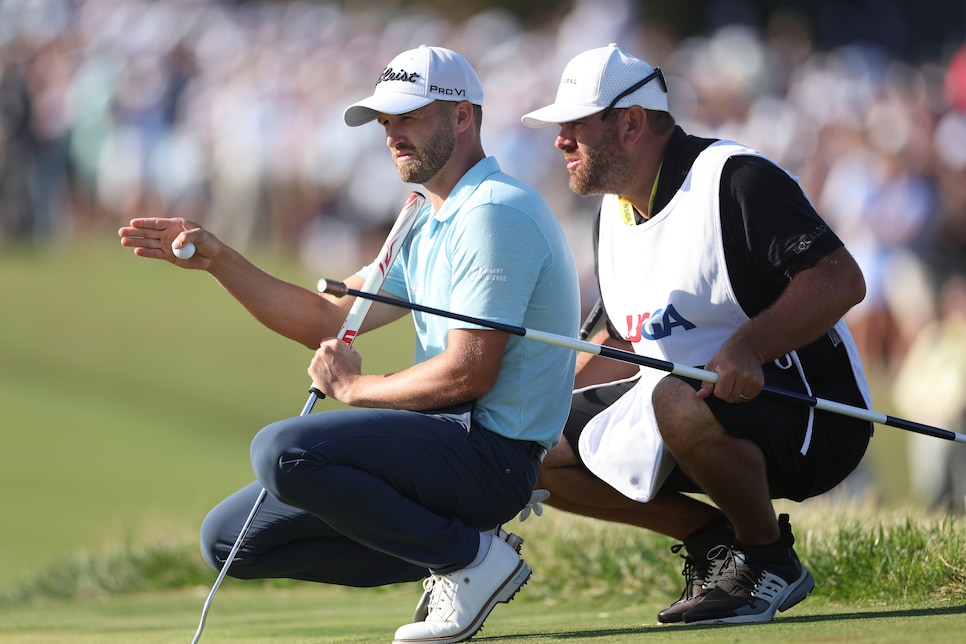 On Sunday, he did. Clark shot a gutsy even-par 70 to finish at 10 under par, holding off four-time major winner Rory McIlroy (70) by a shot, while World No. 1 Scottie Scheffler (70) was third at seven under and Open champion Cameron Smith (67) was fourth a stroke further behind.
"Nobody really gave us a chance," Ellis said of Clark, who held the 54-hole lead with Rickie Fowler, whose 75 sank him to T-5. "I watched all this stuff on TV and it was all about Rory, and everybody else, which makes [the win] more special."
Ellis points to Clark's 3-wood approach to the par-5 14th from 282 yards as the defining shot of his first major win. McIlroy had just made bogey at No. 14 in the group ahead and it was time to put the foot down. He hit it to 20 feet and two-putted for an easy, but momentous, birdie. "He hit probably one of the best shots in USGA history," Ellis said. He then made bogeys on his next two holes, and on 18 needed par to win. Clark lagged his 50-foot birdie putt to tap-in range. Clark had come full circle; those two bogeys were far more stressful than the 2020 Rocket Mortgage Classic. "It seemed like maybe the rails were coming off [at Nos. 15 and 16] but I was inside pretty calm," he said. "I'm really pleased with myself with how I [responded]."
Ellis, who played in the 2008 and 2011 U.S. Opens, was proud Clark had stuck to the advice he'd offered before the round. "I said, be cocky, enjoy today, and stay present," Ellis said.

The emotion that poured out of Clark on the 18th green was felt by the family members surrounding the putting surface. His older sister, Kaitlin Christine, and younger brother, Brendan Clark, were crying tears of joy.
"This means more than anything I could imagine; seeing my brother live out his dream of being a major champion to see it in real time … I'm speechless," Brendan said. Kaitlin said she felt their mom was shining down on Wyndham. "Yes I think we all felt her today," she said. "It's a way her legacy is living on through him. She always wanted him to 'play big' for himself, and for her. That's what he did today."
In his winning press conference Sunday, Clark did not shy away from questions about the tragedy of his mom. He proudly detailed how she lived in LA for several years and even married his father, Randall, at nearby Riviera CC, host of the Genesis Invitational.
Asked what Lise would have done if she was standing with Brendan and Kaitlin, Clark responded: "She'd be crying tears of joy. She called me 'winner' when I was little, so she would just say, 'I love you, winner.'"
Now, he's a U.S. Open winner.