LOS ANGELES — He needed 60 feet. Just 60 feet between Wyndham Clark and everything he ever worked for, 60 feet that would tell the world his story, one of personal tragedy and pain and doubt, about the perseverance it takes to drudge through the darkness without the assurance that light will ever come.
There's a reason championship golf is played over 72 holes, because that number has proven to be perfectly calibrated in separating a winner from the rest. Any doubters need only look at what transpired this week at Los Angeles Country Club, where it took 61 holes to whittle the field from 156 to two and the final 11 holes to go from two to one. When the 2023 U.S. Open reached the 72nd hole, Clark had to traverse those last 60 feet to be the last man standing. And he did just that, cozying a birdie putt to tap-in range, closing things out with an ease you're not supposed to have at golf's toughest test. As the ball disappeared one last time, Clark's arms went to his chest, his head looked up and the tears came out, the new major champion basking in a moment of triumph and heartache.
"It hasn't quite hit me yet. Walking up 18 was pretty emotional, and then finishing," Clark said, doing his damndest to hold himself up after an even-par 70 for a 10-under 270 total topped Rory McIlroy by one shot. "But yeah, it's been a whirlwind of the last five, six weeks. It's been—just so blessed and humbled to be here."
Blessed and humbled are synonymous with triumph and heartache. Those are throughlines for Clark and his journey.
The golf, as of late, a triumph. Clark held a share of the 54-hole lead at LACC, yet the 29-year-old is a name unknown to the casual golf fan. In four previous seasons on the PGA Tour, the Denver native had just one top-three finish and never cracked the top 50 in the FedEx Cup. This season, however, has been a breakthrough, three top-six finishes coming in a four-event stretch before he captured his inaugural win at the designated Wells Fargo Championship. Yet, to many there are only four tournaments that matter, the rest of the schedule a means to pass the time. In six major starts before this week, Clark had missed the cut in four, and finished no better than T-75. The prevailing thought for many watching at LACC was that Clark would be nothing more than a spectator to the history McIlroy, Rickie Fowler or Scottie Scheffler would produce.
But while we're near Hollywood, this tournament did not follow script.
Fowler, tied for the lead with Clark entering the final round, went sideways from the start on Sunday, looking very much like a man who knew he was lost but had no idea how to get back. Fowler made a whopping seven bogeys on the day and stumbled to a 75. Scheffler, whose major record is quickly becoming Koepka-esque, continued to be a tour-de-force from tee-to-green. Unfortunately, he continued to be a mess on the greens. He was six behind Clark after seven holes and never seriously threatened after.
Then there was McIlroy, who played a solid if not spectacular front nine in one under, and while he failed to birdie the easy par-5 eighth that par looked a heck of a lot better after Clark put his approach on the eighth into the barranca. The ball settled in deep brush and a mean cut failed to dislodge it from its spot. Clark managed to make one of those "good bogeys" this championship is known for producing, but his two-shot lead over McIlroy was down to one.
The next five holes followed a similar rhythm; McIlroy with birdie putt after birdie putt that looked good until they weren't, Clark missing left on everything only to scramble his behind off to stay afloat. And as LACC firmed and toughened in the afternoon sun, the confines outside the course became just as unfriendly.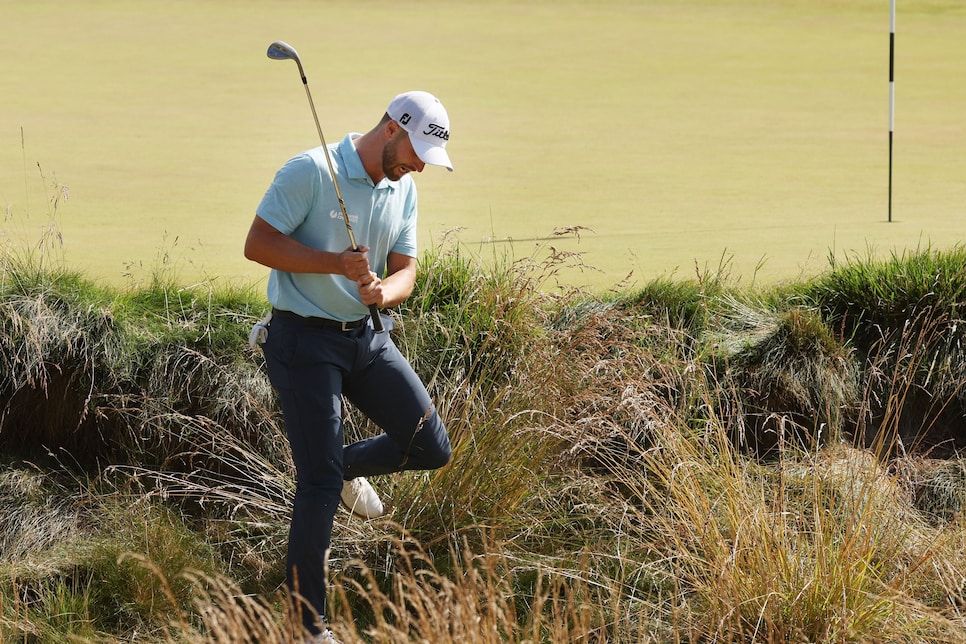 The unfortunate reality for Clark—for anyone who goes against McIlroy—is trying to achieve something in front of a crowd that doesn't want to see you do it. As one of his putts rolled towards the 12th hole, a fan could be heard hissing, "Miss, Miss, MISS!" After Clark's drive found the rough on the 13th, a volunteer said, "Maybe it burrowed" that had the tenor of curiosity with a sprinkling of hope. When Clark hit his approach to the 13th green a few in a nearby hospitality tent were goading Clark's ball to run off the green.
Only Clark had no appetite for such requests and kept responding with vigor, with the par-5 14th serving as the inflection point. With a wedge in hand, McIlroy wound up plugging his third shot into a bunker lip, and despite receiving a free drop, McIlroy could not get up and down. Clark took advantage, finding the green in two with an eagle just sliding by. Clark's lead was now at three, which offered some much-needed latitude for ensuing bogeys at the 15th and 16th.
With McIlroy and Clark trading pars at the 17th, Rory needed a birdie on the final hole to finally close the gap. The crowd chanted his name as he came up the 18th fairway, but they were not cheering his name after. McIlroy's approach sailed some 40 feet to the left, and the birdie try came up inches short.
As the ball stopped before its intended destination, McIlroy looked to his right, into the grandstands or perhaps at nothing in particular, the look a player has when he makes a 4 but needed a 3. After birding the first, McIlroy had failed to register another red figure on the day, grdining out an even-par 70. His forever battle between the pressures of who he once was against the hopes of what he could be again now moves to Hoylake.
"I'm getting closer," McIlroy said, his voice cracking after signing for an even-par 70. "The more I keep putting myself in these positions, sooner or later it's going to happen for me."
The only thing that could have saved McIlroy was a Clark disaster, but Clark overcame a weak final drive with a safe approach, and a lag putt sealed the improbable. It was a triumph, one that begs the question of who Clark is as a player and where he goes from here (and the immediate answer is, a trip to Rome this fall for the Ryder Cup). But we cannot tell the triumph without heartache, a sentiment that has been an unwelcome companion throughout Clark's life.
When Clark was little his mother, Lise, was diagnosed with breast cancer. She battled the disease while doing what mothers do best, which is putting the lives of their children first. It was Lise who introduced Wyndham to the sport, who drove him from tournament to tournament, who supported him when things were going good and offered a shoulder when things went bad, all while knowing death was never far away. Lise fought valiantly but cancer is an illness that does not play fair. Lise died in 2013; Wyndham was just 19.
"She was kind of my rock and my always-there supporter," Clark said earlier this week. "So when things were tough or when things were going great, she was always there to keep me grounded and either bring me up or keep the high going.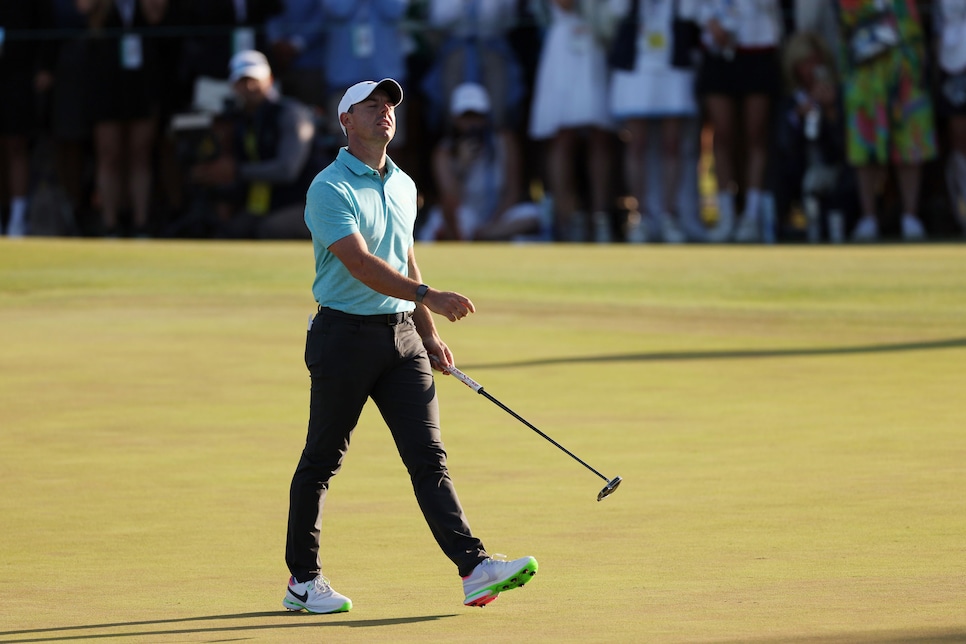 "I'm getting a little choked up. She's everything, and I miss her, and everything I do out here is a lot for her."
Clark was lost without her, and the following years were ones of anger and hurt and sorrow. After a successful freshman year at Oklahoma State, Clark's game was lost, and needing a change of scenery he transferred to Oregon, hoping he could keep his ordeal in the past, but the torment followed. The rage became such an issue that his teammates had an intervention of sorts, telling Wyndham he needed to address the suffering before it swallowed him whole. He contemplated quitting, feeling the game was no longer a game.
But Clark kept going, unsure if things would get better but knowing surrender would just make it worse. He began to talk about his feelings with friends, began reading motivational books and sought professional help. When it came to golf, he was buoyed by the belief and love of Oregon coach Casey Martin. "He instilled that I was one of the best players in the world, and he goes, you're good enough to play on this stage but also to win," Clark said.
Yet right there with him was his mom, for while she was gone she also never left. Before she died, Lise told Wyndham to "play big." With what he could achieve, sure, to understand the pursuit of his dreams should have no final endpoint. But more importantly to find meaning and goodness in what he does.
"She told me, 'Play for something bigger than yourself,'" Clark remembered. "You have a platform to either witness or help or be a role model for so many people
"I've taken that to heart. When I'm out there playing, I want to do that for her. I want to show everyone the person I am and how much joy I have out there playing and hope I can inspire people to want to be like me and be better than me."
Maybe that's why when Clark has battled the up-and-downs inherent to professional golf he has to tell himself that, ultimately, it's just a game. Progress hasn't been linear; there have been plenty of times where he's wondered if he's good enough to be one of the best. Though it's been 10 years since she's passed there are some wounds that time can never fully heal.
So the final question of the night to Wyndham was simple: What do you think your mom would say right now?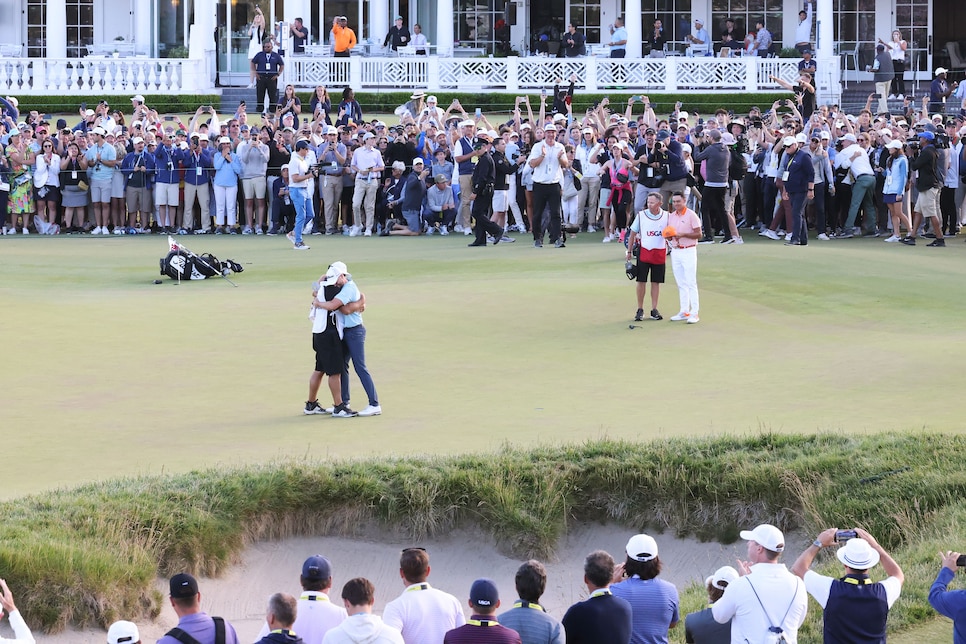 "You know, my mom was—she was so positive and such a motivator in what she did. She'd be crying tears of joy," Clark said, his own eyes wet as he spoke. "She would just—she called me winner when I was little, so she would just say, 'I love you, Winner.' She had that mantra of play big.
"But really, I was a mama's boy, so there would be a lot of hugging and crying together. But I know she'd be very proud of me. I miss her, and it's obviously great to think about her, and being here in L.A. and winning something like this makes me think of her even more than maybe my day-to-day when I'm not playing a championship."
To distill Wyndham Clark to tragedy may seem wildly unfair to him, his story, his play. But to define him by what he's shouldered, from where he's been to where he's come—and knowing his mom would approve—says more about him than a score ever will.