News
Si Woo Kim keeps knocking down flags and four other takeaways from Saturday at the Wyndham Championship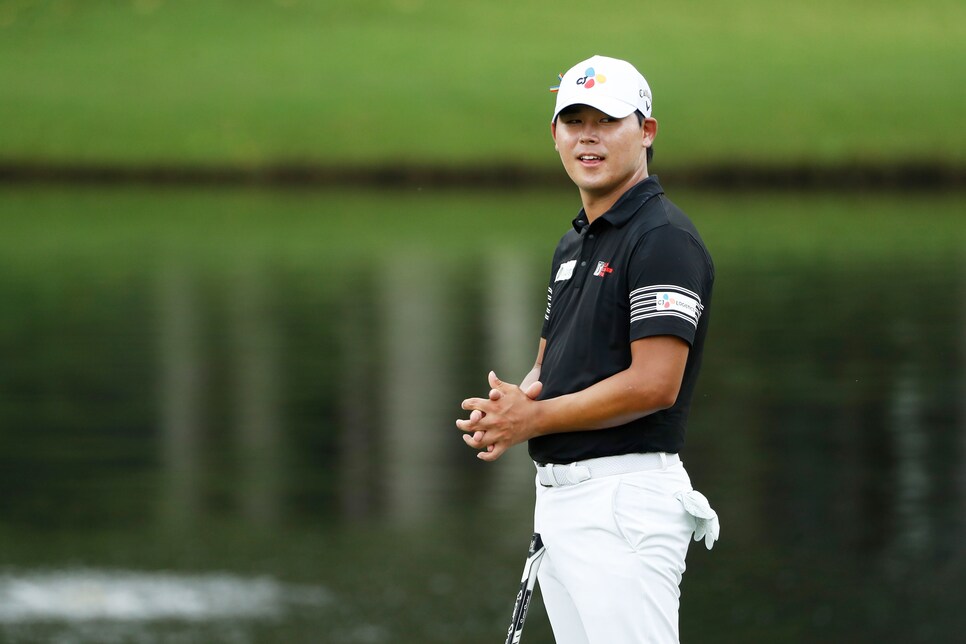 Si Woo Kim holds the 54-hole lead at the Wyndham Championship after shooting a Saturday 62.
Chris Keane
If you've ever watched a golf broadcast you've undoubtedly heard the cliche (and vastly overused term) "moving day" in reference to the third round of a PGA Tour event. Except Saturday at the Wyndham Championship really was.
With tee times moved up because of bad weather in the afternoon, and conditions soft, players took advantage with some seriously scorable conditions. Combined players posted 19 rounds of 65 or better on the par-70 Sedgefield Country Club, including a career-low 61 for Jim Herman and a career-low 62 for Rob Oppenheim, lifting both into contention.
With so many birdies, it made for a packed leader board with 18 players within a stroke of the lead at one point before things settled down.
Joining the players who made the most of the red-number day was Si Woo Kim, whose eight-under 62 included a spectacular reaction to the third hole-in-one of his career, and leads by two over Oppenheim and Doc Redman. Here's more on that and a few other observations from a birdie-filled, early-bird third round of the Wyndham Championship.
A feel-good story to keep an eye on
Rob Oppenheim has played professional golf for nearly two decades and has ended every one of those 18 years having to go to the PGA Tour's old qualifying school or, more recently, the Korn Ferry Tour Finals.
Sunday, he'll have a chance to change that after racking up seven birdies, an eagle and just one bogey (on the 18th hole) during his career-best third round. "I just felt very comfortable," he said. "Tee to green was solid and made some putts."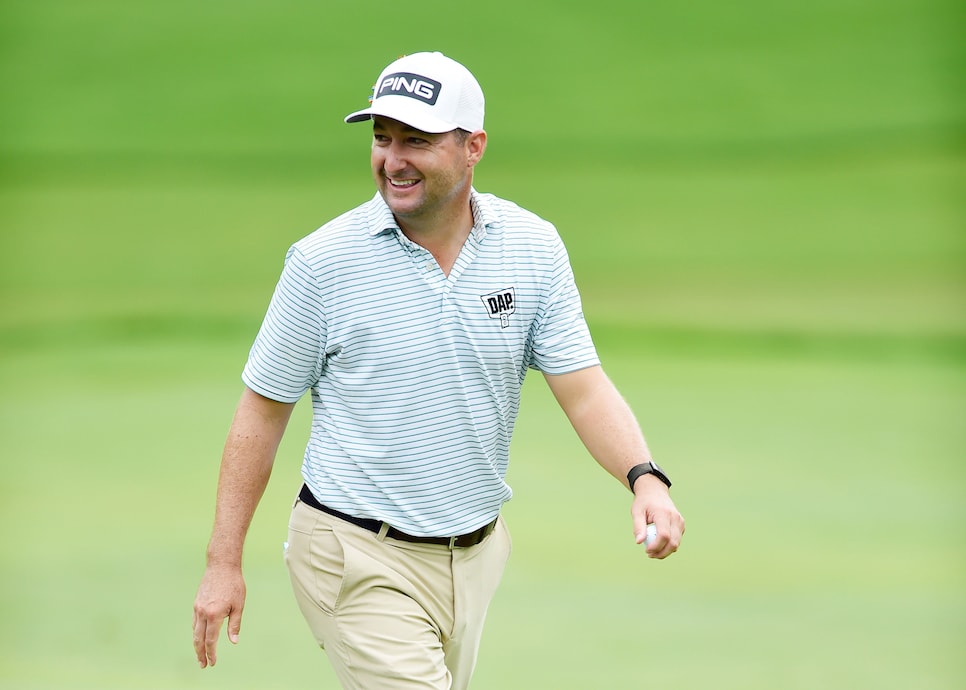 Rob Oppenheim sits tied for second, two strokes off the lead entering the final round. His best finish in 76 career PGA Tour starts is T-8.
Jared C. Tilton
That's an understatement. Oppenheim made a 50-footer for birdie on the first and backed it up with a 34-footer for another birdie one hole later. Terrific iron play—he hit 16 greens—and a hot putter continued throughout, putting him on the precipice of his first career win on tour.
Oppenheim started the week 145th on the FedEx Cup points list. Even without a win, a top-five finish would get the 40-year-old Massachusetts native inside the top 125 and into the FedEx Cup Playoffs for the first time. However, in 76 career starts, Oppenheim's best showing is a T-8.
"I've never been in one of the last two or three groups on Sunday, but I've been in plenty of situations where I've been fighting to keep my job or trying to get out here," said Oppenheim, whose previous best finish in the FedEx Cup standings was 158th in the 2015-'16 season. "Don't get much more pressure than that."
Mind you, this year is a little different for Oppenheim. Because of the number of tournaments lost to the COVID-19 shutdown, all players with tour cards keep their status for the 2020-'21 season. So Oppenheim isn't quite playing for his livelihood next year, but a top 125 finish on the points list does improve his status. Either way, he's curious how he'll react come Sunday.
"We'll see what I'm feeling, but I'm excited," he said. "I like the golf course, very comfortable here, so I'm looking forward to it."
Did we mention that he was also 500 to 1 to win at the start of the week?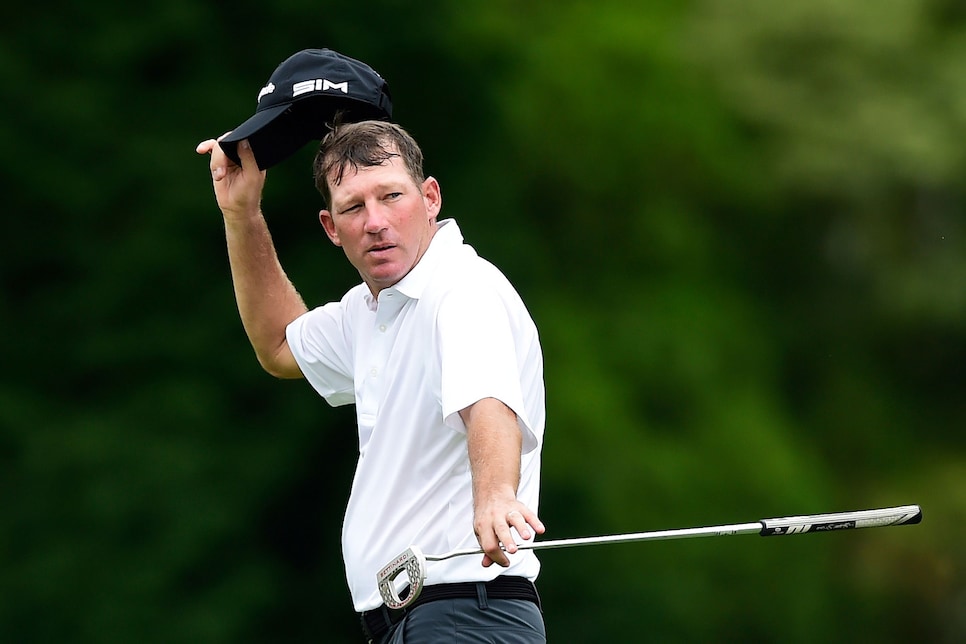 Jim Herman shot his career best score in a PGA Tour event when he posted a nine-under 61 Saturday at Sedgefield Country Club.
Jared C. Tilton
Jim Herman came into this week having missed the cut in seven of his last 11 starts, so naturally it stood to reason that he'd shoot a scorching 61 on Saturday, right?
Or perhaps it was just another sign that the 40-year-old was about to win for third time in his career.
Prior to his victory at last year's Barbasol Championship, Herman had missed the cut in 12 of his 14 starts leading into the event.
Five straight birdies, including one from 45 feet on the 14th, before a par at the 18th certainly helped the cause on Saturday.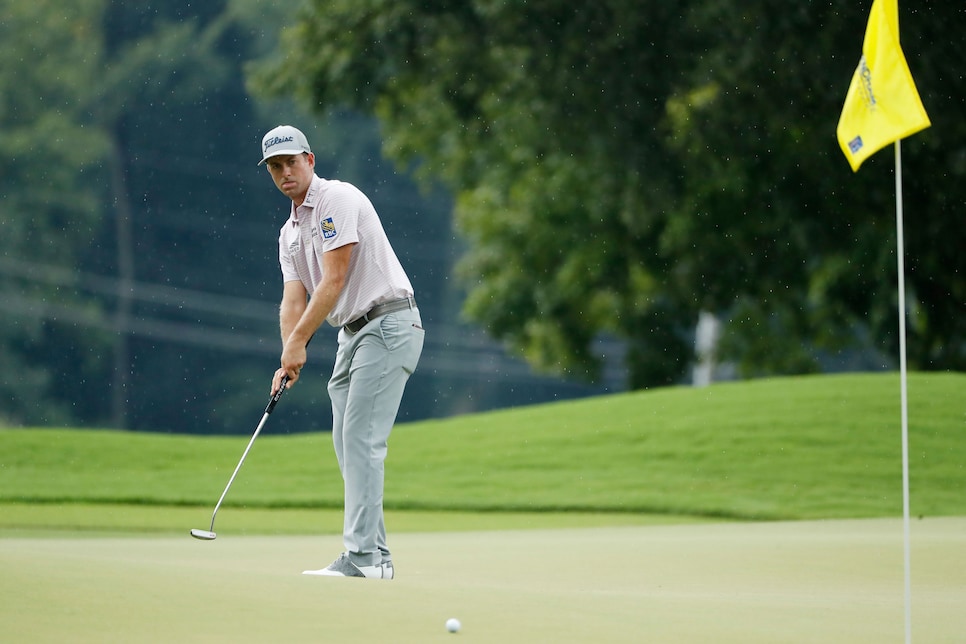 Webb Simpson is contending at the Wyndham Championship … again.
Chris Keane
It will absolutely stun you to know that Webb Simpson, who has finished in the top three each of the last three years at Sedgefield, will go into the final round in contention yet again after a 65 on Saturday.
But if the eight-time tour winner is going to add another trophy from this event to his mantel—he won the Wyndham in 2011—he's probably going to need something even lower on Sunday.
With five strokes and six players separating Simpson from Kim, that's an awful lot of ground to make up in what will undoubtedly be another shootout.
Shots from Saturday that might end up costing Simpson: A bogey from 154 yards out in the middle of the fairway on the fourth hole and another on the difficult 18th after missing the fairway left off the tee.
Si Woo makin' that ace, makin' that ace
If that wasn't enough excitement, he nearly made another ace with his ball stopping just inches from the flag on Sedgefield's 12th hole. It set up one of seven birdies to go with his eagle and just one bogey, and of course garnered another NBD reaction from the 25-year-old Korean.