News
Brooks Koepka regrets some, but not all, of his controversial comments at the PGA Championship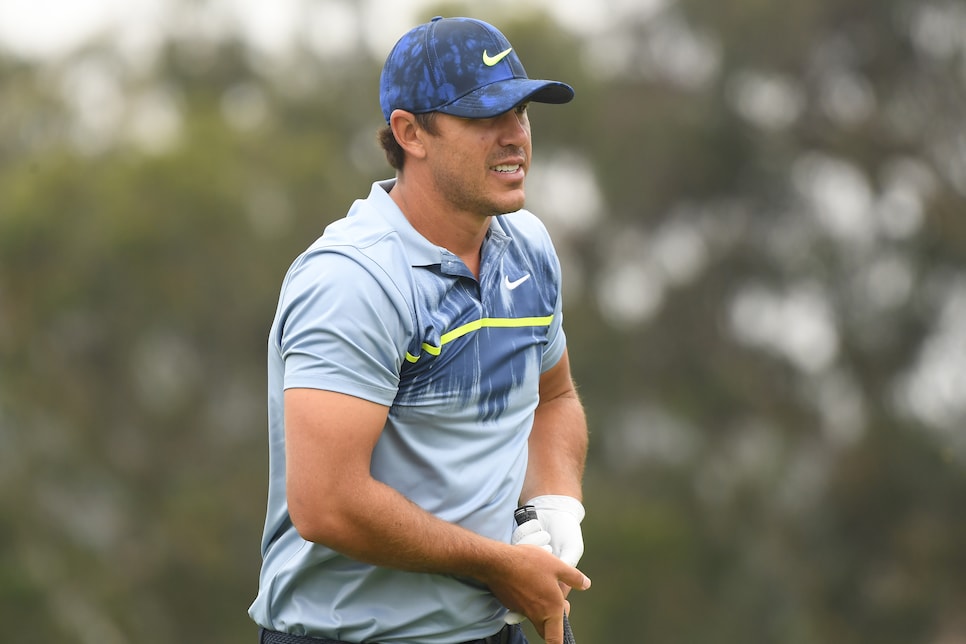 As Brooks Koepka struggled on Sunday at the PGA Championship following his controversial comments about Dustin Johnson having "only won one" major, Twitter was lit aflame with takes. But even outside that echo chamber, one had to wonder if more than a few keyboard warriors were enjoying the four-time major winner's disappearance from the broadcast as well.
The most common opinion: Koepka's four-over 74 was a hefty dose of karma from the golf gods. For once, a major championship final round did not look easy for the man who believes golf isn't as hard as we all make it out to be.
The most-pressing question for Koepka on Sunday evening, one he never received, was if he regretted his comments. Was he brought back down to earth? Did his bold, brash, trash-talking ways finally come back to bite him?
Thanks to Golfweek's Eamon Lynch, we have the answers to those questions and then some. Lynch got in touch with Koepka this week, asking him a wide-range of questions pertaining to Koepka's last 24 hours at TPC Harding Park (you can find the entire interview here). Some highlights included his full answer to Lynch's question about the "intent" of his post-third round comments:
"I honestly was struggling coming down the end of the third round. I was well back and I saw DJ was at minus-9. I birdied to get to minus-7. I was focused on Dustin. I had no idea who was at 8 or with me at 7. To be honest, when I'm looking at a leaderboard I'm never looking at who is behind me or tied with me, I only look ahead. I view myself as going forward no matter what. So I regret that part of it. That's what I was trying to say—that I didn't know who was on the leader board at that point because I hadn't looked. I just genuinely didn't know the guys at 8 and 7. That part I regret and I wish I had used different words because I didn't pay enough attention to who was under Dustin because he was my main focus. When someone asks if I can win, I'm always going to say yes, that's the competitor in me. I'm not there to finish second. I think that's where some of the cocky stuff comes from because I always think I can win and truly believe it."
Lynch: So it's specifically the "other guys" portion of the comment you feel badly about?
"Yeah, it's definitely that part because that's a shot at all the other guys. We pretty much know everybody, we grew up playing golf with them and it came across that I had no idea who these guys are. And that's completely false."
Later, Lynch asked him his thoughts on half of social media hating him and the other half appreciating him:
"I think there are layers to that question. I'm not the typical golf guy. I don't know how else to put that. We didn't belong to fancy country clubs. I'm not someone who can't wait to go play those exclusive courses around the country. It doesn't 'ooh' and awe me like it does other people …
Lynch: Are you a misfit on the PGA Tour?
"I don't know if I would say misfit, but it's definitely not my perfect place, I'd put it that way."
Fortunately for Koepka, he has thick skin, at least according to himself. He seems to be taking this one on the chin.
"I've been portrayed as the villain, right? I'm different, super competitive, fiery. My idea of talking trash is a whole lot different than other people's. I get the whole villain thing and I can definitely play into it, and I have as you've seen with the whole Brandel [Chamblee] thing. Not being afraid to chirp up. But if you're going to do that then you've got to back it up and last week I didn't back it up. I'm OK with the repercussions of that. I've got thick skin. I can handle it."