News
PGA Championship 2020: Brooks Koepka gets a karma check and some are happy to see it happen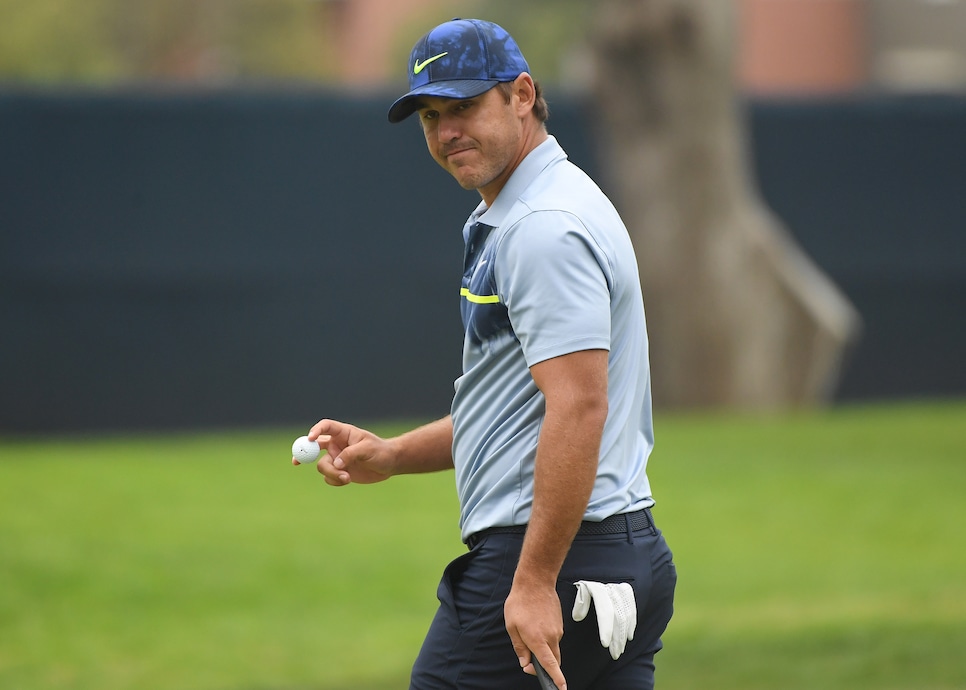 Brooks Koepka waves after making a birdie on the 12th hole during the final round of the 2020 PGA Championship.
Harry how
Almost an hour passed Sunday afternoon during the final round of the PGA Championship with Brooks Koepka notably absent from television coverage, and when he finally did appear, he was crouching behind his ball on the sixth green while playing partner Paul Casey was stroking a long putt. Then CBS cut away before Koepka attempted his 15-foot birdie putt, which could have moved him within three of the lead.
Injustice to the two-time defending champion? Or just desserts for one of golf's most quotable players who might have gone a quip too far?
Whatever, Koepka just wasn't good theater on Sunday at TPC Harding Park in San Francisco. Since winning the 2017 U.S. Open, the muscular Floridian had been omnipresent on major leader boards, but he fell off the pace quickly, as if enveloped in the coastal California fog, and his disappearance from the TV screen seemed so strange. Really strange.
Brooks falling out of contention at a major? Nice job, 2020.
After beginning the day three behind 54-hole leader Dustin Johnson—his good friend, at least for the time being?—Koepka suffered through a final round mostly foreign to him. He closed the front nine with three straight bogeys to turn in 39 and things never got better as he posted a dismal four-over 74 that left him at three-under 277, tied for 29th.
"It's my first bad round in a major in a while," said Koepka, forgetting the closing 74 in last year's PGA at Bethpage Black, which was just enough to hold off Johnson after surrendering almost all of a seven-stroke lead.
On Saturday night, someone made the observation that this time it was Koepka trailing and Johnson leading, and that's when Brooks took his brashness to a new level, responding, "I like my chances. When I've been in this position before, I've capitalized. I don't know, he's only won one. I'm playing good. I don't know, we'll see."
Naturally, reporters doing reporting, they had to seek a comment about Koepka's effrontery from one Rory McIlroy, who possesses Koepka's honesty but delivers it with a lighter touch. We believe it's called tact. Like Koepka, McIlroy also has four majors, but Koepka lit up the Northern Irishman last year by averring that they weren't rivals because McIlroy hadn't won a major since Koepka joined the PGA Tour.
"It's different, right; it's a very different mentality to bring to golf that I don't think a lot of golfers have," McIlroy said of Koepka. "I was watching the golf last night and heard the interview and was just sort of taken aback a little bit. … If you've won a major championship, you're a hell of a player. Doesn't mean you've only won one; you've won one, and you've had to do a lot of good things to do that.
"Sort of hard," McIlroy added, "to knock a guy that's got 21 wins on the PGA Tour, which is three times what Brooks has."
Apparently, it wasn't hard at all. Not for Brooks.
What happened to Koepka on Sunday, it is believed in more than a few circles, was outright, unmitigated karma catching up to him. Candor is a commodity in too short of supply these days, but it has to come with a dollop of charity or a nod of respect. Then again, if karma were truly at work, Dustin Johnson would have converted that 54-hole lead into his second major title. Instead, Collin Morikawa, just 23, collected his first.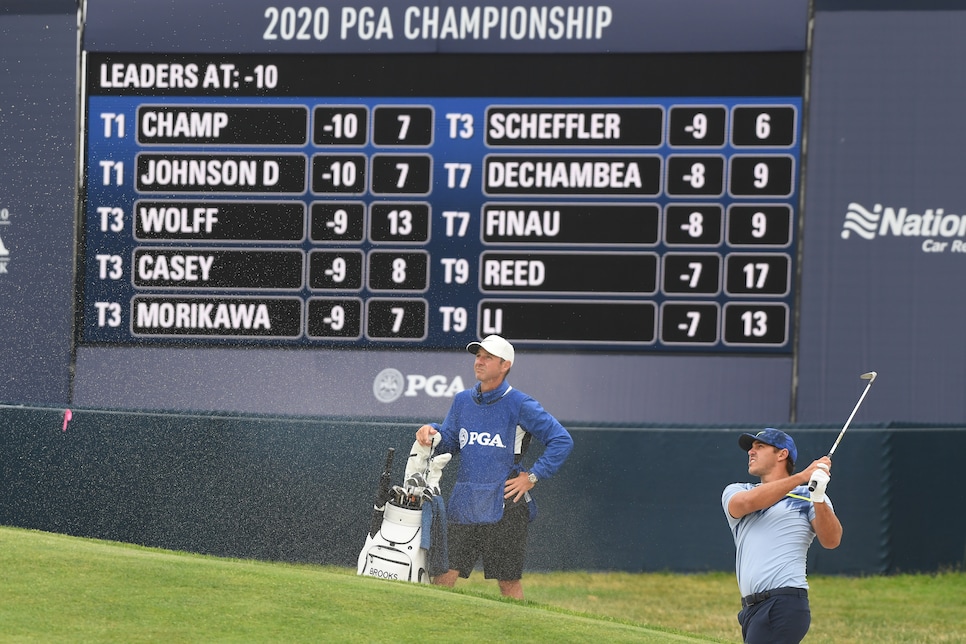 Brooks Koepka was out of contention by the time he reached the eighth hole in the final round of the PGA Championship.
Harry how
The golf gods, or golf's inherently meager odds, undoubtedly worked against Koepka as well.
Had he won on Sunday Koepka would have collected his fifth major title in the fewest days since he won his first. Faster than Woods, who did it in 1,225 days. Faster than Jack Nicklaus, Arnold Palmer or Ben Hogan. Koepka was vying for No. 5 in just 1,148 days since his first U.S. Open win at Erin Hills – which, by the way, means the record still will be in reach at next month's U.S. Open at Winged Foot.
Koepka's strident attitude obviously serves him well in the big events. The fact that he gave himself a chance to win a third straight PGA despite a compromised left knee that has been giving him trouble for more than a year, just adds to his reputation as perhaps the toughest competitor in the game. If he has a soft side, why should he want to show it?
His callous remark about his pal aside, Koepka's professionalism is unquestioned. Casey said as much after finishing runner-up, noting that Koepka could not have been more of a gentleman even as he struggled.
"I was just there to cheer Paul on. That was it," Koepka said. "Just try to help him get it in the house and see how well he could finish, because I had put myself out of it already."
And CBS had put out Koepka early. He was kaput. But with Casey in contention throughout the afternoon, Koepka couldn't escape the camera entirely, appearing in a few cameos, usually standing around in the background, just another spectator. It was not how we were supposed to remember his bid for a piece of history.
Golf's alpha was getting the omega end of things. And more than a few people felt, justified or not, that he had it coming.