News
PGA Championship 2020: Brooks Koepka's biggest roadblock to a three-peat isn't a sore knee. It's history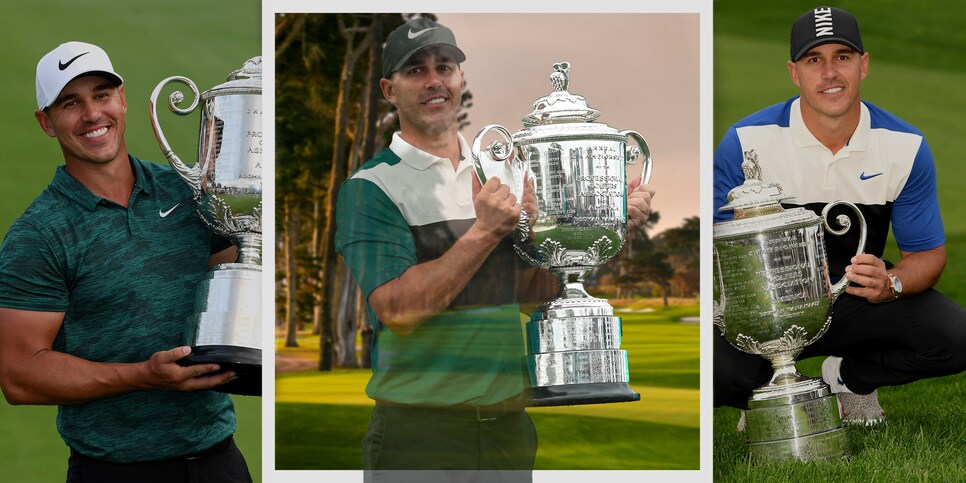 Given the questionable health of his left knee—and the unquestionable struggle to find consistency in his game—it's no stretch to say that Brooks Koepka does not enjoy the kind of momentum or top-flight form heading into next week's 102nd PGA Championship he has exhibited leading up to other major title defenses.
(Quick aside: God help the field if Koepka reads that sentence and commences with another of his chip-on-the-shoulder, I'll-show-you performances.)
It's not that Koepka has little chance to win a third straight PGA when he tees it up at TPC Harding Park in San Francisco. He'll be among the favorites, because, well, if there is a beast mode in any golfer in the world, it resides in the Floridian with the linebacker body and steel chin. He'll certainly bring the same grit and focus that enabled him to win consecutive U.S. Open titles in 2017-'18—and come oh so close to a third straight last summer at Pebble Beach—as well as PGA titles at Bellerive and Bethpage Black the last two years. His flip-the-switch intensity in majors has been uncanny.
Last year Justin Thomas talked about "channeling my inner BK." Other players know that Koepka finds a way to rise to the challenge of a major championship.
It's just that this year it looks like he'll have a steeper climb.
Koepka, 30, missed his fourth cut of the season and second in his last three starts at last week's 3M Open in Minnesota. Throw in his withdrawal from the CJ Cup in South Korea due to aggravating the knee injury he suffered in early 2019 and that's five weekends off in 10 events with just one top 10 to his credit, seventh place at the RBC Heritage. In the previous three seasons combined he missed only seven cuts.
Despite a recent MRI showing that his knee hasn't improved structurally since Korea, Koepka has played on, insisting that any improvement has to come from tournament reps. "Every round I get to play," he said at the 3M Open, "I'm just trying to find that little something where … I mean, it's one swing away, everybody knows that golf's that game where you make one good swing and everything clicks and it's like all right, back to normal. So, just trying to find that and keep battling through it."
Koepka appears to sense how crucial it is for him to string together a few solid rounds. And he would be right. Within a handful of starts prior to each of his major victories he posted at least one top-five finish, and he came into his last two PGAs off a top five in the start immediately preceding.
Beyond his current form, however, another factor is working against Koepka: history, which has plenty to say about winning three majors in a row. Simply stated, it's rare. And that karma will be tough to overcome.
Indeed, the math isn't in Koepka's favor. All told, 29 golfers on 34 occasions have won any of the four men's majors in back-to-back years. Just six times, however, has a golfer made it three straight, and three of those times occurred prior to 1880 at the Open Championship, when the event was in its infancy and had fields made up of only of a handful of players.
Narrow the search to the last 100 years, and 19 players on 24 occasions have attempted a three-peat at a major, with only Walter Hagen [PGA, 1924-'27] and Peter Thomson [British Open, 1954-'56] pulling it off.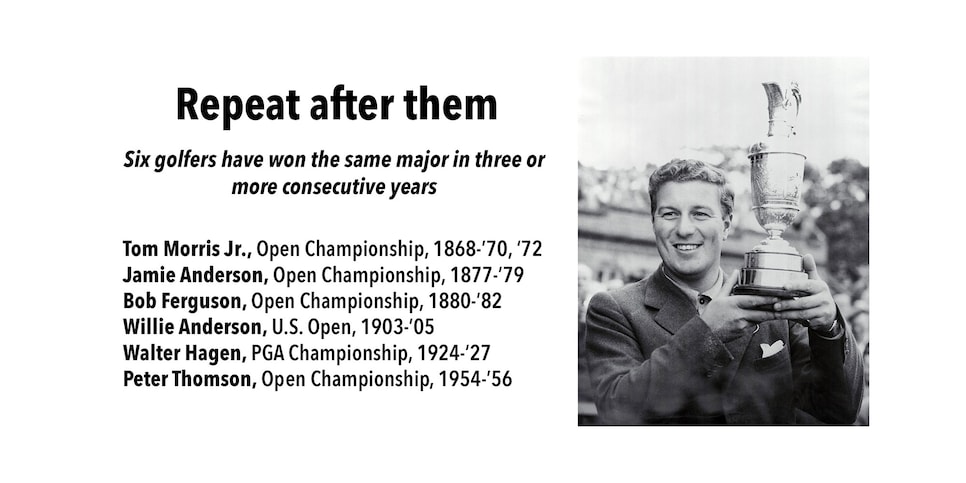 Mind you, a who's who of the game's greats have given it a try. Four times Tiger Woods has captured back-to-back majors. His best finish on the three occasions he went for three straight in consecutive years was T-12 in the 2007 Open Championship. (He didn't get to defend his back-to-back PGA titles in 2008 because of season-ending knee surgery, but in 2009 he was second to Y.E. Yang at Hazeltine National.) Woods, however, had no trouble stringing together consecutive titles in regular tour events. Four times he won an event three straight years. Twice, in the Arnold Palmer Invitational at Bay Hill in Orlando and the Farmers Insurance Open at Torrey Pines in San Diego, he won four in a row, a record he shares with Young Tom Morris, Hagen and Gene Sarazen.
For as many chances as he gave himself, 18-time major winner Jack Nicklaus only once successfully defended a major title, that coming at the 1966 Masters. And then he missed the cut at August National in '67. Interestingly, his only career three-event winning streak came at the Walt Disney World Golf Classic in Orlando from 1971-'73.
"It's incredibly hard to win two in a row, let alone go for that third," said Curtis Strange, who won the 1988 and '89 U.S. Opens and then finished T-21 in 1990. "You have to get lucky, and I don't mean that winning is ever just luck. But you have to be playing well coming in, you have to be healthy. And then it matters who else is playing well and contending. Can they handle the pressure? Will you get that one bounce that matters? Does the other guy get that one bounce or not? And if it's anything other than the Masters, there's the issue of a different course each year and how it sets up for you."
That's a lot to chew on. And even at the Masters, played every year at Augusta National, no one has ever taken three green jackets in a row.
That old Schoolhouse Rock ditty got it right: "Three is a magic number. Somewhere in that ancient mystic trinity …"
The last man to win the same major three straight times was Thomson in the Open Championship from 1954-'56. The third came when the Australian defeated Flory Van Donck of Belgium by three strokes at Royal Liverpool. Meanwhile, had it not been for Bobby Locke in 1957, Thomson, who finished second by three strokes that year, would have taken five in a row, having also won in 1958 in a playoff victory at Royal Lytham & St. Annes.
Looking solely at the PGA Championship, seven golfers have won the Wanamaker Trophy two consecutive times [Woods having done it twice], but only Hagen owns a longer winning streak. The charismatic and cutthroat Haig was indomitable in a four-year stretch from 1924-'27, when the championship was contested at match play.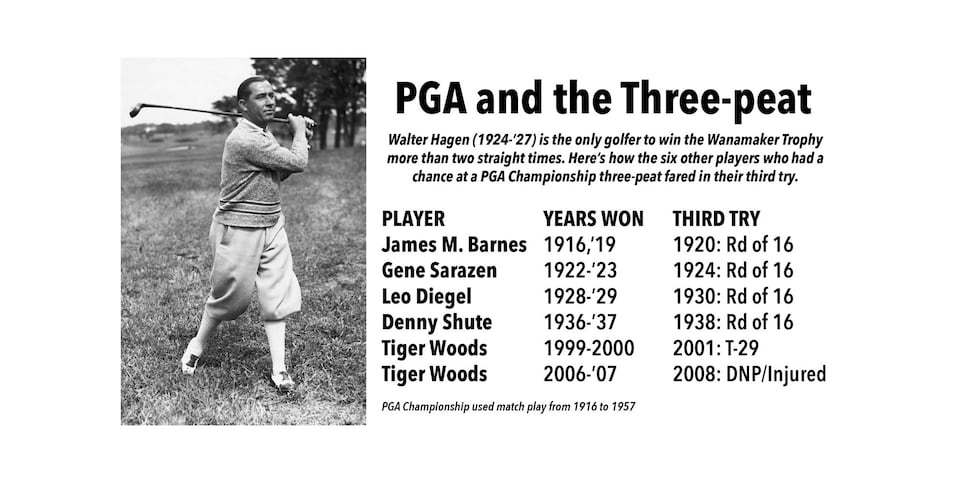 Despite his knee troubles, Koepka ranks 17th in strokes gained/off the tee, but in the key stats of approach to the green, around the green and putting, he is losing strokes. That, of course, explains a stroke average of 71.040, which ranks 101st on the PGA Tour. In the previous four seasons the Florida native sported a scoring average under 70 and ranked fourth, ninth, 14th and ninth, respectively.
Koepka tees it up again at this week's WGC-FedEx St. Jude Invitational, and perhaps the fact that he is defending champion in Memphis will spark the resurgence he seeks. Or maybe he'll find a reason to re-attach a chip to his broad shoulder, an elective move that has worked so well for him in the past. As he said at last year's U.S. Open in his attempt to tie Willie Anderson, "You've always got to find something to give you a little bit of extra motivation."
Indeed, when asked on Wednesday in Memphis whether his recent struggles might diminish his confidence level, Koepka had a very Koepka-esque response.
"I'm defending, aren't I?"
When the response was yes, Brooks quickly replied. "OK. Just checking."
In other words, no one dare dismiss Koepka in a major. The point here is that if he's going to get into beast mode, time is of the essence. And history teases as it beckons.