News
The 15 best PGA Championships, ranked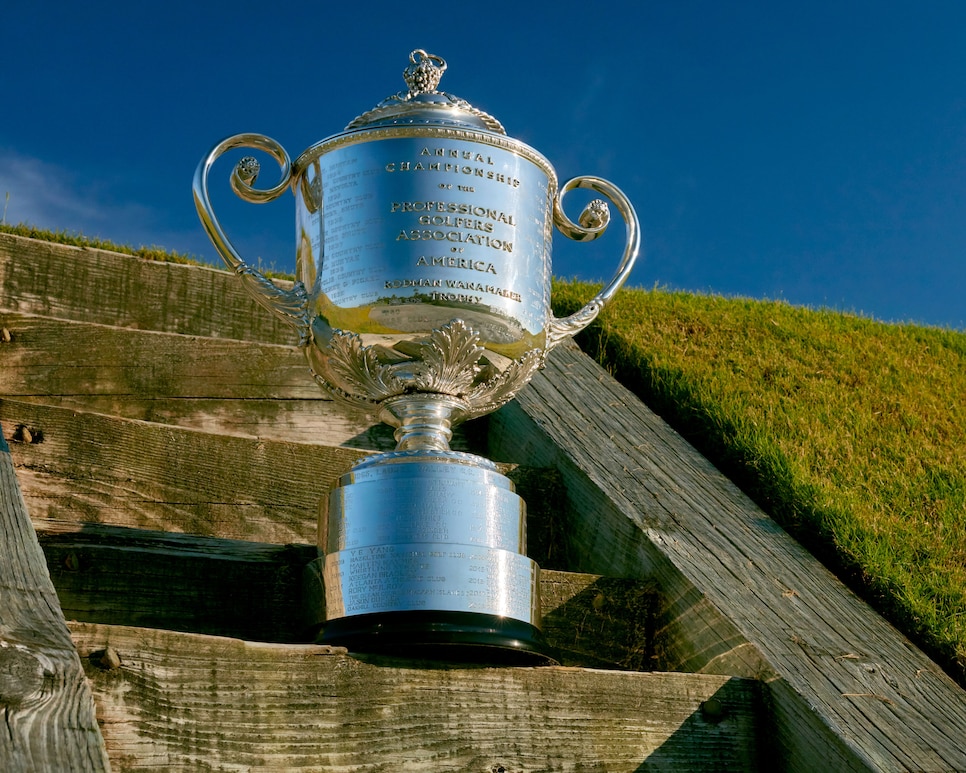 In a world without COVID-19, the PGA Championship would have been played this week at TPC Harding Park in San Francisco (it has been rescheduled for Aug. 6-9), which makes now as good a time as any to remember the best iterations of the major that began in 1916 when England's Jim Barnes beat Scotland's Jock Hutchison, 1 up, in the final match to win the first Wanamaker Trophy. Rather than take on that task myself, though, I thought it would be more fun—and more accurate—to bring in PGA of America historian Bob Denney.
There is probably no man on the planet who has a better perspective for this particular question, and the rankings you see below are mostly his, with an occasional (but rare) thumb-on-the-scale from me … and only in cases where we neglected to talk about a Championship or two. Aside from those anomalies, what you see below comes from Denney—I'm just the transcriber.
Let's count it down from 15.
15. 1955, Doug Ford, Meadowbrook Country Club
This one is mostly about personal achievement. From 1916 until 1957, the PGA Championship was decided by match play, with stroke-play qualification rounds starting in 1924. In that time, only four men were both medalists (for winning the stroke-play rounds) and overall champions. They included Byron Nelson, Walter Hagen, Olin Dutra and Doug Ford in '55. Of those, Ford was the only one who managed it in a field of 128 golfers, meaning he had to win a 36-hole qualifier and then prevail in six straight matches. He pulled it off, capping the incredible week with a 4-and-3 win over Cary Middlecoff in the final. As it happens, Denney was the last person to interview Ford before he passed in 2018 at age 95.
14. 1963, Jack Nicklaus, Dallas Athletic Club
Nobody has won more PGA Championships than Nicklaus and Walter Hagen (with five each), and this was Jack's first. He won the long-drive contest that week, hitting 341 yards with a persimmon-head driver, and the gold money clip he won became his good-luck charm starting that week. He was also exhausted, having just flown in from the Open Championship where he finished one-shot out of a playoff after bogeying his last two holes. Somehow, with temperatures in the triple digits on Sunday in Texas, Nicklaus came from three strokes back to win. That made him just the fourth player to have won all three American majors, and he was only 23. Safe to say he had a good career ahead of him.
13. 1921, Walter Hagen, Inwood Country Club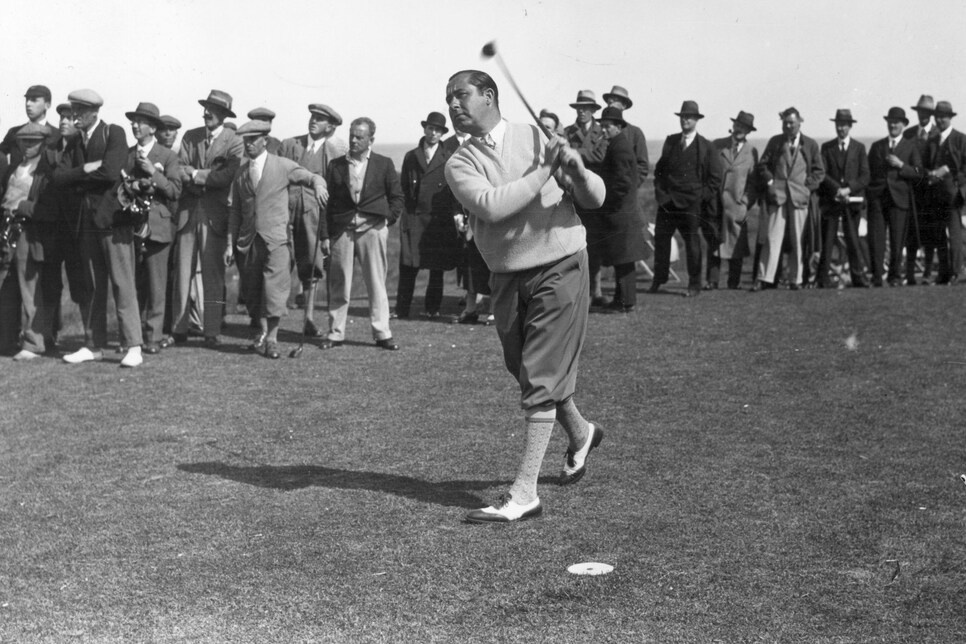 This was the first American-born player to win the PGA Championship run by the PGA of ... AMERICA. We have to include this, right? Right?!? Anyway, Hagen is a legend, but the real story here is that in the final, he defeated a man named Johnny Golden from Tuxedo, N.Y. Tell me that's a real person, and not a character from a Michael Scott improv scene.
12. 1945, Byron Nelson, Moraine Country Club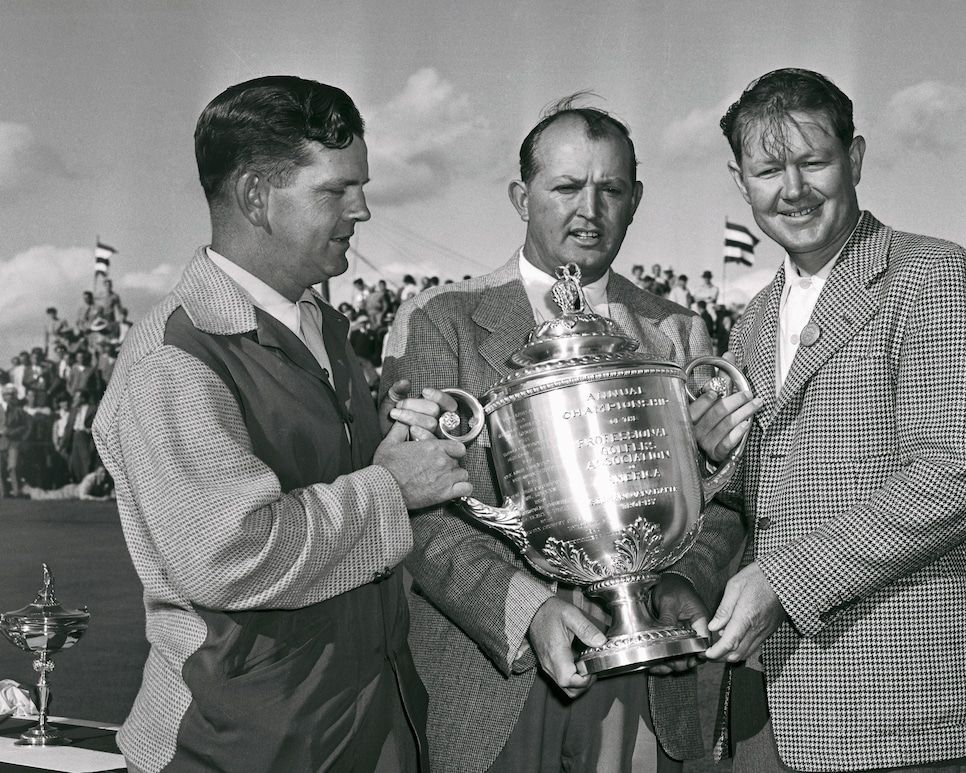 As Denney pointed out, this was the ninth victory of Nelson's famous 11-victory streak in 1945, at a time when he was burning out to a great degree. This was the only major championship played that year because of World War II (bad luck for Nelson, right?), and in the championship match, he defeated Sam Byrd, who had played for the Yankees as a backup outfielder from 1929 to 1934 as a reserve to none other than Babe Ruth. Which makes him one of the few people who could say to Nelson, "I've lost to better men than you," and have it be true. This was a different era, but there was still a ton of pressure on Nelson … imagine winning almost every tournament played that year, but losing the only major.
11. 1942, Sam Snead, Seaview Country Club
This was Snead's last event before joining the U.S. Navy—he would report for duty the next day. As it happened, he met an army corporal named Jim Turnesa in the final, and Turnesa was no slouch, having upset Ben Hogan and Byron Nelson in the quarters and semis. Snead won on the 35th hole by chipping in from 60 feet for birdie, and Denney noted there's a photo of both men signing war bonds after the round. Snead said at the time, and later repeated in Denney's hearing, that it was his most meaningful victory because like many other Americans at that time, he didn't know what the war might bring. (He never went overseas, serving mostly in San Diego before earning a medical discharge in 1944.)
10. 1968, Julius Boros, Pecan Valley Golf Club
This course no longer exists, but Boros' record does—52 years later, he's still the oldest man to ever win a major. Boros was 48, and it didn't come easy. Arnold Palmer, a shot behind him, hit a spectacular, curving 3-wood on the 72nd hole to eight feet but couldn't make the birdie putt. Boros had to make par, and got up and down to win. Also, as a footnote, Boros' choice of hat that Sunday (Amana Refrigeration) seems to have accidentally spawned the clothing logo craze we know and hate today.
9. 2001, David Toms, Atlanta Athletic Club
"The layup to remember." This one flies under the radar because it came one year after a certain other entry we'll see later on the list, but the ending was spectacular. Dueling with a then-major-less Phil Mickelson all day (Phil holed a dramatic long chip on 15 before giving it right back with a bogey on 16), and leading by a single stroke on the 72nd hole, Toms put his tee shot in the rough. Rather than risk the water on the par-4 home hole (playing a tick over 500 yards that day), he laid up and prayed for his short game to save him. His wedge came to rest 12 feet from the hole, and when Phil missed his birdie putt, Toms had his moment. Start at the 11:50 mark here for the layup and all that came after:
Afterward, Denney was the one who escorted Toms from the green to the trailer, and Toms was on the phone with his young son, saying, "Did you see that one?"
8. 1986, Bob Tway, Inverness Club
The next two entries belong in the long litany of Greg Norman heartbreaks, and this one comes from the year when he became the first man to lead every major after 54 holes in a single year … and won just one of them. In this case, he held a four-shot lead heading into Sunday and still held it after nine holes. But in typical Norman fashion, he got very unlucky, too. That twist came on the 72nd hole, when Tway, in the worse position of the two and tied with Norman, holed out improbably from a greenside bunker. Norman, on the fringe, missed his birdie putt, and it was another chance gone. Watch Tway's shot, one of the most famous in major history:
That's some good leaping!
7. 1993, Paul Azinger, Inverness Club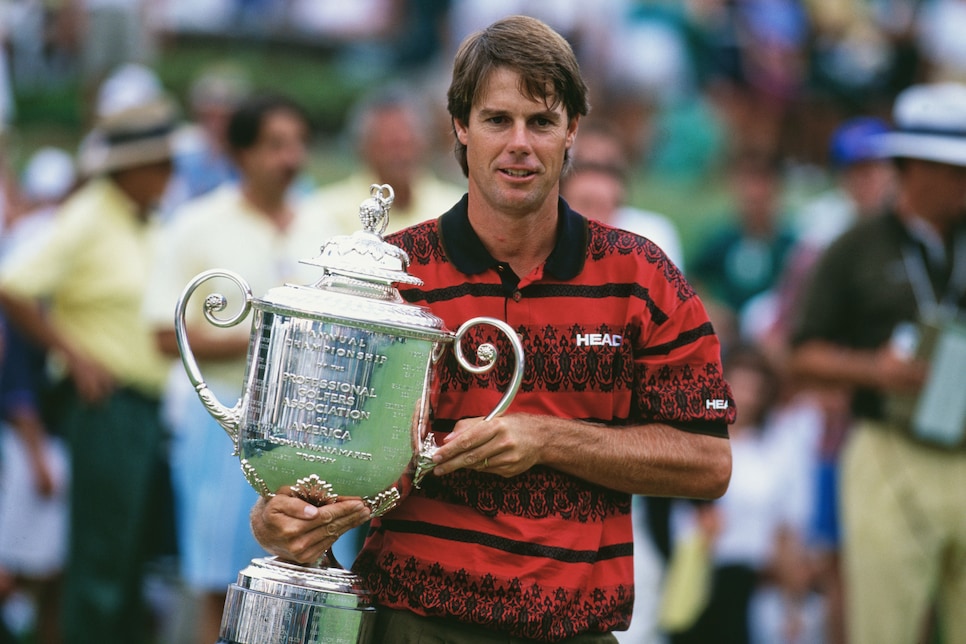 Paul Azinger claims his one and only major at Inverness Club in 1993.
David Cannon
This one actually went in Denney's top five, but I'm being a jerk and knocking it back a few spots … but only because Denney admits he's a bit biased. It was the first PGA Championship he worked, and he watched as Azinger emerged from "the greatest assembly of contenders on a Saturday leader board," a group that collectively had won 23 majors. Just like Bob Tway, Azinger overcame Norman, though this time Norman was very good, with a final-round 69. That's the thing about Norman—when he wasn't booting a major, he was the victim of terrible luck. In this case, Azinger had to birdie four of the last seven holes just to make a playoff, and then Norman missed a four-foot par putt on the second sudden-death hole to lose it. With the loss, Norman earned a dubious distinction, becoming just the second golfer after Craig Wood to have lost each of the four majors in a playoff. The legacy with Azinger is happier—it was his only major victory, but it opened up the chance for him to become a Ryder Cup captain back when winning the PGA was seen as an unwritten prerequisite for the Americans. He got the job in 2008 and was brilliant, providing one of the few bright spots for the U.S. team in the past 40 years.
6. 1961, Jerry Barber, Olympia Fields

Let's put it this way: If the last three holes of Barber's Sunday round happened today, social media would cease to exist—it would be too overwhelming for all the 1s and 0s to process. Here's how Denney described what Barber, who stood all of 5-3, pulled off starting on the 16th hole to force a tie with Don January:
On the 16th, a 458-yard par 4, Barber hit a 4-wood to 20 feet and made the birdie. On 17, he topped his drive and watched it roll barely 100 yards. Another 4-wood brought him within 90 yards of the green, but his approach was mediocre, leaving him with a 40-foot putt for par. He nailed it. Then, needing a birdie on the 436-yard 18th, in near darkness, he hit a 3-iron approach 60 feet away...AND MADE THAT PUTT, TOO.

Barber came back in the 18-hole playoff the next day and beat January by a stroke on the 18th by hitting a 3-iron from the sand to 18 feet. And if that wasn't crazy enough, he also became the oldest major winner at the time at age 45 … a record that wouldn't stand for very long. (Lucky for January, he won a PGA in 1967, and thank God, because that is a brutal way to go down.)
5. 2009, Y.E. Yang, Hazeltine National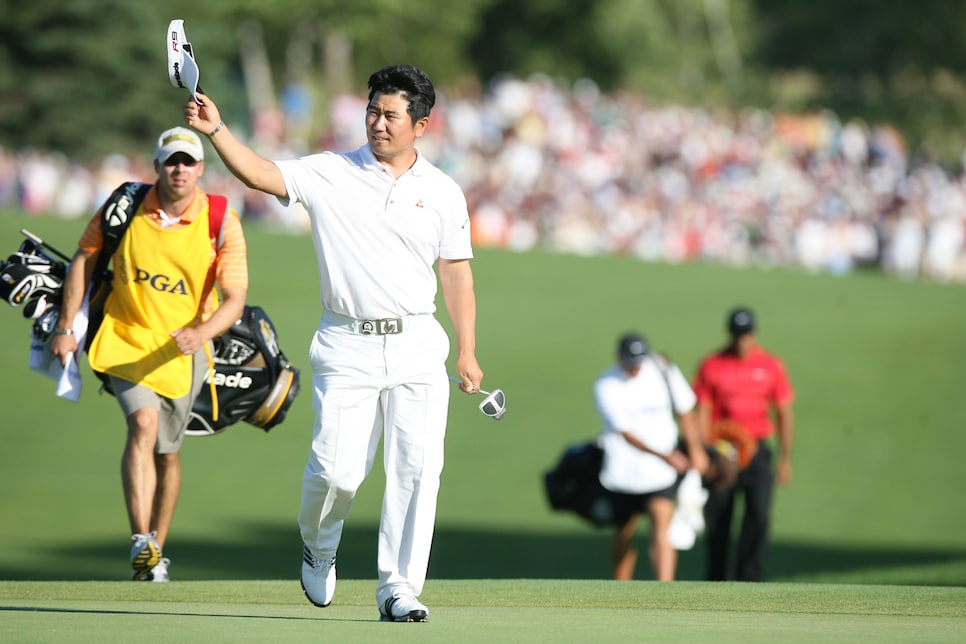 Y.E. Yang acknowledges the fans as he walks up the 18th hole during the final round of the 2009 PGA Championship at Hazeltine National, runner-up Tiger Woods trailing behind him. Yang was the first Asian-born golfer to win a men's major.
Icon Sports Wire
It seems almost unfair to say this, but Yang's win is more exciting after the fact than it was at the time. I was never the No. 1 Tiger homer, but I remember that Sunday at Hazeltine feeling like the ultimate anticlimax, a slow energy drain as we realized that Tiger would fail. What Yang pulled off is beyond incredible—the first (and still only) Asian-born golfer to win a men's major, and the first person to beat Tiger at a major when Woods had a 54-hole lead. It's the ultimate underdog story, but what we remember most is Tiger's struggles that day and, of course, the worse struggles waiting for him just three months down the road. So let this be my attempt to right the wrongs: Yang was a monster that day and made history in two indelible ways. He deserves to be thought of as more than just Tiger's foil.
4. 1923, Gene Sarazen, Pelham Country Club

There are a lot of good reasons not have a match-play major championship, but then again, you could get the kind of action we got in 1923 when Sarazen met Walter Hagen in the championship match. You could make a good argument that this was the best match ever played, according to Denney, and it was dramatic until the finish. Sarazen actually blew a 2-up lead with three to play, Hagen sent it to extra holes, they birdied the 37th, and on the 38th, a drivable par 4, Hagen got in a bunker and couldn't get out. (Again, imagine social media.) It's worth noting that Hagen responded by going on one of the great revenge tears, winning the next four PGA Championships and three more Open Championships. Also worth noting that both men remain in the record books for the most holes playing in a single event as every match was a scheduled 36 holes—Sarazen played 194, Hagen 188.
3. 2014, Rory McIlroy, Valhalla

I was thrilled when Denney had this in his top five, because my bias was likely to land it there anyway. I followed Rory that day, and the way he ignored Mickelson and Fowler on the sixth tee box (rain delays had stacked the groups up), almost creating a force field of energy around himself as he glared at nothing, was one of the most fierce and hostile acts I'd ever witnessed in this very polite sport. The ending is what everyone will remember—Rory playing on Rickie and Phil's heels in the darkness, hitting a controversial approach shot before they had finished that privately left Phil fuming—and it was every bit the epic to Rory's brilliant season. But the real story for me will always be one of the greatest golfers of his generation out-willing his rivals because he'd allow for no other outcome than a win. It's made more special because, six years later, it remains the last time we saw that level of defiant greatness.
2. 2000, Tiger Woods, Valhalla

Are you steaming with rage that the Tiger-Bob May duel is only No. 2? Hang on to your hat, because there are a lot of nice things to say about it. Denney called it "the greatest modern shotmaking duel" (distinguishing it from Henrik Stenson-Phil Mickelson, 2016 British Open at Troon, which he called a "scoring duel"), and "easily the best modern-era playoff." My hot take is that May's pitch on the first playoff hole followed by Tiger nailing his birdie putt is the greatest two-shot sequence I've ever seen, considering the circumstances. You can see those, and the rest of the staggering face-off, here:
One interesting side note from Denney: According to Ron Hickman, a rules official who was on the course at the time, Ken Venturi was wrong when he said that someone might have interfered with Tiger's drive on 18, sending it to a better position. Per Hickman, who watched the ball, nobody touched it, and it was only a fortunate carom.
1. 1991, John Daly, Crooked Stick
You're still mad about Tiger, aren't you? Well shake it off, because this is one of the greatest golf stories ever, and that's what it would take to usurp Tiger versus May. John Daly made it into this tournament because nine—NINE—people dropped out, and Denney told me that when the PGA of America official called Daly to tell him he was in (at 5 p.m. on Wednesday), Daly was in Memphis and had to drive seven and a half hours to Indianapolis. Nick Price was one of the ones who dropped out, so Daly hired his caddie, Jeff (Squeaky) Medlen. They had never worked together before, and after seeing Daly's swing, Medlen's advice was simple: "Kill it." Daly did, but he did a lot more than just bomb it on the tough Pete Dye course. He took the lead in the second round and never let it go, finishing at 12 under for the most shocking major-championship victory … ever? Daly has become an infamous character, iconic in his own way, but back then he was beyond unknown. This is the tournament that birthed the legend.