News
Why Jordan Spieth's putting struggles won't matter at the Masters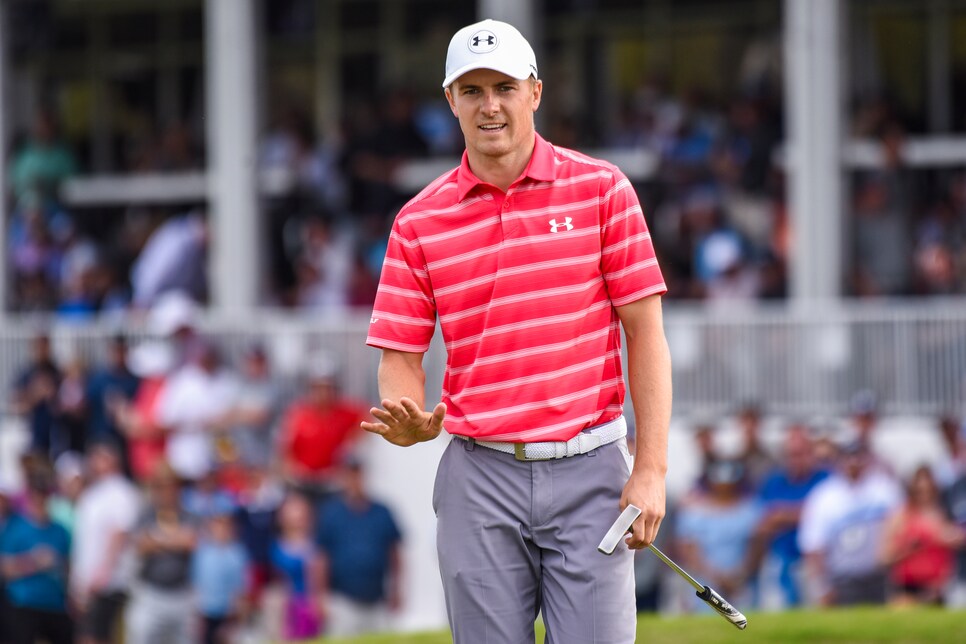 The Masters is a week away and many in golf are wondering the absurd, which is questioning the contending merits of Jordan Spieth. All the man's done in the past four seasons is set the tournament's scoring record, finish runner-up twice and enter the other Sunday in the penultimate group. Those results should earn perennial favorite status. Yet six months removed from the 24-year-old vying to become the youngest Grand Slam winner in history, that absurd is reality, attributed to Spieth's performance, or lack thereof, with the putter.
Entering the Houston Open, Spieth ranks 172nd in strokes gained/putting. Struggles that have rendered his ball striking moot, and have correlated to quick outs at his last two events. Though he's experienced short-game troubles in the past, this slump is a different vexation. And one that's taking its toll: following his WGC-Dell Match Play loss to Patrick Reed, Spieth was distraught, conceding he was unsure if he could fix the issue in time for Augusta National.
The good news for Spieth? It may not matter.
Analytics and statisticians have long established that "Drive for show, putt for dough," is a misnomer. Tournaments are routinely decided by a player's performance off the tee and in approach, with the work on the greens ancillary, if not downright irrelevant, to the proceedings. The same has not been said about Augusta National, where putting—supposedly—remains paramount. The Georgia confines are suited to bombers, yes, but distance is for naught if a player is lost on the greens. A belief that explains why Dustin Johnson and Rory McIlroy, otherworldly talents not exactly known for their putting prowess, have yet to hit the Masters jackpot.
But when asked if his short game is up to snuff to win a green jacket this February, McIlroy offered a different perspective on the matter.
"At Augusta, you don't need to putt great, you need to not waste any shots, no three-putts, hole everything inside five feet," McIlroy said. "You don't need to hole every 15-footer that you look at, you need to be efficient, just not to be wasteful."
McIlroy may have a point. After all, Bubba Watson is routinely one of the worst putters on the PGA Tour, and he's won the tournament twice. So we took a closer look: Do Masters winners double as good putters, or is there something else at play?
Reviewing the last 12 Masters, one thing became abundantly clear: Since the course was lengthened in 2006, stout putting has not been a requisite for success.
Here are the those 12 Masters winners, followed by their output and rank in strokes gained/putting for that season.
2017: Sergio Garcia— negative-.356 (168th)
2016: Danny Willett—.172 (61st*)
2015: Jordan Spieth—.571 (9th)
2014: Bubba Watson— negative-.050 (109th)
2013: Adam Scott— negative-.027 (108th)
2012: Bubba Watson— negative-.280 (160th)
2011: Charl Schwartzel—.052 SG (96th)
2010: Phil Mickelson— negative-.149 (133rd)
2009: Angel Cabrera—.181 (63rd)
2008: Trevor Immelman— negative-.675 (191st)
2007: Zach Johnson—.659 (5th)
2006: Phil Mickelson—.268 (40th)
Willett only logged nine tour events in 2016, thus failing to qualify for official ranking.
Forget formidable; seven of the last 10 winners have been unequivocally bad putters, with only two from this 12-year window—Spieth and Zach Johnson—considered strong in the years of their Masters victories. And though we're not dismissing Johnson's 2007 win, it is something of an outlier, with brutal winds leading to British Open-like conditions (Johnson's one-over 289 is the highest winning score in Masters history).
So why the disconnection between axiom and actuality? As a few have attested, Augusta National's greens are so severe that it curbs the facility of good putters. The putting surfaces' subtly and extremes—while fast in parts, going uphill and against the grain can be surprisingly slow at Augusta—create a defensive mindset. Speaking on the subject in 2013, Johnson said putts aren't necessarily made but lagged, while Mickelson has remarked he tries to "float" the ball towards the hole.
Which puts all the more onus on the approach game, as lagging is a heck of a lot easier from 20 feet from the hole than 30. Reviewing the same 12 winners, there appears to be more of a connection between strokes gained/tee-to-green performance and fruition at Augusta National:
2017: Sergio Garcia—1.25 (12th)
2016: Danny Willett—.827 (25th)
2015: Jordan Spieth—1.583 (4th)
2014: Bubba Watson— 1.402 (7th)
2013: Adam Scott—1.337 (5th)
2012: Bubba Watson— 1.809 (3rd)
2011: Charl Schwartzel—.898 (19th)
2010: Phil Mickelson—1.151 (5th)
2009: Angel Cabrera—.372 (63rd)
2008: Trevor Immelman—.670 (31st)
2007: Zach Johnson—.415 (60th)
2006: Phil Mickelson—1.688 (4th)
Music to the ears of Spieth, as he enters this week's Houston Open ranked ninth in this category.
This is not to say a player can survive a bevy of three-jacks at Augusta National, and it's hard to account the havoc such woes can wreak on the psyche or other parts of the game. But while Spieth's flat stick is a concern, as recent history has illustrated, it won't keep him from contending for a second green jacket.