News
Zach Johnson is not upset if you've forgotten it's the 10th anniversary of his Masters win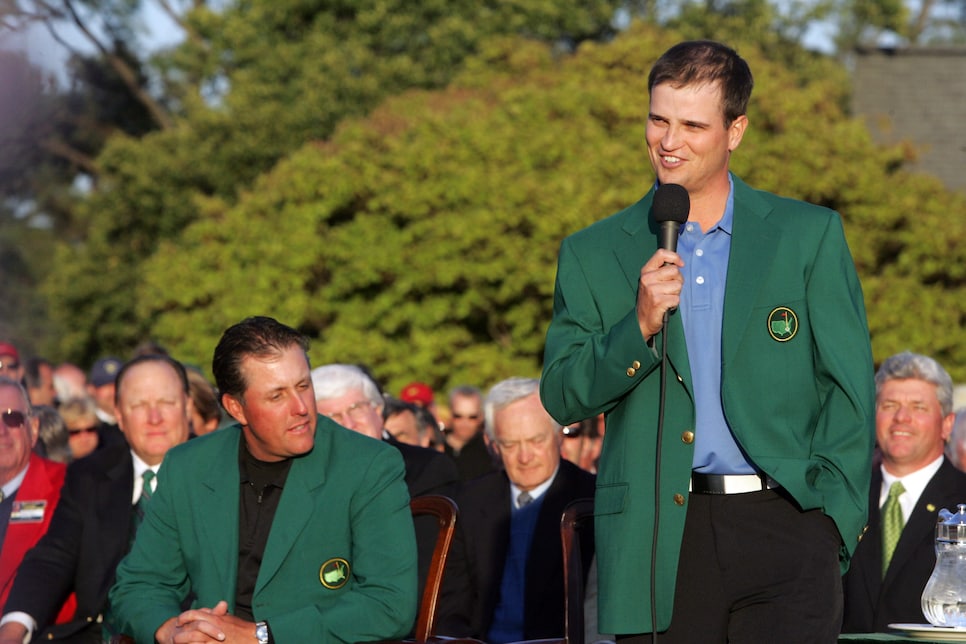 AUGUSTA, Ga. — Zach Johnson won the Masters 10 years ago this week, shooting a one-over-par 289 aggregate total that tied the highest winning score in tournament history. The anniversary, though, isn't high on anyone's radar.
"Yeah, I definitely, think it goes without saying that we have more important occasions to talk about," Johnson himself says. "It's 20 years since Tiger won. It's the first Masters without Arnie. I would hope this year would be more about The King not being there than anything."
Well, when even Zach Johnson would rather talk about subjects other than Zach Johnson's two-stroke victory over Tiger Woods, Retief Goosen and Rory Sabbatini in 2007, then what's the point of pressing on here? In fact, Johnson wasn't even sure why a 10-year anniversary held any significance.
"It is the 10 years thing. I get it," Johnson said. "Last year was nine years; next year will be 11 years. But, sure, 10 is a number to keep track of. I don't know who made that number special. But I guess I must have done something right on my 10th wedding anniversary because I'm still married.
"But, no, I have no special plans. No significance to me. I'm just going back again to try to win it. I would say 25 years would be cool to me. Hope we talk again then."
What was destined to make the 2007 Masters interesting was the unusual weather that week. The 71st Masters was mostly sunny, but unseasonably cold and windy, making the course rather brittle. And obstreperous. Padraig Harrington and Paul Casey shared low round of the week with second-round 68s. Sixty players made the cut at eight-over 152, the third-highest in tournament history.
"I remember the conditions were really, really ugly at best. It was just horrible," said Colin Montgomerie, who missed the cut by a stroke, and remembered feeling relieved to not face a course that was exceedingly firm and fast.
Saturday was particularly inhospitable, with temperatures in the mid-40s and winds gusting up to 33 miles per hour. Goosen's two-under 70 won the crystal vase for long round of the day. The field's scoring average of 77.35 made it the ugliest Masters Saturday since 1956, with co-leaders Brett Wetterich and Tim Clark shooting 83 and 80, respectively.    RELATED: Brett Wetterich, the 2007 Masters and what might have been
Despite a triple bogey on 17, Australia's Stuart Appleby held the overnight lead at two-over 218, though most everyone assumed the difficult conditions would greatly abet the efforts of Woods, trailing by just one, to win a fifth green jacket.
Johnson, playing in his third Masters, was two behind after rounds of 71-73-76 and wasn't given much notice even though he had not fallen out of the top five throughout the tournament. His finesse game was thought to be a poor match for a muscled-up layout, and that shortcoming was sure to cost him in the final round.
Early in the final round, after birdies at Nos. 2 and 3, Johnson moved into a six-way tie for the lead. He asked his caddie Damon Green to just keep him in the present. "He was so calm out there," said Johnson's caddie, Damon Green. "He played great Saturday and shot 76, but he barely lost any ground. On Sunday, he was paired with Vaughn Taylor, who was a good friend, and that helped. I just remember he never got out of position that last day, never got ahead of himself."
Green advised his player to not look at a leader board the rest of the day. "But I was nervous as all get out," Johnson said. "My legs were shaking the whole way round because I didn't want to mess the guy up."
An ominous roar reverberated behind them when they reached 15. Woods had eagled 13. Fortunately, by then, Johnson was still ahead by two strokes. And then he responded with a 12-foot birdie of his own on 16. A three-putt bogey at 17 ended up not hurting him, especially when he deftly got up and down for par on the home hole for a 69, tied for low round of the day and his first sub-70 score in 10 Masters rounds.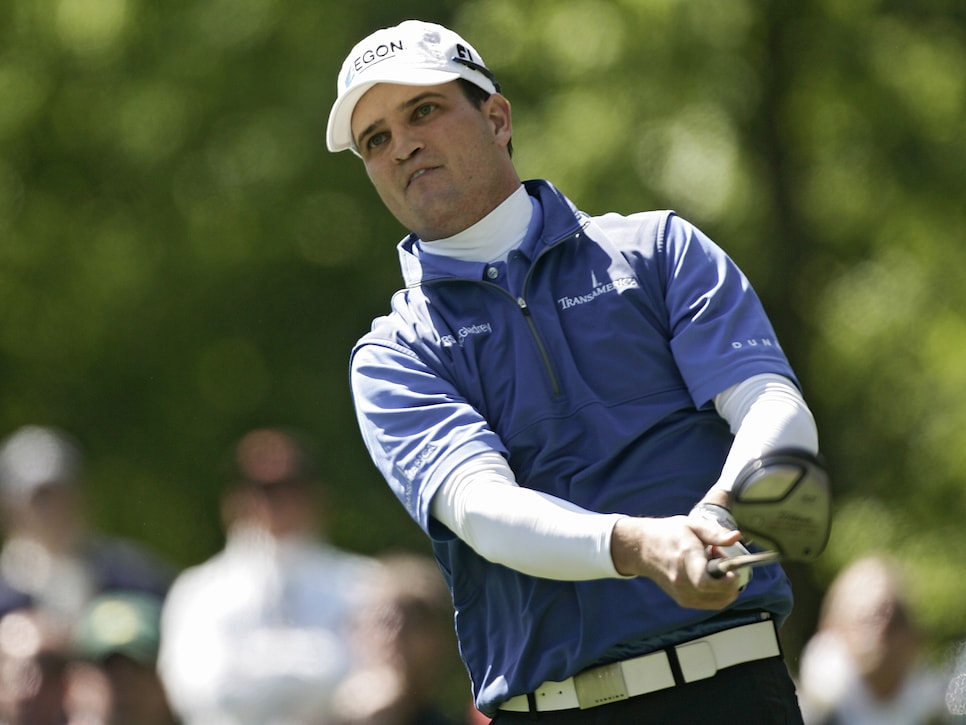 Johnson was asked when he thought he might be able to win.
"My approach into 11 was the point when I knew I was playing about as well as I could," Johnson said of the 3-iron shot into the long par-4 hole. "I didn't hit a very good drive, kind of pushed it and wasn't very long. I had a right-to-left lie and a right-to-left wind, but I have to hit a fade around the trees, and I can't see the pin because the trees are in my way. Probably had 230 in or so. It was almost like a double-breaker in the air. I know right is not bad, left is dead and I have to hit a cut. Hit it to 25 feet. Two putts and I got out of there.
"But if you ask me when I thought I was going to win," the Iowa native added, "that wasn't until Tiger's second shot at 18 didn't go in the hole."
Even though the course played firm and fast, the greens were rock hard. In response to the conditions, Johnson, now infamously, never once tried to go for the green in two on a par 5. He played those holes in 11 under for the week.
"A lot of average fans might not realize it, but players know how amazing that is, what he was able to accomplish with his game, not being a long hitter," said two-time Masters winner Bubba Watson. "He played smart. It was a lesson in sticking to a strategy."
"You talk about someone that knew his game and knew what to do," Montgomerie said. "Didn't go for a par 5, and he was 11 under on the par 5s. So he played to his strengths. And the strength at the time and have been seen in those 10 years from there was Zach Johnson is very, very good from a hundred yards in. And you have to remember, that 70 percent of all golf shots are played from a hundred yards in, and that's why Zach Johnson has managed to compete over those years without being the longest hitter."
Those strengths, which include steeliest putting nerves in professional golf, were integral to Johnson's second major victory two years ago at the Old Course at St. Andrews in the 144th Open Championship. Johnson defeated Marc Leishman and 2010 Open winner Louis Oosthuizen in a four-hole playoff on another windswept afternoon.
"It would be tough for me to pick which win was more impressive, the Masters or the Open," Green mused. "But how many players can say they won at Augusta and St. Andrews? Bet not many."
No, not many. The list: Sam Snead, Jack Nicklaus, Seve Ballesteros, Nick Faldo, Tiger Woods and Johnson.
"Yeah, when you put it in that perspective, that's pretty cool," Johnson said, finally allowing a bit of satisfaction to encroach. "I mean, I wouldn't trade that double for anything no matter what you said to me, but that's a nice way to tie it together."
It is. We'll talk again in 2032.