News
Ten years after holding the halfway lead at the Masters, Brett Wetterich finds himself on the outside looking in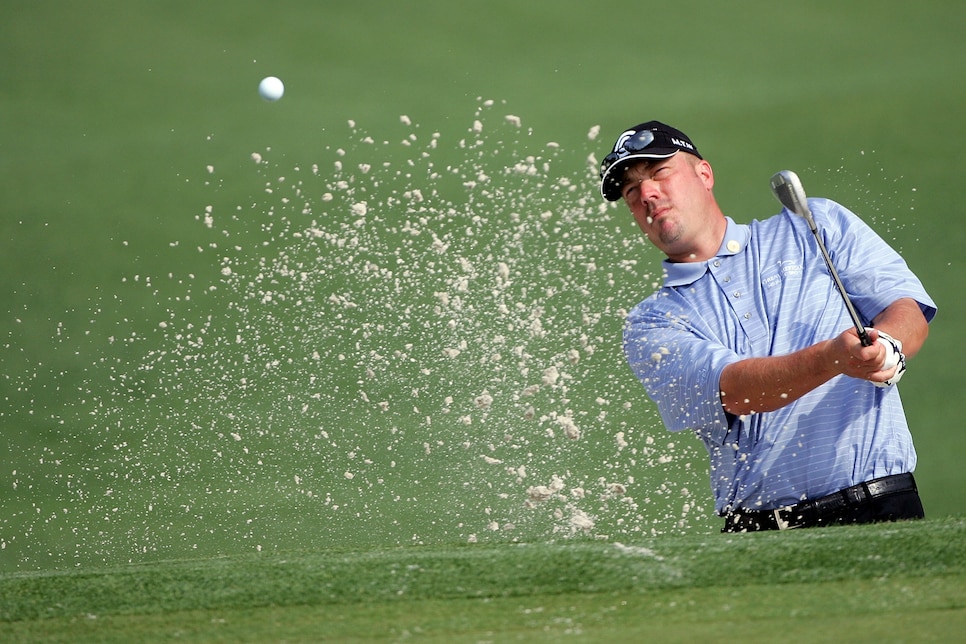 Photo By: Andrew Redington
Brett Wetterich remembers everything about the 2007 Masters. The first drive down Magnolia Lane. Playing practice rounds with "Mr. Floyd," and receiving short-game help from Larry Mize. How the course exploded with color at first sight.
"It's a gift, being there," Wetterich says with reverence. "The place is magical."
He damn sure recalls leading the tournament through the first two days, where he contemplated the life-altering opportunities in front of him. And, as much as he would like to forget, he remembers what happened on the weekend.
On Tuesday night of Masters week, the men who have won green jackets will convene upstairs at the Augusta National Golf Club for the Champions Dinner, quite possibly the most exclusive fraternity party in golf. Yet there's a separate group, a fraternity in its own right. Players that led the tournament, who had Champions Dinner menus selected in their heads but were unable to place the order. They are footnotes to fame—Jack Renner, Brian Henninger, Len Mattiace—off the radar once their bids fell short. A group whose stories and careers are lost to history. A group that includes Brett Wetterich, who 10 years after coming this close to glory, is on the sport's outskirts, trying desperately—but likely unable—to get back in.
To appreciate Wetterich's performance at Augusta, you have to know his journey. An All-City golfer at Oak Hills High School in Cincinnati, Wetterich headed south to Wallace State Community College. The choice for Wetterich was easy: "They were the only university that offered me a scholarship."
Though it's not as glamorous as the NCAA's upper echelons, juco is nearly as competitive an environment. In his time at Wallace State, Wetterich led the team to the NJCAA National Championship, finishing second in the tournament.
Alas, school wasn't in Wetterich's DNA. He left after a year and headed to the Florida mini-tours. He bounced around for the better part of a decade, having a few cups of coffee in the big leagues and qualifying for the 1998 U.S. Open, but he was never able to keep his tour card. In the midst of this struggle, Wetterich confronted personal tragedy when his brother Mark was killed in an auto accident by a drunk driver.
Through the haze, Wetterich broke through in 2006. After earning his card through the PGA Tour's Qualifying tournament, Wetter posted six top-10s on tour, highlighted by a win at the Byron Nelson Championship.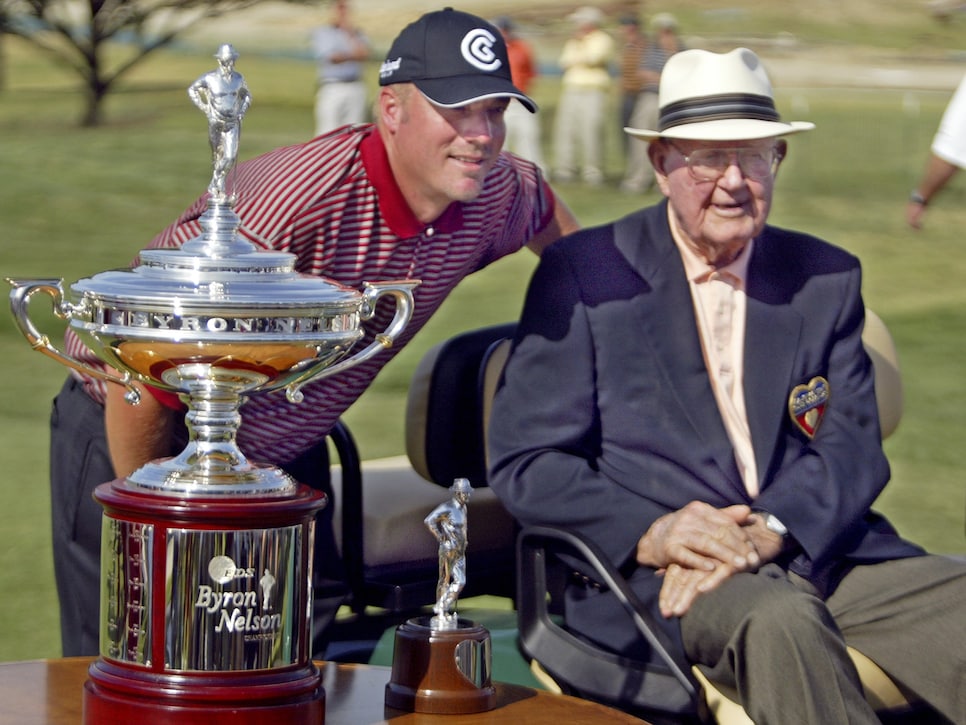 "At first glance you know he's going to hit the ball a mile. He's got shoulders the size of this room," said Trevor Immelman, winner of the 2008 Masters, of Wetterich at the Nelson Championship. "He bombs it out there."
He finished 10th on the money list, earning a trip to the Ryder Cup. If that sounds outlandish, it was: Wetterich became the first player to go from the Q-School to the American team in the same year.
That U.S. team was infamously run over in Ireland, losing the match by nine points (Wetterich went 0-2). But no matter, for the first time in his career, Wetterich had some semblance of security. Better yet, his money-list standing earned an invite to the Masters.
After 13 years of toiling, Wetterich had arrived.
The Masters is unkind to rookies. In the modern era, only Fuzzy Zoeller has won the green jacket in his tournament debut. Wetterich knew the long odds facing newcomers, so he sought the counsel of a man who knows the layout as good as anyone: Raymond Floyd, who won the 1976 Masters and finished runner-up three times, the final time at 49 years of age.
"I played a few practice rounds with Mr. Floyd, who told me not to wear myself out," said Wetterich, who met Floyd through his sons, Ray. Jr and Robert. "I didn't play that much." Floyd showed Wetterich the usual pin locations, the break of popular putts and what areas you didn't want to find yourself in.
"And it worked, at least for two days."
The 2007 Masters was defined by brutal conditions. Only nine players broke par on Day 1, with Wetterich and Justin Rose leading the charge thanks to a pair of 69s. Perhaps just as remarkable is that Wetterich, who ranked fourth in distance and sixth in birdie average on tour in 2006, failed to take advantage of Augusta National's par 5s. He bogeyed the second and 15th—the second- and fourth-easiest holes in 2007, respectively—playing the par 5s in one over par.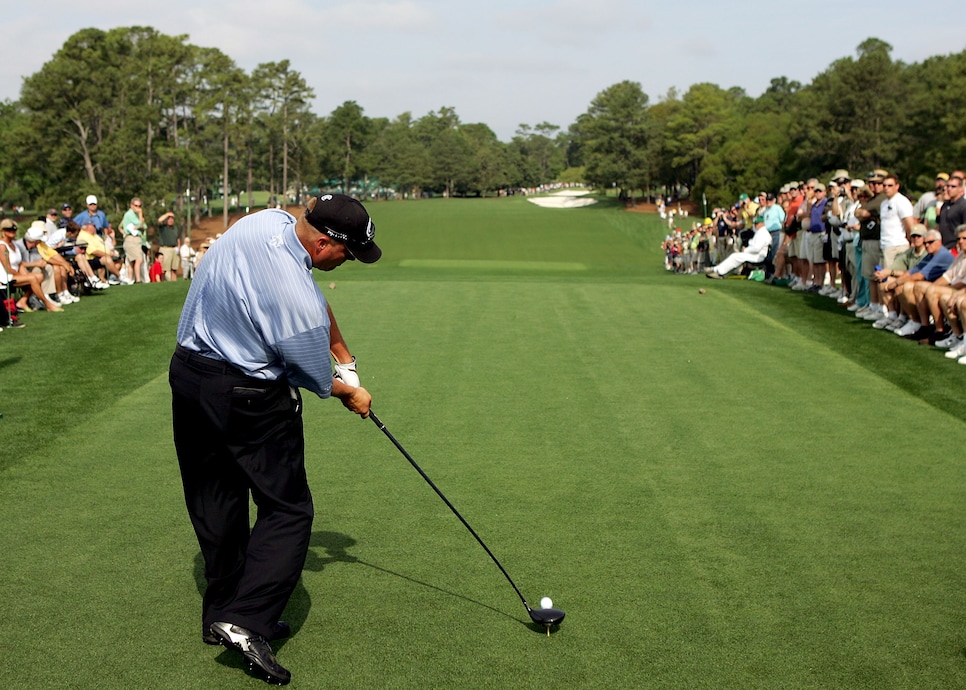 Still, it's tough for a first-timer to complain about an opening performance, and despite his success the previous year, Thursday's round brought Wetterich unprecedented attention.
"It's not even close," he recalls, trying to find a comparable feeling. "It shouldn't be, but it is. It's Augusta, it's the Masters, it's a major. It's totally different than a normal tournament."
"But for me, it was in the back of my head. I'm not going to be oblivious to the fact I'm playing in the last group on Saturday tied for the lead."
While impressive, major history is scattered with one-day wonders. Bringing it back a second day begins to separate the performers from the pretenders. Undeterred by more par-5 trouble—he once again bogeyed 15—Wetterich's one-over 73 on Friday left him tied for the lead with Tim Clark. The former juco, minor-league journeyman would be in the final group on Saturday.
Suddenly, Wetterich went from new face to formidable contender. Though he finished second to Tiger Woods at Doral, he beat Woods in the final round, making onlookers believe he had the fortitude to thrive at this tournament. The gust-swept landscape in Georgia was causing the field havoc—only three players entered Saturday under par for the tournament—but Wetterich was so long that it rendered the wind moot. For an Augusta novice, Wetterich displayed remarkable patience.
Going to bed on Friday night, Wetterich contemplated the gravity of the moment.
"There's a lot weighing on it. It's a career changer if you can win," he says. "There's a lot of pressure on you, you try not to think about it. But for me, it was in the back of my head. I'm not going to be oblivious to the fact I'm playing in the last group on Saturday tied for the lead.
"Maybe some people block that out, but I couldn't."
There are several ways to describe Wetterich's Saturday at the 2007 Masters. But the one thing he's adamant about: it wasn't the nerves.
"The first hole, I had a 10-footer for par. If you have any jitters, you're not making it," Wetterich asserts. "So I made that putt, and I'm thinking, 'We'll I'm good. That's a test, my nerves are good. Let's go.'"
The second hole would not be as comforting. For the fourth time in nine tries, Wetterich bogeyed a par 5. At Augusta, that's giving two strokes to the field.
"And that's when it fell apart," Wetterich says, in a foreboding tone.
The composure that kept Wetterich afloat the first two days was absent on No. 3, the short 350-yard par 4. Wetterich went 20 yards deep over the green with his second shot, one of the areas you're supposed to avoid at all costs.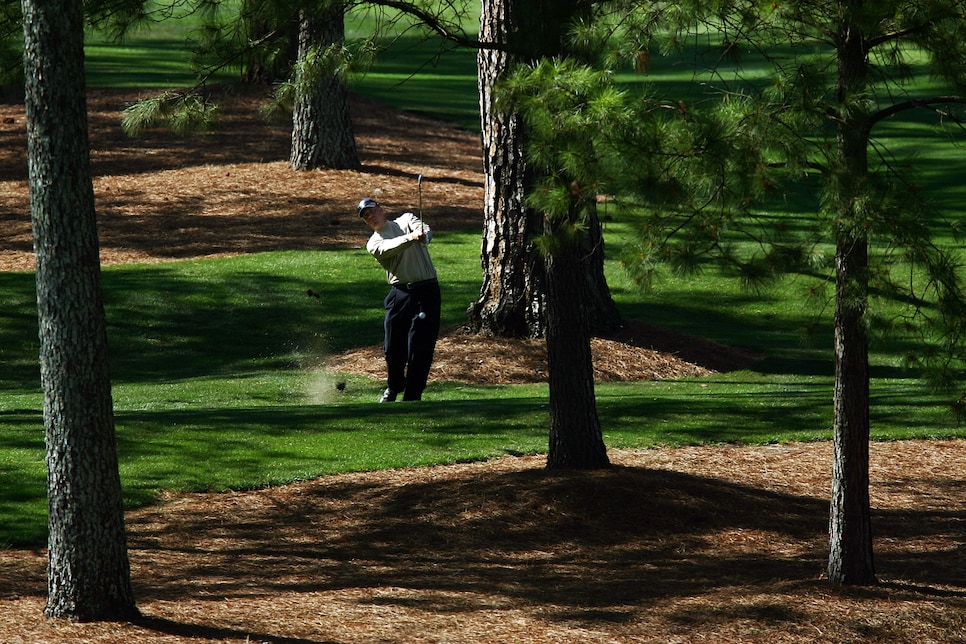 "I made a boneheaded mistake hitting it long," he states, "and then trying a hero shot instead of taking a bogey."
One of the marvelous facets of Augusta National is it allows for bravado. But if you lack precision, it will penalize you dearly. The latter applied to Wetterich, who tried to stick it close, only to watch his ball roll off the green. Two more chips followed. He ultimately walked away with a triple.
"I spiraled out of control quick," Wetterich says. "It's hard to make up shots at Augusta on a day like that."
He bogeyed the next hole, as well as—you guessed it—the par-5 eighth, making the turn in 42. The back was similarly calamitous, doubling the 10th to go along with three bogeys. The final damage as he walked off the 18th green: a 12-over 83, stumbling to 23rd on the board.
To be fair, no one played particularly well that day. With winds reaching over 30 miles an hour, no one broke 70. Wetterich's playing partner, Clark, shot an 80. At day's end Stuart Appleby, with a Saturday 73, was in the lead at two over.
Still, no matter the conditions, you don't often see an 83 in a professional tournament, let alone from final group on Saturday.
"I just played bad," Wetterich admits. "I wasn't nervous, I just had a bad day. It was really so cold and windy, but somebody figured it out, because someone played good. It just wasn't me."
That somebody proved to be Zach Johnson. Again facing stiff winds, Johnson turned in a 69 on Sunday for a one-over 289, giving the Iowan a two-shot victory. It was the highest winning score in Masters history.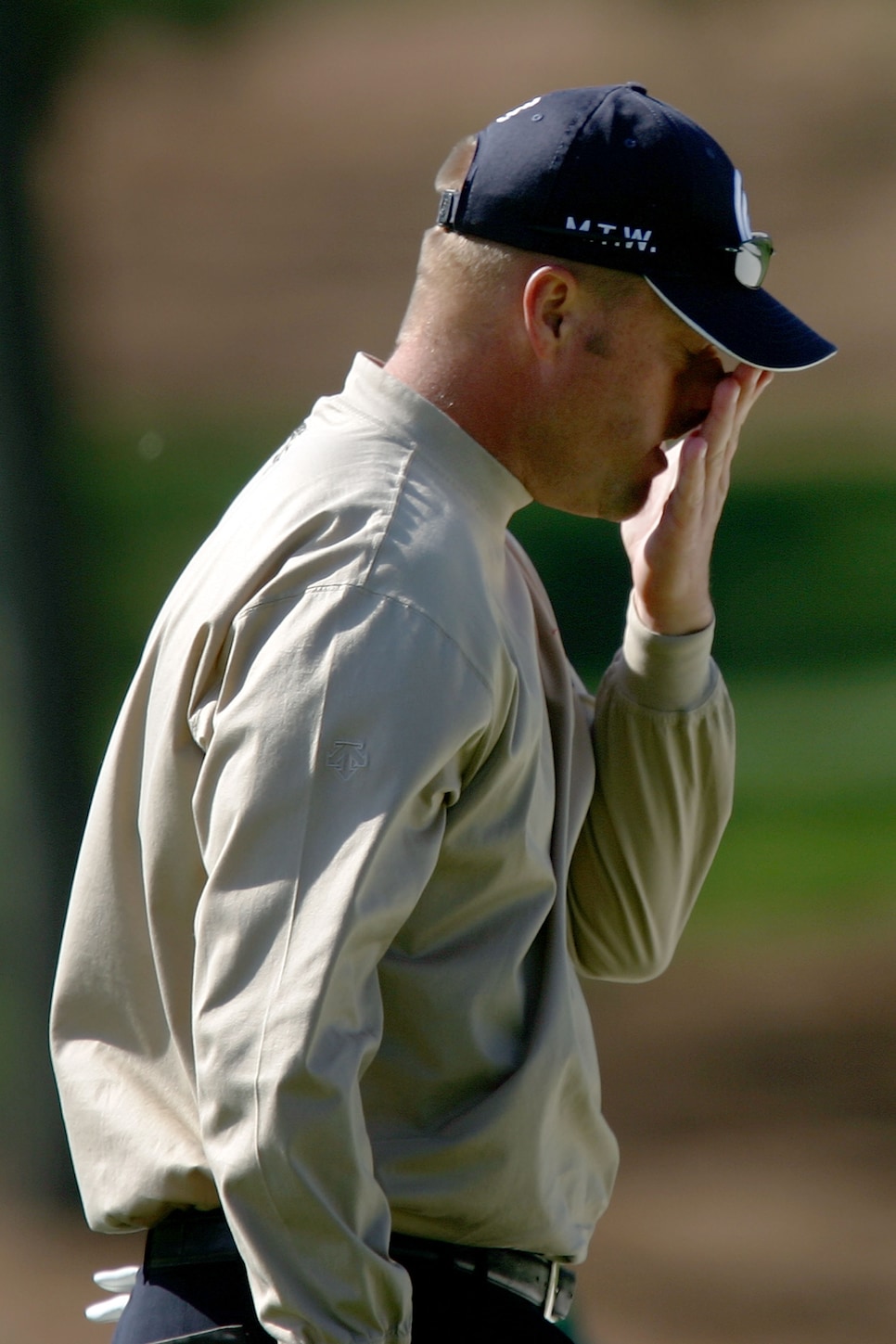 For his part, Wetterich failed to muster a Sunday charge, following up with a five-over 77. He was 17 over for the weekend, finishing a far cry from the green jacket at T-37.
The easy narrative is to say it went downhill after Augusta, but Wetterich had a commendable 2007 campaign, highlighted by a runner-up finish at the FedEx Cup's Deutsche Bank Championship.
"I was going into the last day tied for the lead, and I hit the ball so good and I couldn't make a putt to save my life," Wetterich says. He earned an invite to the Tour Championship, finishing inside the top 30 on the money list. Wetterich had become a regular tour presence.
It was a different story in 2008. In his first 11 events, Wetterich failed to crack the top 30. He hooked up with short-game guru Dave Stockton, who fixed his shaky putting. Birdie opportunities were never a problem thanks to his drives, but his newfound finesse around the greens helped keep the big numbers at bay. Heading into the U.S. Open, Wetterich's confidence was at an all-time high.
"We get to Torrey Pines, I'm hitting it good, we're walking around, he had me dialed in," Wetterich says. "I was going to have a good week. I felt it."
But during a practice round, Wetterich's self-assurance—and career—came to a halt.
"We're on the 13th hole, I'm right in the middle of the fairway and swung, and that was it," he says. "I heard a pop in my wrist, and knew I was in trouble." Wetterich had suffered a similar wrist injury earlier in his career and remembered the hand issues and complications that followed.
Wetterich underwent surgery, sitting out the rest of 2008 and all of 2009. When he returned, the distance remained but his touch was gone. He finished 158th in the FedEx Cup and returned the Web.com Tour in 2011. Though he won an event, he failed to earn promotion, finishing 29th on the circuit's money list. Simultaneously, after a handful of appearances on tour, he ran out of medical exemptions. Another injury—this time, torn ligaments in his thumb—became so painful that he could barely hold a club.
Wetterich hasn't come close to grabbing his card since.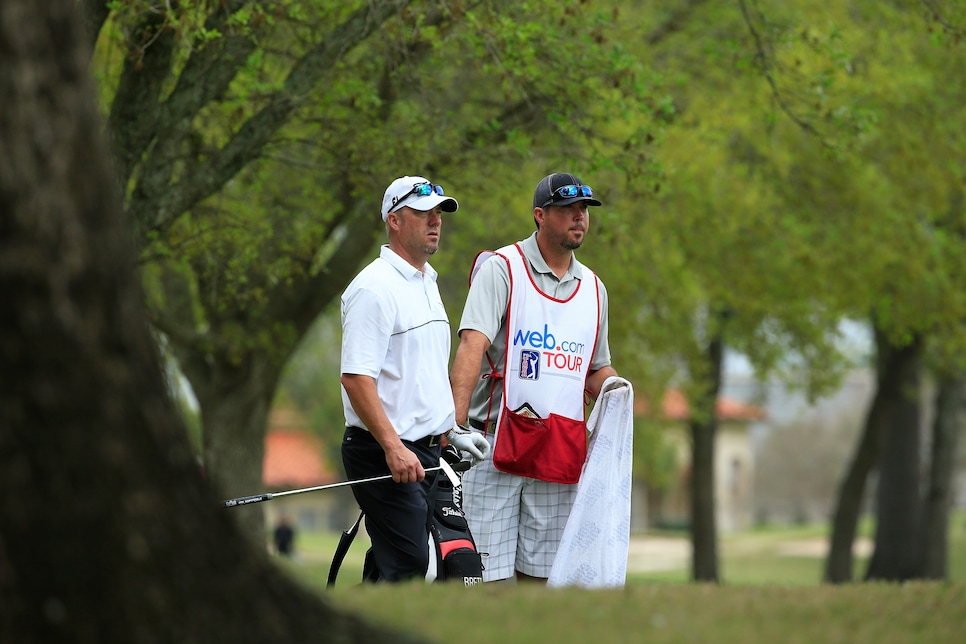 When Zach Johnson returns to Augusta this spring, it will mark the 10th anniversary of his Masters victory. As Johnson reminisces about his breakthough win—one that launched a potentially Hall of Fame career—Wetterich will be hitting balls, practicing at the Bear's Club in Jupiter or at Western Hills in southwest Ohio. Despite the cards he's been dealt, he refuses to give up the dream.
"I'm trying to get back," he says. "But I can't get exemptions. I'm writing letters, trying to do Monday qualifiers. If I can get out there and have some decent showings, I can move up in the reshuffle standings."
Wetterich played in three professional tournaments last year, the Valero Texas Open and two Web.com Tour events. He made just $1,447. When you get as close to the sun as Wetterich did, it's hard to walk away.
"That's my plan," Wetterich says of the tour. "I don't have anything else. That's it."
In the accolades towards Johnson, Wetterich might appear as a footnote, if it all. Those that do remember Wetterich likely associate his name with the one-sided Ryder Cup loss.
But for a brief time, on the sport's biggest stage, Wetterich had the spotlight.
"It was incredible," Wetterich says. "It was a great moment in my career. How many people can say they led the Masters?"