Apparel
Why Dustin Johnson doesn't like running, and what his quarantine workout schedule looks like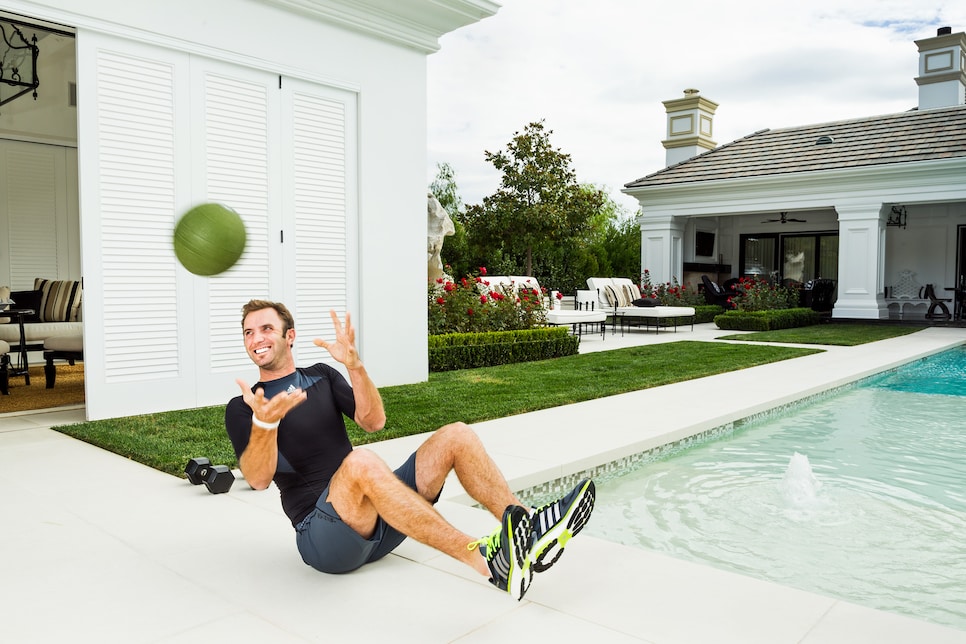 Johnson is also part of a campaign launching from sports drink company BODYARMOR. The "Only you can make you better" campaign features Johnson and six other athletes on the team–James Harden, Mike Trout, Megan Rapinoe, Naomi Osaka, Skylar Diggins-Smith, and Carlos Vela. Johnson signed with and invested in BODYARMOR in 2016.
We caught up with DJ to learn more about the campaign and how he's been staying busy at home.
Q: How have you been staying in shape these days?
Dustin Johnson: I go to a gym that's right up the road. It's been closed but my trainer Joey D and I have been using it, which has been nice. Still doing a lot of work on strengthening my left knee, which I had surgery on in the offseason, but other than that, same kind of workout routines. I do need to start running a little bit just because I'm not walking as much these days.
Any special way you're preparing to start running?
No, (laughs) I just need to go out and do it. I'll be alright next time we get back out but when we are on tour, we're out on the golf course walking every day, which is great. [To make up for that] I'll start jogging, I won't say running, but I'll start in a day or so. I keep putting it off.
So I take it, running isn't your favorite activity?
It would probably be one of my absolute least favorite things.
When do you think you'll actually start running?
Not today, maybe tomorrow?
Did you say that yesterday?
Yeah, I did (laughs). I've been riding the bike a lot, just the stationary bike and putting a lot of miles in on that.
Are you one of the Peloton guys? We've seen Rory McIlroy and Justin Thomas competing a bit on virtual cycling challenges.
No, I don't do the Peloton thing. I've got one at the house, but if I ride the Peloton here, I just ride.
What kind of music are you listening to when you ride?
I listen to an array of music, pretty much everything, hip hop, country, rock, anything that's good and dependent on what kind of mood I'm in.
Do you have a song prepared for your first run/jog? Maybe something to amp you up?
(Laughs) I'm going to need one. I'll have to research that tonight, Maybe Rocky ("Eye of the Tiger" by Survivor) or something like that to get fired up.
Have you been working out or doing any fun activities with the family?
We bike around the neighborhood, ride scooters, swim, play golf in the front yard, pretty much whatever. We've been doing a lot of fishing though, my oldest Tatum is obsessed with fishing, which is great because I love fishing, too.
What's Tatum been catching?
We catch stuff everyday, we just fish off the docks at the back of the house. We catch snapper, catfish, stingray, jacks, puffer fish, an array of stuff–whatever bites the line.
And how are the kids' golf games coming along?
They last for about five minutes. Well Tatum will maybe hit balls for five minutes. River, the younger one, can go for a little longer. They do alright.
We heard you're featured in the new campaign for sports drink BODYARMOR, tell us about that partnership.
I've been with BODYARMOR for several years now, it's always been a great partnership and has been great to see the company grow to what it is. I use BODYARMOR Lyte daily and my kids like it, so it's great. It's a great product so I'm excited to be partnered with them.
What's everyone's favorite flavors around the house?
I like the peach mango, that's probably my favorite, or berry punch. River likes the coconut flavor and Tatum is a fan of the fruit punch.
BODYARMOR has a team of great athletes and you joined a lot of them in the company's new campaign launching tomorrow, tell us about what it's like to be part of that team.
It's really cool to be part of a campaign with such great athletes. We were all filming separate, but I do interact with some of the guys. I talk to Mike Trout a good bit because he loves golf. He's always asking me questions.
Have you guys played any golf together yet?
No I haven't. We probably would have but with the quarantine everyone is obviously kind of stuck wherever they are. He's in California, so he's been playing a lot of golf with one of my buddies [out there].
We saw on Instagram you teed it up using a BODYARMOR bottle as a tee, whose idea was that and how far did the ball go?
I thought of it and I think I got it on the first try. It went close to [the distance] of my normal drive.
Wow, I probably would have hit the bottle further than the ball.
(Laughs) I thought I was going to, too, but I caught it alright the first time.
Is hydration a big part of your wellness routine?
Hydration is super important for me, in daily life and for everyone. Especially for me being on the golf course out in the sun sweating all day long, it's really important to stay hydrated. Even when you're training at the gym, you have to stay hydrated so you can function at a high level for a long period of time and BODYARMOR is a big part of that [for me].