Players Championship
Players 2021: Who is Doug Ghim? And how did he get into the penultimate pairing at the Players?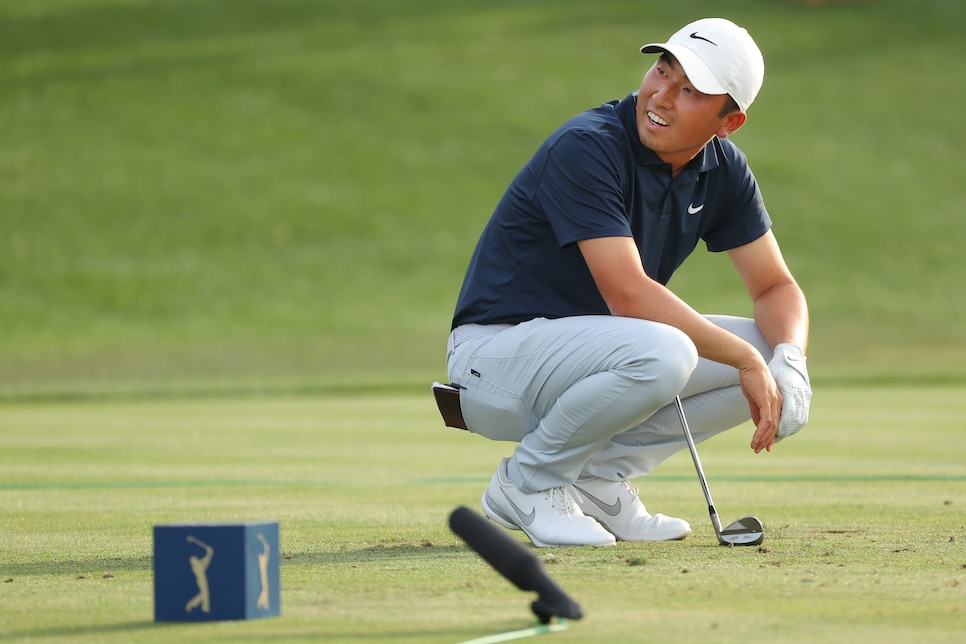 PONTE VEDRA BEACH — Following his third-round 68 at TPC Sawgrass, Doug Ghim was asked a somewhat long-winded question by a local reporter. The gist: Did he think Sunday at the Players would have a Ryder Cup vibe, given how many Europeans are at the top of the leader board, along with standout Americans like Justin Thomas and Bryson DeChambeau, who will almost certainly make Steve Stricker's U.S. squad in September. Ghim is nowhere near Ryder Cup team territory yet, which is why he began sheepishly smiling as the question was being asked.
"Yeah, I don't know if you noticed, I'm like 257th in the world," Ghim said.
Ghim's self-deprecating answer summed up the question many casual golf fans likely asked themselves when they tuned in to the coverage on Saturday as he climbed up the leader board: Who is Doug Ghim, and how is he in the penultimate pairing at the Players Championship?
Ghim, 24, was born in Des Plaines, Ill., to father Jeff, a Korean-born architect and former military man, and mother Susan. He attended college at the University of Texas, where he was a standout on the golf team for all four seasons. He truly exploded his senior year (2017-18), when he won the Ben Hogan Award given to the nation's top collegiate golfer, earned All-Big 12 honors and earned medalist honors at the Big 12 Championship and the NCAA Raleigh Regional.
The crowning achievement of Ghim's amateur career was his performance in the 2017 U.S. Amateur at famed Riviera Country Club, where Ghim made the final match. He held a 2-up lead with two to play against Clemson's Doc Redman, who stunned Ghim by going eagle-birdie at the 35th and 36th holes. On the first hole of sudden death, Redman made birdie to Ghim's double-bogey 6, giving him the victory. It was not all bad for Ghim, though, as his runner-up finished earned him a spot in the 2018 Masters, where he tied for 50th and earned low amateur honors.
Ghim's amateur success has not yet translated to the PGA Tour. Since turning pro in 2018, he has just five top-10s in 68 starts worldwide. Just one of those has come on the PGA Tour, where he's made only 41 starts. Ghim spent the bulk of his early career on the Korn Ferry Tour, where he made the Tour Championship in 2019, earned his PGA Tour card and delivered one of the great reactions you'll ever see on the final green.
After a particularly rough rookie year in 2020 (11 missed cuts in 16 starts) Ghim has started flashing on leader boards in 2021. His best week to date came at The American Express in January, where he tied for fifth. That, plus five other top-20 finishes in the 2020-21 "Super Season" are what got Ghim into this elite Players Championship field, though he did need some help from Zac Blair, Bud Cauley, Brooks Koepka, Matthew Wolff and Tiger Woods, who all could not play for a variety of reasons. To fill out the field, golfers outside the top 10 of the FedEx Cup standings as of Feb. 28 who were not eligible for the Players gained entry in order of position. At 63rd in the FedEx Cup standings, Ghim was the first man on that list.
Now, he's in the second-to-last group at the PGA Tour's flagship event, playing alongside World No. 3 Justin Thomas. No pressure, kid.
"It's the Players Championship; you're going to be nervous," Ghim said of how he handled himself Saturday. "Best players in the world on a hard golf course. I did good managing those nerves, and I'm sure they'll be there [Sunday], but again, it's a great thing that I feel nervous. It means that I care. It means that I have a chance, and yeah, I mean, the best way for me to get more comfortable is to keep putting myself in that position."
There's no hiding the fact that Sunday will be the biggest, and toughest, day of Ghim's golf life. Leader Lee Westwood, 47, is three shots clear of Ghim, and still hungry for what would be the biggest win of his career. DeChambeau is two shots back of Westwood and hoping to win in consecutive starts. Thomas shot 64 on Saturday and seems to be "having fun again" after a few rough months. Oh yeah, guys like Jon Rahm, Paul Casey and Sergio Garcia are also right on Ghim's heels. All these players have been in the fire before, many times in big spots. Ghim has not. He still likes his chances.
"I have the same amount of chance as everybody else. ... I'm sure there's odds that say that other players have a better chance. But at the end of the day there's no defense being played on my ball more than anybody else's, so I if I go and play the way that I know how to play, and if I play the way that I did today, I don't see why I couldn't win. I'm not saying that I have the most chance to win, but who knows, we'll see."
Who is Doug Ghim? He is the 257th-ranked golfer in the world, and he's on the brink of a life-changing victory.