News
What Major League Baseball, the NBA, NFL and others can learn from the PGA Tour's return amid the pandemic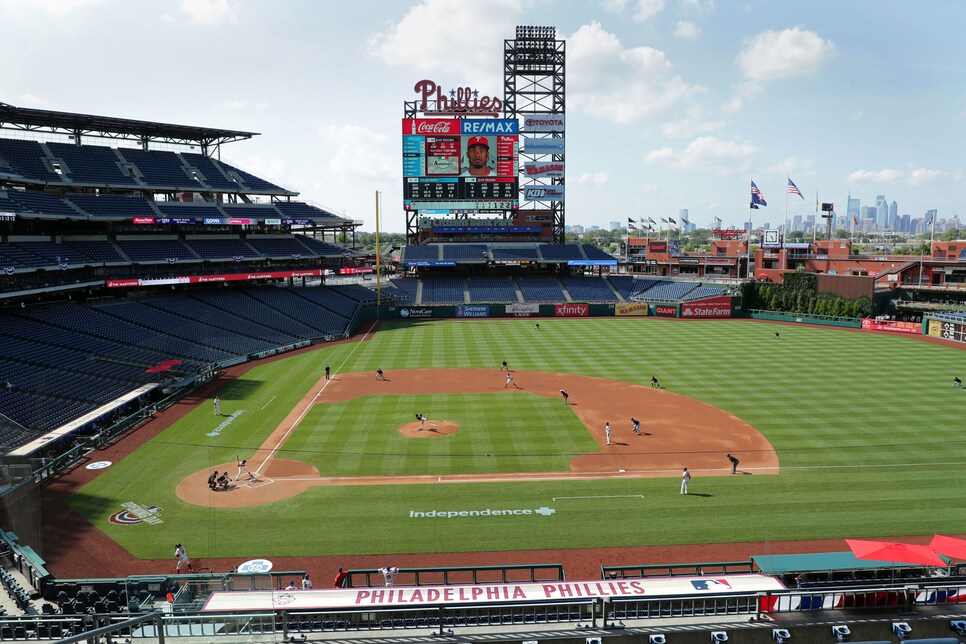 Empty ballparks will be the home for major league baseball games this season as the sport, just as the PGA Tour has done, tries to play an abbreviated season amid the COVID-19 pandemic.
Hunter Martin
Major League Baseball was scrambling to save its 2020 season Monday, just three days after it had belatedly begun. More than a dozen members of the Miami Marlins roster and front office tested positive for COVID-19, forcing league officials to cancel Monday and Tuesday games between the Marlins and Baltimore Orioles. The New York Yankees-Philadelphia Phillies game was also postponed Monday as the Marlins had just played in Philadelphia, sparking fear the Phillies were exposed to the outbreak.
Given baseball's rushed approach to conducting its season, this development is not necessarily a surprise. Not helping matters has been the United States' inability to curb the virus' spread, to say nothing of the pandemic's continual politicization. But baseball's issues arise during a week where the National Basketball Association resumes its regular season and the National Football League welcomes players to training camp, begging the question if sports are truly ready to come back.
It is a question that has multiple answers, none that are entirely right or wrong. However, for those seeking hope, the PGA Tour can serve as a guide.
The tour wrapped up its seventh PGA Tour event in its return to golf on Sunday at the 3M Open outside Minneapolis, with two tournaments on its slate this week. What it has been attempting this summer—traveling around the country with a caravan of 350-plus players, caddies and other personnel—is nothing short of a high-wire act. Each step has not been graceful, and in Weeks 2 and 3 specifically, the rope began to wobble. There's also a long way to go before the "Mission: Accomplished" banner can be unraveled. Yet as the tour finishes up its second month (along with holding seven Korn Ferry Tour events), what it has pulled off has been a success.
But can its success be replicated? Golf is a non-contact sport, played individually, held outside without real need for a locker room. Its inherent nature is what allowed the game to return months before baseball, basketball, hockey and football. The dynamics don't lend themselves to an apples-to-apples comparison.
"I think we're so fortunate in our sport, it's different. We don't have the contact that basketball has, that football has. Baseball, we're not touching the same thing as in a baseball," Justin Thomas said Tuesday at the WGC-FedEx St. Jude Invitational in Memphis. "I have no physical touch with anybody in my group. I can stay away from them. And we're outside. It's so different compared to other sports."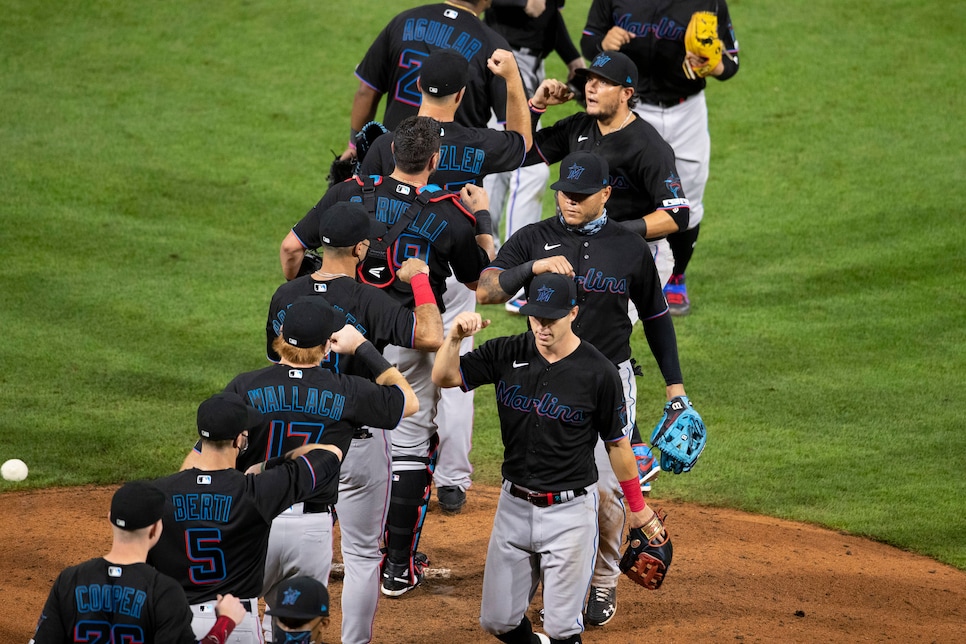 The Miami Marlins celebrate winning their opening day game, but did so at the expense of strict adherence to social distancing best practices.
Mitchell Leff
Still, there are lessons other leagues can learn from the tour's foray into the unknown. Which starts with universal buy-in from players.
In a sense, that seems elementary, especially with PGA Tour commissioner Jay Monahan threatening punishment to those who do not heed the tour's COVID-19 guidelines. In that same breath, players are contractors, beholden to no one but themselves. Most are 35 and younger and all are professional athletes; as one tournament director told us as the tour was making plans for its return, there's a certain amount of ego needed to reach this level, a conviction that can occasionally render as cockiness. In short, tour pros are a group that doesn't like to be told what to do.
Luckily, the buy-in has been almost universal. Players and caddies have exercised caution to the tour's expansive restrictions, holding themselves and others accountable. Players have self-reported possible symptoms to protect their fellow players and all others at an event. They acknowledge that if this endeavor falls apart, it's on them.
"I've tried to be really careful, but I could probably be more careful," said Webb Simpson, RBC Heritage winner, during that week at Harbour Town. "I hadn't really gone out to dinner. I've gotten takeout every night. But in terms of even wearing the mask, any time I'm out of my comfort zone away from the golf course, I think it's smart. And really, the six-foot rule I've been good about, but I probably could be better."
There are still the occasional breaches of social distance, but on the whole players and caddies are doing their part. They are staying in their hotel rooms and rented houses, having food delivered rather than dining out, wearing masks where required. Even the lone "outbreak" during the Travelers Championship, where multiple players due to COVID concerns, at a human level, was understandable, as the caddies in question might have caught virus while attending a funeral.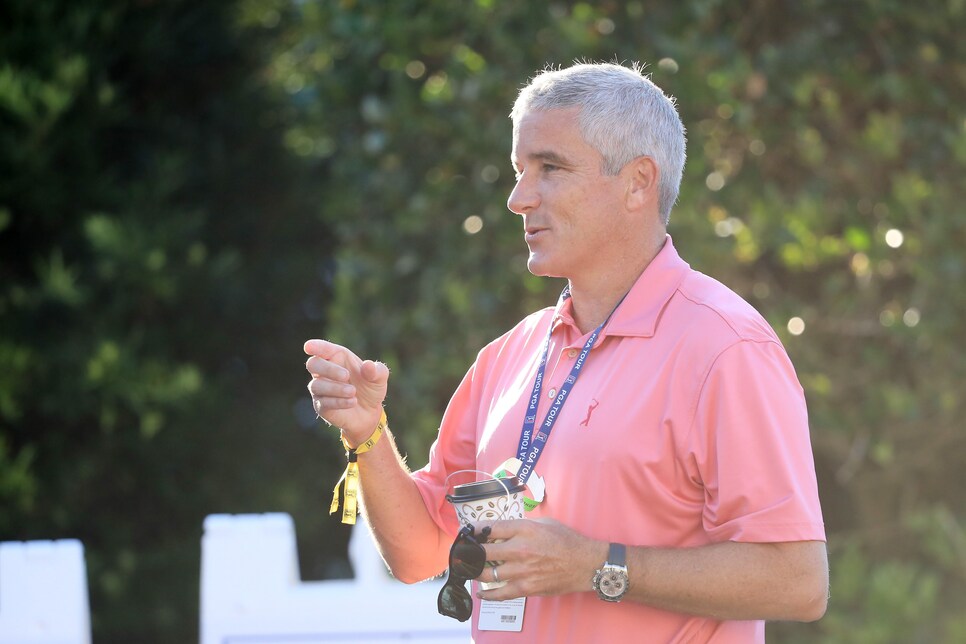 PGA Tour commissioner Jay Monahan looks on during a practice round prior to last month's RBC Heritage. Buy-in from players on the tour's COVID protocols helped the tour resume play so quickly.
Streeter Lecka
Which flows into the second part of this equation: the tour's environment. Despite entering a handful of coronavirus hot spots, the tour has maintained a safe working space for its membership. No, the process is far from fool-proof. In fact, the bubbles the NBA and NHL have enacted have proven safer environments in the early going: The NHL announced that it performed 4,256 tests on more than 800 players and had zero positives, while the NBA had zero positive tests after one week in its stay at Disney World. The tour doesn't have a true "bubble," per se, not with weekly travel and players and caddies arranging personal travel and accommodations.
Nevertheless, that only seven PGA Tour pros in seven weeks have tested positive is not providence. A lot of this stems from stringent policing of who is and is not allowed on site and re-engineering tournament properties to meet COVID-19 protocols. When leaks emerge, the tour does its best to plug them up. Every aspect of tour life is being recalibrated on a weekly, and sometimes daily, basis.
Perhaps the biggest lesson, and possible salvation for baseball as it tries to dig itself out of its hole, is malleability.
The tour's health and safety protocols were comprehensive when announced in May. Of course, every league has laid out a detailed approach in COVID-19 prevention (MLB has orders on how to properly flush an airline toilet, for example). What has spurred efficiency on the PGA Tour front, though, has been the evolution and continual tinkering of those rules. And they have, particularly when the protocols showed vulnerability.
"You know, [we're all trying to] learn to live in an environment of COVID-19," PGA Tour commissioner Jay Monahan said during last month's Travelers Championship. "I'm concerned but I'm also confident in the program and protocols we've put in place, and our ability to be able to sustain the PGA Tour and give our players opportunities on both of these tours over the course of the year, so long as we continue to be as diligent as we intend to be."
It wasn't that Nick Watney tested positive (the tour's first COVID-19 positive player) in the second tournament that was a sore point for critics; it was that he was allowed on property while awaiting the results, potentially exposing other players. Within a week, the tour adjusted its protocols on player/caddie clearance, declaring no one would be allowed at a tournament site without a passed in-market test.
Additional testing was added for those on the tour's chartered planes. Fitness trailers were brought to courses to discourage visiting gyms out of the tour's jurisdiction. They have adjusted tee pairings to prevent possible transmission from players who have tested positive but are no longer showing symptoms. (On Tuesday, the tour adjusted again to do away with its "COVID-19 pairings.") In short, as our collective knowledge of the virus grows, so does the tour's abilities to combat it.
Obviously, the tour's success is predicated off of more than buy-in from players, its work environment and its adaptability. But they lay a foundation for the rest of the operation to function. Without those pillars intact, as evidenced in baseball this week, the proverbial house falls apart.