News
Matt Wallace's long walk alone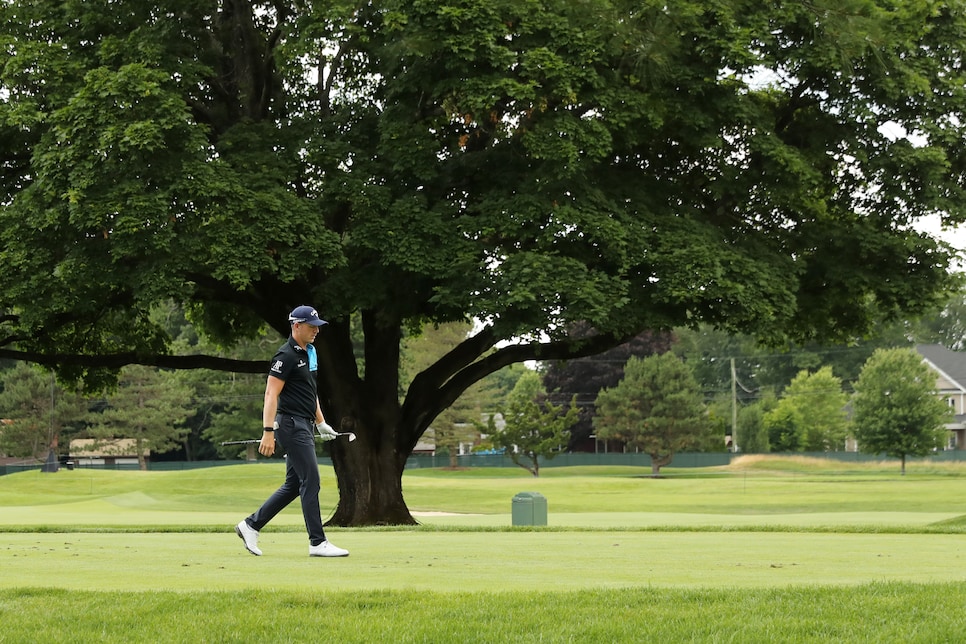 Matt Wallace walks on the fourth hole during the second round of the Travelers Championship.
Elsa
CROMWELL, Conn. — Matt Wallace was on the first tee and he didn't know what to do. The starter had announced Wallace's name, which has been standard these past three weeks despite no fans to announce the name to, and Wallace had struck a beauty of a baby fade to the right-center of the fairway. He put his driver back in his bag and stood, arms at his hips. Wallace swirled to his left to the starter, who was stoic, clipboard in hand. Wallace swirled to his right to caddie David McNeilly. The pair shrugged their shoulders. A beat followed. Wallace took a step forward, pantomimed a royal wave to assembled volunteers, and headed towards his ball. Matt Wallace's second round was off. It was a round he would play alone.
There were 51 threesomes and one single on Friday at the Travelers Championship, an odd math that was the byproduct of COVID-19. Denny McCarthy reported coronavirus symptoms to the PGA Tour Friday morning, prompting additional testing that revealed a positive result, knocking out McCarthy from the event. Also not feeling well was Bud Cauley. Though his tests registered negative, Cauley withdrew out of caution for the field.
That turned the 1:30 p.m. Friday tee time at TPC River Highlands into a singleton, that singleton being Wallace. A fate Wallace wasn't particularly thrilled with.
"I can understand why [Cauley] wouldn't play. I haven't felt better myself," Wallace said. "I'm playing with a chance to change my career if I win, so why wouldn't I play. It's black and white for me. I tested negative and I can go play. Just a bit frustrated that maybe—I don't know what the PGA Tour might think—but would D.J. [Dustin Johnson] play on his own? Would Rory [McIlroy] play on his own? I probably doubt it, so they could have dropped one of the players back from in front or maybe from behind to go ahead and play with me. Just don't think it was a great move to leave someone out on their own in the middle of the pack."
Wallace's vexation is understandable. As Tom Chiarella wrote in the book Thursday's Game, "A singleton has no rights." Unfortunately for Wallace, he could not drop down a couple balls for extra practice, or get the green light to play through. He was living a golfer's worst nightmare: Playing in the dreaded sandwich. And there's nothing he could do about it.
For posterity, let it be known Wallace attempted to make the most of his situation. On approach shots he would trek to the green, analyzing the contours and grain while studying how the group ahead was navigating the hole. He was deliberate in his steps, trying his damndest to pace himself, and talked every shot out with McNeilly to its fullest. After tee shots Wallace would pause on the tee box, almost as a vestige of what a normal round would look like when waiting for your partner to hit.
He tried to keep his spirits up, giving himself mini pep talks on multiple holes. So did others. Word spread quickly on the grounds of Cauley and McCarthy's WD, and for those who didn't know, well, it didn't take much detective work to discover why Wallace was solo. Volunteers and fans watching from their backyards showered encouragement on the Englishman throughout the afternoon. "Let's go, Matt! Great shot, Matt!" Wallace returned the love with thumbs-up or hat-tips.
However—what's the easiest way to put this?—Wallace is not the ideal candidate for these circumstances. The 30-year-old has an edge to him, an edge that has fueled his rise to become one of the better European players in this game. It's also an edge he wears on his sleeve, an edge that can be ruffled easily, and an edge that manifested on Friday.
Beginning the day at even par, Wallace needed something in the mid-60s to get him to Saturday. That was derailed when he took a penalty from a greenside bunker at the par-3 fifth leading to a double. He lost his temper after a poor wedge shot on the ninth. Muttered profanities when his tee shot on the par-3 11th spun off the green. He put one to eight feet on the 12th, only to miss the birdie putt. Wallace stared into the sky, then bent down like a catcher. When Wallace finally departed for the 12th tee, he slammed his ball on cart pavement, catapulting the white sphere into the woods.
"It's been three weeks of this [nonsense]," Wallace said, alluding to a missed cut at Colonial and a Sunday 77 at the RBC Heritage.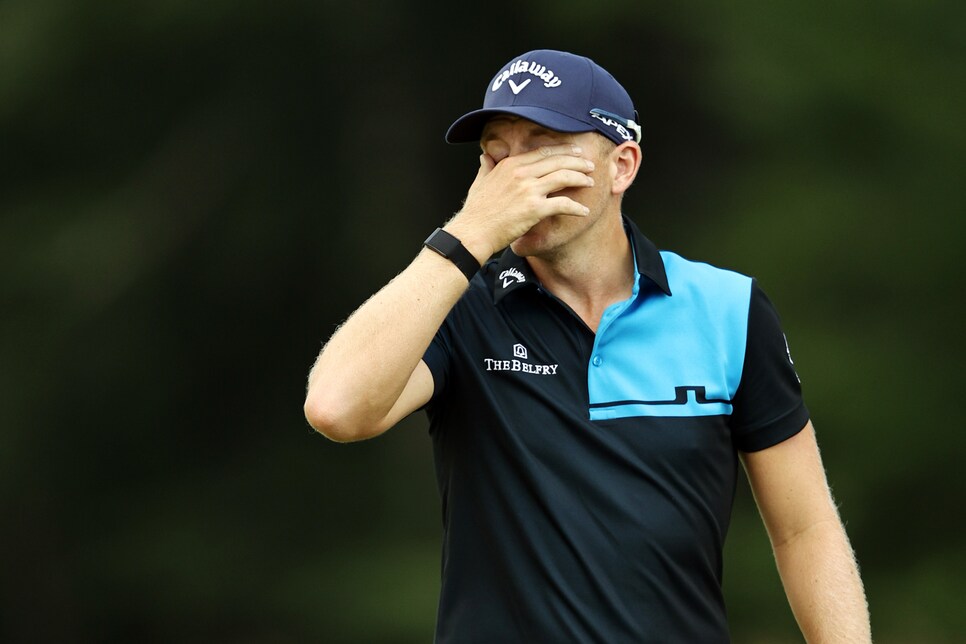 The volcano almost blew when a TV crew drove its cart through the 13th fairway as Wallace was trying to punch out from the trees.
"Oh, don't mind us," Wallace said. "We're just playing a golf tournament."
One has to feel for the guy. He waited for what seemed like forever on every shot, through no fault of Adam Long, Max Homa and Marc Leishman ahead. But professional golf is already a slug. This felt like a march with ankle weights.
"It hasn't been the best day," Wallace admitted afterwards. He would finish with a two-over 72, missing the cut by six.
Wallace did say that he considers himself lucky. "It was just a bonus to get out on the golf course really for me," he said. "I said that to Dave on the first hole. It's just nice to know that we're OK and we're just playing golf."
Conversely, no need to put Christmas lights on this outhouse. Wallace's day was best encapsulated on the 16th tee box. He had just made bogey on the reachable par-4 15th after skidding a bunker shot over the green. As he waited for the 16th green to clear, Wallace peered out into the lake, the one surrounded by the 15th, 16th and 17th holes. The lake that famously houses a floating Travelers' logo during tournament week. Wallace's glare said it all: For one afternoon, that red umbrella wasn't the only island in Cromwell.