News
A newly celebrated 50-year-old is in the lead and four other takeaways from Day 2 of the Travelers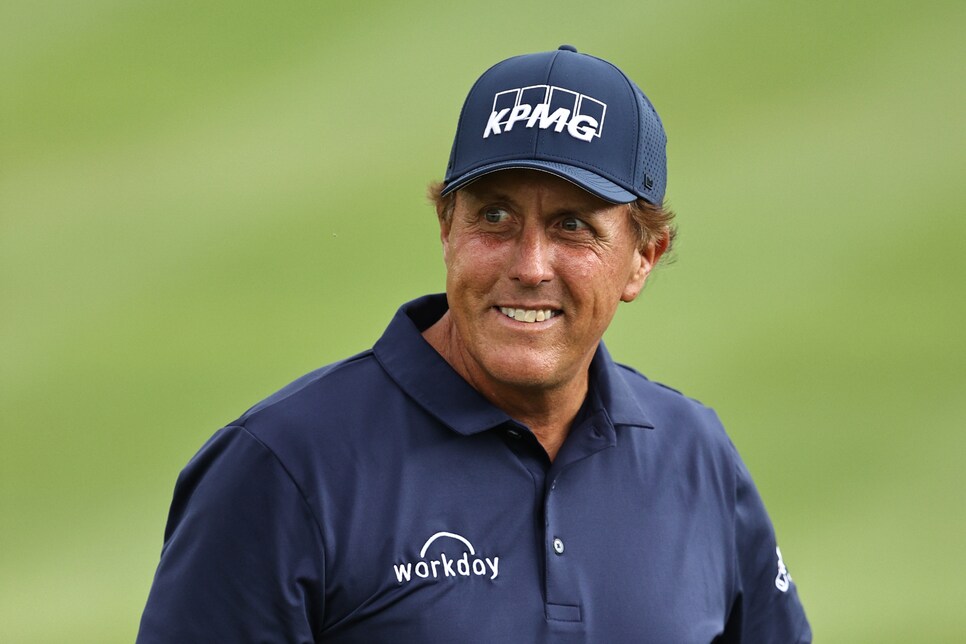 Once again, there was a layer of uneasiness on Friday at the Travelers Championship. Two more players—Bud Cauley and Denny McCarthy—withdrew due to COVID-19, though only one (McCarthy) tested positive. Depending on how you view it, it could be a troubling trend or it could be the new normal the tour just has to deal with as it moves forward.
However you feel about it, the show is continuing on at the Travelers Championship, the latest PGA Tour event that is set up for an electric weekend of golf. Here are our takeaways from Day 2 at TPC River Highlands.
50-year-old Phil Mickelson is your solo leader
Ten days removed from Mickelson's 50th birthday, this geezer proved he's still got plenty left in the tank. Anytime Lefty shoots a low one these days, one has to wonder if it's just a flash. Yes, he did win at Pebble a year ago, and nearly did it again this season, but aside from those two weeks, Mickelson has shown that he still struggles to put four consecutive good rounds together.
This week, he had no issue putting two consecutive low rounds together, opening with 64 then backing it up with a 63 at TPC River Highlands, which featured a PEAK Phil rules situation. His off-the-tee game, where he ranks 18th in the field in strokes gained, has been key. That's what allows Phil to, as he calls it, "attack pins," which he's done an excellent job of through 36 holes (10th in strokes gained/approach). I sincerely hope he continues to hit hellacious seeds and attacks pins this weekend, because Mickelson in contention on Sunday would be the biggest sign of the golf gods spoiling us with the finishes of these first few tournaments.
There was another 59 scare, and it came from … Will Gordon?
If you're not up to speed on the story of Will Gordon, here is a good place to start. The 23-year-old from Davidson, N.C., has no status on any tour, and is at the Travelers this week by way of a sponsor's exemption. Through two rounds he's one off the lead of 44-time PGA Tour winner Mickelson, who he'll play alongside in Saturday's third round. No pressure, kid!
Gordon, who has surprisingly racked up three top 25s on tour this season (all pre-pandemic), flirted with 59 on Friday at TPC River Highlands. Through 11 holes he was seven under, then had eight feet for birdie at the par-4 third (his 12th hole). He missed, causing the putter to go cold the rest of the round, though he did add his ninth and final birdie at the par-3 eighth, eventually settling for an eight-under 62. No one expects Gordon to win, and he doesn't have to in order to earn a few more opportunities on tour. A win, of course, would be life-changing. Gordon isn't getting that far ahead, choosing to go about the weekend the only way he should: "I'm just going to try to continue to play good golf and see what happens."
We look forward to watching it.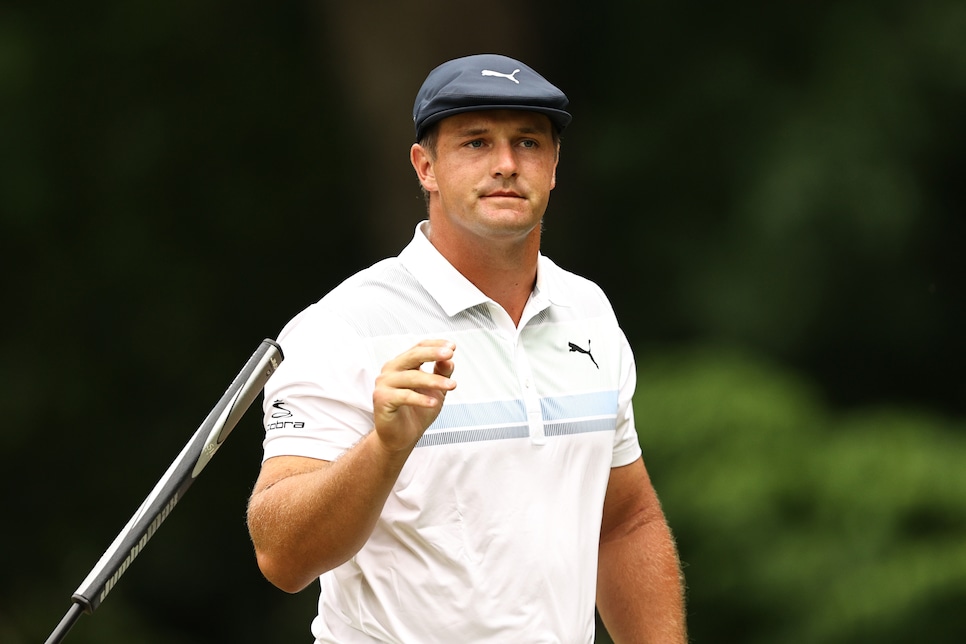 Bryson DeChambeau flips his putter on 14th green in second round of Travelers Championship.
Elsa
If Bryson could make some putts, he'd win by 10
Statiscally, Bryson DeChambeau's putting has been fine these first three weeks back. He's gained on the greens in each start, but am I the only one who feels like he's still putting poorly? I think the problem is, he's giving himself so many good chances because of his long drives, which set up wedges into the greens, which set up short birdie looks, that the missed putts are that much more frustrating for him and the unfortunate souls who keep betting on him (cough cough).
He missed twice from eight feet on Friday, and four times from 16 feet or shorter. If he starts making those like he did at the WGC-Mexico (he gained 6.3 strokes on the greens that week), he might never lose.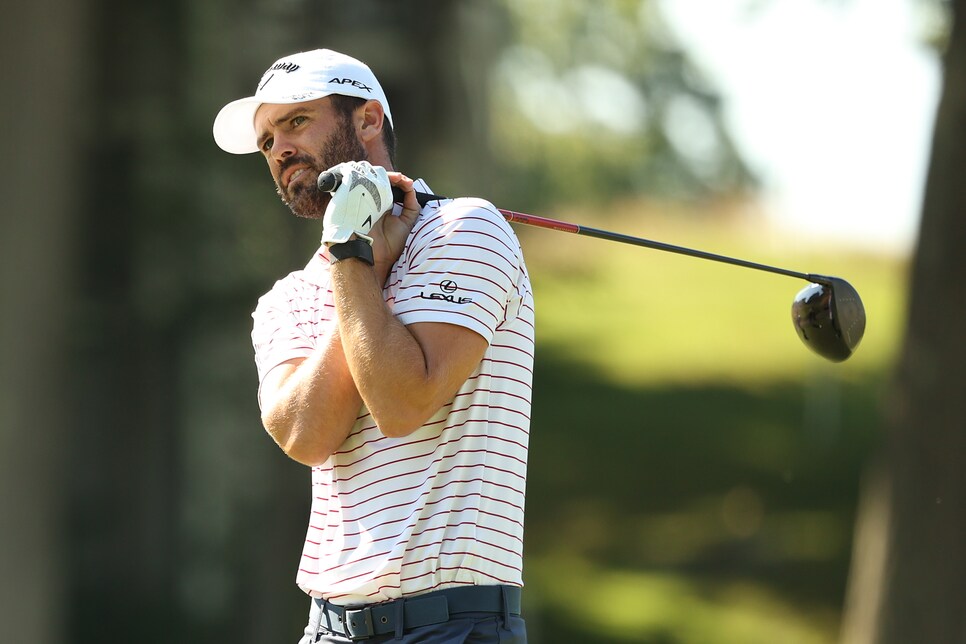 Wesley Bryan watches his shot off 18th tee on Friday in Travelers Championship.
Maddie Meyer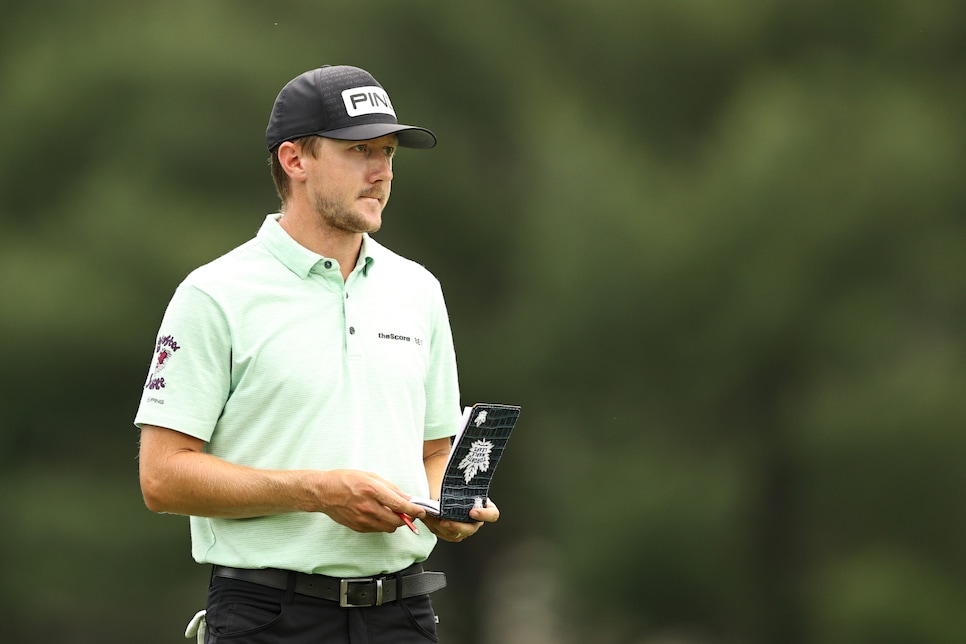 Mackenzie Hughes on the fifth hole Friday in the Travelers Championship.
Elsa
These past two weeks, we've thrown around plenty of "BACK!" performances, mostly involving Jordan Spieth and Brooks Koepka. Wesley Bryan isn't exactly in the same class as those two, but he is quite literally "back" from shoulder surgery, which caused him to miss 19 months. It'd be easy for him to ease back into competition and try to make a few cuts, but on Friday he took it deep, shooting a four-under 66 to thrust himself into contention at seven under. As Bryan showed last Sunday during his mic'd up round with Bubba Watson, he's the type of lively presence the tour needs plenty more of. Good to see him … BACK.
Who is the bet this weekend?
While pre-tourney betting is great, I'd argue post-second-round, Friday-night betting and Sunday-morning betting are the two best gambling opportunities in golf. There is value all over the board, and this week is no different.
Mackenzie Hughes, who sits just one off the lead, is 18/1 on MGM. Abraham Ancer is 20/1, and has shown recently that it's just a matter of time before he closes the deal. Marc Leishman, a former winner of the Travelers Championship, is 12/1. All good options.
But I'm going to lean with Patrick Cantlay, who was 25/1 pre-tourney and is currently 28/1 through two rounds. He's at seven under, six off Mickelson's lead. Somehow he's posted rounds of 66 and 67 despite some shaky play off the tee and around the greens, which could be a product of rust, as this is his first start back post-quarantine. Just imagine if he can get those areas cleaned up for the weekend.
As Gordon and Hughes have shown, there are low rounds out there. With some rain in the forecast this weekend, the course will be soft. Cantlay is a guy who could feast in those conditions, and you're getting him at longer odds than he was pre-tourney and he's not that far off the lead. Hammer it.