News
Bryson DeChambeau just hit a 428-yard drive (with an asterisk) on a par 4 … and made a bogey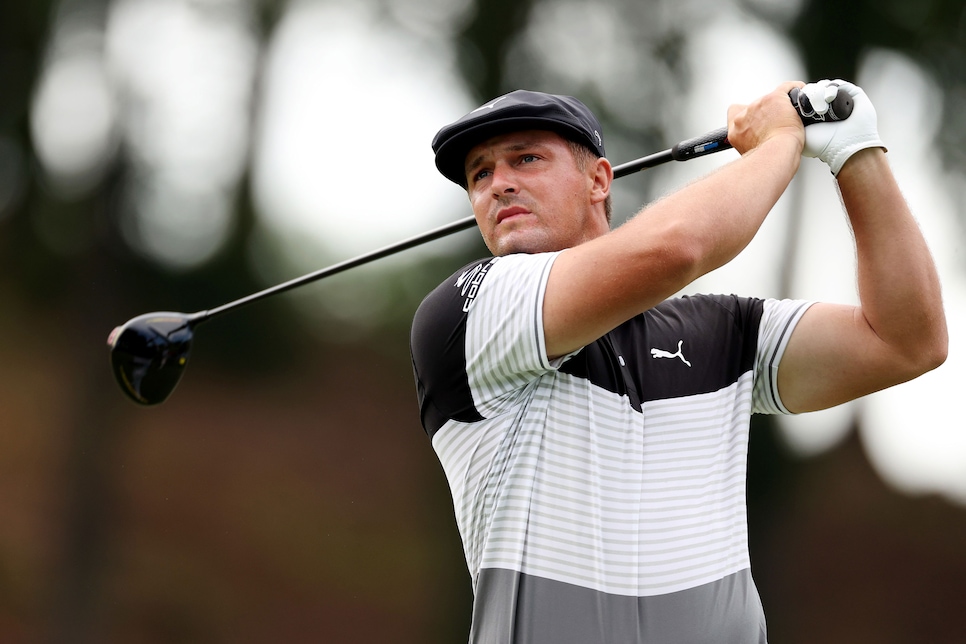 We know what you're thinking: Another post about Bryson DeChambeau's driving?!? And yes, we'll cop to the fact we've writing a lot about Brawny Bryson in recent weeks.
In the middle of his second round at the Travelers Championship on Friday, during which DeChambeau shot a 67 to be tied for ninth, he added to his list of jaw-dropping feats. (Truth be told, we just leave our jaws open whenever we see the big boy on the tee, to keep it from dropping any more and risk a visit to the dentist to deal with TMJ issues).
It started on the ninth hole at TPC River Highlands, a 389-yard dogleg-right par 4. DeChambeau pegged it up on the left side of the tee box, which maximized his angle to the green. Yep, the green. Because that's where DeChabeau was aiming. And that's damn well what DeChambeau nearly hit.
ShotLink calculated the drive as going 358 yards, which marked the second longest one he'd hit on his front nine (he hit his drive on the par-4 seventh hole 359 yards) and the third of the day that had gone more than 350 yards. DeChambeau then chipped to six feet and rolled in the birdie putt to make the turn in four under for the day and eight under for the tournament.
Now it was on to the par-4 10th hole, a 467-yard brute with a tree positioned left center of the fairway to force players into choosing whether to leave your drive back of the tree but with a longer approach, or take on the de facto hazard, which narrows the fairway but rewards those who hit short grass with a fairly straight forward second shot.
Well, guess what Bryson was going to do? Use the driver, of course. We're going to spoil things for you … this drive officially went 428 yards, the longest drive of DeChambeau's PGA Tour career according to ShotLink. (The previous record was 411 yards on the 12th hole during the final round of the 2018 Sentry Tournament of Champions.) But we'll let you watch to help explain how this happened:
DeChambeau eventually took a drop off the cart path that left him a delicate 47-yard shot. Sure enough, he overcooked that one, struggled with the putter just off the back of the green with his third and missed the seven-footer to save par.
So on the hole in which he hit the longest drive of his tour career, DeChambeau wound up making a bogey. Maybe this Brawny Bryson experiment isn't going to lead to lower scores.
But it's awfully entertaining.