News
Rory McIlroy had a NSFW response when asked about Bryson DeChambeau's booming drives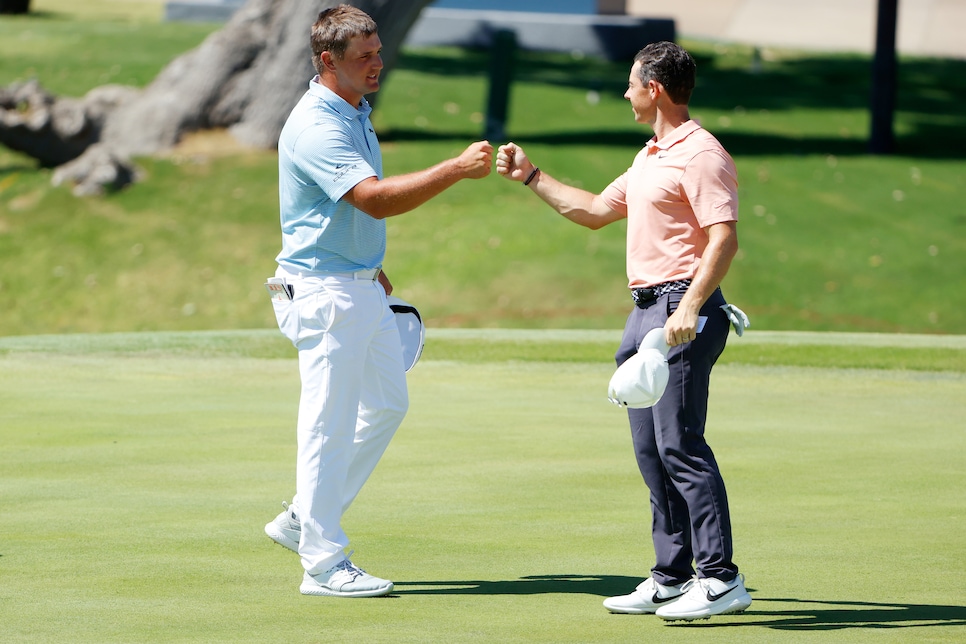 While golf fans marveled at Bryson DeChambeau's drives during last week's Charles Schwab Challenge from afar, Rory McIlroy got to watch the bulked-up basher up close in the final round. Not surprisingly, seeing DeChambeau's newfound pop in person was just as impressive.
Ahead of this week's RBC Heritage, McIlroy was asked about playing with DeChambeau at Colonial on Sunday. And much like Bryson not holding anything back these days when he hits driver, the World No. 1 let loose with his answer.
"Yeah, I mean, obviously, at the start of the year, he came out, and he was a bit bigger," McIlroy told reporters at Harbour Town on Wednesday. "You could see he was getting a bit of speed and stuff, and he was hitting it a long way. But he hit a couple drives on Sunday that Harry and I just looked at each other, and we're like, holy shit, that was unbelievable."
Those are strong words from anyone, but especially from someone considered arguably the best driver of the golf ball in today's game. And for good reason. DeChambeau led the field last week in both driving distance (340.4 yards) and strokes gained off-the-tee (1.830), but a bogey on the penultimate hole kept him out of a playoff eventually won by Daniel Berger.
DeChambeau, who is up to 240 pounds, has made his intention of gaining weight to increase his distance clear since the fall and results speak for themselves. That being said, McIlroy doesn't plan on putting on any pounds to help his own game.
"I actually feel my best when I'm lighter," McIlroy said. "I was probably at my lightest at the start of the season, sort of that California swing, at Torrey Pines. I remember weighing myself at Torrey on the Sunday morning before going out to the final round, and I was like 155. I think that's half of Bryson now."

While McIlroy still thinks Cameron Champ is the PGA Tour's longest player, he thinks DeChambeau is "getting there" after Sunday's performance.
"He hit one into the wind on 11," McIlroy continued. "I hit a really good one and probably hit it like 315, 320. He must have flew my ball by 40 yards. He hit it like 370, 375 into the wind. It was crazy. It was nuts. It's unbelievable."
Again with the "unbelievable" from a four-time major champ. If Bryson sees this, his head might get as big as his biceps.