News
No fans at PGA Tour events is strange, but not all bad for players and caddies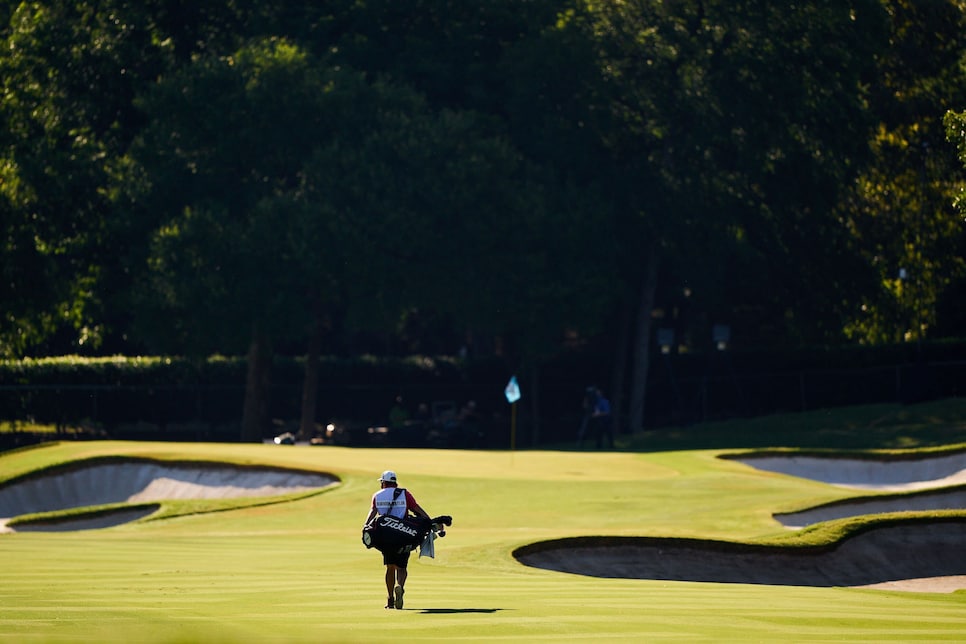 Darren Carroll for Golf Digest
The most obvious reminder of their absence is the silence. Stuff an approach to kick-in range or miss a three-footer, and you're getting the same reaction. Or, more precisely, the same lack of one.
The PGA Tour has now conducted two tournaments without fans, a common-sense precaution aimed at mitigating the risk of spreading COVID-19. This week's tournament, the Travelers Championship, is also being held without spectators, as will the next two (the Rocket Mortgage Classic and the Workday Charity Open) on the schedule.
The earliest possible return of at least some fans would be at the Memorial, slated for July 16-19 at Muirfield Village in Dublin, Ohio. But more players and caddies being forced to withdraw this week due to COVID concerns render having 8,000 fans present at the Memorial optimistic at best.
Earlier this week, the PGA of America announced that the PGA Championship (Aug. 6-9) would be held at TPC Harding Park in San Francisco without fans, setting it up to become the first known modern major to be held without spectators. The announcement was a sobering reminder of the new, and rather different, normal on the PGA Tour.
Anytime you have the world's best players competing for millions of dollars, FedEx Cup points and the prestige of winning a PGA Tour event, and doing so on live television, you're going to have pressure. But pressure alone doesn't produce the electric, adrenaline-addled atmosphere we've become accustomed to on Sunday afternoons on the tour. In the atmosphere equation, fans serve as something of a lubricant.
Think of some iconic 18th-green scenes from recent memory—Jordan Spieth holing out from the bunker at the Travelers, or Tiger Woods sinking his final putt to win last year's Masters, and the soundtrack is an integral part of the moment. Ball finds the bottom of the hole. Hands fly up in the air. Fans start screaming. Player goes crazy. It's a wonderful chain of events that won't be returning anytime soon.
"I was in contention on Saturday and Sunday at Colonial, and it felt like I was playing Thursday's round," Spieth said. "It felt no different. You start, you kind of know where you are by looking at the board, but without any fans and roars that make an impact, and the settings on the last few holes that you normally get at tour events, it's very much different."
On the TV side, the lack of crowd noise has forced broadcasts to get creative to fill the audio void. Golf Channel and CBS have experimented with mic'd up players during their rounds as well as "confession cams" where players can answer a question mid-round. The results have been mixed, though Adam Hadwin did provide some solid entertainment by calling a penalty on himself during a so-so round.
One broadcast benefit from the lack of roars has been added insight into the player-caddie dynamic. No crowd noise means on-course microphones are able to pick up virtually every conversation between player and caddie. Fans got an up-close-and-personal look at one of the premier player-caddie relationships on tour last Sunday, when Webb Simpson and Paul Tesori talked their way through a frenetic back-nine birdie barrage to win the Heritage. On the flip side, the mics have also picked up some colorful language from tour pros, like when Harold Varner III reacted to a water ball by shouting "f--- you!" to himself.
But the no-fans difference isn't confined strictly to the vibe on the course or the broadcast—it makes a difference on the physical golf course, as well. No fans mean no people lining the fairways, serving as quasi-bumpers for errant tee shots and trampling down rough. No fans mean no grandstands to stop airmailed shots from careening into impossible positions. No fans mean no people wearing neon yellow shirts to aim at.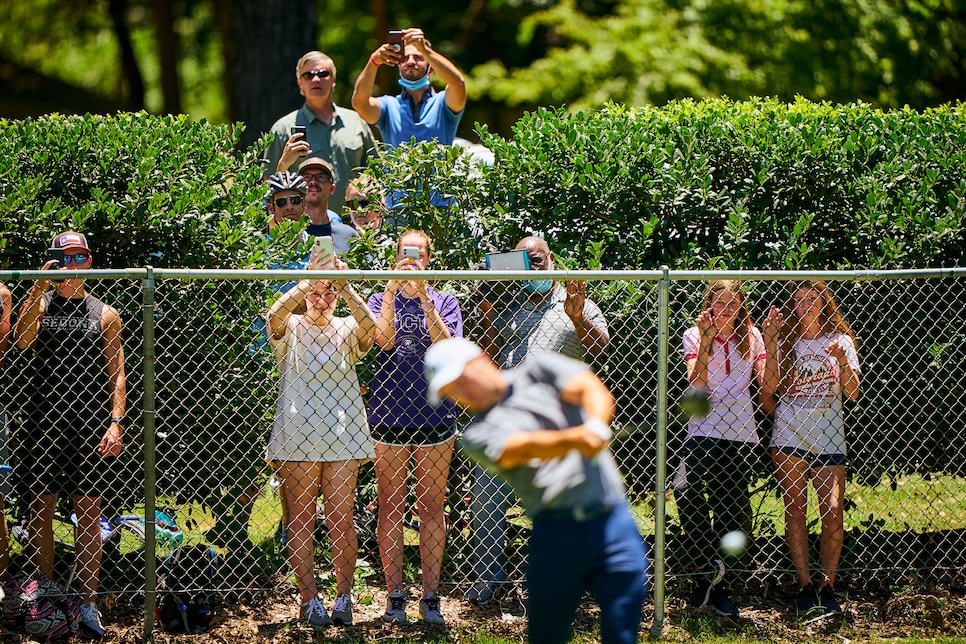 Jordan Spieth hits a drive during the Charles Schwab Challenge while unofficial spectators catch a glimpse at Colonial.
Darren Carroll for Golf Digest
"It's just bizarre," Spieth said. "When I got to the 15th tee (at TPC Cromwell), I can't ever remember seeing the clubhouse. And you're normally used to seeing thousands and thousands of fans, too."
John Wood, caddie for Matt Kuchar, said the changes in his workflow have all been small and manageable. Perhaps that's because the first two host venues since the restart, Colonial and Harbour Town, were classic tour stops that have held events for decades.
"Maybe a little easier, if anything," Wood said. "Just because you're not worrying about crowd noise, or telling someone to be quiet, or moving in your guy's swing. There's none of that, for the time being. But other than that, I haven't noticed a huge difference in my job or our routine."
Except, maybe, for pace of play. At the Heritage, the final pairing of Abraham Ancer and Tyrrell Hatton were able to finish their last 16-plus holes in about three hours to squeeze the round in before darkness and avoid a Monday-morning finish. That's not exactly break-neck pace, especially for a twosome, but few thought they'd be able to get the round in before darkness descended.
"It's nothing to do with the actual fans," Wood said. "Every group out there is going to hit a couple foul balls. When you do that, you have to move the ropes, move the people back. And that takes time, and it adds up over an entire field. There's been none of that, and that definitely speeds up play."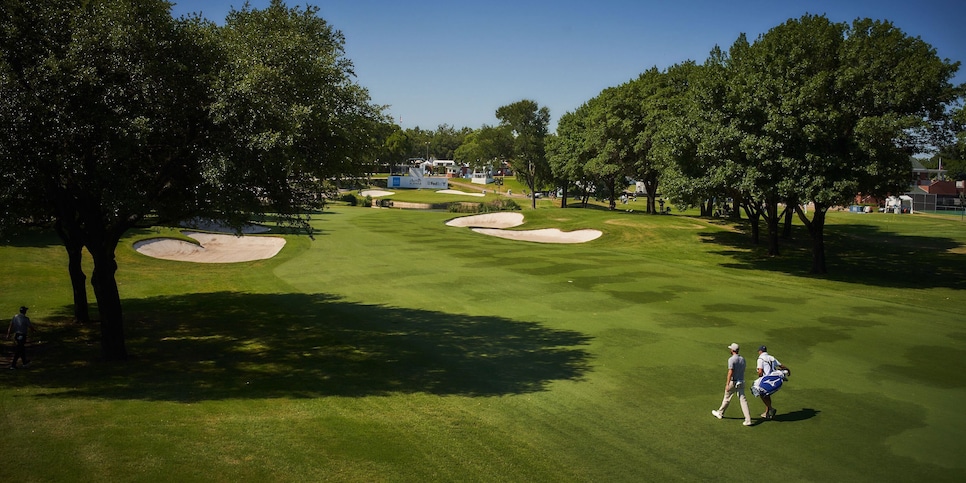 A player makes the lonely walk up the fairway during the Charles Schwab Challenge.
Darren Carroll for Golf Digest
As far as comfort goes, well, guys are used to playing in front of sparse crowds. At least to varying degrees. Take Collin Morikawa, for example. Fourteen months ago, he was playing for the University of California-Berkeley in college tournaments, where a good day might yield a few dozen spectators. Fast forward to Colonial, and he was a four-footer away from doing what he did so often in college—win a golf tournament in front of a few dozen people. And most every professional on tour, apart from the Tigers and the Rorys and Phils, have plenty of experience playing weekend morning rounds, before fans have time to get the course and imbibe. The quiet offers a serene background for birdies.
It should come as no surprise, then, that both events featured birdies in abundance, with the Heritage bordering on ridiculous. There were six eight-under 63s carded on Saturday alone, when the scoring average was 68.027, the lowest single-day average on tour since the RSM Classic last November. A full 51 players finished the Heritage at 10-under or better. Webb Simpson's winning total of 22-under 262 was a tournament record.
It's one thing to have a PGA Tour event without fans. It's quite another to hold a major championship without them, which will become a reality in August in San Francisco. Major weeks have a buzzy aura, and a huge part of that aura stems from massive crowds all week. They're usually in golf-starved cities that don't have a yearly PGA Tour event, and fans typically show out in force starting on Monday.
"That will be really weird," said Erik van Rooyen, who had his first taste of American major crowds at last year's PGA Championship, tying for eighth at Bethpage Black. "I haven't played a million majors yet, so I'm still always in awe of the crowds and the atmosphere. Will be very strange to not have that [at Harding Park], and I'm not sure it will really have that major feel."
And while there was some fan noise at Colonial and RBC Heritage from houses bordering the golf course, Harding Park is enclosed by Lake Merced on one side and Lake Merced Blvd. on the other. There are no houses, and thus no people nearby. There will be hardly a smattering of applause as someone etches their name in the history book.
That, according to a guy who has done it before, could benefit someone who hasn't.
"I would imagine," Spieth said, "and there's no way to measure this having not played a major yet—but I would imagine it would be easier to win your first major without fans, just because the atmosphere … I would think it's more comfortable coming down the stretch than it would normally be."
More comfortable, sure. But way, way less electric.