News
Phil Mickelson got a huge rules break on his way to taking Travelers lead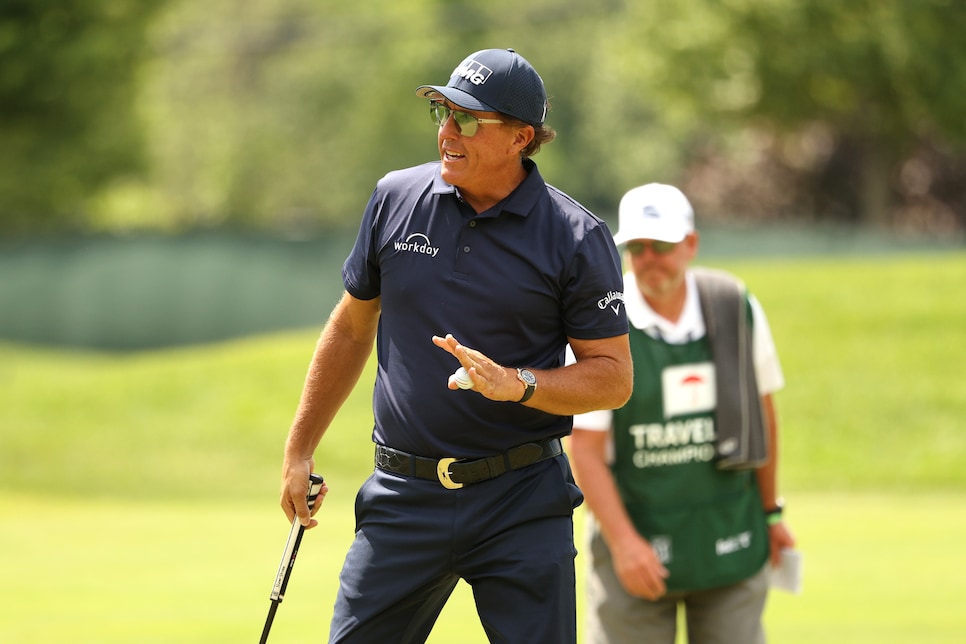 Phil Mickelson reacts after making a putt on the ninth green during the second round of the Travelers Championship.
Maddie Meyer
Phil Mickelson was between two banks and a hard place, but got huge help from the Rules of Golf on Friday in the Travelers Championship.
Tied for the lead, with a second straight strong round going, Lefty chose a long iron on the tee of the tight, 433-yard 17th at TPC River Highlands. He pushed his tee shot left, the ball bounced twice on the cart path and came to rest in an awkward spot, exactly on the edge between the asphalt and grass.
Mickelson wisely called for a ruling, and he got a huge break. Because the steep bank to the left of the cart path was part of a sprayed off ground under repair, and the spot where he'd have to hit from above that was not his nearest relief, he didn't have to drop on that side. If not for the GUR, he would have had a nasty hook lie from thick rough with water in front of the green. Scary.
Of course, this is Phil, so he fully thought through what his other options were.
"What I want to do is take relief and drop it here," Mickelson told the masked official, pointing his toe at the middle of the cart path. Shocking for Phil, right?!
But he was told he couldn't because that was still part of the GUR. So he got to drop on the other side of the path, but also avoided a steep bank above a bunker that would have forced another hook lie. All settled, he chose a 9-iron, pumped it onto the green and two-putted for par.
Another Mickelson escape.
At the 18th, Lefty nearly holed out his approach shot for eagle, made his fifth birdie on the back nine, and closed out a round of seven-under 63 to hold the solo lead at 13 under.
In his first competition since celebrating his 50th birthday last week, Mickelson has opened a tournament with scores of 64 or better for the first time in his career.