Takeaways
Uh-oh, Collin Morikawa learned how to putt, and Bryson DeChambeau found his driver again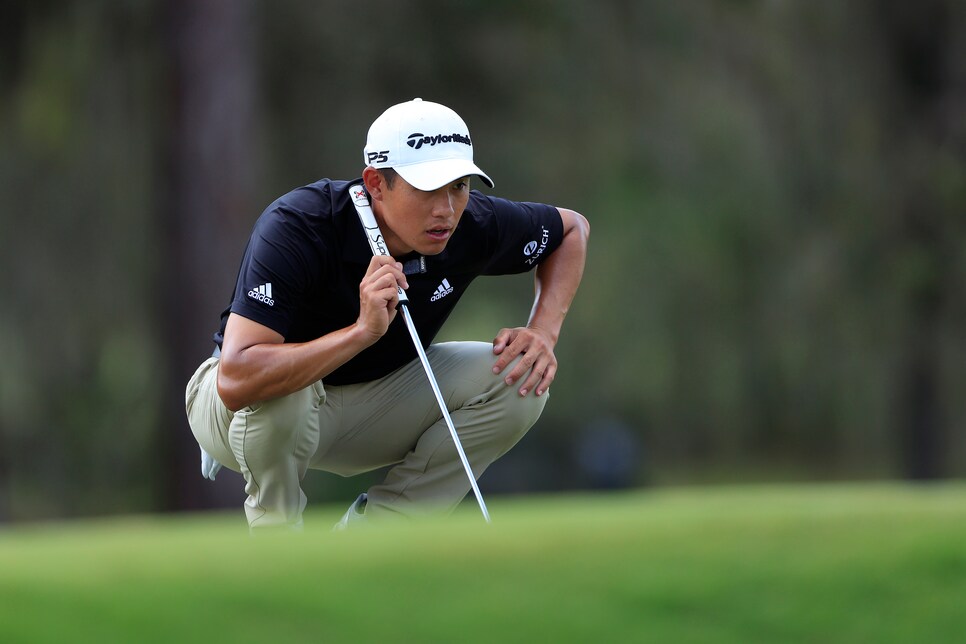 Collin Morikawa lines up a putt during the second round of World Golf Championships-Workday Championship.
Sam Greenwood
Through 36 holes at The Concession Golf Club, Brooks Koepka holds a one-shot lead. Suffice to say, things would really have to go south over the weekend to cause him to snap anymore sets of golf clubs. Although, he might not be too pleased that despite his great play for two days, we're going to focus on some other people. Sorry, Brooks. Use it for motivation.
Anyway, here are five takeaways from Day 2 of the WGC-Workday Championship.
Collin Morikawa looks like he's found a putting stroke
Despite being the reigning PGA champ and the sixth-ranked player in the Official World Golf Ranking, Morikawa made a dramatic switch to his putting grip before the Genesis Invitational. It didn't work.
Morikawa made the cut, but finished last in strokes gained/putting among the 67 golfers who played the weekend. When you're ranked 213th on tour for the season in the stat, it's tough to do worse, but that's what Morikawa did, losing nearly two shots per round.
This business administration major from Cal-Berkeley is no dummy, though, and he understands what a small sample size is. So Morikawa gave the saw grip another chance this week and the results on Friday were fantastic as he rolled in nine birdies and gained 1.2 strokes on the greens, an improvement of more than three strokes from last week and nearly two strokes from his season average. Not surprisingly, that had Morikawa feeling really good about the flatstick following his round.
"My putting has never felt this good, and whether I make or miss putts, knowing that my stroke is good, line-wise, tempo, that's all that matters," Morikawa told reporters after a competitive course record of 64 (shared on the day with Bryson DeChambeau) pushed him into a tie for second. "I'm going to read some great one day and not the others, and the days like today where I read them great, we're going to be going low."
Did Happy just learn how to putt. Uh-oh …
Bryson Dechambeau looks like he found his driver again
We learned earlier this week how harshly DeChambeau can judge himself when he said he "didn't drive it well" during his dominant U.S. Open win in which the stats tell us otherwise. But on Thursday, he really didn't drive it well, losing 1.193 strokes off the tee, a category in which he currently leads the tour. Friday, however, was a different story.
DeChambeau gained 1.169 strokes off the tee during his second crack at The Concession. Superb iron play (+1.620) and hot putting (+3.347) added up to a 64.
OK, so the course record isn't such a big deal considering this is only the second official PGA Tour round played there. Still, it was a nice bounce back effort for DeChambeau—especially coming off a missed cut at the Genesis Invitational. Of course, afterward, he was still talking about tinkering.
"There's some weird stuff going on now at high speeds," DeChambeau said. "You could see it last year, I was hitting it really hard and it was going really far, but there was times it would go really far off the map as well. I'm trying to understand why those occur, and sometimes it's not necessarily golf swing. There's just technology that we don't know about yet that's hindering it unfortunately across the board. Nobody knows how to play a 200-miles-per-hour ball speed and barely mis-hit it; sometimes it doesn't react the way you think it should. So we've got to figure out what we're doing. And Cobra and I are working really hard trying to figure it out. We're doing a great job and in a couple weeks I'll have some interesting stuff that will hopefully mitigate some of those errors at high speeds so I can swing fast again."
Viktor Hovland found the palmetto bushes
Twice. On his final hole. Yikes. The current Golf Digest cover boy was absolutely cruising along and just two shots off the lead when disaster struck on the par-4 ninth. Have a look:
Again, yikes. On the bright side, it was the only blemish on the scorecard for the young star. But the ugly quad erased four of his seven birdies on the day.
"You know, it's a little bit bitter," he said. "I hit a lot of good shots today and made a lot of putts, so it's just unfortunate that, yeah, that one terrible shot comes at that time and I'm not able to maybe handle it better than I did."
Of course, one could argue that by stopping to talk to the media and not just storming off, Hovland handled the situation a lot better than most would have.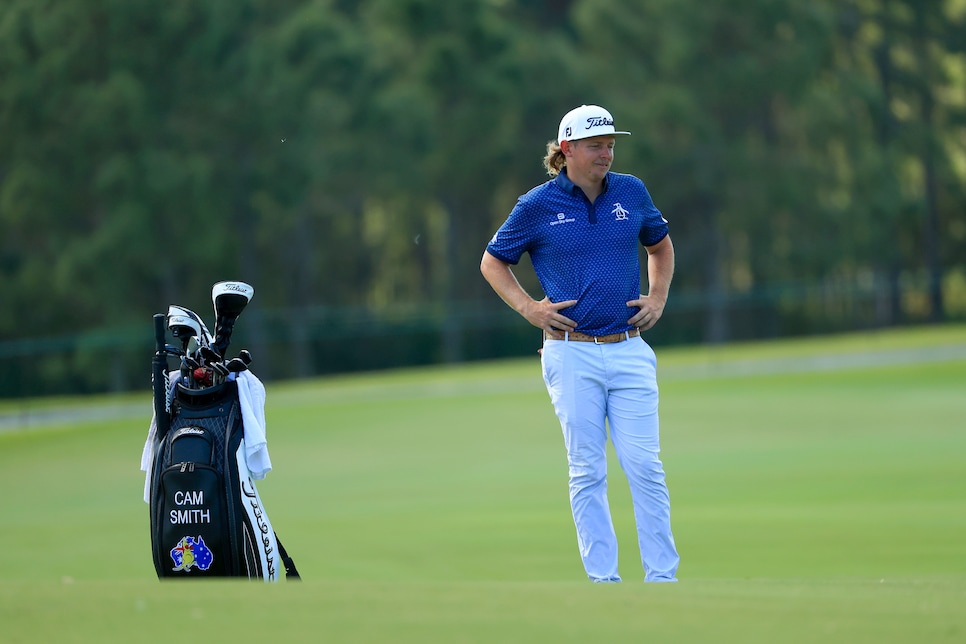 Cameron Smith waits next to his bag on the seventh hole during the second round of World Golf Championships-Workday Championship.
Mike Ehrmann
"Mullet Man" continues to pop up on leader boards …
And give nightmares to people who don't like the long-haired look. Seriously, it's been quite a run of good golf by Cameron Smith, in particular, at the bigger events. Since October the 27-year-old Aussie has a T-4 at the Zozo Championship, a T-2 at the Masters, where he became the first player to shoot four scores in the 60s at Augusta National in the same event, and a solo fourth at Riviera last week. And now he's playing in weather conditions he's more accustomed to.
"Yeah, I love being in the heat," Smith said after Friday's 66 that put him one shot behind Koepka. "Those early morning tee times in L.A. last week were pretty brutal. I grew up in Brisbane, it's a very similar climate to this, so I love being out there and getting hot."
You'd think having that mop hanging off the back of his head would bother him in the heat, but apparently not. Hey, regardless, you gotta stick with what's working.
Tony Finau can't stop, won't stop contending
The People's (Almost) Champ is at it again. With a Friday 67, Finau finds himself just two strokes off the lead heading into the weekend. Can the man who has finished runner-up in a remarkable three consecutive starts, and who even more remarkably hasn't won in five years, finally get the job done over the weekend in Florida?
"I've learned again so much just being in the spotlight and so many people wanting me to win, expecting me to win, whatever the case," Finau said. "I think one of the biggest things I learned is just to silence all the noise from outside. I've got my team around me that believes in me. I've got to believe in myself and anything that appears outside of that I can't control.
It's a great answer, but sadly, we still can't control coming to the following conclusion: Tony Finau is going to break our hearts again, isn't he?