Bryson Being Bryson
Bryson DeChambeau's assessment of his driving at the U.S. Open makes it seem like we were watching a different tournament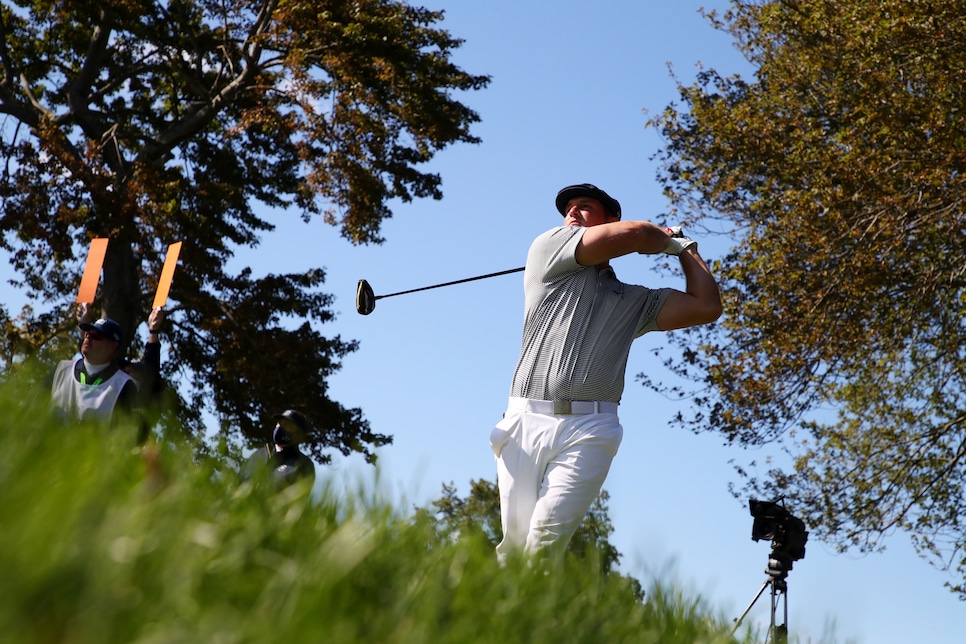 Bryson DeChambeau's dominant victory at the U.S. Open in September was a display of power that we'd never quite seen before. No one is supposed to be able to get away with playing a course set up by the USGA—especially one of Winged Foot's reputation—with such reckless abandon, but Bryson impressed everyone with his driving on his way to a six-shot win. Well, everyone except Bryson.
At his Wednesday press conference ahead of this week's WGC-Workday Championship, DeChambeau was asked how long it took him to get over last week's missed cut at thte Genesis Invitational. And as the 27-year-old PGA Tour star is known to do, he responded with quite an answer that involved physics, World Long Drive champion Kyle Berkshire, and quite the critique of his own performance from the biggest win of his life.
"Oh, immediately. It's one of those things that I'm swinging so fast now that we just don't know what's going to happen yet. The physics aren't understood at that speed yet. You talk to Kyle—I've talked to Kyle about it. I mean, his mis-hits when he barely mis-hits it, talking about variable gear effect, hit it in the same place on the toe and the ball can have two completely reactions. We don't know why that is yet and that's sort of the stuff I'm working on to try to figure out," DeChambeau said. "Now, at the lower speeds I was using a year ago and even there's sometimes that I just didn't drive it that well. The U.S. Open I didn't drive it well, so this has been going on for a long time and I knew we were going to come to this point at some point in time, but once we figure it out, it's going to be very, very nice. We're starting to understand a little bit, especially right now we're doing a lot of shaft stuff and head stuff and we're slowly inching to solving the problem, but it won't be for a while."
Obviously, there's a LOT to unpack there, but we're focusing on one line: "The U.S. Open I didn't drive it well." Um, were we watching a different tournament?
DeChambeau famously had an epic range session following Saturday's third round at Winged Foot because he felt uncomfortable with his driver. But all the evidence points to the fact that he drove it great for the week.
Sure, he only hit 41 percent of fairways that week, but that actually ranked him tied for 26th in the field. No one was hitting fairways that week, which is a big reason why DeChambeau's distance—he averaged more than 325 yards per pop—was such a difference-maker.
Then there's the most important stat: strokes gained off-the-tee. For the week, DeChambeau averaged gaining 1.332 shots with his tee shots, ranking only behind Rory McIlroy at 1.455.
Yes, DeChambeau ranked first for the season in that stat in 2019-2020 and he leads so far this season, but that 1.332 figure is more than he usually gains. He currently leads the tour at 1.181 strokes gained off the tee per round.
So clearly, DeChambeau is his own toughest critic. And if he's really capable of reaching a level where that's actually a bad week with the big stick, then the rest of the PGA Tour is really in trouble.