voices
Let's focus on what Tony Finau is accomplishing: lessons in true resilience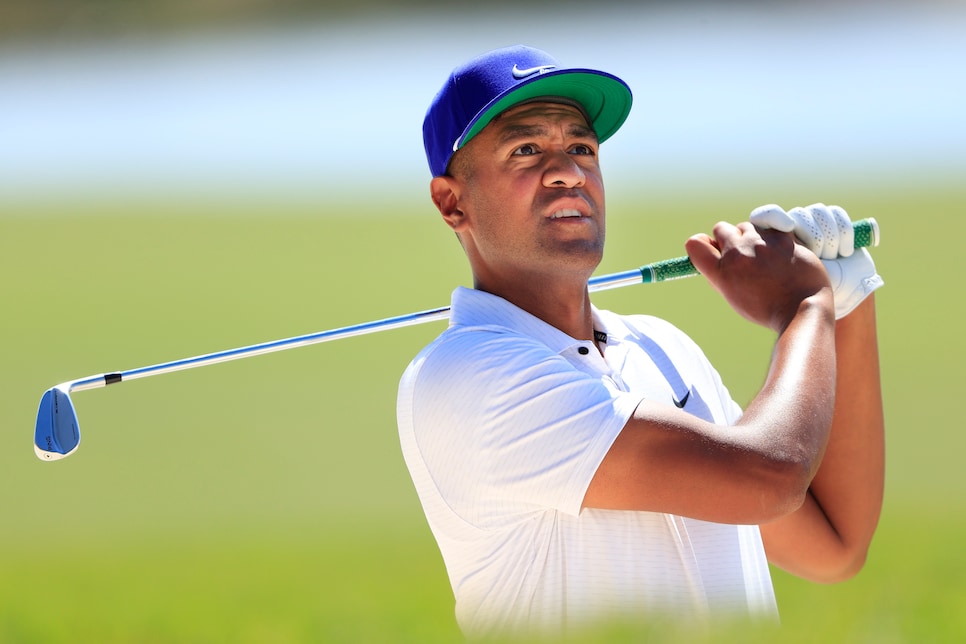 Tony Finau watches his shot on the 13th hole during the second round of World Golf Championships-Workday Championship.
Sam Greenwood
BRADENTON, Fla.—How do you square this circle: Tony Finau puts himself in contention over and over again, comes close to a win, and can never finish the job. Three weeks ago, I wrote that he had 36 top-10 finishes without a victory since he won the Puerto Rico Open in 2016, and that the next-best player in that category had just 16. Since then, he's added another with his playoff loss to Max Homa at last weekend's Genesis Invitational. Some of the near-misses are ugly, and some are actually impressive, but taken together, it all seems to speak to a competitive weakness when it comes to crossing the finish line.
Except for this: What can we say about the mental strength of someone who stumbles at the crucial moment over and over and over again, but keeps putting himself right back in that same position? Who manages to bounce back with incredible regularity even as the "Tony Finau can't win" narrative spreads like wildfire (on Saturday at Torrey Pines, he was asked seven questions on the topic in a single press conference)? What can you call that, except a stunning example of resilience in situations that would break a lesser golfer? What do you call that, except profound mental toughness?
What's the answer here? Is he weak or is he strong?
After Friday's round at the WGC-Workday Championship, in which he followed up his opening 68 with a 67 to place him just two shots off Brooks Koepka's lead, Finau answered the unavoidable question—are you a resilient person?—with more openness than usual.
"Yeah, there's no question," he said. "I definitely feel like I'm a tough player mentally, as tough as they come, and I feel like I have to be. When you've come close to winning as many times as I have, I think you could go one of two ways. I always look at my life and my game as a glass half full. I've always looked at my life that way and it's helped me, but it definitely has made me tough. Again, I think life has been my biggest teacher and I'm kind of showing that resiliency I think early in the season."
Finau referenced the seven years he spent playing mini-tour golf, which he called the hardest golf experience of his life. The memories of that time still help him put his tour results into context.
"Taking second out on the PGA Tour is tough because I know I have what it takes to win," he said, "and I want to be the best. But when you compare that to what life is really like outside of the PGA Tour, I knew what that tasted like to not even have a place to play and not make any money."
I posed the paradox to him: How do you have the toughness to rebound from week to week when the great knock on your is failing to win?. And while he didn't address it directly, he did mention "blocking out the noise" twice. That's a cliche that many golfers (and many athletes) use, but Finau has earned it like few before him. It's hard to recall anyone who has been so singularly great at ignoring a very enduring negative storyline, even as that storyline repeats and repeats and repeats. As far as the origin of his optimism, Finau gives credit to his parents, and his mother, in particular, though he can no longer speak to her. Ravena Finau died in a car accident in 2011. Tony's strength may be inherited, but it's all his own.
The answer to the confounding question at the heart of his career could be as simple as wrongly conflating two different skill sets. Despite the apparent similarities between clutch play and the ability to bounce back—don't they both involve mental strength?—they are in fact not the same. The concept of "clutch" is more immediate and requires responding to intense pressure within the space of a few critical moments. Arguably, it says little about what kind of person you are in the broad scope of life, and more about the accident of how you handle the chemical phenomenon of nerves. Resilience, on the other hand, is more of a choice—an outlook that you adhere to against the slower pressures of perception and other outside stress.
Finau is still working on "clutch," but he has been giving us all a masterclass in resilience since 2016. He could have fallen prey to the vicious cycle—the endless questions, the sheer amount of near-misses which inspire more questions, and on and on—and by this point, most golfers would have.
Instead, here we are in 2021, the story is the same, and once again Finau has put himself in a position to win against the best players in the world. It's a remarkable feat, and though we're disinclined to notice something when it happens so often, it's actually a feat that grows more remarkable with time. Every time you see the name Tony Finau atop the leaderboard, you're seeing someone who refuses to be broken by an oppressive story, and someone who refuses to even believe in that story. That's a difficult choice to make and a difficult path to follow. What else can you call it but courage?