golf disasters
Viktor Hovland finds palmetto bushes—twice!—in suffering disastrous final hole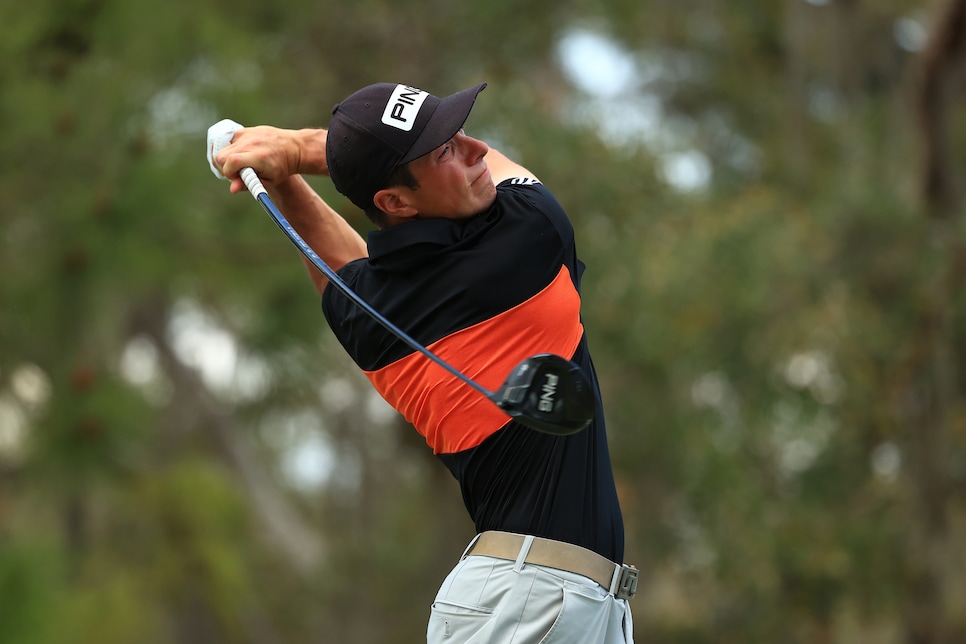 Viktor Hovland plays his shot from the seventh tee during the second round of World Golf Championships-Workday Championship.
Mike Ehrmann
The good news for Viktor Hovland on Friday was that he needed just one putt on his final hole of the day at The Concession. The bad news was that it was for a quadruple-bogey 8.
How he arrived there in the second round of the WGC-Workday Championship was as shocking as it was disastrous.
Hovland was humming along, having played his first 17 holes beautifully, with seven birdies and no bogeys and was near the top of the leader board.
Then came the par-4 ninth.
The 23-year-old Norwegian and two-time PGA Tour winner found the fairway bunker off the tee, then bladed a wedge on his next shot, sending his ball careening into a palmetto bush. Miraculously, he was able to get a club on the ball on his next shot, but the ball scooted across the green and into a terrible spot, settling on the downslope of a bunker and up against the lip.
Things went from bad to worse from there.
Hovland chopped down on the ball with his next shot but hit the ground behind the bunker first, then the sand and the ball and it shot across the green again. And back into a palmetto bush.
This time, he took a drop. But his chip didn't carry far enough up the large slope in front of him and the ball rolled back down the hill before he knocked his next attempt to nine feet and made the putt to close out a round of three-under 69.
Still, Hovland found a way to smile his way through it.
"It's maybe a defense mechanism a little bit," he said. "It was a good day, played very solid. Obviously, I did the one thing I can't do and blade my bunker shot over the green on the second shot. And then happen to hit a great shot out of the trees for my third shoot and catch another bad break being up against the lip, and I should've almost hit backwards or done something else. The last thing I can do there is hit it back over the green. So definitely learned my lesson there."
Hovland, who came into the week ranked 14th in the world, became the first player in WGC history to make seven or more birdies in a round, no bogeys and a triple or worse in a round, per stats guru Justin Ray of 15th Club.
Ouch. No wonder the nickname for the place is The Concussion.