Takeaways
X-Man lurks, Brooksy's favorite course and big stars catch an early flight
Here's everything you need to know about Day 2 at the WM Phoenix Open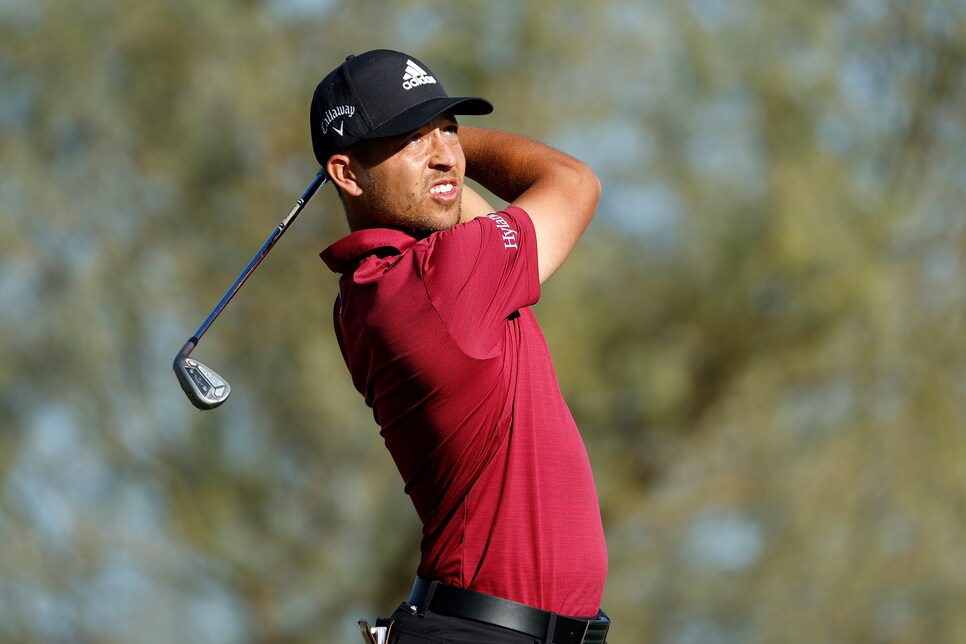 It may be Super Bowl weekend, but the stars are out in Phoenix.
Team USA Ryder Cup stalwarts Brooks Koepka, Xander Schauffele and Patrick Cantlay are all within three strokes of the lead. But it's Sahith Theegala, who got into the WM Phoenix Open on a sponsor's exemption, who they're all chasing. Theegala followed up his opening 66 with a red-hot 64 Friday morning. A win for the PGA Tour rookie would be career-changing in all the ways one would expect, but, perhaps most importantly, he'd be able to move out of his parents' house.
The former Pepperdine star will have his work cut out for him, having to hold off some of the world's best over the weekend.
Here are three more Day 2 takeaways from the WM Phoenix Open.
Xander Schauffele hasn't finished worse than T-34 since last fall and looks well on his way to continuing that trend. The Olympic gold medalist was locked in Friday, stuffing approach shot after approach shot to birdie range en route to a bogey-free 65. He's tied for second entering the weekend, where his play is only part of the equation.
Schauffele's caddie, Austin Kaiser, tested positive for COVID on the eve of the tournament, forcing Schauffele to employ a college buddy on his bag for the week. Schauffele and Kaiser had been staying in a house together, so Schauffele will have to continue to test negative throughout the weekend to avoid a "Jon Rahm at the Memorial" situation and be forced to withdraw from the event while in contention.
That may be the only thing that can stop Schauffele, whose game looks to be top form. The good news for Schauffele is that even with his clean, six-under card, it could have been even better. If his putter really heats up, the headline Sunday could read "Xander Schauffele wins fifth PGA Tour title."
Brooks loves TPC Scottsdale
Who would have thought, given all that we know about Brooks Koepka, that he'd thrive in a rowdy golf environment like TPC Scottsdale? Alright, that was a bit of sarcasm. All kidding aside, Koepka obviously loves this place. He won his first PGA Tour title here in 2015, then won again last year. Sitting two shots back of Theegala, Koepka will have his target squarely in his sights as the two share the final tee time.
After being "embarrassed" to fall to No. 20 in the World Ranking, Koepka's response is that of an athlete in one of the "real sports" he referenced earlier in the week.
After a wild, but ultimately unspectacular round Thursday, Rickie Fowler's Friday round was comparatively boring—no left-handed swings this time—but similarly unspectacular. Five birdies, two bogeys and a double later, Fowler is 0-for-2 on made cuts this year. The 33-year-old is in the midst of a grip change in the hopes of returning to the winner's circle. He hasn't won since his 2019 triumph at this tournament.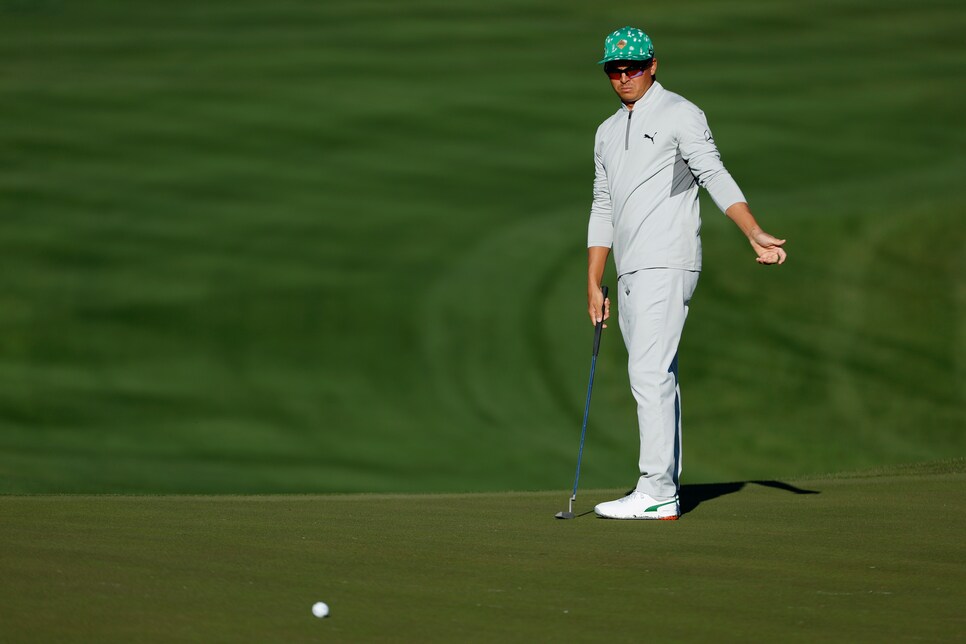 Not to pile on Fowler, but this is unfortunately not all that shocking. More surprising, however, is World No. 3 Viktor Hovland's early exit. The Norwegian had work to do entering Friday to make it to the weekend, and through 14 holes, it looked like he'd do just that.
Then the 15th hole happened.
Hovland's tee shot bounded left into the water, setting up an approach shot from a hanging lie, some 230 yards away. He left that one short and right, and a big hop sent it bounding into the moat that surrounds the green, bringing his hopes at a weekend paycheck with it.
On the bright side they can head to Los Angeles early to get a head start on Genesis Invitational prep.