WM Phoenix Open
An 'embarrassed' Brooks Koepka thrives once more in the craziness of TPC Scottsdale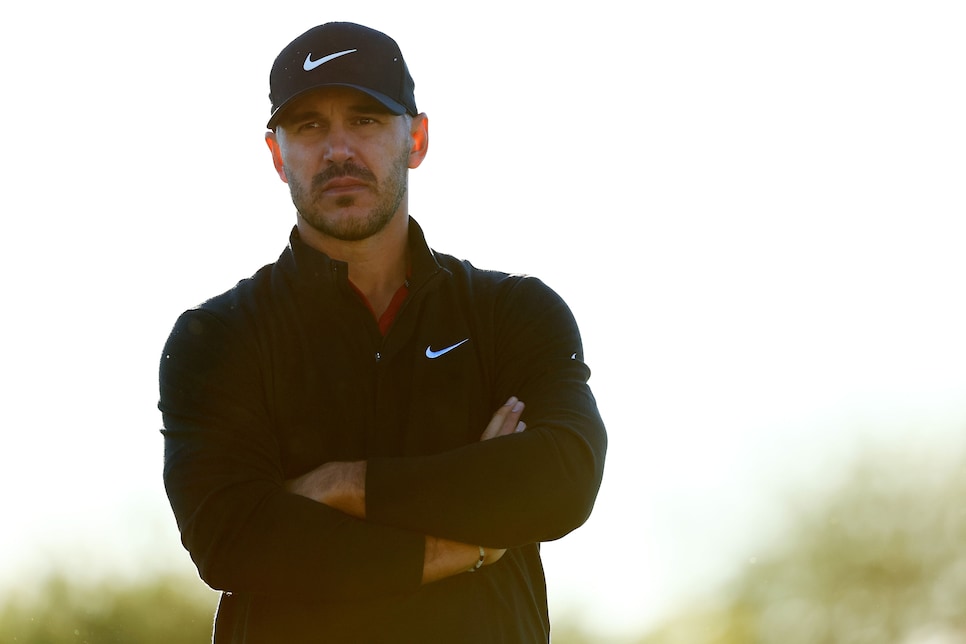 Brooks Koepka stands on the 11th hole during the first round of the 2022 WM Phoenix Open.
Mike Ehrmann
SCOTTSDALE — Brooksy is in his element at TPC Scottsdale. Says it "almost feels like a real sport"—the ones the cooler kids play. No coincidence, then, that Koepka the Golfer won his first PGA Tour event here. With his victory here last year, the WM Phoenix Open became the lone non-major he's won more than once.
"I love it," Koepka said of the most frenetic—and well-attended—event in world golf. "Look, I love when people get rowdy. They're cheering you when you hit it tight, and they're booing you when you hit it bad.
"If you do something wrong, you deserve to get heckled. If you do something right, they will cheer for you. I think that's what makes this event so cool."
There was markedly more cheering than booing during Thursday's opening round, for Koepka did a lot of things right and very few wrong. There were six birdies, including an 11-footer on his last hole, and a lone bogey. He picked up more than two shots on the field with his approach play en route to a five-under 66, one off the lead after the morning wave.
Koepka strutted around "the greatest show on turf" with his typical stone face, ignoring the countless chirps about his new blonde hair. This was Brooks at his best, and he's in great position to successfully defend his title.
"Made some tweaks with the driver," Koepka said. "It's one thing to do it at home back at Medalist and see it perform there, but to actually come out and drive the ball in a tournament and hit it how I wanted to—spin was great, flight was good, shape was great. So that was nice to see. I feel like I've been playing good, it's just been the driver and just tweaks in the setup and it's tough to play out of the rough at Torrey Pines."
We do, however, have to talk about what's happened between these respective WM Phoenix Opens. Koepka has never strayed far from public discourse, but it's had little to do with his play. His beef with Bryson DeChambeau dominated headlines last summer, culminating in a made-for-TV match in which Koepka took great pride in embarrassing his foil. He won his four majors as an equipment free agent but decided to sign a full-bag and ball deal with Srixon. More recently, he pointed out the irony of Phil Mickelson using the word "greed" in an interview with Golf Digest. (Koepka declined to elaborate on the comment on Monday: "I said what I said. I don't need to say anything more. You take it how you want. I know what I meant by it, but it's up to you.")
The golf, however? Koepka does not have one top-20 finish in his last 10 PGA Tour starts, a barren stretch that has seen him the former World No. 1 drop all the way to 20th in the World Ranking—a tough look for a player as accomplished as he is, in his physical prime at 31, and who has been as brash as he. If you think that's harsh, take it from the man himself..
"I mean, that's embarrassing to be 20th, I feel like. A lot of it has to do with injury, man. I've been hurt, on the sidelines, not playing, playing through injury, you can't compete with guys out here. It's nice to be somewhat healthy and get out here and I mean I'm not too worried about it. It will bounce back up.
"Any time you got swagger and you're not playing well it's always going to be a little bit worse for you and if you're playing well it's going to be a little bit better."
To borrow from those other sports: When the best three-point shooters hit a cold streak, or the premier quarterbacks throw an interception, they continue to insist they're one swish or one good throw away from catching fire again. Koepka maintains that he's been playing well for months, that his team expected this round. He says he's as healthy as he's been in quite a while, though he seems to say that quite often. He made a point on both Wednesday and Thursday to say that his game is ahead of schedule for this time of the year. He's saying all the right things, but that's the easy part. All that really matters, to use one last other-sport cliche, is what he does on the field these next three days.