Did We Just Become Best Friends?
Brooks Koepka says pro-am partner Adam Thielen could almost "play pro golf" as beautiful bromance blooms in the desert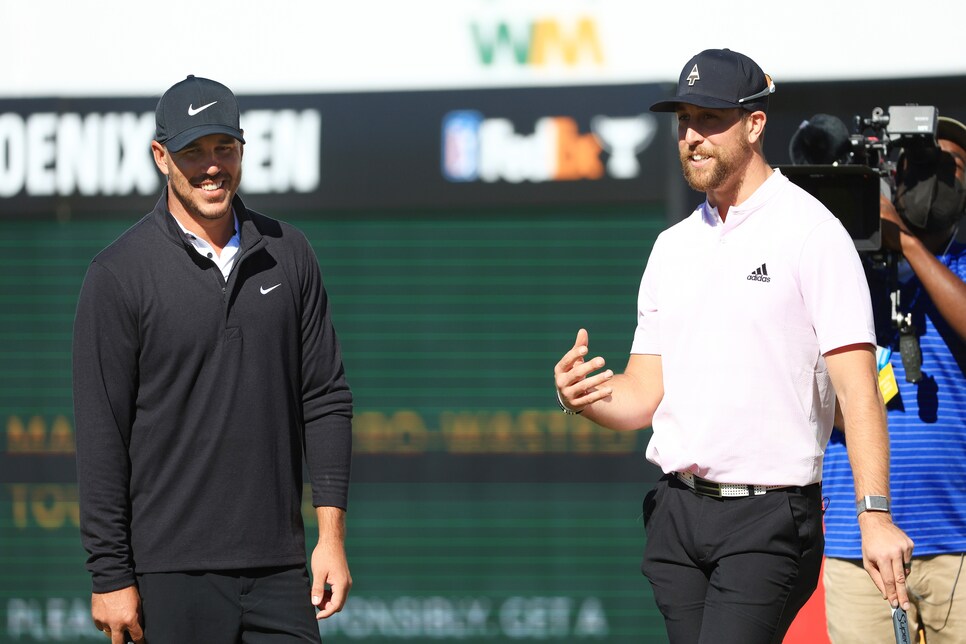 Brooks Koepka has made more friends than enemies in the last couple of years. Bryson DeChambeau. Phil Mickelson. Brandel Chamblee. Even his own hair follicles. The list goes on. It's been fun to watch from the cheap seats, but the doting mother in us worries. Is he happy? Will he ever make friends? Well, after Wednesday's Waste Management Phoenix Open Pro-Am round, the answer appears to be yes, finally.
Koepka was paired with Minnesota Vikings wide receiver Adam Thielen for Wednesday's warm-up, and the pair apparently hit it off right away.
"We were laughing about it, my team — Jeff Pierce and my caddie Ricky — we were talking about it. It's amazing," Koepka said of Thielen after the round. "His ball speed is probably in the top 15 out here in ball speeds. I mean, on the last hole it was 179 and change."
Now it doesn't take a cynical soul to wonder if what initially appeared to be a compliment of Thielen was, in fact, a shot to the rest of the tour's midsection, but the admiration appeared to be genuine.
"He's good, obviously really good with football, I don't need to say that, but I think he played baseball," Koepka continued. "I mean, he said he played four sports all the way through high school, so a true athlete right there. Nice guy."
Nice guy? Wow. That's high praise coming from BK. Safe to say we have a bromance brewing in the desert. Whether the newfound vibes will lead Kopeka to a title defense this weekend is still unclear, but maybe the real titles are the friends we made along the way …