Runs in the family
Meet Preston Summerhays, the teenager catching everyone's eye at the WM Phoenix Open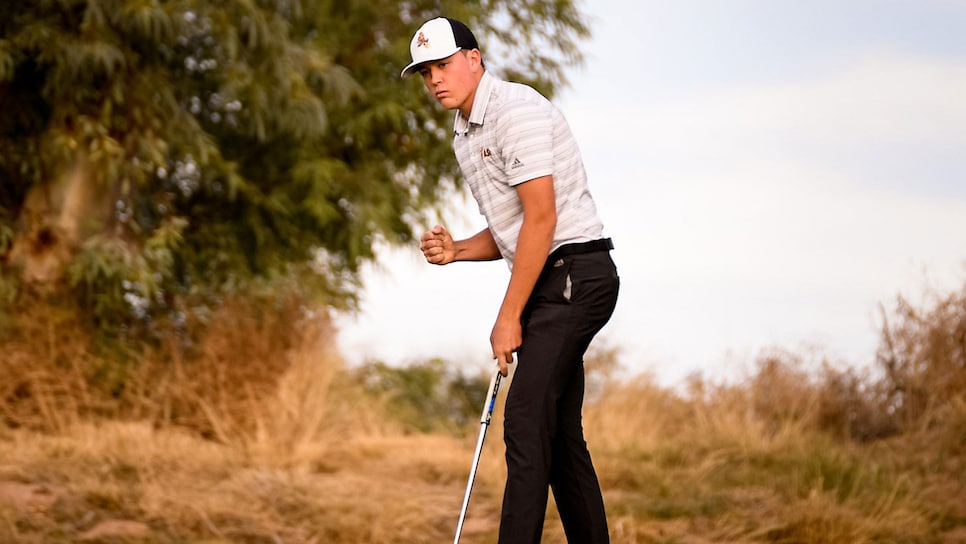 Photo by Thomas Fernandez/Courtesy of Arizona State Athletics
SCOTTSDALE — Polished. Tony Finau keeps using the word over and over to discuss one of his Tuesday practice-round partners at the WM Phoenix Open. Pat Perez, 45, has been playing on tour for …
Oh, wait. He's talking about the kid?!
You're damn right he is. Preston Summerhays doesn't look like a teenager, unless you really get up in his face. He's a solid 6'2", maybe a hair taller. As he makes his way around TPC Scottsdale, he seems to be moving in slow motion, not all that different then the pros despite being the lone amateur in the field. He's worn all-business, perfectly tailored pants during every practice round, despite it being near 80 degrees.
Perhaps he's so comfortable because this isn't his first time teeing it up with the pros. The 19-year-old Arizona State freshman has played twice before on the PGA Tour—the 2020 U.S. Open at Winged Foot and last year's Barbasol Championship. Maybe he's feeling at ease because he lives in the Silverleaf community just a few miles from the course. Or maybe he's so at home because he's spent the majority of his childhood rubbing shoulders with the world's best players.
Summerhays, the 2019 U.S. Junior champion and the youngest player to win the prestigious Sunnehanna Amateur (2020), is the latest product of a powerhouse golf family. His father and caddie this week, Boyd, is a former tour pro/turned instructor who coaches Finau, Talor Gooch and Wyndham Clark, among others. His uncle, Daniel, played eight years on the PGA Tour and finished solo third in the 2016 PGA Championship. His great uncle is former PGA Tour Champions winner Bruce Summerhays. His great-grandfather was the head golf coach at the University of Utah. And his younger sister, Grace, is also a freshman at ASU after she enrolled early this winter.
"It's definitely helped me become a little bit more comfortable out here," says Preston, uncannily poised in front of a microphone. "Because of my dad, I have been able to be out at these tour events, quite a few, and get to know some of the guys. [I] have been able to play with a lot of tour players. So I think that is going to make me a little more comfortable, knowing I have played with these guys before and I can compete against them. Yeah, I'd say because I play with a lot of pros, it's definitely made it a little bit easier."
"He's way better than I was at that age," says Finau, who turned pro at age 17. "I mean, way, way better."
It's tough to be intimidated when you've stared down the literal best golfer in the world. Last year, Jon Rahm, Finau and Summerhays played a round together at Silverleaf. Finau stole the show with a 59, which obscured a rather extraordinary accomplishment by the teenager.
"What people don't know," Rahm says, "is that Preston was eight under through 9 that day. He's definitely a very talented player. He's only a freshman in college, right? Still has like his whole college career ahead of him."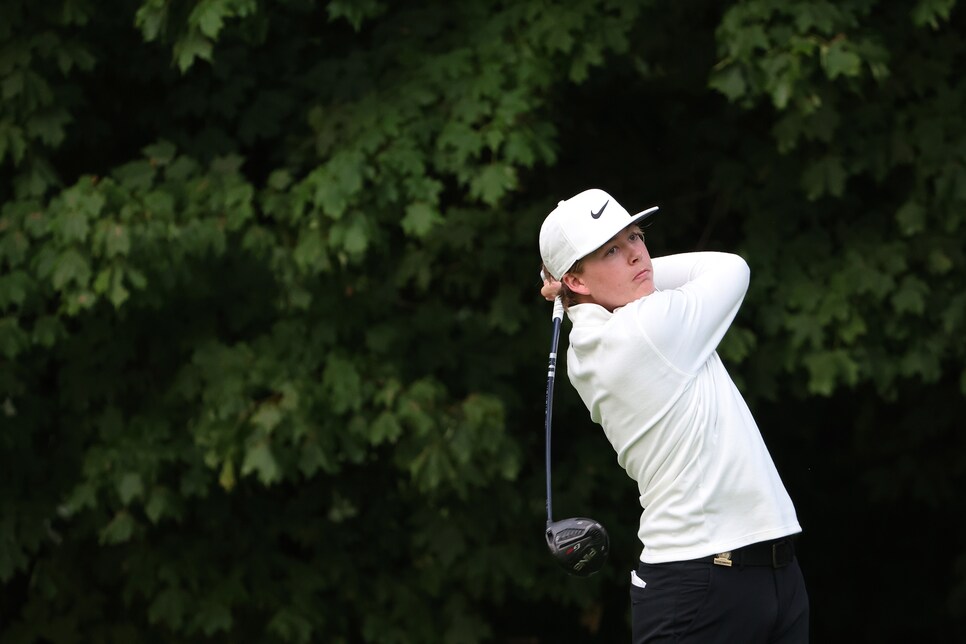 Winning the 2019 U.S. Junior earned Preston Summerhays a spot in the field at the 2020 U.X. Open.
Jamie Squire
Indeed he does, and he's already off the mark in the win column, having finished co-medalist at last October's East Lake Cup. That strong play early in the season helped get him a sponsor's invite into this loaded field; he's the first ASU player to get a spot since Rahm, who finished T-5 as a 20-year-old junior. Rahm remembers the jitters he felt walking through the tunnel between TPC Scottsdale's 15th and 16th holes for the first time, the raucous crowd awaiting on the "Stadium" par 3, and he's warned Summerhays what to expect.
"I feel like my game is good to handle this course," Preston said, "but, I mean, with this atmosphere, I'm definitely going to be a little more amped up than I have ever been, so I just kind of asked them, Hey, how can I kind of control and just ease into my rounds?
"They just said you have to treat it like every other tournament. Even if there are a thousand people watching, it's going to be the same shot as if you were just playing at home with a friend or just playing for fun. At the end of the day, it's golf, and it's all the same."
The crowd will be louder, and drunker, but this is just the next step in a golf journey that seems destined for the PGA Tour. He was askek whether he had any other realistic job possibilities, or if it was always golf.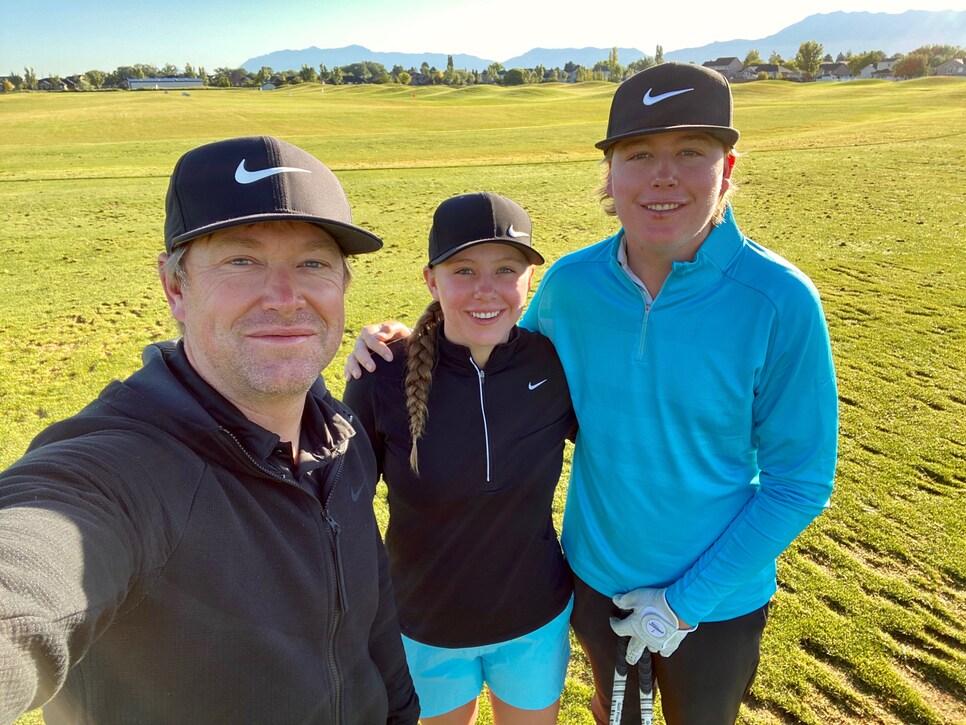 Boyd Summerhays (left) takes a selfie with daughter Grace, also a freshman at Arizona State, and Preston in 2020.
"My dad actually didn't let me play tournaments until I was 10 years old, 10 or 11, which, I mean, that's a little bit late." We call that delaying the inevitable.
"He wanted to make sure I played all the sports and got a taste of everything before I fully committed to golf. I would say—I mean, yeah, I was kind of born to be a golfer."