Former Pepperdine Star
Who is Sahith Theegala? Meet the WM Phoenix Open leader who still lives with his parents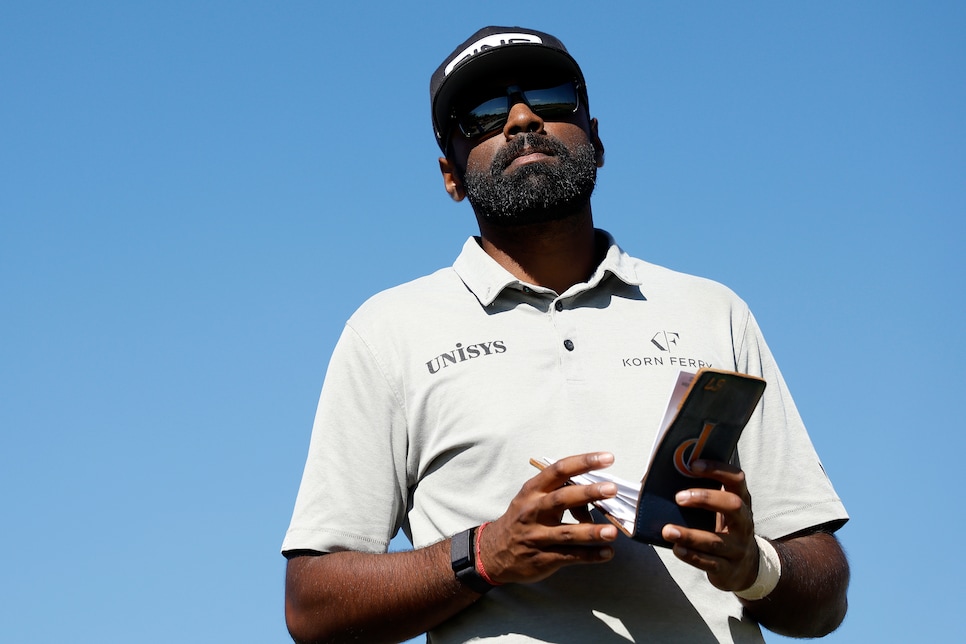 SCOTTSDALE — "Go Waves!" spectators shouted as Sahith Theegala—a sponsor's invitee to this week's WM Phoenix Open—strolls down the fairway at TPC Scottsdale, where he is leading by two through 36 holes. Spectators may be familiar with the PGA Tour rookie's alma mater, Pepperdine, but do they know how to correctly pronounce his name?
"It's funny, I know who I know [in the crowd] because they will pronounce my name really crisply and right," Theegala said of the shouts he heard throughout his two rounds. "So the pronunciation is SAW-hith Theegala. And a lot of them are saying Suh-HEETH, which I kind of went by when I was younger. It's just easier to yell Suh-HEETH out here, so I think that's what a lot people are doing, but it's SAW-hith."
Having made nine cuts in 11 starts this season, Theegala is not a stranger to the top of leader boards, despite both fans and announcers botching the pronunciation of his name. At the Sanderson Farms Championship, the Korn Ferry Tour graduate was either leading or tied for the lead after each of the first three rounds, and ultimately finished T-8.
This week, the 24-year-old is once again coming out hot. After his first round was suspended due to darkness after the 16th hole, Theegala completed his final two holes early Friday morning, going bogey-bogey. The unfortunate start did not deter him as he bounced back with a seven-under 64.
Theegala has been winning golf tournaments for a long time, and there's no reason to think a bit of familiar momentum can't help him secure his first win on tour. According to Theegala's mother, Karuna, "Sahith was 3 years old when he picked up a plastic club, and by 6 years old he had won the Junior World Championship." The Orange, Calif., native went on to win Junior World Championships two more times, at 8 and 10.
The early successes did not stop there. Theegala played on the Diamond Bar High's varsity team, which won its league championship all four of his years. He was awarded All-Sierra League first-team all four years, too.
Theegala's high school days likely aren't far from his mind inasmuch as he's still living at home with his parents. COVID cut his senior year at Pepperdine short, and it made sense to him to continue to sleep in his own bed throughout the pandemic. He also drove himself to Phoenix this week; he joked that he's probably put 2,000 miles on his car during the past few West Coast swing events.
COVID might have ended Theegala's senior year prematurely, but it did not stop him from sweeping the three college golf national player of the year awards: the Fred Haskins Award, the Ben Hogan Award, and the Jack Nicklaus Award. He won four times and set a school record with a scoring average of 69.04.
Notwithstanding his impressive resume, his career hasn't always gone smoothly. He took off the entire 2018-2019 college season due to a wrist injury, red-shirting to maintain another year of NCAA eligibility.
Theegala also has lived his entire life with scoliosis. Although the condition hasn't caused him pain for a while, his swing's seemingly instinctual smooth rhythm and his consistent and careful work with his chiropractor have allowed him to avoid setbacks.
The PGA Tour rookie has a vocal support system, too, especially this week. The loudest screams and most enthusiastic high-fives came from the generous pack of family members following Theegala throughout his six-hour day.
"It's my parents, a couple of my uncles, probably three of my uncles this week, and then my cousin's parents," said Theegala. "I think there's eight of them."
The Theegala family will undoubtedly continue to celebrate this week, no matter what happens on Sunday afternoon. As a sponsor's invite at one of the rowdiest PGA Tour stops of the year, he has already exceeded expectations with his play.
When asked how excited she was to witness her son's success, Karuna Theegala struggled to find the words.
"The feeling is…I cannot describe it actually," she said. "I'm just so proud of him."