News
College player of the year Sahith Theegala's pro career got off to a fast start—in an unusual place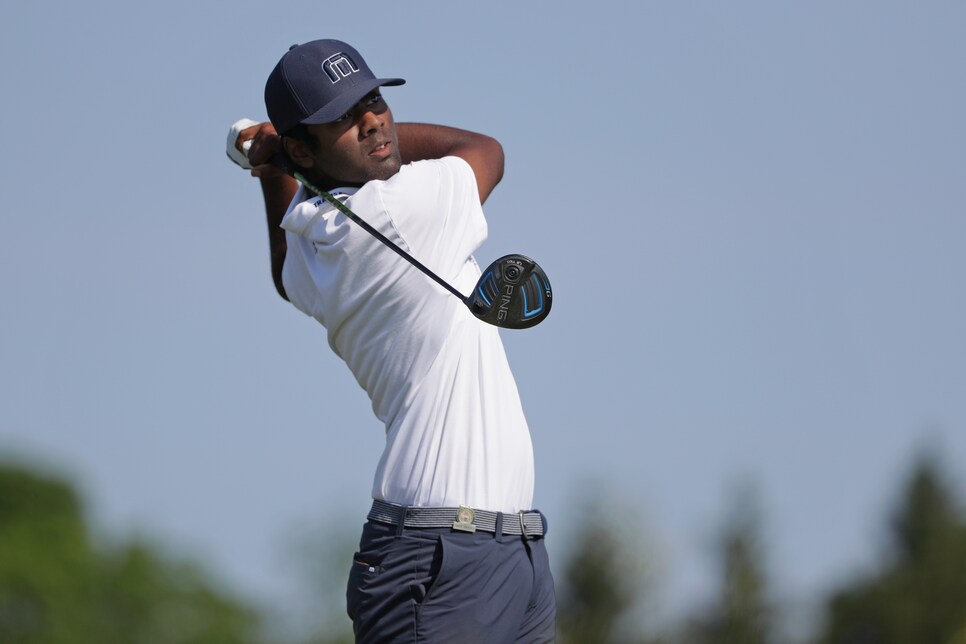 Winning the Fred Haskins Award as the male collegiate golfer of the year doesn't guarantee a successful pro career, but at the very least, it usually ensures that pro career doesn't start on a mini-tour. Of course, 2020 is no ordinary year. And as a result, Sahith Theegala began the next phase of his golf journey on Monday in an unlikely place: the Outlaw Tour.
It wasn't the setting the Pepperdine product probably had in mind for his pro debut, but he couldn't have asked for a much better start. Theegala shot a nine-under-par 62 to grab a share of the first-round lead with Andrew Funk at the Lone Tree Classic in Chandler, Ariz.
"It feels great," Theegala told the Outlaw Tour after. "I was super pumped to get my pro career started. Obviously, it's not the way that every … you know, COVID is affecting everything, but I just try to make the most of it. And I always just try to have a good time, so I thought no different today starting off and it just worked out."
Here's a look at Theegala chipping in for eagle—just be warned for the explicit language from the person taking the video (Hey, this is the Outlaw Tour after all):
And here is Theegala's full post-round interview (Hey, the Outlaw Tour has stepped up its game during quarantine):
Last month, Theegala was named the winner of the Fred Haskins Award for a NCAA season that was cut short. The fifth-year senior had Pepperdine ranked No. 1 in the country but neither he nor his team were able to compete for national titles due to the ongoing Coronavirus pandemic.
"This was our year," Theegala said last month after winning the award. "This wasn't just a one-year thing for Pepperdine. We built into this over a long time. A lot of our guys put in so much hard work. The coaches did their best to get us to this point ... The team was such a big reason why I had such a big year."
Theegala is also a finalist for college golf's two other top prizes: the Hogan Award and the Nicklaus Award. Those winners will be announced the week of the Charles Schwab Challenge (next week) and the Memorial, respectively.
For now, Theegala is focused on another first as a pro: earning a winner's check. Although the $4,500 for first place up for grabs this week isn't exactly what they play for on the PGA Tour, it would still go a long way for someone fresh out of school.