Peacemaker
Former Bengals bad boy Vontaze Burfict challenging Le'Veon Bell to a charity golf match is a plot twist we didn't see coming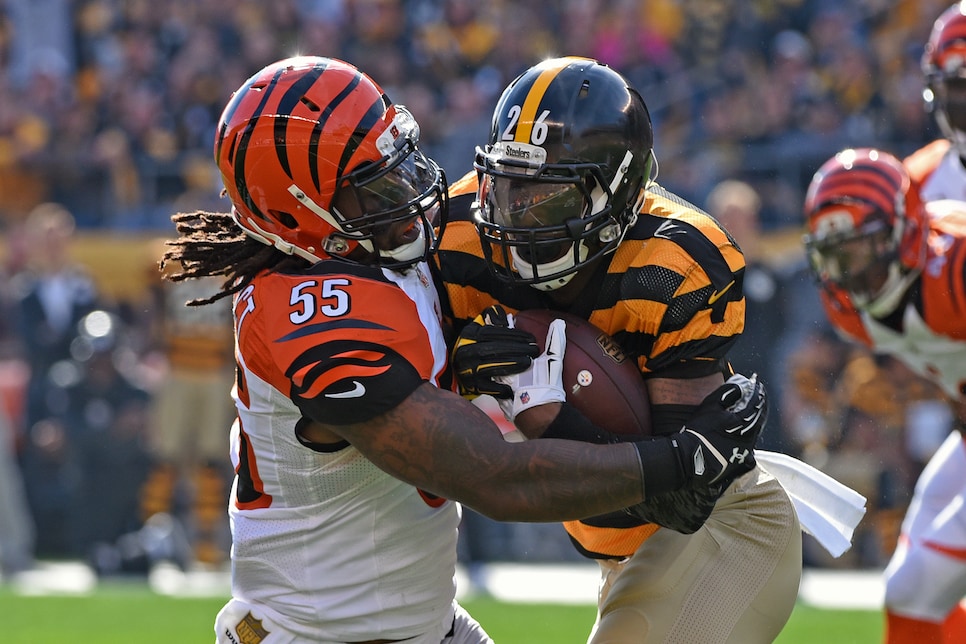 In his head-hunting heyday, former Cincinnati Bengals linebacker Vontaze Burfict was known as one of the dirtiest players in the NFL. Some of that reputation was earned, some of it wasn't, but over the course of his eight year career Burfict racked up $5.3 million in fines/forfeited salary and was suspended for a total of 22 games. His primary target over the years were the AFC North-rival Pittsburgh Steelers, including an infamous headshot on Antonio Brown that changed the course of the star wide receiver's life …
… and a perfectly legal tackle on running back Le'Veon Bell that resulted in a catastrophic knee injury (viewer discretion advised). The latter is noteworthy because it appears there's still some bad blood between the pair, with Bell challenging Burfict to a boxing match on a podcast appearance this week.
But that's where things take an M. Night Shyamalan-esque turn. Instead of gleefully accepting the invite to pound on his former adversary's skull with no interference from Roger Goodell, the retired Burfict countered with an olive branch of sorts:
A friendly golf match … for charity.
Talk about turning over a new leaf. Minor celebrity boxing matches are all the rage these days, with every insecure C-lister on the planet seemingly itching for a fight. But this is a kinder, gentler Vontaze Burfict. Age has mellowed him like a fine bourbon. So he pitched the next hottest thing amongst washed-up athletes: Golf.
Whether Bell takes Burfict up on his offer remains to be seen. We're not even sure if he plays. But should the planets align and the two do in fact tee it up, we'll be there, come hell, high water or a late hit.