CAPITAL ONE'S THE MATCH
Next 'Match' set: Super Bowl champs Patrick Mahomes, Travis Kelce to face NBA's Steph Curry, Klay Thompson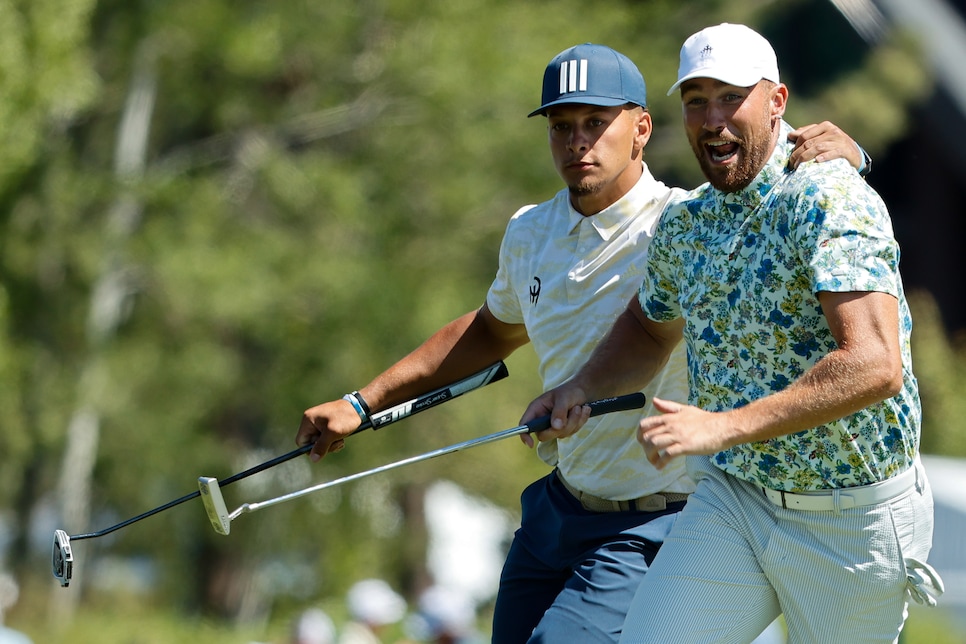 Travis Kelce and Patrick Mahomes react to Kelce making a putt for an eagle on the 18th hole during Round 1 of the 2022 American Century Championship at Edgewood Tahoe Golf Course in Nevada.
Isaiah Vazquez/Clarkson Creative
The next edition of Capital One's The Match will not include a professional golfer but it will include four of the biggest names in professional sports.
Kansas City Chiefs teammates Patrick Mahomes and Travis Kelce will face Golden State Warriors teammates Steph Curry and Klay Thompson June 23 at Wynn Golf Club in Las Vegas. The 12-hole event will be televised on TNT and coverage will begin at 6:30 p.m. ET.
All four men are current champions of their respective sports. The Kansas City Chiefs won the Super Bowl back in February, defeating the Philadelphia Eagles, 38-35. Mahomes was named the Most Valuable Player.
The Golden State Warriors beat the Boston Celtics in the NBA Finals last year to capture the title. Curry was MVP. The Warriors are now in the Western Conference semifinals against the Los Angeles Lakers and lost Game 1, 117-112, on Tuesday. Curry scored 27 points and Thompson scored 25.
This will be the eighth playing of The Match, the last one played in Florida in December under the lights when Jordan Spieth and Justin Thomas topped Tiger Woods and Rory McIlroy. This also marks the second time that the four participants will be from outside the world of golf, and the second time that Mahomes and Curry are competing. Tom Brady and Aaron Rodgers beat Mahomes and Buffalo Bills quarterback Josh Allen last year at Wynn Golf Club. Phil Mickelson and Charles Barkley beat Curry and Peyton Manning three years ago in Arizona.