News
The Match Live Chat: Woods/Manning vs. Mickelson/Brady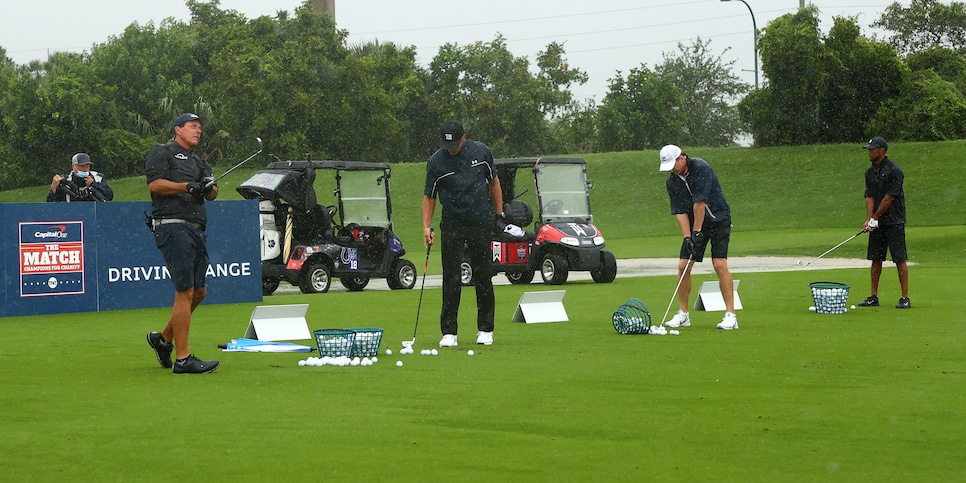 Welcome to the Golf Digest live chat for The Match: Champions for Charity, featuring Tiger Woods and Peyton Manning taking on Phil Mickelson and Tom Brady. Through Sunday's exhibition at Medalist Golf Club, several of our editors will be providing a rundown of the event, along with side discussion on Tiger, Phil and whatever golf-related item may arise.
The format for the event is an 18-hole match, though the front and back nines will be very different. On the front nine it will be Four-Ball, better known as best ball to the weekend golfer. Each team member plays their own ball, and the lower of the two scores is the team score for that hole. The low score between the two teams would win the hole. Brady and Manning will each get three strokes on the front nine, one on a par 3, one on a par 4 and one on a par 5. A committee will determine which three holes.
On the back nine, the teams will play a Modified Alternate shot, which some may know as the Pinehurst format. In this format, each team member hits a tee shot, then they select the best tee shot of the two and alternate from there until the ball is holed. There will be no handicap for Brady and Manning in this format.
In the event of a tie, the match will go to an extra, shortened hole. Teams will continue playing Modified Alternate Shot, though it will be from a spot 100-125 yards away from the 18th green. They'll repeat until a winner is determined.
For those wondering how to tune in, the Match will be broadcast live on TNT, TBS, truTV and HLN beginning at 3 p.m. ET. It can also be streamed on TBS.com, TNTdrama.com, as well as the TNT, TBS and Bleacher Report (B/R) apps on mobile devices.
8:10 p.m.: And that's it! The Match ends with an exciting. . . lag putt! From Tiger Woods! No, seriously, that was a very entertaining event, just not the most riveting finish. But Woods did what he needed to, cozying his 40-foot birdie attempt to within tap-in range after Mickelson's birdie chip came up four feet short. And it's a good thing Tiger lagged it to gimme range after Peyton showed a shaky putting stroke on the back. . .
So Woods/Manning win 1 up. And Tiger pulls all square with Phil in THE MATCH titles. Good times. And more importantly, productive times. The event wound up raising $20 million for COVID-19 relief efforts. Well done, everyone. Same time, same place next week?
8:06 p.m.: Not surprisingly, the tee shots of Tiger and Phil are used, putting the pressure on Brady and Manning to hit the approach shots. Brady doesn't catch his cleanly and comes up short, while Manning finds the left side of the green. A two-putt from there should close out the match, but Phil has been known for some short-game magic. He's going to need it here.
7:59 p.m.: Neither team is able to birdie the par-5 17th and this is going to 18 (Congrats if you bet that!) with Woods and Manning still clinging to their 1-up lead. The star-studded foursome will face a 446-yard closing par 4. And there's plenty of trouble out there. . .
7:46 p.m.: Par-3 16th is bringing out the best in everyone. Or maybe it was the presence of Russell Wilson, who just joined the broadcast. The Seahawks QB makes everyone on the field better.
Phil hit one close, Brady hit one close, Peyton nearly ACED the hole. Tiger? The greatest golfer ever? He found the green, about 25 feet away. What a chop.
Fortunately, it's alternate shot. Peyton's putt was good, and Phil made another clutch putt, this time for birdie. He and Brady are 1 down with 2 to play. This is getting good!
7:40 p.m.: Massive par save from Phil at the 15th to keep it 1 down with three to play. Stones.
7:28 p.m.: Folks, we've got a match. Phil threw a wedge in close at the 14th, setting up a short birdie look for Brady. Then, Woods chipped he and Peyton's third to about five feet, setting up a par putt. Brady missed, then Manning missed, giving Mickelson and Brady a cheap win. But in golf or in football, a win is a win is a win is a win. Brady and Mickelson are just 1 down. They were +1100 standing on the 10th tee, if you're into that stuff.
7:11 p.m.: Oh no. We're in full monsoon territory right now. But they are finishing the 13th hole and it's getting ugly in the alternate shot format. The hole was halved with bogeys in the pouring rain. Mickelson and Brady remain 2 down.
7 p.m.: Tiger and Phil looked like .... Tiger and Phil at the par-3 12th. Mickelson stuck one close then Tiger stuck one right on top of him. The amateurs both missed the short birdie putts. Alternate shot remains the best.
6:47 p.m.: My word. At the drivable par-4 11th, Phil literally dropped a bomb, finding the green and setting up Brady with an eagle look. "This is where it changes, that's just how I roll," says Phil. Vintage.
Phil was right. Brady BURIED it for an eagle 2. They're now just 2 down. 28-3 vibes like you read about...
6:43 p.m.: As good as Tom Brady's hole out was, he may have just hit his most clutch shot of the day. After Phil talked him through it in as much detail as possible, Brady rolled one to four feet from way off the green to secure a par. Tiger cozy-ed up his birdie effort and the hole was halved with pars.
6:30 p.m.: New format for the back nine: Modified Alternate Shot. All four guys tee off, and each team selects the best drive. Then they alternate from there. Things could get very interesting. Brady and Mickelson, who are 3 down, need some chaos from the other two.
6:20 p.m.: All players come up just short of the green, but Phil and Tiger are able to get up-and-down for pars.
Heading to the back, Woods and Manning hold a 3 Up lead.
6:10 p.m.: This thing has been so damn captivating that Tiger Woods playing and looking great is an afterthought.
6:05 p.m.: Manning has a pure shot into the par-3 eighth, and though he misses the birdie, gets a 3-for-2. But Mickelson answers with a birdie of his own. Woods/Manning remain 3 Up.
5:55 p.m.: And Tom Brady split his pants. This has been remarkably entertaining.
5:47 p.m.: HOLY COW. After getting smoked for six holes, Tom Brady holes out for birdie! Miracles do happen.
Meanwhile Woods lips out for eagle. Can't make this stuff up.
5:46 p.m.: Tiger finds the green in two, while Mickelson calls for it to be right...only for it to fall 20 yards short of the green.
5:40 p.m.: Tiger rips the smokewagon on the par-5 seventh, while Phil finds the sand. Manning and Brady find the beach as well, which is a hell of an improvement for Brady.
5:35 p.m: Manning is bringing HEAT. Makes a 5-for-4 for the win, moving Woods/Manning to 3 Up. This baby might not reach the 15th hole.
5:28 p.m.: Tiger's approach slides just off the green, but he's closer to the pin than Phil. Brady shanks his third over the green, while Manning lags an 80-footer to six feet or so.
5:17 p.m.: Woods and Mickelson go just off the fairway, while Manning seems to be finding a groove, hitting a nice, low drawing tee shot. It is unclear if they're letting Brady hit the ball anymore.
5:08 p.m.: The fifth hole is a one-club challenge. But mostly it's been another vehicle to make fun of Brady, who puts his tee shot into a pond.
Using a 4-iron, Woods goes fairway-green, but his putt comes up six feet short. Mickelson, using 6-iron, is unable to undue a poor tee shot, walking off with bogey. Tiger lips out his par putt, so no blood. Woods/Manning still 2 Up.
4:57 p.m.: Manning! Dude makest the most of his nice approach by converting the putt for a birdie. Team Tiger/Peyton are now 2 up thru four.
4:50 p.m.: Manning goes first and hits it to 15 feet on the par-3 fourth, Woods is even closer with his approach. Brady, on a challenge from Charles Barkley for $50,000...proceeds to hit a lateral shot. Mickelson also goes way right, blaming something going off in his earpiece.
4:44 p.m.: Woods and Maning goes 1 Up after Mickelson fails to safe par (Manning had a shortie for a 6-for-5, Woods even shorter for birdie).
4:34 p.m.: Mickelson is able to bunch out into the fairway on the par-5 third, while Woods smokes a wood just over the green.
4:31 p.m.: Phil informs the audience Workday, one of his sponsors, has added $1.5 million to the long-drive pot. Phil exclaims, "This is for you, Workday" and proceeds to put his drive in the trees. (Chef's kiss.)
Meanwhile Brady loses two balls off the tee. Dude really is lost without Bill Belichick.
4:23 p.m.: Phil spent roughly 15 minutes explaining how we was going to pull off a chip shot...and proceeds to nearly hole it. Requisite "Phil being Phil" reference. Phil's par against 4s from Manning and Woods keep it tied.
4:15 p.m.: Manning, with a strike from 200 yards, rolls up on the green. He looks like he genuinely is digging this. Brady, meanwhile, looks like he wants to fire his agent.
4:11 p.m.: Woods and Mickelson drops bombs on the 500-yard par-4 second. Brady, playing from tees 40 yards up or so, likely finds the sand, while Manning has a nice little snapper that finds the fairway.
4:04 p.m.: Tiger and Phil both makes pars, even after one. Not sure what Brady or Manning made but the fact Tom was pointing back and trying to count sums it up.
4:00 p.m.: Both Manning and Brady punch out into the fairway (Manning had to take a drop), while Mickelson is able to get his punch to the front of the green. Woods finds the green but it's well right off the pin.
3:50 p.m.: And we're off! Hitting first, Phil's iron is way left, going up against brush. Tiger follows with a fairway wood to the left-side of the fairway. Manning and Brady...ugh...well, let's just say they may already be in pocket.
3:41 p.m.: Still no golf, but I promise we'll let you know when they do.
3:25 p.m.: Credit to TNT. This is an all-time stall move. By the way, there's not so much standing water as there are ponds on the greens at the moment.
3:00 p.m.: Uh, so it's not so much raining as it Noah's Arking. No official announcement on a suspension.
2:50 p.m.: It appears the event will be delayed by at least 45 minutues. Coverage is still expected to start at 3.