The Grind
Viktor Hovland jabs Jack Nicklaus, Rose Zhang makes history, and Charlie Woods dominates with Tiger watching
Welcome to another edition of The Grind, where we wonder if the new Apple Vision Pro can make the incredibly confusing new state of golf easier to see. Not that I'll ever own one. I'd need a LOT of golf bets to fall my way before that happens. Although 250-to-1 longshot Justin Suh holding onto that 36-hole lead at the Memorial would have helped. And I still don't even quite get what this newfangled device does anyway. Maybe it could it have been used to see this stunning PGA Tour-LIV merger coming?! Anyway, here's what golf-related things I'm "buying" and "selling" (and in the case of that news bombshell, "waiting" on) instead.
The shocking news of the PGA Tour's merger with LIV came out just as we were about to publish … and … wow. Just wow. It seems like a LOT has to be figured out so I'm going to hold off on making any judgements yet. But something tells me this development has a lot to do with Rory McIlroy suddenly not wanting to talk about this stuff anymore. I'll be glad to see all the best players not as split up, but I also worry about the history of the tour remaining intact. Again, wow. Just wow. What we can say for sure, though, is that Season 2 of "Full Swing" is going to be LIT!
Viktor Hovland: All hail the Resort King, winning yet again in a tropical paradise! Wait, never mind. He won in Ohio. The Norwegian has proved in the past three majors that he has game that will travel anywhere, but it must have been nice to get back in the winner's circle after a bunch of close calls—and to win on U.S. soil. And although the Memorial Tournament isn't technically a major, that handshake from Jack Nicklaus and that check for $3.6 million will certainly make it feel like one:
Speaking of Jack, it was amazing to see how comfortable Hovland was around the 18-time major champ, cracking jokes and even informing the legend that he's not a big deal in Norway:
This young gun has game and sass for days. And now he can afford all the Chipotle he could ever want. Heck, he should open a few of his own franchises.
Rose Zhang: I guess, hello, world, huh? Seriously, we might be witnessing the next Tiger Woods here, folks. I'm not saying Rose will have the fame and impact that Tiger did, but she could wind up being just as dominant. She's won every title imaginable on her way to turning pro, including breaking Tiger's record for wins at Stanford (12 in just 20 starts!). And less than two weeks after winning a second consecutive NCAA title, she became the first player to win her pro debut on the LPGA Tour in 72 years. What a storybook start to what could be a truly legendary career.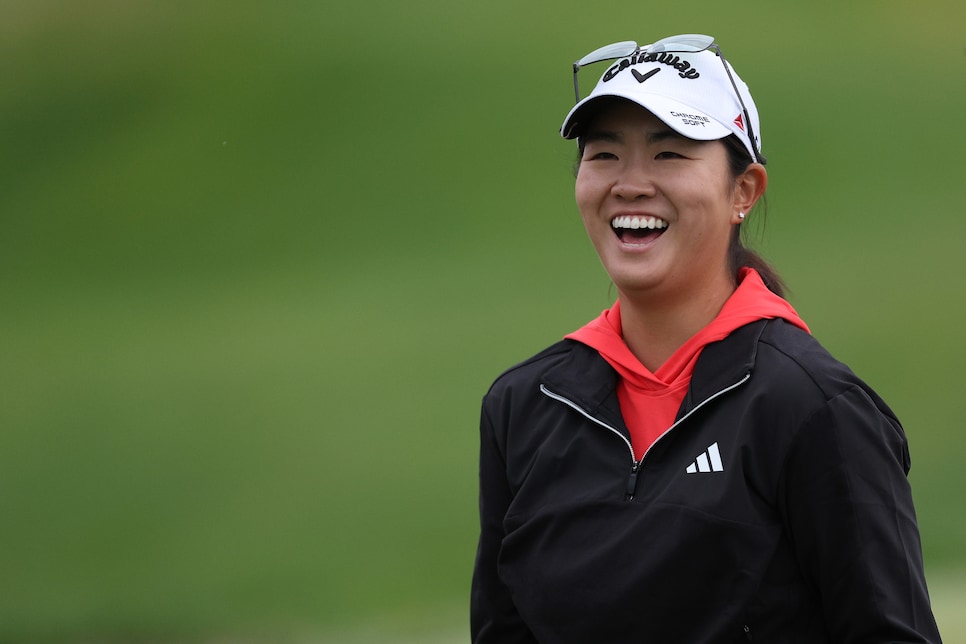 Just remarkable stuff. In fact, she's won 10 of her past 12 stroke-play events! How is that even possible?! Heck, she's certainly got Tiger's attention:
The only bummer is that despite the fact we all saw this coming, I didn't place a bet on her winning at 40-to-1 odds. Vegas was asleep at the wheel for once and I didn't take advantage. Bad job by me. I'll never get those new Apple goggles now. Oh, and bad job by the first-tee announcer on Thursday, getting Rose's name backwards:
We're pretty sure that's never going to happen again.
Denny McCarthy's touch: We've known about Denny's putting prowess for years, but how about his silky jumper? The dude absolutely dominated some fellow PGA Tour pros in a three-point contest at Ohio State's practice facility ahead of the Memorial:
So he didn't walk away from Dublin without a win. And his runner-up check for $2.1 million made him just the 16th player to crack $10 million in career PGA Tour earnings without a title. We saw his emotions pour out after his latest heartbreak, but it's not the worst thing in the world. Hang in there, Denny.
Scottie Scheffler's ball-striking: From tee to green this guy is an absolute monster right now. For a second consecutive event, Scheffler led the field in strokes gained in that category, and at Muirfield Village he recorded the second-best number in that metric in the ShotLink Era. Just historic ball-striking. Is this Texan the new Hogan?! Hey, that bodes well for next week's U.S. Open!
Scottie Scheffler's putting: Unfortunately for Scottie, he might have won the tournament with a random person in the gallery putting for him. As good as his numbers were getting to the green, they were just as bad once he got there. He finished one shot out of the Hovland-McCarthy playoff despite not making even one 10-footer all week.
OK, maybe don't hand him that U.S. Open trophy just yet.
Missing your U.S. Open final qualifier: Such was the sad case for former PGA Tour pro turned announcer Andres Gonzales. The two-time Korn Ferry Tour winner was part of PGA Tour Live's Sunday coverage of the Memorial and figured he had plenty of time to get back to his home course, Tacoma Golf & Country Club, for Monday's tee time, but then the airlines struck. Tough break.
But nicely handled, Andres. Those other guys are lucky, indeed.
'Snake liquor': Golf fans learned more about David Lipsky with him being in contention over the weekend at the Memorial, but one factoid jumped out. A self-described world traveler, Lipsky shared that he once drank alcohol in Vietnam restaurant from a barrel that contained a snake. I'm not sure if the snake was dead or alive, but either way, no thanks! "It was terrible. But I still took it" You're crazy, David. I love you, but you're crazy.
The PGA Tour heads to the Great White North for the RBC Canadian Open, AKA that one they play in Canada, AKA that other one that Michael Block received a sponsor's exemption to play in. It's also the one that his playing partner pal from the PGA, Rory McIlroy, has won twice. In fact, in a weird twist due to COVID, no one other than Rory has won this tournament since 2018.
Random tournament fact: Dating back to 1904, the Canadian Open is the third-oldest continuously running tournament on tour, only behind the U.S. Open and Open Championship. However, this is the first year that it will be played at Oakdale Country Club. Hopefully for Michael's sake, Rory's length won't be as much of a factor there.
RANDOM PROP BETS OF THE WEEK
—I will ever try any type of drink from a barrel with a snake: 1 MILLION-to-1 odds
—Rory McIlroy will win the RBC Canadian Open again: 4-to-1 odds (Actual odds)
—Michael Block will never live that Rory line down: LOCK (Poor guy)
TWEET(S) OF THE WEEK (TOUR PRO DIVISION)
Phil Mickelson has been on fire on Twitter the past couple weeks (now we know why), but this was his best work:
That being said, dig Hideki's style. Of course, after news of the merger broke, that tweet hits a bit differently. And Ben An offered his own update:
TWEET OF THE WEEK (TOUR WAGS DIVISION)
Our favorite golf Tinder couple, the Hadwins, were back at it again over the weekend. After Adam, who missed the cut at the Memorial, dared to mock Jessica's method of loading their dishwasher, Jessica struck back with a brutal burn:
Perfect response. Look, I load the dishwasher in our house because my wife does it wrong, too, but I'd never blast her publicly. Wait. Whoops. Hopefully, she's not reading this …
CLUB PRO GUY TWEET OF THE WEEK
We have a Tiger Woods sighting, folks!!!
OK, so don't get too excited because he's got crutches on the back of that golf cart, but it's good to see the Big Cat out and about. And it's even better to see that Little Cat is doing his thing on the junior circuit, winning the 14-15 age division of a Hurricane Junior Golf Tour event by EIGHT shots:
Looks like Charlie is in PNC Championship form already.
Introducing California pro Brett Silvernail, who is taking the "swing your swing" motto to a whole other level:
Would love to get Club Pro Guy's take on this move.
THIS WEEK IN PUBLIC DISPLAYS OF AFFECTION
The best part of any Viktor Hovland win? We get to see/hear the call by Norwegian broadcasters. And this one didn't disappoint as their happiness led to a big bear hug in the booth:
Aww. Jack might not be a big deal in Norway, but Viktor certainly is getting there.
THIS WEEK IN PUBLIC DISPLAYS OF FRIENDSHIP
As if we couldn't love Hovland more, just hours after the biggest win of his career (so far), he was back out on a different course caddieing 36 holes for a college buddy, Zach Bouchou, at a U.S. Open final qualifier:
Unfortunately, Zach didn't make it through, but what a cool gesture by Hovland. I don't care how much money he made on Sunday, Zach better have treated at Chipotle on Monday.
THIS WEEK IN PUBLIC DISPLAYS OF GRIT
Kudos to my fellow Wake Forest Demon Deacon Michael Brennan for pulling off this incredible up-and-down in a playoff to punch his ticket to the U.S. Open:
"I don't know where he's at. He's probably drunk right now." —Viktor Hovland when asked his caddie's whereabouts just minutes after he won. Forget the Resort King title, this guy might be the new Content King.
Congrats to Stephen Ames for taking down Steve Stricker on the PGA Tour Champions. That's about as tough as beating Tiger in his prime—as Ames famously found out the hard way at the World Match Play that year. … Congrats to 20-year-old Tom McKibbin for winning his first DP World Tour event. A young phenom from Holywood Golf Club in Northern Ireland? We've seen this movie before. … Speaking of youngsters, shout-out to 13-year-old Jaden Soong, who failed to qualify for the U.S. Open, but still shot rounds of 73 and 76. Something tells me he's going to have juuuust a few more chances. … I'm happy to report that yours truly made it through the first round of the Golf Digest Match Play. I'm even more happy to report that unlike some other matches in the bracket, there were no sandbagging accusations! … And finally, this was the line I faced at the driving range over the weekend—and it wasn't even a nice day!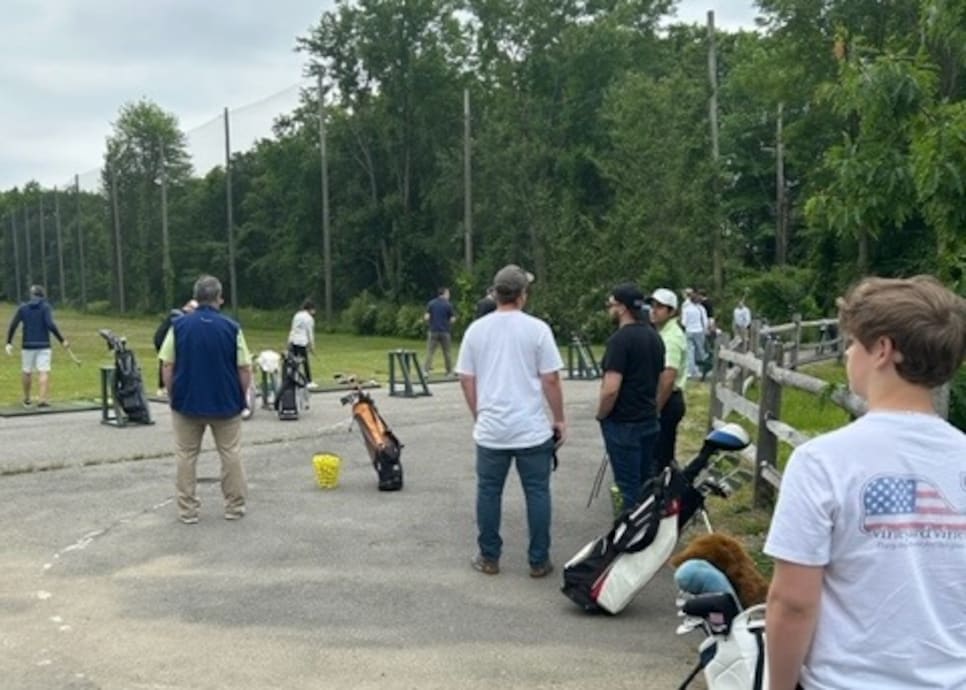 Is it possible we're GROWING THE GAME too much? Kidding. Sort of.
RANDOM QUESTIONS TO PONDER
How many majors will Rose Zhang win?
How many celebratory milkshakes did Viktor Hovland drink?
Why aren't there more driving ranges around me?