U.S. Open
U.S. Open 2021: Hideki Mastuyama snaps belt, chunks chip, doubles, has never been more relatable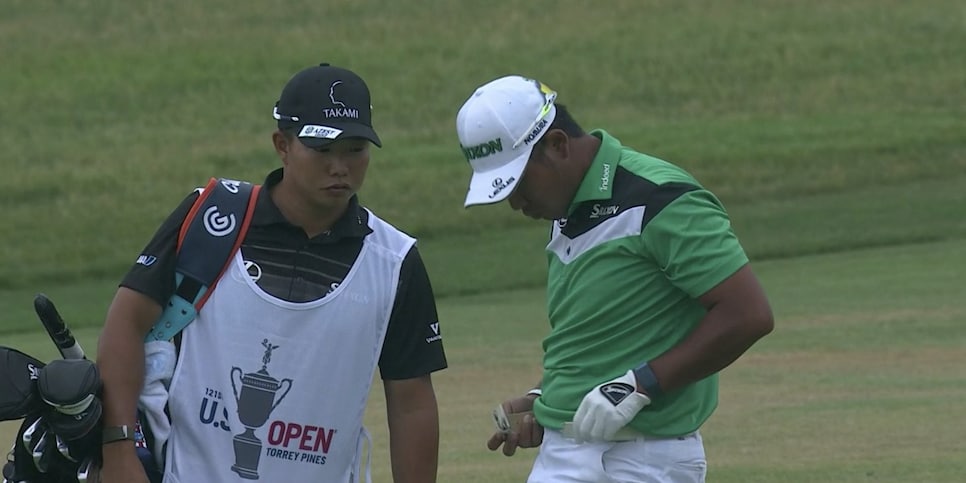 SAN DIEGO—Hideki Matsuyama is the reigning Masters champ. That is a circumstance only a select few can understand. But Mastyama is also a golfer and a man, identities that are far more relatable. And Matsuyama has never been as relatable as he was Friday morning at Torrey Pines.
Matsuyama was among the U.S. Open's first wave in Round 2, looking to build off a solid performance (two-under 69) that left him just two off the pace. Unfortunately for Matsuyama, things fell apart on the opening hole. Literally.
Matsuyama, one of the best ballstrikers in the world, took perhaps too fierce a swing on his approach at Torrey Pines' 10th hole (Matsuyama began his day on the second nine), causing his belt to snap.
OK, it's not quite Roy Hobbs breaking "Wonder Boy." But as anyone who's accidentally left the house without a belt knows, you might as well call it a day. Because the annoyances that await—like keeping your hands in your pockets at all times or continually turning the waistband down to tighten the pants up—is a fate worse than death.
Clearly it affected Matsuyama, as he proceeded to use three chips around the green before ultimately walking away with double-bogey.
If there's any solace to be found, this is a U.S. Open, a tournament that has a reputation for making players feel like they've just been depantsed. But hopefully that notion remains figurative for the rest of the week.


MORE U.S. OPEN 2021 STORIES FROM GOLF DIGEST: