How about that?
U.S. Open 2022: Rory McIlroy's running birdie, Matt Fitzpatrick's long drive conquest and four other surprises from Friday at The Country Club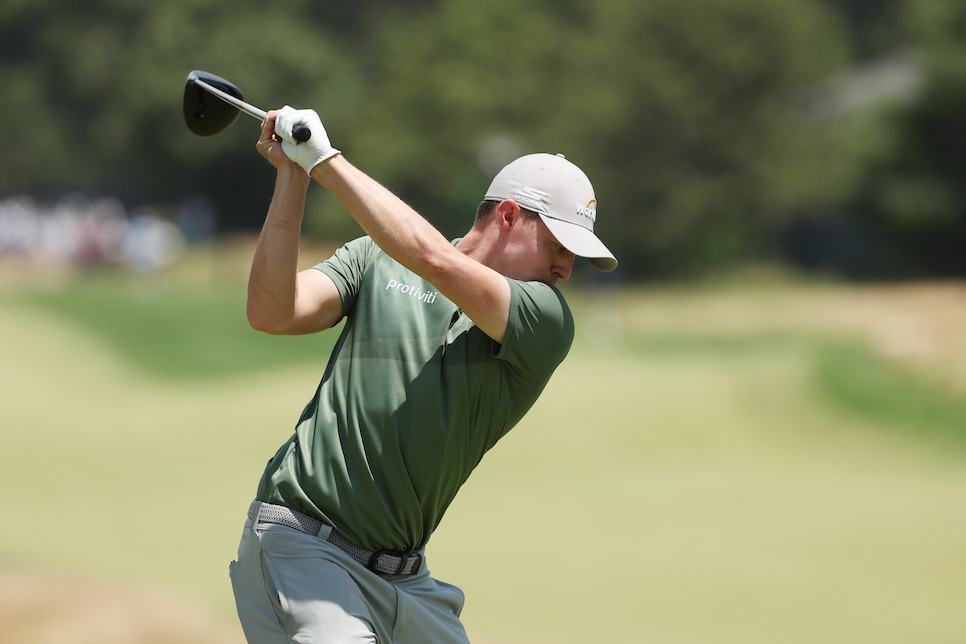 BROOKLINE, Mass. — Day 2 at the U.S. Open has come to an end, and there were plenty of things that left us scratching our heads. Here are eight surprises from the second round at The Country Club:
The tales of Fitzpatrick's increased pop off the tee have not been exaggerated. And on Friday, Dustin Johnson found that out in person. We're pretty sure DJ knew who Fitzpatrick was before this week—unlike his (lack of) knowledge of MJ Daffue—but we're guessing he was surprised to be hitting his approach shots before the Brit all day. Even Fitzpatrick, who has made huge gains in distance in the past year-plus thanks to a new fitness routine and speed-training sessions, was even surprised that he was out-driving one of the longest hitters in pro golf.
"Yeah, hitting the drives I hit this week so far and seeing where he's hit his has been quite eye-opening for me," Fitzpatrick said after.
"For me, I've just got to try and hopefully just take advantage more of it," he added. "If now on paper I'm hitting it past DJ, you look at the success he's had, if I can emulate that, then I'll be a very happy man."
He's also got to be pretty happy to be two under through 36 holes and in contention at a second consecutive major.
Wanna see a golfer move fast? Watch when their golf ball settles precariously close to a false front. Such was the case of Rory McIlroy's approach shot on No. 17 that came close to spinning off the front. As fans yelled variations of, "You better mark that quick!" that's exactly what Rory did, sprinting up to the green to put a coin on his ball.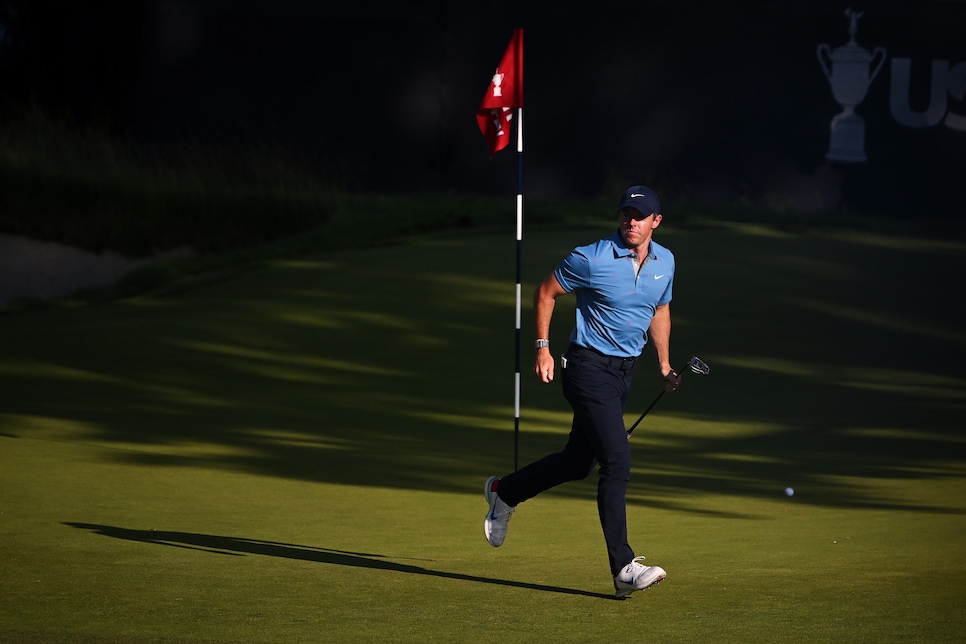 What an athlete. Seriously, the dude was moving. Turns out, he also did it in part because he didn't want playing partner Xander Schauffele to hit it with his approach on the short par 4. Either way, Rory was proud of his wheels after and said he's capable of running a 100-yard dash even faster.
"I've got more than that in the tank," McIlroy said with a smile.
I don't doubt it. The best part? McIlroy wound up draining the birdie to move to within one of the lead heading into the weekend. The lesson? Stay in shape, folks.
Viktor Hovland's bogey party
The Norwegian star's name was near the top of the leaderboard early Friday morning, but a stunning turn of events had him leaving Brookline before the weekend. His mode of transportation? The bogey train. A long, long bogey train.
After birdieing two of his first seven holes, Hovland looked like he was going to put himself in great position heading into the weekend. Heck, the guy known for struggling with his short game even chipped in for birdie on No. 2. But then he turned into an 18-handicapper, making six consecutive bogeys on holes 8-13. Pretty crazy for the eighth-ranked player on the planet. And he wasn't done! Bogeys on 6, 8 and 9 gave him a crazy nine blemishes over his final 11 holes, resulting in a 77. Of course, it doesn't help when you end up in spots like this: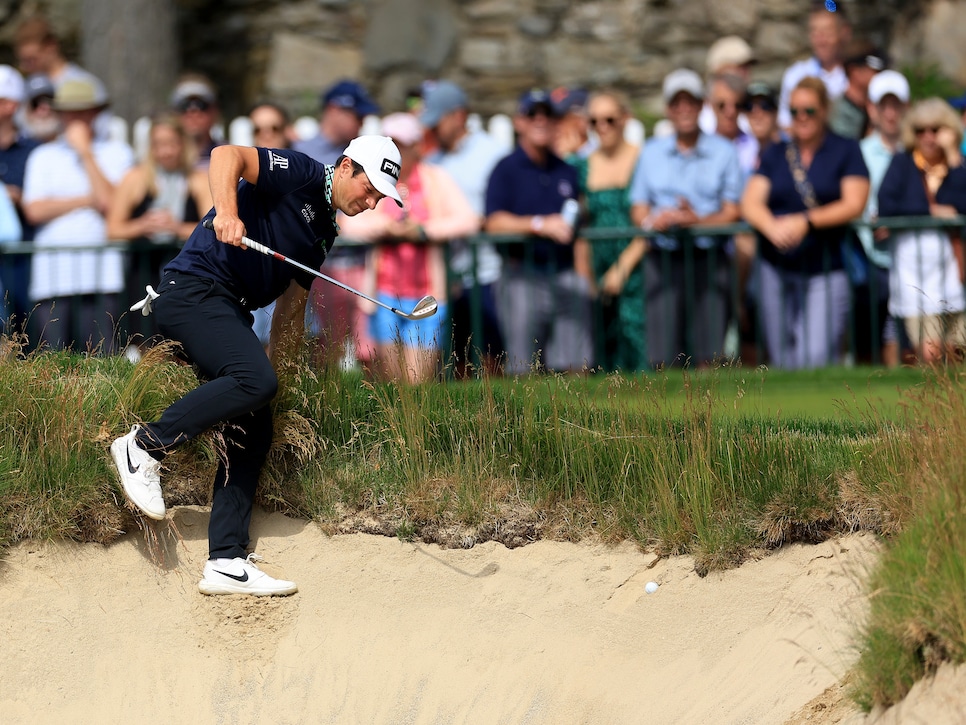 Last year Hovland had a disappointing early finish to this tournament when he withdrew due to a fluke eye injury suffered in a bunker at Torrey Pines. Incredibly, this may have been a more painful exit.
Joel Dahmen is your leader
Dahmen took in a Ben Rector concert on Thursday night. On Friday evening, he took the lead at the U.S. Open. Well, a share of the lead, that is.
Dahmen missed birdie putts of inside 10 feet on his final two holes, but that didn't keep him from grabbing a spot in Saturday's final pairing with Collin Morikawa. Not bad for someone who had failed to make the cut in two previous U.S. Open starts.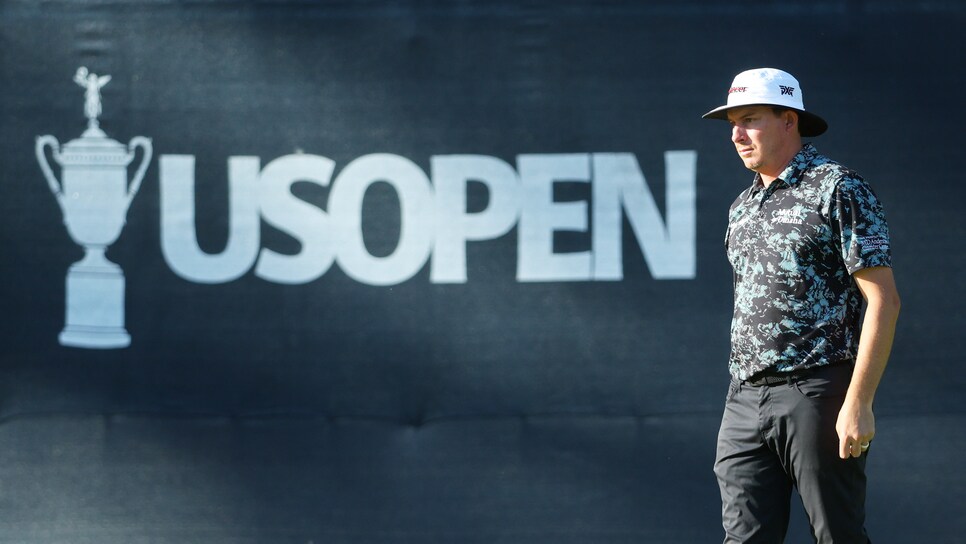 So more golf history can be made at Brookline this weekend. Because we're pretty sure Dahmen would be the first U.S. Open champ to rock a bucket hat.
Justin Thomas goes in reverse
It wasn't nearly as bad as Hovland backing up, but we didn't expect the reigning PGA champ to start his second round with a double bogey—especially after he piped his opening tee shot 320 yards down the middle on No. 10. But after airmailing the green, Thomas left his first chip in the rough and was unable to get up and down from there.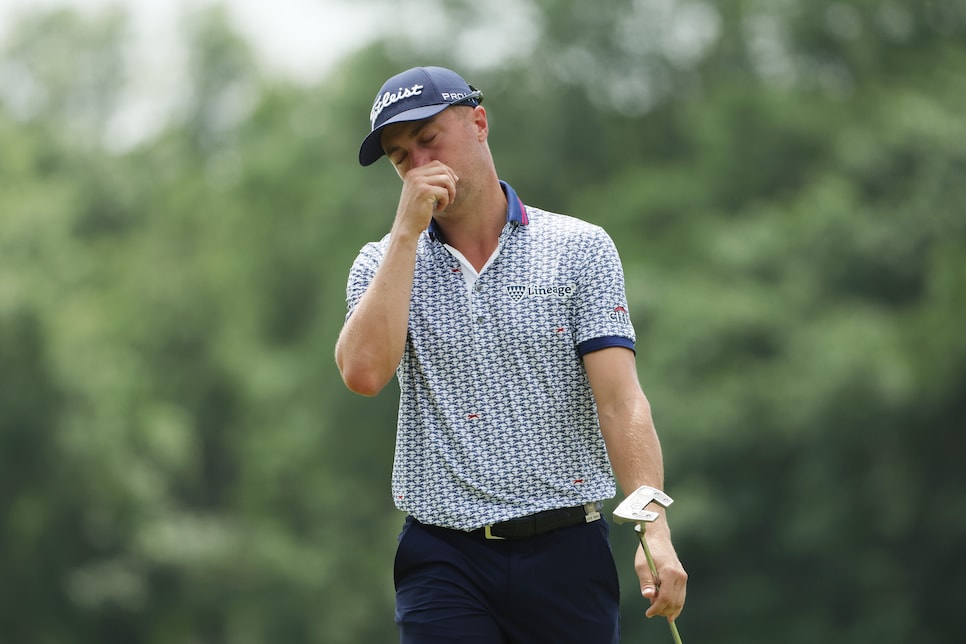 He then missed a four-footer for par on the next hole to tumble farther down the leader board. On the bright side, JT clawed his way to shoot one under the rest of the way, and at one over through two days, he's certainly not out of it.
The cut line at The Country Club
Let's just say they're not going to call this U.S. Open "The Massacre in Massachusetts." As expected, the cut line wound up being over par, but not as over as most predicted.
In the end, you needed to be three over or better to be one of the 60 and ties to make it to the weekend. See, this place isn't so tough, after all! Of course, if players are thinking that, they should probably keep it to themselves. The USGA has two more days to wreak havoc.