Live Blog
U.S. Open 2022 live updates: Collin Morikawa, Joel Dahmen share the lead with Jon Rahm and Rory McIlroy in chase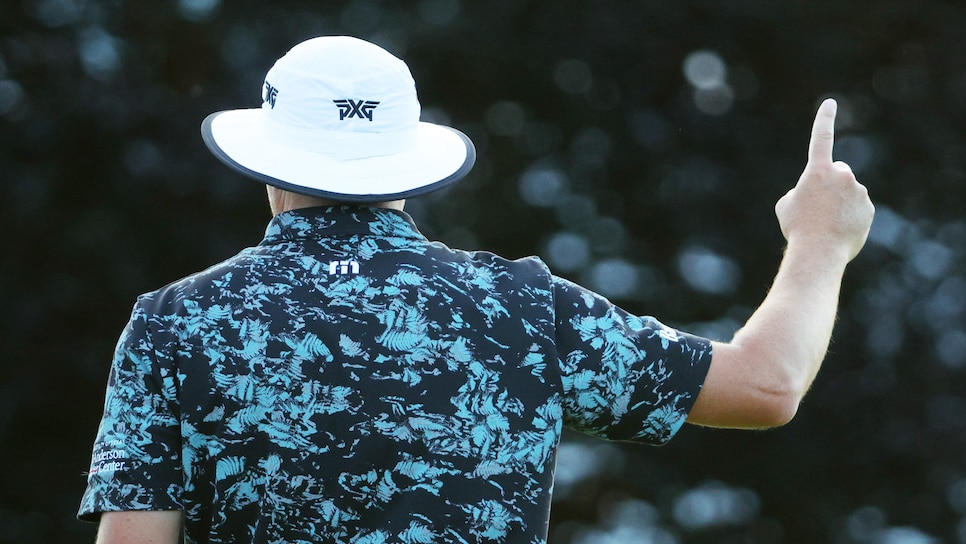 Joel Dahmen reacts after making a putt for birdie on the 15th green during the second round of the 122nd U.S. Open Championship.
Andrew Redington
It was part luck of the draw, but mostly talent, of course. Three major champions were fortunate enough to play in the benign afternoon conditions at The Country Club for the second round of the U.S. Open, and they did not waste the opportunity.
Collin Morikawa, reigning titlist of the Open Championship, shot the lowest score on Friday and and tied for the best card of the week in shooting four-under-par 66 to share the lead with surprise contender Joel Dahmen (68) at five under. Dahmen, who emerged from a Final Qualifier, will play on the weekend for the first time in three tries in the U.S. Open.
(Scroll down for the latest updates)
Among those who are just one shot behind are defending U.S. Open champion Jon Rahm (67) and Rory McIlroy, who overcame a double bogey on the third hole to score 69. McIlroy, of course, is coming off his win last week in the RBC Canadian Open and is trying to win his fifth major and first since 2014.
Morikawa is going for his third win in his last nine major stats and with a victory would have completed three legs of the career Grand Slam.
This year's Masters champion, Scottie Scheffler, is once again in the majors mix after tying for the best score in the morning (67) in much more challenging conditions. He's only two off the lead.
The cut came at three over par. Among the notables who missed the weekend: Phil Mickelson, Sergio Garcia, Shane Lowry, Tony Finau, Billy Horschel, Daniel Berger, Harold Varner III, Viktor Hovland and Tommy Fleetwood.
U.S. Open 2022 live updates (all times eastern):
7:42 p.m.: Dahmen, who has done his best to downplay his chances of winning any major, is now the co-leader going into the weekend after finishing off a 68. How extraordinary is the scenario?
7:20 p.m.: For those keeping score at home, of the defectors to LIV Golf, four made the cut: Dustin Johnson (one over), Patrick Reed (one over), Richard Bland (two over) and Bryson DeChambeau (two over). Those who missed: Phil Mickelson, Louis Oosthuizen, James Piot, Shaun Norris, Branden Grace, Talor Gooch, Sam Horsfield, Kevin Na, Jed Morgan and Jinichiro Kozuma.
6:52 p.m.: Joel Dahmen is the co-leader with this incredible putt.
6:48 p.m.: Rory McIlroy and his fans just heaved a huge sigh of relief. He made a testy par putt on his final hole to shoot 69 to be only one shot off Morikawa's lead heading into the weekend. Rory came back strong after a double on No. 3 with five birdies over the last 14 holes, including three in the last seven. With 67-69, it's the seventh time McIlroy has started a major with his first two rounds in the 60s. He converted on three of those.
6:15 p.m.: Be honest. The leaderboard needed a boost today after a rather ho-hum morning wave. Thankfully, we got it. Two-time major champion Collin Morikawa just polished off a 66 (low of the day and ties for low of the championship) to own the solo lead at five under. His group-mate, Jon Rahm, the defending U.S. Open champ, scored 67 and is tied for second. Incredibly, his is the first time Morikawa has led after 36 holes in a major. And late bulletin: Rory McIlory just birdied, and now he's also tied at four under with one hole to play. With Scottie Scheffler at T-6, it's a board we can again fall in love with.
5:56 p.m.: Cash those hole-in-one prop bets! Cameron Young just dunked one at the par-3 sixth hole.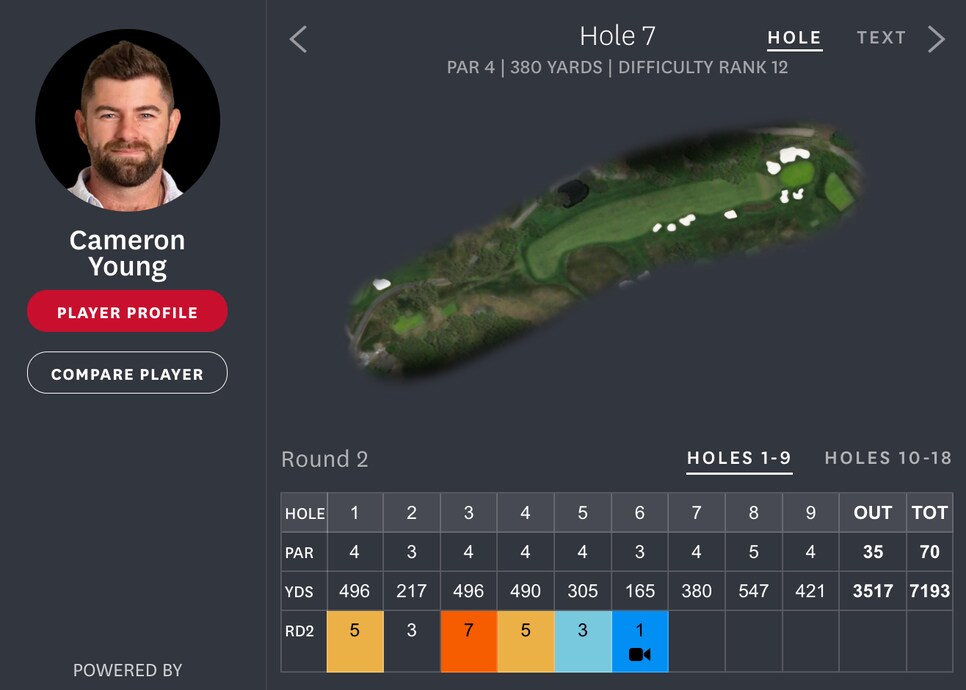 How about this back nine for Young ... that's quite colorful. He'll need a few more birdies to get inside the projected cut of 3-over.
5:49 p.m.: WOW, Collin Morikawa hit an absolute laser into the par-5 eighth hole, which is playing (by far) the easiest hole of the day. But he misses the eagle look, which would've gotten him to 6-under. He'll settle for the solo lead at 5-under, which is now one better than Jon Rahm (who also birdied No. 8 in the same group), Joel Dahmen and Hayden Buckley.
5:38 p.m.: Get to know Hayden Buckley, folks. He just stuck his approach to about 4 feet at the finishing hole to tie Collin Morikawa and Joel Dahmen atop the leaderboard.
Buckley's in his first season on the PGA Tour and has a couple top finishes this season—but he's made just one cut since March (a T-61 in Mexico). He's 112th currently on the FedEx Cup standings, so even a top-25 finish for him could be a lifechanging type week for the Chattanooga, Tenn., native. Golf is a crazy, crazy game.
5:26 p.m.: Rory McIlroy reached the mammoth par-5 14th hole in two from 266 yards out (!), which plays significantly uphill. We've seen a few guys reach today with the hole playing downhill. Rory NEARLY holes the 50-plus-footer for eagle, but he'll settle for birdie, which will put him one back of the lead. This is a nice late-day rally for the Northern Irishman.
5:18 p.m.: A tough one there for Joel Dahmen. His approach to the elevated 10th green went way left, which is deadsville. Dahmen makes just his second bogey of the day to fall back into a tie with Collin Morikawa for the co-lead at 4-under.
5:16 p.m.: Oh man ... it's a chop fest right now for Brian Harman, who we've officially doubed a "big game hunter" for his penchant to pop up on major leaderboards (sometimes). Well, his third found an awful lie in the bunker at the par-4 13th hole, and his shot flew the green up against the collar. The result is a double bogey ... which sends the diminutive lefty back down to 2-under ... a disappointment after he was one of the guys at 4-under.
5:05 p.m.: Don't forget about Jon Rahm, folks. The defending champion just drove the green ... with a fairway wood. A nice two-putt and he finds himself two off the lead and two under for his second round.
4:59 p.m.: Collin Morikawa will have to settle for a par at the short par-4 fifth, which is playing as the second-easiest hole right now. He remains one back of the lead, still held by Joel Dahmen, who got up and down at 9 to remain at 5-under.
4:45 p.m.: We now have a reversal at the top of the board. Collin Morikawa found the rough with his drive left off the tee, and then missed his 10-footer for par. He moves back to 4-under and just one off the lead ... which is now held by Joel Dahmen, who stuck his second shot at the par-5 eighth hole to just inside 15 feet. Dahmen nearly holed the eagle putt, but he'll settle for the birdie that secures the solo lead for Dahmen with 11 holes in his round to go.
4:32 p.m.: OK, there's a big birdie for Rory McIlroy to get back to 2-under overall and one-over for his round. He stuck his approach from 160 yards out at the 12th to 15 feet and rolled in a nice putt (watch below).
4:10 p.m.: Oh man, just as Jordan Spieth had a decent round going ... he just double bogeyed the difficult third hole ... moving back to 4-over and now one outside the cut line, which just shifted to 3-over par. Jordy has been fighting that stomach bug and has looked better today, but that one will hurt after he found trouble with his drive to the right.
3:58 p.m.: It wasn't shown live on the main broadcast so you'll just have to trust us, but Collin Morikawa birdied the first hole (his 10th) to tie David Lingmerth for the lead at five under. Last we saw on TV, his approach settled just inside James Piot's ball, so he must have gotten a good teach from the 2021 U.S. Amateur champion.
3:44 p.m.: The Rahm-Morikawa-Piot makes the turn with the two major champions in contention for another. Morikawa gets up and down after dumping a short iron in the front bunker to stay bogey-free and tied for the lead. Rahm taps in a par to stay one back as the group heads to the front nine.
At the 10th David Lingmerth nearly takes a big leap as his approach curls around the front left of the green and takes a peak over the edge of the cup before settling a few inches away. He'll tap that in to take the solo lead at five under when he makes his way up to the green. On 5, Joel Dahmen got up and down for birdie to get to four under, while McIlroy pulled another back at the 8th to get back to two under.
3:23 p.m.: Hello, hello. It's Collin Morikawa with his third birdie in his first seven holes. He joins Callum Tarren and David Lingmerth in the lead at four under. If the putter cooperates, Morikawa's elite ball striking should be enough to keep him in the conversation. He'll play the 18th then turn and play the front, which has felt a bit easier for the field so far. A reminder that he opened with a round in the 60s ... he's only done that two other times in majors, and he won both.
3:21 p.m.: Oof. What could have been for Callum Tarren. The Englishman misses a third straight birdie look inside of eight feet. He's still tied for the lead, but he could very easily be two or three shots clear by now.
3:08 p.m.: It's a second lip out in as many holes for Tarren, who lets another chance to take the solo lead go by. That may just be the nature of this tournament. The leaderboard is extremely compact. There are 56 players within six shots of the lead. Anybody could make a big move in a hurry.
3:02 p.m.: This Callum Tarren guy isn't going away. He sticks his 7-iron approach from the fairway at 10 to about six feet, leaving a great chance to retake the solo lead. At the 6th, Rory three-putts for bogey as his up-and-down round continues.
Lower down on the leaderboard, Xander Schauffele is finally moving in the right direction. The Olympic Gold Medalist holes a 15 footer for birdie to move to one over and a tie for 31st.
2:54 p.m.: Then again, maybe the concert did hit Dahmen a little bit too hard. A three-putt bogey on the second drops him back to three under for the tournament. Up at the 15th, Rahm's par putt sneaks in the low side for a wild par. On 7, David Lingmerth drills a mid-range birdie putt to tie Callum Tarren for the lead at four under. It's all happening now, folks.
2:40 p.m.: Guess the concert Thursday night wasn't too wild. Joel Dahmen comes right out and birdies the first hole, burrying a 28 footer to tie the lead. Up ahead on the ninth, co-leader Callum Tarren lets a 7 footer go begging and settles for a tap-in par.
The bounceback continues for Rory, who birdies the short par-4 5th to get back to two under for the tournament, one over for his round. Rahm is a bit loose on 15, blowing his drive way right, then yanking his approach into a greenside bunker. He hits a fine shot from there, leaving a makeable putt for par.
2:25 p.m.: Here comes Jon Rahm! A 360-yard drive followed by a 4-iron approach on the par-5 14th leaves an eagle putt of just less than 12 feet for the defending champion. That would vault him into a tie for second, one stroke back of Callum Tarren, who leads alone at four under, but just made a par on the par-5 eighth, where many others are making birdie today.
Bang! It's an eagle three for Rahm on 14. He moves into an eight (!!) way tie for second with a lot of momentum and two thirds of his round still to play. He made his way around the course yesterday without his best stuff and still played pretty well, now it looks like he's figured something out.
2:08 p.m.: BIG yikes for Rory at the third. His approach is fanned right into the fescue and it takes him one, two, three hacks to get it out and onto the green. That is ... not ideal for the Northern Irishman who mentioned Thursday afternoon how much his closing bogey bothered him. Something tells us this one might bother him a bit more.
Um ... or not? Maybe? It took Rory three strokes to extract his ball from the hay but the flat stick bails him out, as he "saves" double from 20-something feet. We may look back on this hole Sunday evening as the moment that either saved or ruined his championship.
1:58 p.m.: Jon Rahm and Collin Morikawa have both made early birdies in their second round. Rahm recorded a short one from four feet on the par-4 12th hole and Morikawa rolled one in from 10 feet on the same hole. Both men are now two under for the championship and two shots off the lead.
1:47 p.m.: First-round leader Adam Hadwin just finished his second round and shot two-over 72 with birdies on the last two holes. He shot an opening 66 so he's now at two under for the championship and only three shots behind leader Callum Tarren, who has already made two early birdies. Hadwin is tied for eighth place.
1:31 p.m.: Phil Mickelson's week is over. The much-maligned lefty followed a 78 with a 73 and ends at 11 over par and in a tie for 144th place. When he was done he was ahead of only 11 players on the leaderboard, including four amateurs.
1:25 p.m.: Rory McIlroy is off for his second round. He shot 67 on Thursday and begins his second round one shot behind Callum Tarren. Big names to watch this afternoon: McIlroy, Collin Morikawa, Jon Rahm, Will Zalatoris, Hideki Matsuyama, Xander Schauffele and Patrick Cantlay.
1:17 p.m.: Callum Tarren, your solo leader. He birdied the third hole to get to four under par and sits alone at the top. He shot three-under 67 on Thursday.
12:56 p.m.: Do yourself a favor. Go take a look at Viktor Hovland's scorecard from the day. Bizarre. Absolutely nuts. He birdied two of the first four holes, then just hit the wall. There is no other way to explain it. Here are his last 11 holes: bogey, bogey, bogey, bogey, bogey, bogey, par, bogey, par, bogey, bogey. Yes, that's nine bogeys in the last 11 holes. He shot 77 and will not be around for the weekend.
12:52 p.m.: Justin Thomas salvaged an average round with a much-needed birdie on the last hole. The PGA champion shot one under in the first round and followed it with 72 on Friday. He's tied for 37th place. Oddly, JT made only seven pars on the day, but it was a birdie from just off the green from 22 feet on that last that finally produced a mini fist pump.
12:48 p.m.: The No. 1 ranked player in the world is going to be an issue for everyone else over the weekend. Scottie Scheffler just shot a sensational 67 to end his day tied for the lead at three under par. He made two bogeys, three birdies and an eagle and nearly topped it all off with one last birdie on the last hole but the attempt just slid by the hole by an inch.
12:43 p.m.: Brooks Koepka is in with a three-under 67 on Friday during the second round. He now stands at even par after shooting three-over in Round 1. He's tied for 22nd place right now, and has the luxury of being done with winds expecting to pick up later this afternoon. Good position for the two-time U.S. Open champ.
12:32 p.m.: Justin Thomas is going to make the cut, but he is not in a great position. After shooting 69 on Thursday he is now three over on the second round and two over for the championship. His last seven holes—birdie, bogey, par, bogey, birdie, bogey, par. He has two holes remaining and is five shots off the lead.
12:15 p.m.: Nick Hardy, tied for the lead. The 26-year-old from Illinois has calmly, cooly, quietly recorded his second-consecutive round in the 60s. On Thursday, Hardy shot 69 and he just put the finishing touches on a two-under 68 to sit at three under par for the championship. He's tied for the lead with Scottie Scheffler, Callum Tarren, David Lingmerth, Rory McIlroy and Joel Dahmen. So much movement so early on here.
12:12 p.m.: Phil Mickelson update. A day after his 52nd birthday, Phil is playing much better but there is no chance he'll make the cut this week at The Country Club. After an opening-round 78, he is three over par in the second hole with four holes remaining. On Friday he's made four bogeys and a lone birdie. He's only made two birdies in two days.
12:08 p.m.: Scottie Scheffler is absolutely rolling. He just calmly rolled in another birdie on the 16th hole to get to three under on the day and three under on the championship. Yes, that makes him tied for the lead with two holes remaining. The No. 1 ranked player in the world at the top of a leaderboard again in a major championship. A dangerous sign for many.
12:07 p.m.: OUCH. MJ Daffue mostly held it together for 35 holes and made double bogey on the 18th hole Friday to close out his second round. He made four birdies, four bogeys and a double bogey to shoot two-over 72. He's two shots off the lead.
11:58 a.m.: Um, is this video below any good? Yes, yes it is.
11:53 a.m.: Big name updates among those on the course now: Scottie Scheffler (two under on the day, T-7), Sam Burns (two under on the day, T-12), Brooks Koepka (four under on the day, T-12), Patrick Reed (one under on the day, T-12), Matt Fitzpatrick (two over on the day, T-23), Dustin Johnson (two over on the day, T-23), Justin Rose (three over on the day, T-37), Justin Thomas (three over on the day, T-50), Tony Finau (even on the day, T-68), Shane Lowry (three over on the day, T-92), Cameron Smith (four over on the day, T-110).
11:38 a.m.: We have a developing situation. The Masters champion, the No. 1 player in the world is making a major move Friday morning at The Country Club. Scottie Scheffler After doing nothing to speak of for 12 holes, he's now made birdie on the 13th and just holed out a wedge shot from 55 yards for eagle on the par-5 14th hole. He's quickly to two under on the day and two under for the champioship, only one shot off the lead.
11:27 a.m.: Leader MJ Daffue has put on the brakes and after a three-shot lead at one point is now tied after making bogey in three of five holes. He started hot with birdies on Nos. 1, 4, 5 and 7, but now has bogeyed the 11th, 14th and 15th holes. Still, He only has two holes remaining in his second round, is tied for the lead at three under and will have the luxury of sitting around all afternoon hoping for carnage among those tied with him.
11:17 a.m.: After two early birdies Viktor Hovland is firmly on the bogey train. And it's not good. Hovland made consecutive birdies on Nos. 12 and 13, his third and fourth hole of the day, but he's just now made six consecutive bogeys. SIX. (17, 18, 1, 2, 3 and 4) With only five holes remaining in his second round he's at four over par and tied for 86th place.
10:55 a.m.: We wish we could tell you that Daffue saved par after that miraculous shot from the hospitality tent, but the South African flubbed his greenside chip. He failed to get the next one up-and-down, dropping back to 4-under.
10:42 a.m.: After a wayward drive, second round leader Daffue decided to play his second shot on the par-5 14th from a spectator pavilion. "I'm coming right over you sir," the South African joked to a packed crowd of fans lurking closeby to watch his attempt. Although Daffue was looking at a miniscule gap, he managed to stripe a 4-wood off of the carpeted deck, flying it 294 yards. In the Korn Ferry Tour pro's spare time he volunteers as an assistant coach for the University of Houston, and this week Houston head coach Jonathan Dismuke is caddying for him.
10:22 a.m.: Matthew Fitzpatrick has had birdie look upon birdie look this morning at The Country Club—the site of his 2013 U.S. Amateur win—but he's only been able to convert two. The Englishman is right at home in this gloomy, breezy Boston weather, and if he gets a few more putts to drop he could be dangerous. Fitzpatrick is 3-under for the tournament.
10:16 a.m.: After an extremely dissapointing 3-over through 2 start for Justin Thomas this morning, things seem to be turning around. JT confidently walks in a birdie putt on the first, his 10th hole of the day. He's back to even par for the tournament.
9:59 a.m.: The Country Club bunkers are no joke, and Viktor Hovland learned that well on the 18th, when he got a horrible break, his ball wedged right next to the upper lip of a greenside bunker. The stance required looked uncomfortable, to say the least, and when Hovland hacked it out he was greeted with a face full of sand, only for his ball to be repelled by a severe tier on the green. The Norwegian should be happy with a bogey after his nightmarish lie.
9:50 a.m.: At two over for the tournament, world No. 1 Scottie Scheffler needs to get something going at Brookline, after chunking a chip earlier in the morning. On the par-5 eighth, he does just that, sticking a long iron to inside 20-feet, giving himself a nice look at eagle. The camera panned over to Ted Scott, who had just as big of a smile on his face as Scottie.
9:32 a.m.: Tony Finau had a rough start at The Country Club on Thursday, shooting a three-over 73, and the beginning of Friday's round didn't look much different when he started with a double bogey. However, the two-time PGA Tour winner bounced back with a clutch birdie on the monstrous par-5 14th. And at the 364-yard par-4 17th, Finau blasted one out of the fairway bunker, zipping it back 25 feet and almost holing out. The American is making up some ground, slowly but surely, as the course continues to firm up.
9:18 a.m.: Second round early leader Daffue just can't miss right now. He holes a slippery downhill par-save to remain six under for the tournament, through 27 holes. Just when you think the South African Korn Ferry Tour legend is wavering, he surprises you.
9:02 a.m.: Here comes Sam Burns! He's played his first five holes in three under, starting with a pair of opening birdies, one of which should have been an ace at the second:
His third birdie came at the fifth, pushing him all the way to two under. Another birdie and he'll move into a tie for second.
8:48 a.m.: M.J. Daffue is running away with the U.S. Open. We repeat: M.J. Daffue is running away with the U.S. Open. Of course, we're half-kidding, but he just made his fourth birdie of the day at the par-4 seventh, and up ahead at the 11th Hadwin just dropped back to three under. Daffue now leads by three. He has one hand on the trophy.
8:42 a.m.: Adam Hadwin, no longer the solo leader, faces an early test at the par-4 10th, his first hole of the day. The Canadian needed to hole a 10-footer for par after missing the green and he did just that, keeping him within one of Daffue's lead.
8:35 a.m.: A nice early move being made by Viktor Hovland, who, stunningly, chipped in for a birdie at the 12th hole, his third hole of the day. He backed that up with another birdie at the 13th, getting him to two under on his round and for the championship.
8:18 a.m.: South Africa's M.J. Daffue grabbed a share of the lead with a birdie at No. 1 but gave it right back with a bogey at No. 2. After a par at the third he made his second birdie of the day at the fourth and then drove it in the greenside bunker at the drivable fifth. He put his second to six feet and then holed his third birdie of the day. Scorching hot start for the 33-year-old, who is now your solo leader at five under.
8:10 a.m.: Our first dose of carnage strikes Justin Thomas, who started his day with a mammoth tee shot on the par-4 10th hole but then made a messy double bogey after a pair of poor chips. At the 11th he was able to find the green in regulation, but a three-putt led to a bogey and a three over through two start. Ways to go, but he may have just played his way out of the tournament in about 25 minutes.